Anti-inflammatory Turmeric Chewables (AIP, Paleo, Whole30)
This post contains affiliate links. Learn what that means here.
I've put out my fair share of turmeric recipes here on Unbound Wellness. From my turmeric bites, to my turmeric chicken soup, and more, we all to get in more turmeric! Even with more and more turmeric recipes popping up everywhere, it can still be a struggle to get ample amounts in this super food if we're not adding to to dishes a few times, or even once a week. Until now… introducing my anti-inflammatory turmeric chewables! All of the benefits of turmeric in one little bite.
You may be thinking, but wait, aren't your turmeric bites similar to this? Though they have similar ingredients, this recipe is the new and improved version. The problem with fat bombs like those turmeric bites is that they can be a bit hard to chew once they harden in the fridge. Plus, they're not exactly bite sized. My husband loves having fat bombs on hand for all of the nutrient benefits, but he doesn't so much like the texture of bigger ones. So I thought, why not actually make a turmeric fat bomb bite sized?
Not only do are these turmeric chewables easier to chew for adults, they're easier to try and feed to older kiddos! Truthfully, they look like candy, but are packed with healing benefits!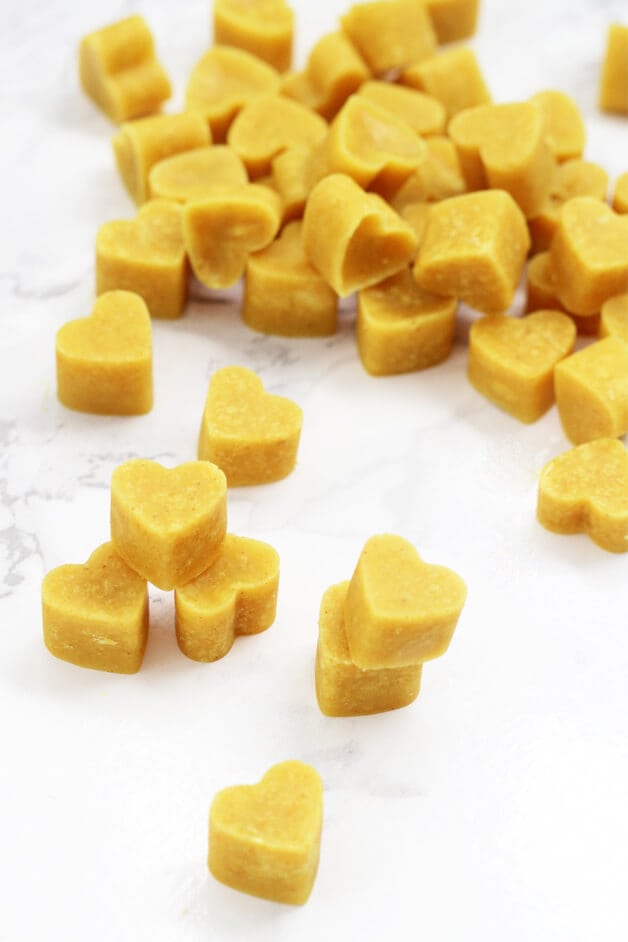 Why I Love These Anti-Inlfammtory Turmeric Chewables
They're packed with anti-inflammatory ingredients
It's said that all disease is linked to inflammation in some capacity. From chronic pain, to menstrual cramps, to gut issues, it all has an inflammation component. Our modern diets and lifestyles only make inflammation more prevalent, thus giving us more reason to find natural ways to address it.
Turmeric is known for it's anti-inflammatory qualities and has been used for hundreds of years as a natural way to stamp out inflammation. I have friends who have addressed chronic pain and menstrual cramps, in part by supplementing with turmeric!
They also feature ginger which pairs well with the flavor of turmeric, and can help with nausea and gut issues.
They're full of healthy fat
The base of these chewable in coconut butter and coconut oil. These two healthy fats together not only make the turmeric more bioavailable, but they help support our bodies natural ability to anti-inflame as well.
They're easy and fun to make
All you need is a fun little silicone mold, and you can make these into any shape! I really love these heart molds, but you can get creative here.
It's an amazing way to up your turmeric intake
Keep these in your fridge and eat 2-3 a day for a little turmeric boost! I wouldn't call it a supplement because it's not concentrated enough for that, but it for sure helps get in some extra anti-inflammatory love.
The Ingredients You Need
Coconut butter and coconut oil
Coconut butter is also know as coconut mana, or coconut cream concentrate. I love this brand. You'll also need coconut oil. There is no way to make this particular recipe coconut free.
Turmeric
Gotta have turmeric, right? I used powdered, but you can also try to use fresh if you have it on hand.
Ginger
Ginger is another spice that adds nice flavor to these.
Honey
Honey has antimicrobial properties in and of itself, and it cuts through the strong flavor of the turmeric. You can omit this if you're on a Whole30.
Black pepper
Black pepper dramatically increases the bioavailability of turmeric. You can omit it if you're strict AIP.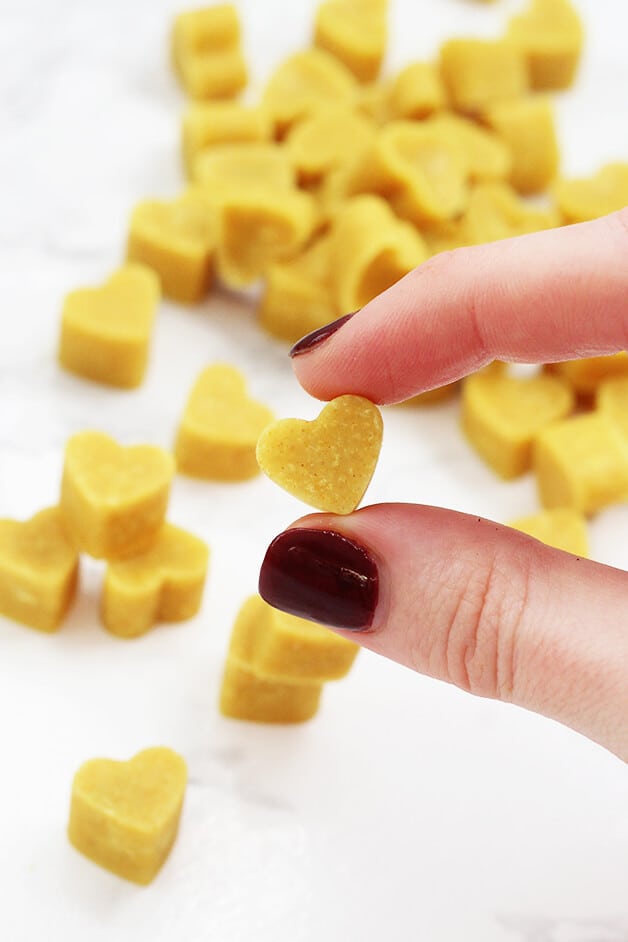 Print
Anti-inflammatory Turmeric Chewables
---
1/2 cup coconut butter
1/4 cup coconut oil
2 tsp turmeric powder
1/2 ginger powder
1/8 tsp black pepper (omit for AIP)
2 tsp honey (omit for Whole30)
---
Instructions
Fill a medium sauce pot half way with water and bring it to a low boil
Place a stainless steel bowl over top the pot to create a double boiler
Spoon the coconut butter into the bowl and stir to allow it to melt. Do not use a microwave to melt the coconut butter, or it will burn.
Once the coconut butter is mostly melted, stir in the coconut oil until the mixture is entirely liquid
Carefully remove the bowl from the heat
Stir in the turmeric, ginger, black pepper, and honey until the mixture turns a bright orange/yellow
Place the molds (I use 2-3 of these , but you can use another one) onto a plate or plates to keep them leveled
Using a spoon, pour the mixture carefully into the molds. Use a napkin to remove any overflow.
Transfer to the fridge for 1-2 hours or until hardened
Once hardened, remove from the molds and store in the fridge for 1-2 weeks, or in the freezer
Notes
All nutritional information are estimations and will vary. Estimations do not include optional ingredients.
Nutrition
Serving Size: 1 chewable
Calories: 13
Fat: 1.5g
Carbohydrates: 0g
Fiber: 0g
Protein: 0g
That's all you have to do to add in more turmeric into your life!
These are great for a little snack to chomp on, or to eat daily to get in more of the benefits of turmeric. I can easily eat 5-6 at a time, but you can certainly snack on more!
I hope you love these little turmeric cuties.