Easy Chicken & Vegetable Stir Fry (Paleo, Whole30, AIP)
I love fun, involved meals and recipes as much as the next person! However, sometimes all you want is an easy meal to throw together that's delicious, healthy, and easy to make. That's where I found myself this week. After all of the craziness of the New Year, I was exhausted and ready to just take a short cut in the kitchen. Easy Chicken & Vegetable Stir Fry to the rescue!
Stir fry has always been one of my favorite go-to dinners. It's so versatile and filling. Though you can make a lot of substitutions and different choices in a stir fry, there's something about having a few tried and true combinations. It's taken a while for me to find my favorite, but it's easily baby bok choy, carrots, cauliflower, and chicken! So, what is baby bok choy?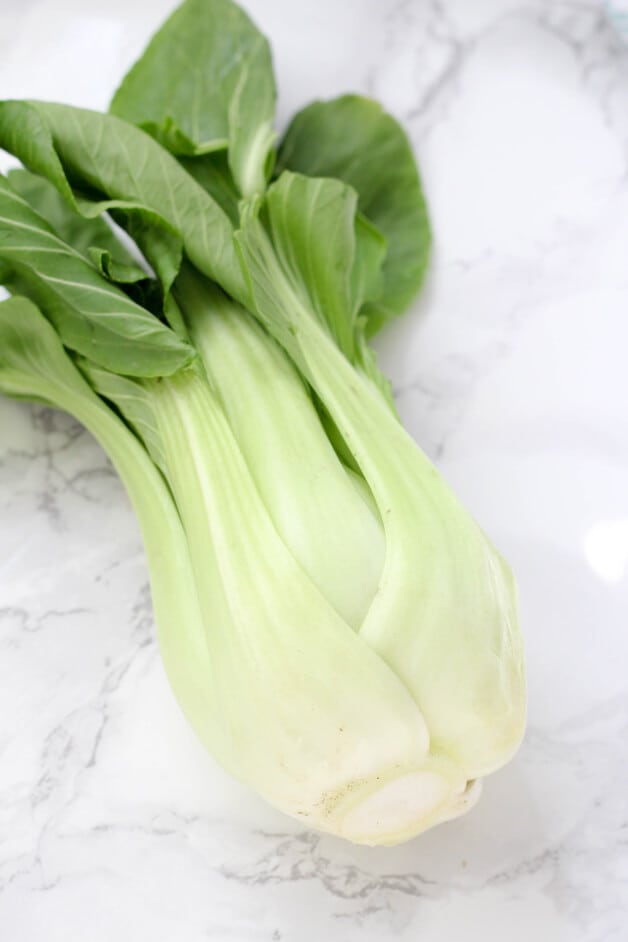 Baby bok choy is chinese cabbage, and it really gives this dish some extra flair! All too often we can get stuck in a rut with the same vegetables over, and over again, which can be counter productive for our health. It's important to get variety and experiment with new vegetables. Bok choy is wonderful roasted (like this recipe) and it's great in this stir fry as well.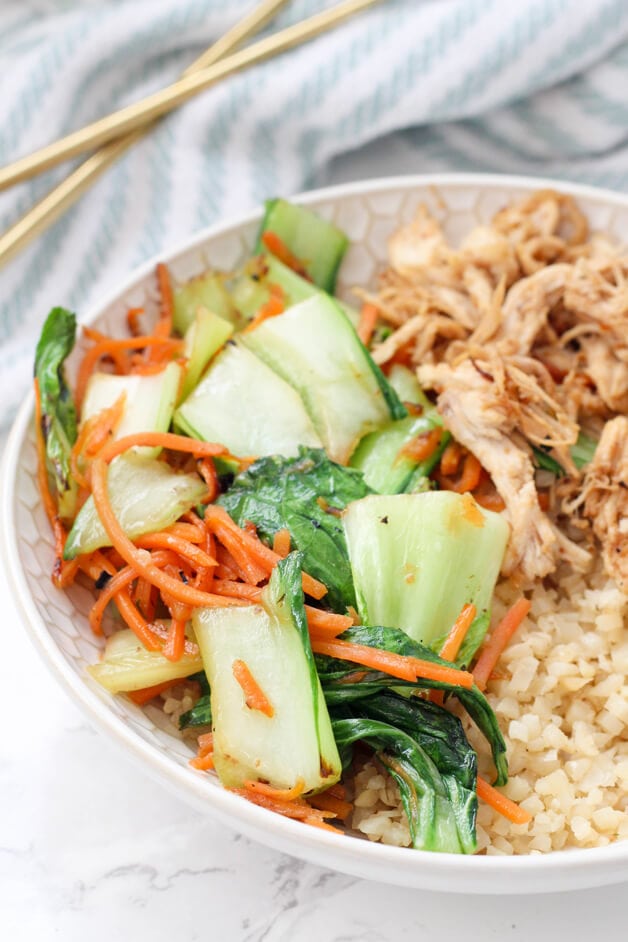 The Ingredients You Need For This Chicken & Vegetable Stir Fry
Cooked and shredded chicken breast
Shredded chicken is one of the best batch cook items to have on hand. You can put it in soups, salad, and just throw it in the pan for something like a stir fry. I have a recipe coming soon for my favorite shredded chicken breast recipe, but you can use any method you'd like.
Cauliflower Rice
Cauliflower rice is popping up in tons of stores, and I almost always buy it pre-riced as a shortcut. However, you can also use a food processor at home.
Shredded Carrots
This is another ingredient that you can either buy preprepared or shred in a food processor.
Baby Bok Choy
Delicious and easy to cook! I always find these at Sprouts and Whole Foods.
Coconut Aminos
This is a soy sauce substitute that's easy to find a health food grocery stores and online.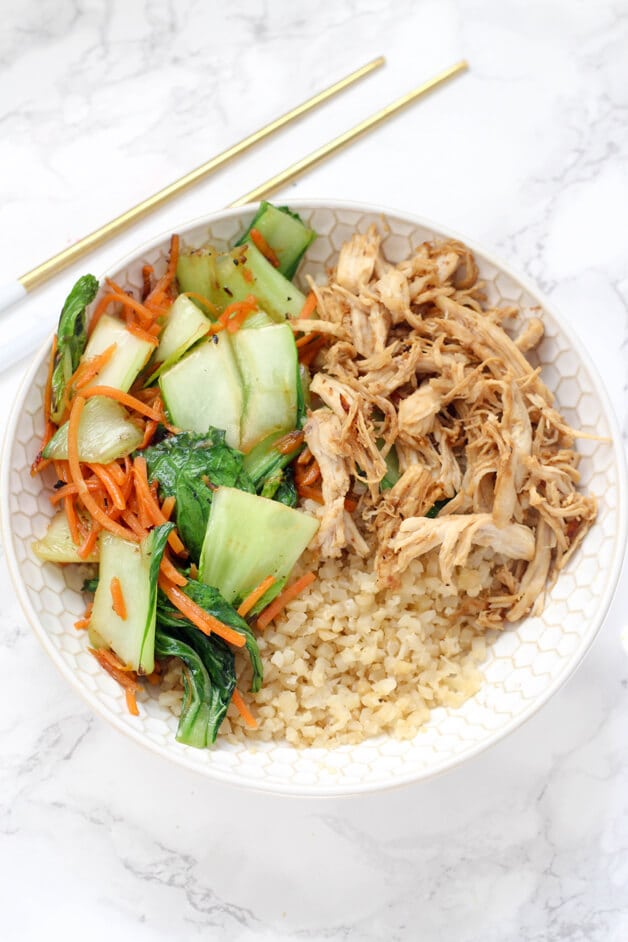 Print
Easy Chicken & Vegetable Stir Fry (Paleo, Whole30, AIP)
---
2 cups shredded chicken, pre-cooked
2 cups cauliflower rice, (pre-riced or using a food processor)
1 cup shredded carrots, (pre-riced or using a food processor)
3 heads of baby bok choy
1–2 tbsp coconut oil (or avocado oil)
1 tbsp coconut aminos
1 tsp ginger powder
Sea salt and pepper to taste (omit pepper for AIP)
---
Instructions
First, prepare the baby bok choy by cutting off the base, washing it well, and slicing it into smaller pieces. Set aside.
Using a large pan on medium heat, melt the coconut oil
Add in the cauliflower rice, a bit of coconut aminos, and season with salt and pepper. Cook for 4-6 minutes or until lightly browned.
Once the cauliflower rice is done, scoop it into two separate bowls and set aside.
Add the shredded carrots to the pan (adding more coconut oil if needed) and cook for 4-5 minutes, or until lightly softened.
Add in the bok choy and season the vegetables with ginger and about 1 tsp of coconut aminos.
Cook for 2-3 more minutes or until bok choy is soft.
Add the cooked vegetables to the prepared bowls.
Quickly heat the chicken in the pan and season with more coconut aminos. Add to the bowls once it's heated.
Top the bowls with extra coconut aminos and salt and pepper if needed, and enjoy!
Notes
All nutritional information are estimations and will vary. Estimations do not include optional ingredients.
Nutrition
Serving Size: 1 serving
Calories: 417
Fat: 13.4g
Carbohydrates: 18.3g
Fiber: 5.4g
Protein: 55.1g
Nice and easy, and filled with nutrient dense veggies and protein!
Enjoy this simple dish 🙂