Easy Oven Roasted Baby Bok Choy (Paleo, Whole 30, AIP)
Most Americans get the majority of their vegetables from things like tomato is ketchup and iceberg lettuce from salad bars… or at least I sure did growing up! I was either confused or disgusted for 95% of vegetables. I would pursue the produce section wanting to eat more vegetables but wondering, "What do I even do with that?" or "I bet that tastes gross." Baby bok choy was definitely one of those vegetables that confused me, until I learned how easy it is to make and how delicious it is! This oven roasted bok choy is so simple and tasty, you'll wonder why you've never had it before!
So why bother eating that weird vegetable in the produce section? Why not just stick to carrots and iceberg lettuce. When it comes to vegetables (and food in general), variety is always a good thing! Not only does it help from developing food intolerances (more on that here) but it allows for more nutrients in your diet. Bok choy is just another one of those lesser known vegetables that's still easy to prepare and great to try out!
I often chop up bok choy and eat it in soups, but roasting it really highlights the texture and brings out amazing flavor. Plus, it looks beautiful!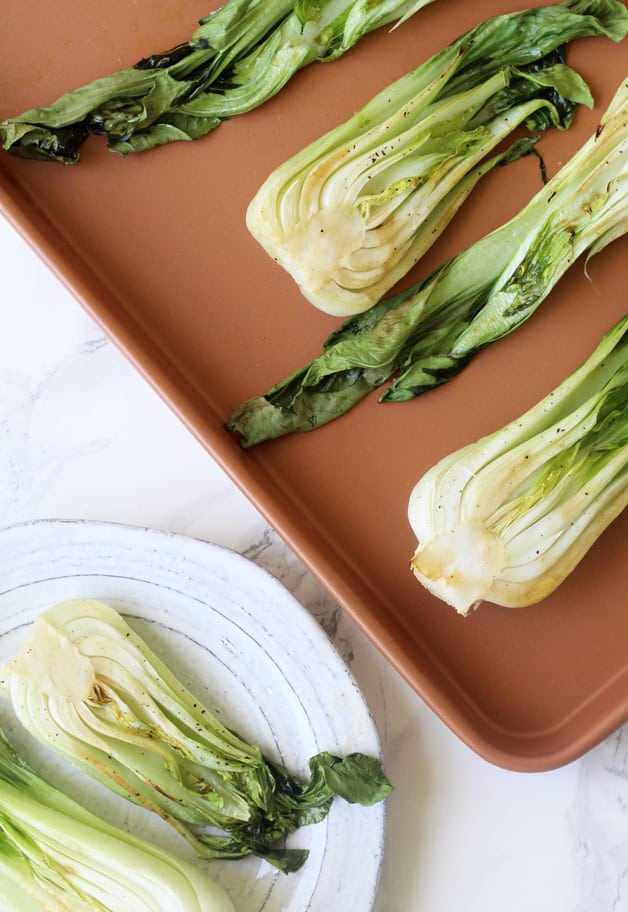 What Is Bok Choy and what does it even taste like?
If you've never had bok choy before, it's essentially a Chinese cabbage. There's larger bok choy, and baby bok choy, which is what we're cooking with in this recipe. It has a crunchy bulb, and leaves that easily crisp at the top.
The leafy greens of the bok choy have a mild flavor and thin texture, and the bulb is crunchy and similar to celery. Overall, bok choy has a very mild flavor and neutral texture that everyone will like!
The ingredients you'll need…
Baby Bok Choy
You can find baby bok choy in most health food stores. I often get it at my local farmers market, and the height of it's season in winter.
Coconut oil
You want a good quality cooking fat that's stable at high heat to roast this bok choy. I default to coconut oil or ghee here, but you can also easily sub avocado oil.
Coconut aminos
This helps give that soy sauce flavor to the bok choy, while still being soy and gluten free. It's optional if you don't have any on hand, but I highly recommend it. You can find coconut aminos online, or in most health food stores these days.
Onion and ginger powder
These seasonings are optional as well, but really help round out the flavor of the whole side dish. You can also add some garlic powder if desired.
Print
Easy Oven Roasted Baby Bok Choy (Paleo, Whole 30, AIP)
---
4 heads baby bok choy
2 tbsp coconut oil, melted
2 tsp coconut aminos
1 tsp onion powder
1/2 tsp sea salt
1/2 tsp pepper (omit for AIP)
1/2 tsp ginger powder
---
Instructions
Preheat the oven to 415 F and line a baking sheet with parchment paper
Slice the bok choy vertically in half, and run under cold water to clean between the leaves, removing any dirt trapped inside.
Lay the halves facing up on a baking sheet and pour coconut oil and coconut aminos over the bok choy, spreading them as evenly as possible
Next, evenly distribute the onion powder, garlic powder, and salt
Roast in the oven for 10-12 minutes or until the leaves are crisped to your liking
Remove from the oven, and serve warm
Notes
All nutritional information are estimations and will vary. Estimations do not include optional ingredients.
Nutrition
Serving Size: 1 serving
Calories: 158
Fat: 13.8g
Carbohydrates: 7.8g
Fiber: 2.1g
Protein: 2g
That's really all there is to it for this beautiful, nutrient dense side dish. This oven roasted bok choy is great for pairing with a protein like salmon, chicken, etc. and some cauliflower rice.