Slow Cooker Teriyaki Chicken (Paleo, AIP, Whole30, Pressure Cooker Option)
This slow cooker chicken teriyaki makes dinner easy! Serve it with some veggie sides, and you have a flavorful meal. It's made without soy sauce and is paleo, AIP, and whole30 compliant.
I often share on the blog and on social media how I rarely ate animal protein before I went paleo/AIP. I hated the texture, the flavor, and just everything about it. The only way I would eat chicken was if it was chicken nuggets (hence my crispy chicken nugget and sweet potato chicken popper recipes) and chicken teriyaki! Chicken teriyaki is so flavorful, and when cooked right, the chicken is tender and delicious. You can easily make chicken teriyaki on a stove top, but why not make it easier with a slow cooker?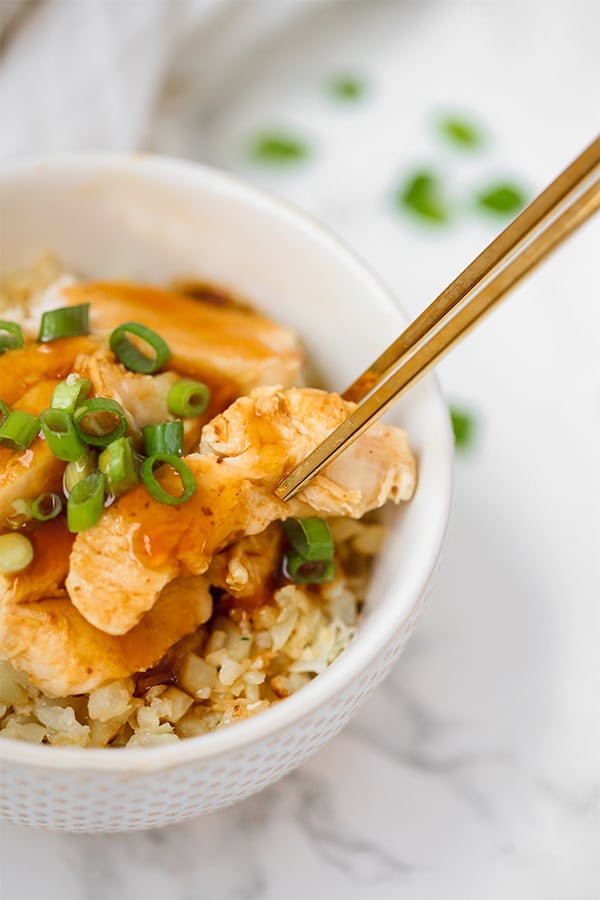 Why I love this slow cooker chicken teriyaki
I love making slow cooker meals for simple weeknight meals, or easy meal prep. It's less time consuming than standing around cooking something on the stove top, and it makes for a tender and delicious meal! This chicken teriyaki is a slow cooker staple that I've been adding to my weekly rotation.
On top of being easy, it's also filling and healthy! It's not loaded with MSG, soy, or cane sugar like most chicken teriyaki you would find in a restaurant is, but it still tastes amazing.
What to serve it with
I serve this chicken teriyaki over a bed of cauliflower rice with the teriyaki sauce. It's the perfect swap for white rice while adding in more veggies. Steamed or roasted broccoli is another great side dish, as well as my oven-roasted baby bok choy. Any of these sides will help to round out the dish and make it a complete meal!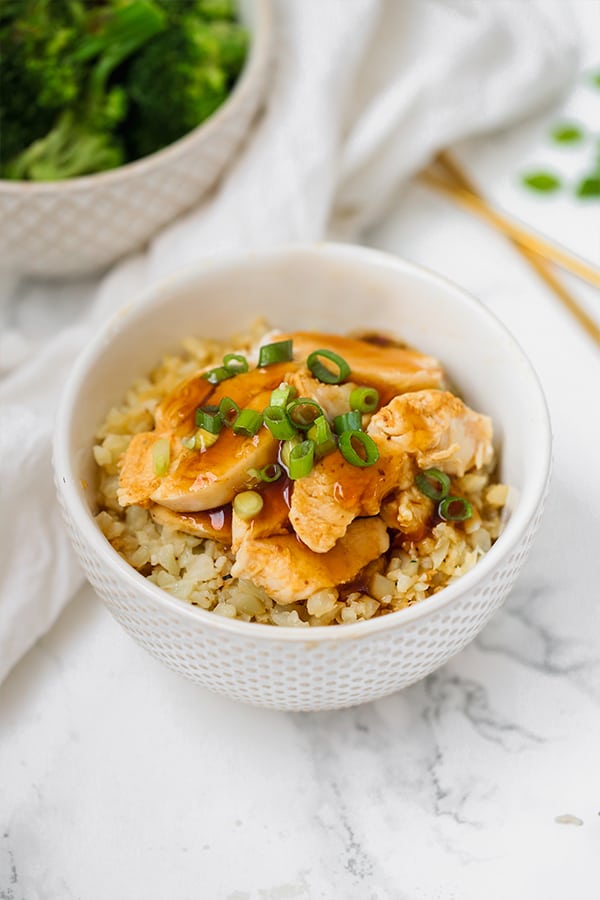 The Ingredients You'll Need For the Slow Cooker Chicken Teriyaki
Chicken Breast
You can also use thigh, but I think chicken breast is the best option for this dish.
Coconut oil
Coconut oil keeps the chicken moist. You can easily use other cooking fats as well!
Coconut aminos
This is the swap for soy sauce. You can find this online, and in most health food stores.
Honey and orange juice
Omit the honey for Whole30.
Ginger, onion, and salt
Arrowroot starch
This thickens the teriyaki sauce. I would not sub tapioca starch as it will make it a lot more gummy than arrowroot starch.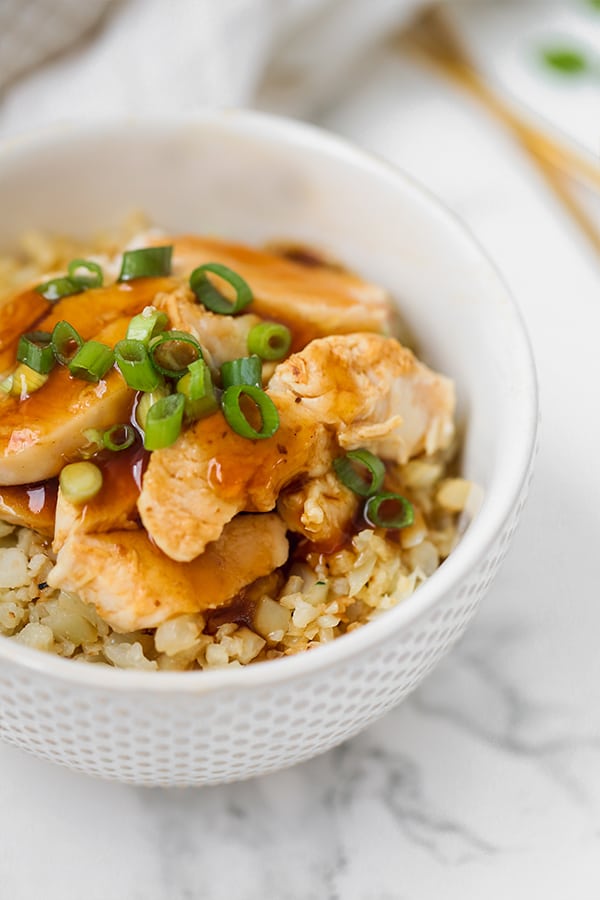 Adapting for the Instant Pot
I'm obsessed with my instant pot. It's my favorite way to cook chicken, and this recipe can be used for either the slow cooker or the instant pot. You can either use the slow cooker function on the instant pot and follow the recipe as it, or just cook on high pressure for 15 minutes for an even faster dinner!
Print
Slow Cooker Teriyaki Chicken (Paleo, AIP, Whole30)
---
Author:
Total Time: 8 hours 5 minutes
Yield: 4 servings 1x
3/4 cup coconut aminos
1/3 cup chicken broth
1 tbsp honey (omit for Whole30)
3 tbsp fresh orange juice
1 tbsp arrowroot starch
1 tsp sea salt
1/2 tsp pepper (omit for AIP)
2 tsp fresh grated ginger
2 tsp onion powder
2 cloves garlic, minced
2 tbsp coconut oil, melted
1 1/2 lb chicken breast
3 tbsp green onion, chopped (to serve)
---
Instructions
Prepare the sauce by whisking together the coconut aminos, broth, orange juice, honey, arrowroot starch and seasonings in a bowl. Set aside.
Add the chicken breast to the slow cooker and top with the coconut oil. Pour over the sauce, making sure the chicken is well coated.
Turn the slow cooker on low and cook for 6-8 hours. The Interneal temperature should read 165 F.
Remove the chicken from the slow cooker and either shred with two forks, or slice with a knife (I prefer to carefully slice). Top with the remainder of the teriyaki sauce and chopped green onion.
Serve with cauliflower rice, steamed broccoli, baby bok choy, or other side dishes of your choice!
Notes
To make in the Instant Pot, either follow the instructions and use the slow cooker function, or cook on high pressure for 15 minutes.
All nutritional information are estimations and will vary. Estimations do not include optional ingredients.
Prep Time: 5
Cook Time: 8 hours
Category: slow cooker
Method: slow cooker
Cuisine: asian
Nutrition
Serving Size: 1 serving
Calories: 342
Fat: 11.2g
Carbohydrates: 19.1g
Fiber: 0.3g
Protein: 38.5g