Buffalo Chicken Dip (AIP, Paleo, Whole30)
January isn't even over, and Super Bowl season is already here! Is it just me, or did that go really fast? I feel like I had no time to make the mental transition from reset time back into party food yet. But once I started thinking about all of the yummy super bowl snacks to be had like sweet potato chicken poppers, nachos, and more, I was ready for it! And what better way to dive into the Super Bowl than with Buffalo Chicken Dip?
But wait… isn't this a paleo and AIP blog? How the heck are you supposed to make buffalo chicken dip dairy free and nightshade free? That's exactly what I was thinking to myself! However, it can be done.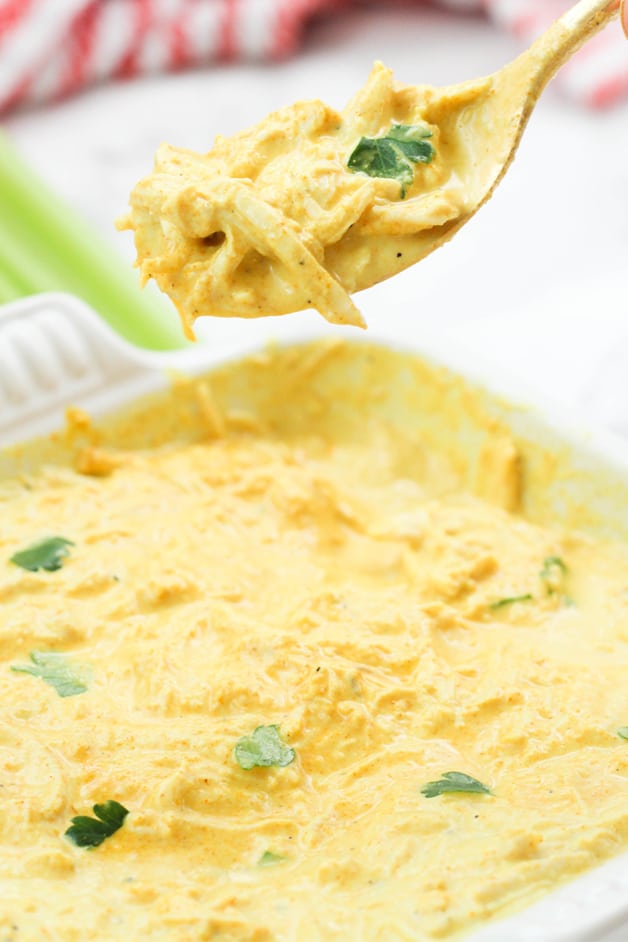 A Couple Of Things to Note About This Buffalo Chicken Dip…
1.It's very unique.
This is not your average buffalo chicken dip! To make it autoimmune protocol compliant and nightshade-free, so no traditional red spices were used in the original recipe. I have a modification for nightshade eaters in this recipe, but the base recipe itself has some unconventional ingredients to make it more like a buffalo chicken dip.
2. You can use it as a main dish as well.
I used it to make tacos, and it's so delicious!
3. You can customize.
If you can tolerate cheese or nightshade spices, go for it! Make it your own!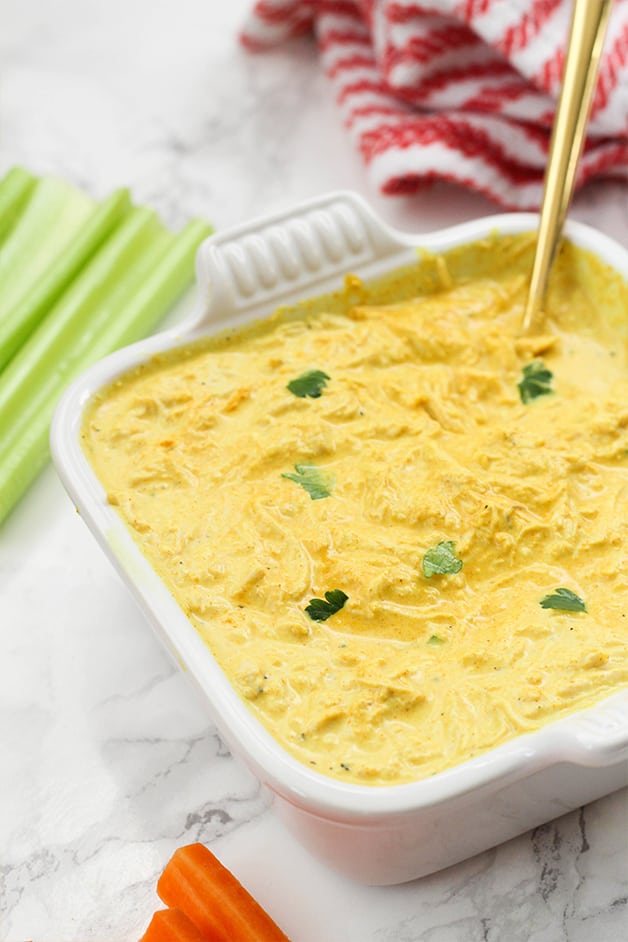 What You'll Need To Make The Buffalo Chicken Dip
Cooked Shredded Chicken Breast
Use a slow cooker, instant pot, or another method. Anything works, as long as it's cooked and shredded.
Coconut Cream
I use this brand, but just make sure that's it's not solid coconut cream. You want it to be more liquefied than a solidified coconut cream, but more dense than coconut milk.
Nutritional Yeast
For that "cheese-y" flavor 🙂
Turmeric, Ginger, Garlic, Onion powder, and Black Pepper
Omit the black pepper for strict AIP. Turmeric gives color and spice, and the onion, garlic and ginger add flavor and spice.
Coconut aminos
Traditional buffalo chicken has an umami tang, and coconut aminos works great for that.
Apple Cider Vinegar
This adds that touch of acid and some more tang.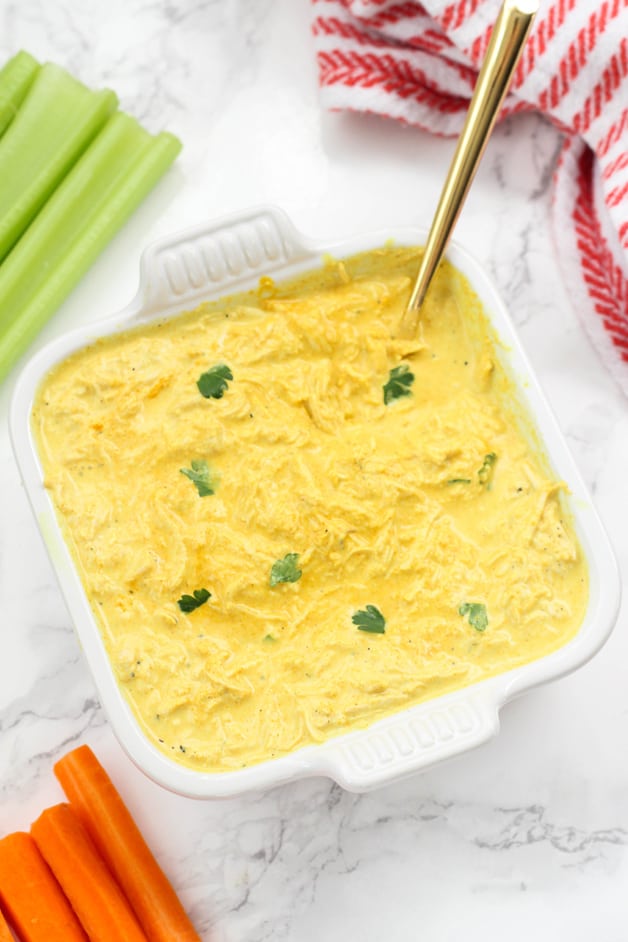 Print
Buffalo Chicken Dip (AIP, Paleo, Whole30)
---
2 cups shredded chicken breast, pre-cooked
1 cup coconut cream
2 tbsp coconut aminos
2 tbsp apple cider vinegar
2 tsp nutritional yeast
2 tsp turmeric powder
1 tsp ginger powder
1 tsp onion powder
1 tsp garlic powder
3/4 tsp sea salt
1/2 tsp black pepper (omit for AIP)
2 tsp fresh parsley
OPTIONAL for non-AIP – 1/4 cup Franks Red Hot Sauce (this is an AIP, nightshade free dip, but this sauce is the best option to spice it up if you're not AIP!)
TO SERVE – Sliced carrots and celery
---
Instructions
Preheat oven to 350 F
Add the shredded chicken to a medium baking dish
Pour in the coconut cream, coconut aminos, and apple cider vinegar and mix to combine well with the chicken.
Add the spices as seasonings (reserving the parsley) and stir well to combine
Taste the dip to ensure flavor is to liking, and add more ginger, black pepper or the optional hot sauce if more spice is desired
Place in the preheated oven for 5-7 minutes to lightly heat
Remove from the oven and top with fresh parsley
Serve with sliced carrots and celery, and enjoy!
Notes
All nutritional information are estimations and will vary. Estimations do not include optional ingredients.
Nutrition
Serving Size: 1 serving
Calories: 226
Fat: 2.4g
Carbohydrates: 4.1g
Fiber: 0.6g
Protein: 21.6g
And there you have it! Totally AIP compliant buffalo chicken dip. It's not your grandmas classic buffalo chicken dip, for sure… but it also won't leave you feeling like junk from all of the nightshades and dairy either.
This is the perfect dip to serve at a party with others who are paleo, Whole 30, dairy free, or even those who aren't on a healing diet! It's a yummy dip either way, and my husband and I have been loving having this fun option to spice up our routine.
Enjoy!!