Super Bowl Paleo Nacho Bar (Whole30 & AIP)
I have a confession to make… when Super Bowl rolls around, I have to Google the date and what the heck team are playing every year. I am not a big football or sports person, but I am a big party food person 😉 The Super Bowl is about so much more than just football, and snacks and party food are also at the forefront of the festivities. It's a ton of fun to plan a Super Bowl party and dream up all of the fun snacks to serve… unless you have some food intolerances and restrictions. For someone who's gluten free, grain free, nightshade free, and more, Super Bowl parties can be kind of a nightmare. However, it doesn't have to be that way if you plan ahead and put together a menu that everyone will love, like this Super Bowl Paleo Nacho Bar!
Nachos are an amazing customizable party food option that everyone will love! You can easily switch up your own base, toppings, seasoning, and protein options to make it compliant with a variety of different tastes and diets. This particular nacho bar can be made to be paleo, AIP, and even Whole30, while still pleasing all of your non-special diet guests!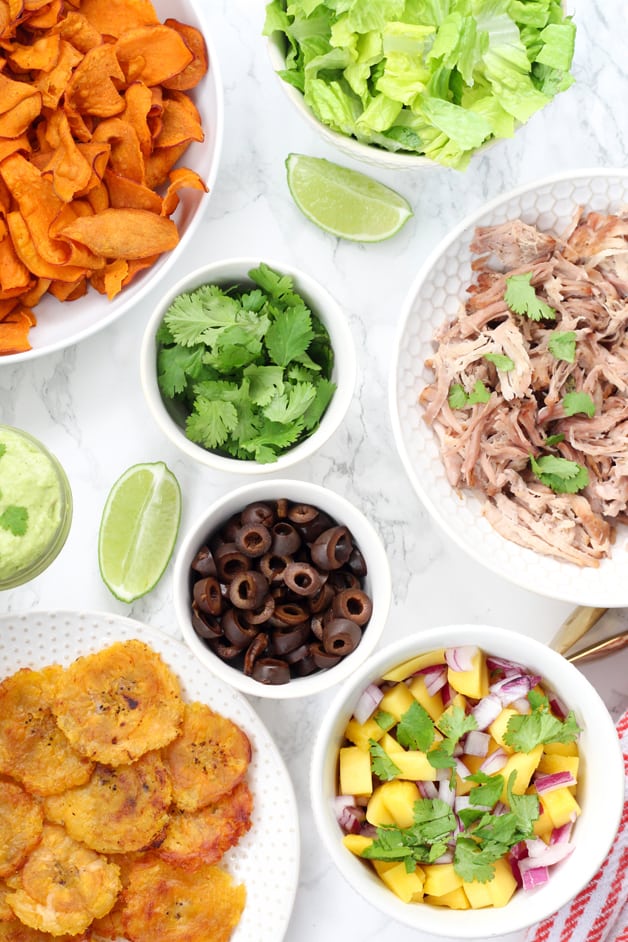 This Paleo Nacho Bar is Perfect For…
Game day! Helloooooo Super Bowl Nacho Bar.
Parties and gatherings.
Family dinners
Fun date nights (just scale back if it's only two people)
And more!
What You Need To Build This Super Bowl Paleo Nacho Bar
Protein of choice… like carnitas!
You can easily use ground beef or shredded chicken here, but I used slow cooker carnitas. This recipe is AIP compliant, and incredibly easy to make!
Sweet Potato Chips & Tostones
Sweet potato chips from Jackson Honest are made with coconut oil and are a great grain free, Paleo, and AIP option. If you're on a Whole30 or prefer something different, tostones are another amazing nacho base! I actually have a full recipe for tostone nachos here as well.
Romaine Lettuce
You can use any green, but romaine is the easiest to use for nachos.
Black Olives
Another nightshade free topping option.
Mango Salsa (or regular salsa)
If you can tolerate regular salsa, great! But I used a simple mango salsa to keep it AIP.
Cilantro Avocado Sauce (or guacamole)
Whenever I make nachos, I always use my Cilantro Avocado Sauce.
Fresh Cilantro and lime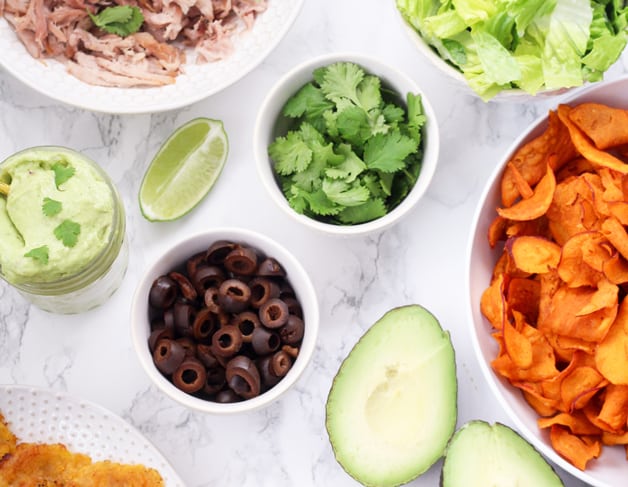 Print
Paleo Nacho Bar (Whole30 & AIP)
---
1 bag sweet potato chips (not Whole30)
1 batch tostones
1/2 cup sliced black olives
1/4 cup fresh cilantro
3–4 limes, quartered
FOR THE MANGO SALSA
1 medium mango, diced
1/2 red onion, diced
2 tbsp fresh cilantro, chopped
Juice of one lime
Sea salt to tate
---
Instructions
First, prepare the mango salsa by combining the diced mango, red onion, fresh lime juice, cilantro and salt, and mix to combine.
Next, prepare all of the other components of the nacho bar and set them in their own serving dishes with separate serving spoons and tongs
Stack plates at the end of the bar to allow guests to build their own plates
Sit back with your nachos and enjoy the party!
Notes
All nutritional information are estimations and will vary. Estimations do not include optional ingredients.
Nutrition
Serving Size: 1 serving
Calories: 889
Fat: 45.8g
Carbohydrates: 61.2g
Fiber: 11g
Protein: 66g
And with all of that, you can make a gorgeous plate of nachos like this…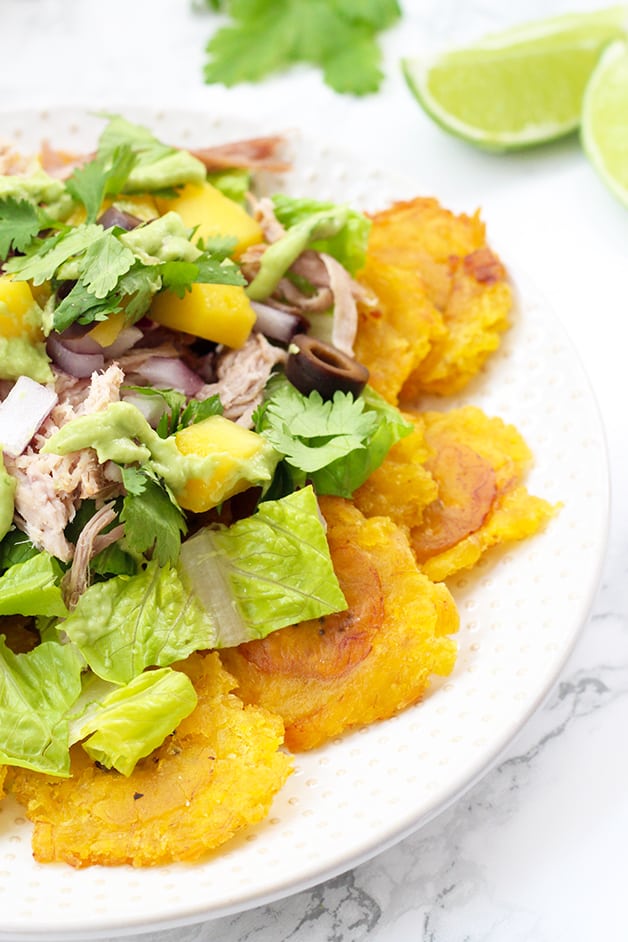 So good!
You can make sweet potato nachos, tostone nachos, or even a taco salad with the romaine lettuce base and some of the other toppings. The options are endless for what you can add or take away to this bar, but these are some of the best options to make it paleo, AIP, and Whole30 compliant.
Happy Super Bowl and enjoy this delicious nacho bar! Be sure to let me know if you try it.