Paleo Pizza Dough Snack Bites (AIP)
I've never been much for sports or super bowl parties for anything other than the food. Especially the pizza! The delivery pizza was probably my favorite part of any party. It didn't matter how crappy that pizza delivery was, or what we were celebrating at the party… as long as the pizza existed, I was happy. Needless to say, my delivery pizza party days have come to an end. Though there are options that exist for paleo pizzas, it's quite a bit of work. So I got to thinking… what if I made something that had all of the flavors of a pizza, but took half the time to make? Like a bagel bite? Or paleo pizza dough snack bites!
These Paleo Pizza Dough Snack Bites (which are also AIP) have all of the flavors of pizza in one bite, especially when dipped in pizza sauce! They're doughy, yet slightly crumbly like a real pizza crust, and feature traditional Italian herbs and seasonings like garlic, oregano, and basil. Plus, they're much easier to make and snack on than a whole paleo pizza, making them perfect party food!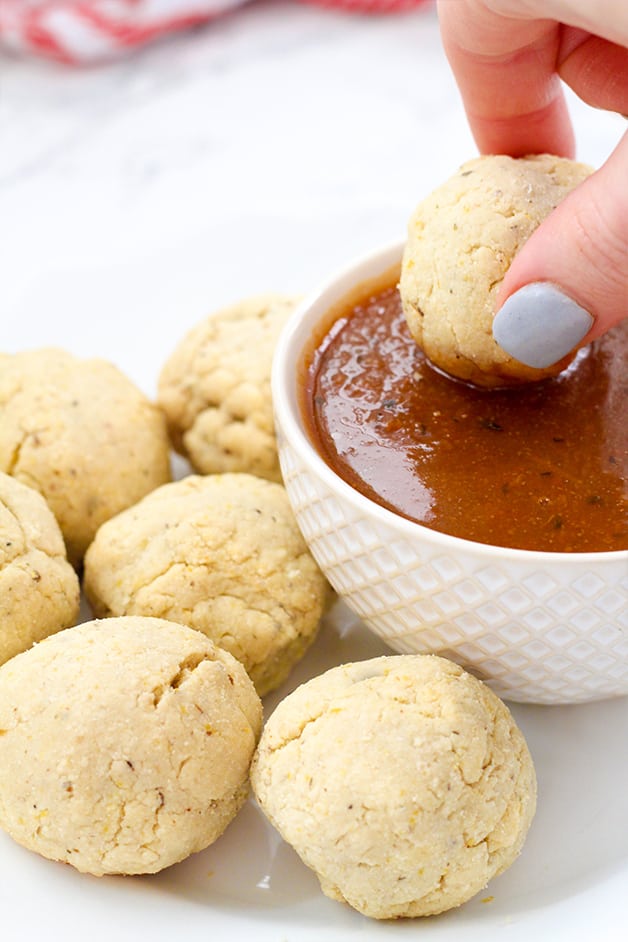 The Ingredients of the AIP & Paleo Pizza Dough Snack Bites
Coconut flour, tapioca starch, and cassava flour
This blend is what I've found to work best for this recipe. I would not sub anything out, and I would try substitutions at your own risk. I've tried a few different variations and this really was the best result.
Dried oregano, basil, garlic, and onion powder
These seasonings give that pizza flavor!
Nutritional yeast
This adds that cheese-y flavor! If you don't tolerate it, you can leave it out, but it will taste a lot less cheese-y.
Olive oil
The fat of choice that keeps with the Italian flavors.
1 Egg (sub 1 gelatin egg)
I used a gelatin egg for this recipe which makes it AIP (find the instructions below) but you can also use a regular egg.
Compliant pizza sauce
You can use whatever works for you, but I use the KC Natural Nightshade Free Pasta Sauce to make it AIP! It's so convenient for those of us with nightshade issues, and the flavor pairs wonderfully with these!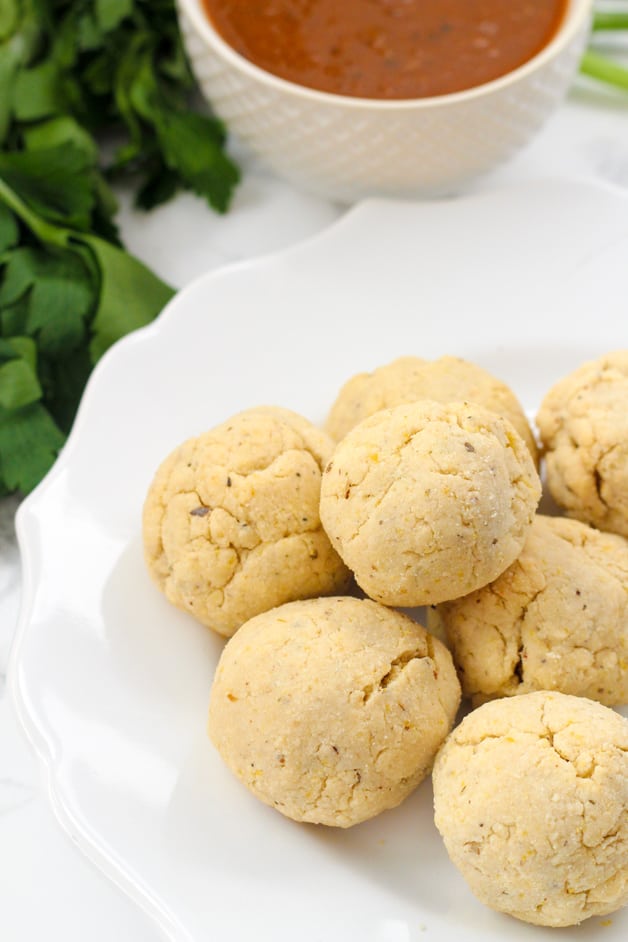 Print
Paleo Pizza Dough Snack Bites (AIP)
---
Total Time: 20 minutes
Yield: 4-5 snack bites 1x
1/4 cup cassava flour
1/4 cup coconut flour
1/4 cup tapioca starch
1 tsp garlic powder
1 tsp onion powder
2 tsp dried basil
1 tsp dried oregano
1/2 tsp dried parsley
2 tsp nutritional yeast
1/8 tsp baking soda
1/2 tsp sea salt
2 tbsp olive oil
FOR THE GELATIN EGG (sub 1 regular egg if tolerated)
1/4 cup water
1 tbsp gelatin (like this )
FOR SERVING – Compliant marinara sauce of choice (I use this for AIP )
---
Instructions
Preheat the oven to 375 F and line a baking sheet with parchment paper
In a medium bowl, sift together the flours until well combined
Next stir in the herbs, seasonings, nutritional yeast, and baking soda
For the gelatin egg (sub 1 regular egg if tolerated) add the water to a small sauce pot and slowly pour over the 1 tbsp gelatin. You don't want any clumps, so lightly mix if needed. Allow the mixture to rest and bloom over 2-3 minutes. Place the pot on the stove and turn in on low heat. Slowly melt the the gelatin (this will take just a few minutes) and remove from heat.
Once removed from the stove, vigorously whisk the gelatin egg until it becomes frothy. Add the gelatin egg to the mixture immediately and mix to combine.
Pour in the olive oil and mix well until dough is fully combined
Roll the dough into small snack bites (you should have 4-5… the picture features more than one batch). Add 1 tsp more of olive oil if the dough is too dry.
Place the dough balls on the baking sheet and bake for 12-15 minutes
Remove from the oven and allow to cool while heating a side of marinara sauce
Serve with the sauce for dipping and enjoy!
Notes
All nutritional information are estimations and will vary. Estimations do not include optional ingredients.
Prep Time: 5 minutes
Cook Time: 15 minutes
Nutrition
Serving Size: 1 snack bite
Calories: 163
Fat: 8.6g
Carbohydrates: 17.5g
Fiber: 5.3g
Protein: 4.8g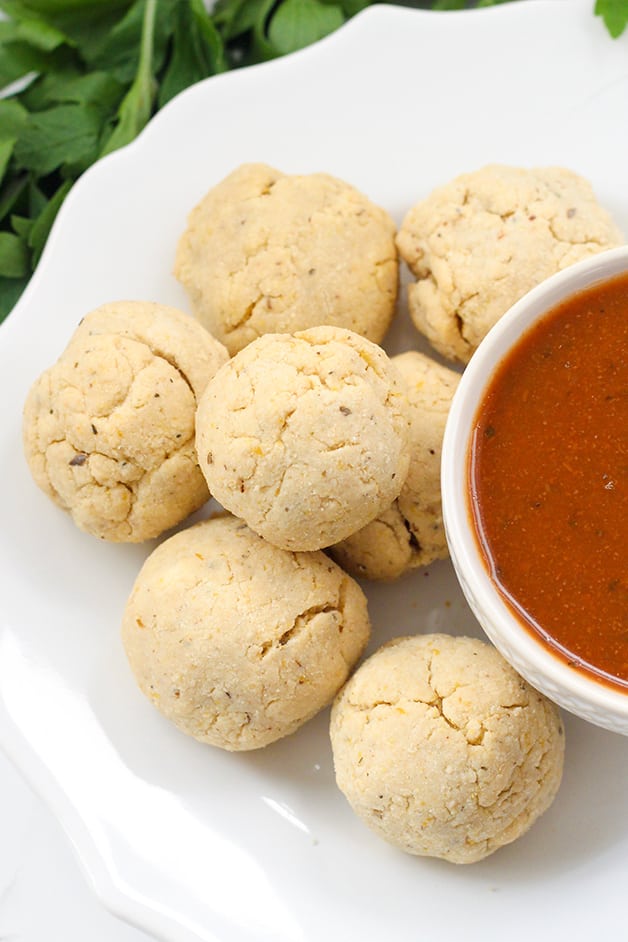 Seriously, how good do those look?
My husband who is not at all paleo turned up his nose at the idea when I told him about them. He's used to eating regular pizza so he didn't quite get how they could taste like pizza. When I tested them, I shared a whole plate with him thinking that I would have some left over. To my surprise, he loved it and ate the entire plate!
I see these becoming a staple in our household when we both want just a little pizza snack without making an entire pizza. I hope they become the same for you!