Spaghetti Squash Chicken Chow Mein (Paleo, Whole30, AIP)
Growing up, my family was all obsessed with Chinese takeout! We often had it as our Friday night easy meal, or would dine in on a lazy weekend. It didn't matter if we lived on Long Island, San Antonio, or Dallas, a new Chinese favorite was always found. Not only were egg rolls a family favorite (hence, my egg roll in a bowl recipe) but so were pasta dishes like Lo Mein and Chow Mein. I haven't had these is years since going gluten free, and then eventually AIP, so I had to recreate it as Spaghetti Squash Chicken Chow Mein! 
This meal is simple to make on a weeknight or meal prep for the week as leftovers. It's packed with veggies and features protein and healthy fats to make it a complete, whole meal. Plus, it's AIP, Paleo, and Whole30 compliant all while being a fun throw back for a take out favorite.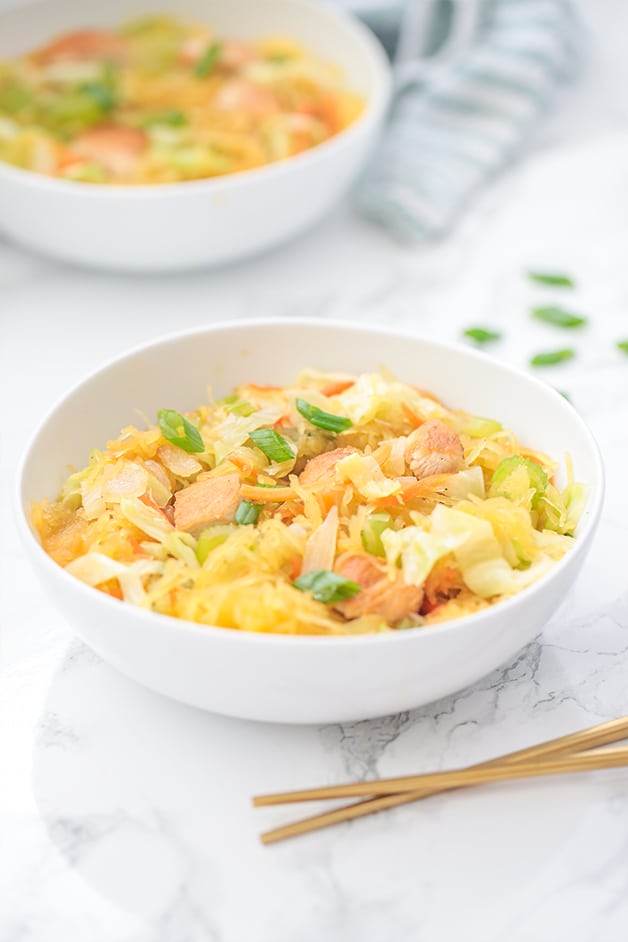 The Main Ingredients You'll Need For the Spaghetti Squash Chow Mein
Spaghetti Squash
Technically, you could use something like sweet potato glass noodles to make this paleo, but spaghetti squash is much easier to find!
Chicken breast
You can also use thigh, but I think breast works better here. Or you can just leave it out entirely and just have a veggie dish.
Green Cabbage
Just half a head of a large cabbage, or a small cabbage to round out the dish.
Carrots and celery
More crunch, and more veggies!
Coconut aminos
This is a soy sauce substitute that you can find at any health food store.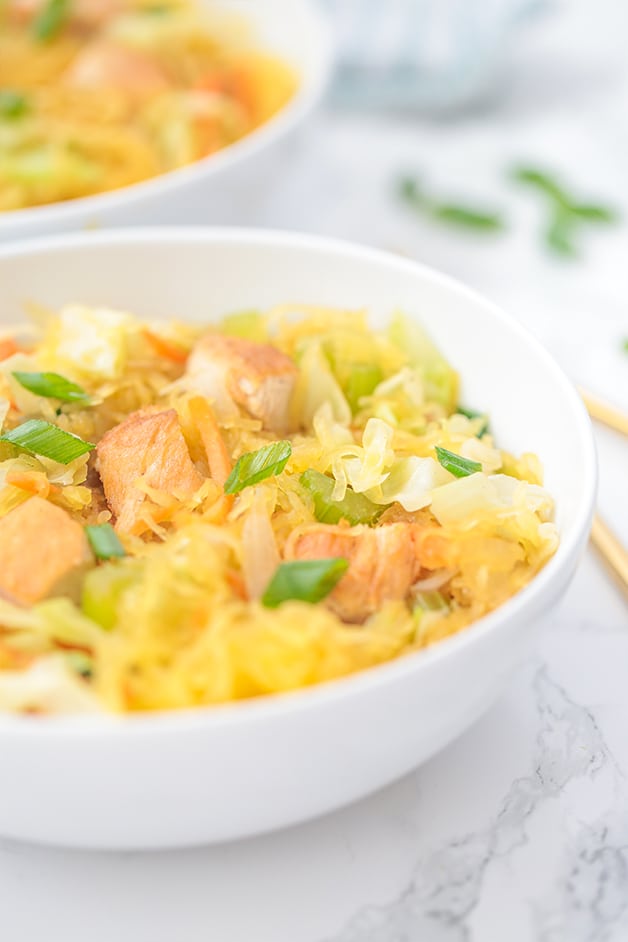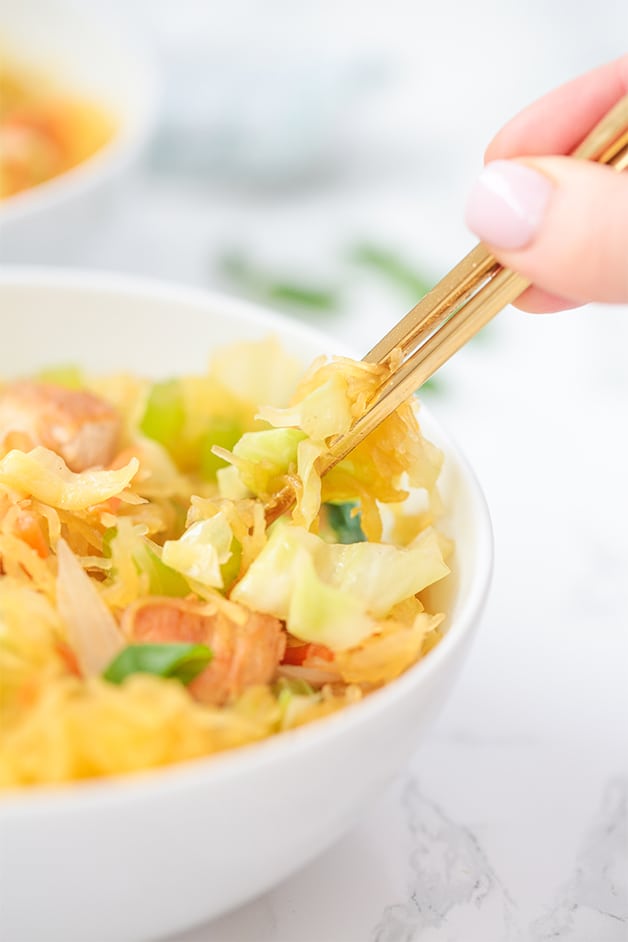 You'll also love…
Print
Spaghetti Squash Chicken Chow Mein (Paleo, Whole30, AIP)
---
FOR THE CHICKEN
1 lb chicken breast, diced
1 tbsp coconut oil
1 tsp coconut aminos
1/4 tsp sea salt
FOR THE CHOW MEIN
1 medium spaghetti squash
2 tbsp coconut oil
1 onion, diced
1/2 cup carrots, shredded
3 stalks celery, chopped
1 cup green cabbage, chopped into strands
4 sprigs green onion, chopped
3 tbsp coconut aminos
1 tsp sea salt
1/2 tsp pepper (omit for AIP)
2 tsp ginger powder
---
Instructions
Preheat the oven to 400 F
For the spaghetti squash, slice it in half lengthwise and deseed. Place the squash face down on a baking sheet lined with parchment paper and bake for 40-50 minutes or until the squash shell is soft to the touch. Once done, scoop out the inside strands with a fork and discard the shell.
While the spaghetti squash is cooking, melt 1 tbsp of coconut oil in a pan over medium heat. Add the diced chicken, coconut aminos, and sea salt. Cook until crispy and internal temperature reaches 165-170 F and set the chicken aside.
Add more oil to the pan along with the diced onions. Saute until translucent.
Next add the carrots and celery and cook for 5-8 minutes or until soft. Stir in the cabbage until soft for about 1-2 minutes
Finally, stir in the spaghetti squash, cooked chicken, sea salt, pepper, ginger, and the coconut aminos and satue for about a minute to combine the flavors
Serve topped with green onion and enjoy!
Notes
All nutritional information are estimations and will vary. Estimations do not include optional ingredients.
Nutrition
Serving Size: 1 serving
Calories: 304
Fat: 13.8g
Carbohydrates: 17.6g
Fiber: 3.7g
Protein: 27.2g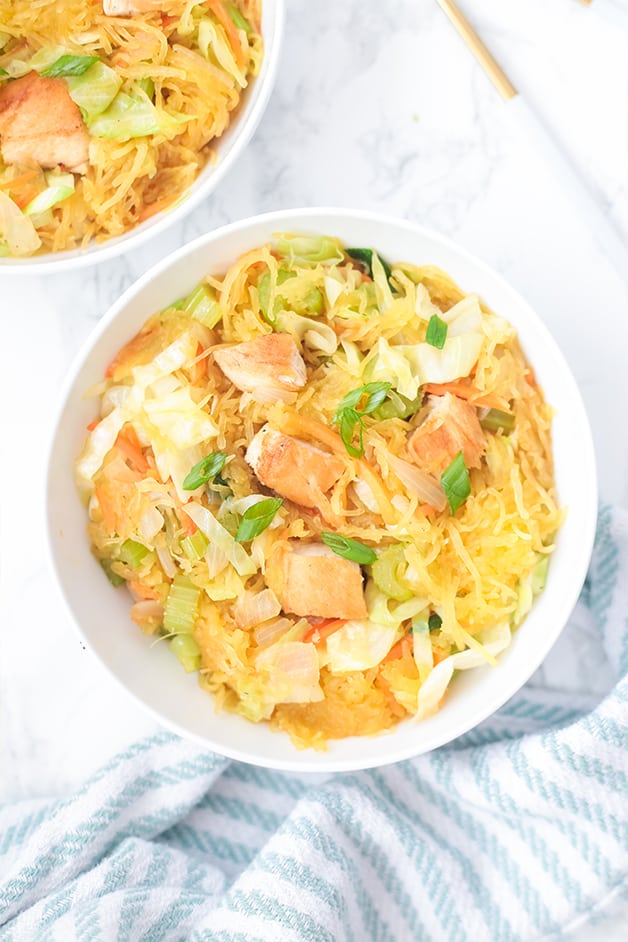 That's all you need for a flavorful, nutrient dense, and nostalgic dish! This dish yields leftovers for several meals if you're a small household, and is great for prepping ahead of time.
Make it for meal prep for the week ahead, serve it as a date night dish, or simply make it as a fun weeknight meal to feel like you're having takeout.