Anti-inflammatory Turmeric Bars (Paleo & AIP)
These anti-inflammatory turmeric bars are a delicious treat that requires zero baking. They're paleo, gluten free, and AIP.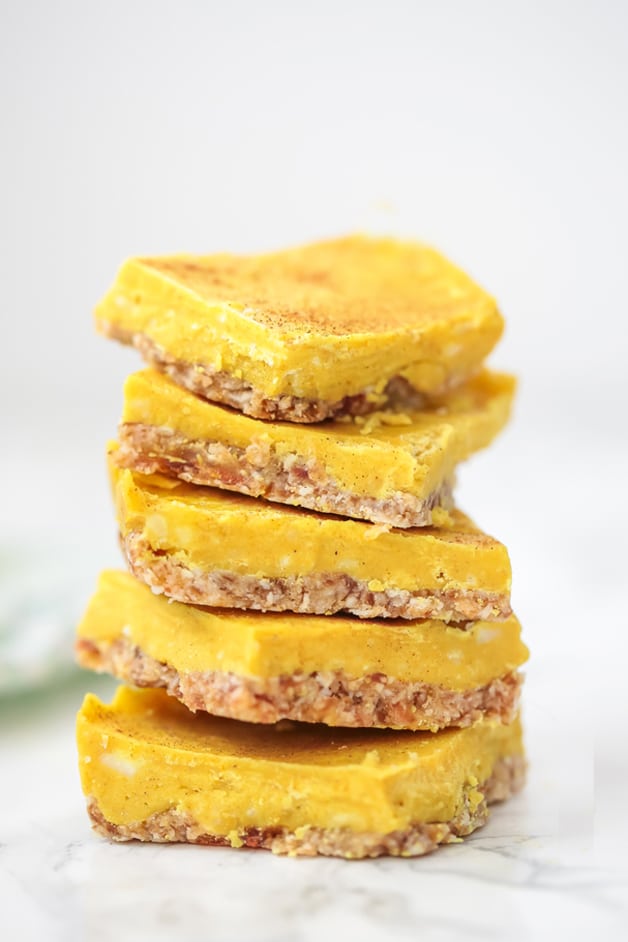 Turmeric is one of those ingredients that can be tricky. Sure, golden milk is great, but if there are any other ways to incorporate anti-inflammatory turmeric into my weekly diet that feels like a treat, sign me up! These Anti-inflammatory turmeric bars are just the thing!
. Turmeric is known for it's anti-inflammatory properties, which is what makes it so popular in the autoimmune community. However, sneaking more turmeric into your diet is a plus regardless of your health status! We live in such an inflammatory environment in our modern world, that we could all use some natural, drug free ways to get in some nutrient density and anti inflammatory love. And what better way to do it than with a snack bar?
Why I Love These Turmeric Bars…
They feature anti-inflammatory turmeric.
Turmeric has been used for thousands of years as a completely natural healing spice. You'll find more this article about how it can be helpful in arthritis management, skin conditions, and more.
They're Paleo and AIP
They're nut free, grain free, and totally AIP and paleo.
They're loaded with healthy fats
Coconut butter and coconut oil to keep you satisfied!
They're sweetened with dates and a bit of honey.
No weird sweeteners here.
That crust.
Grain-free recipes with crusts can be harder to come by, but are that much more amazing!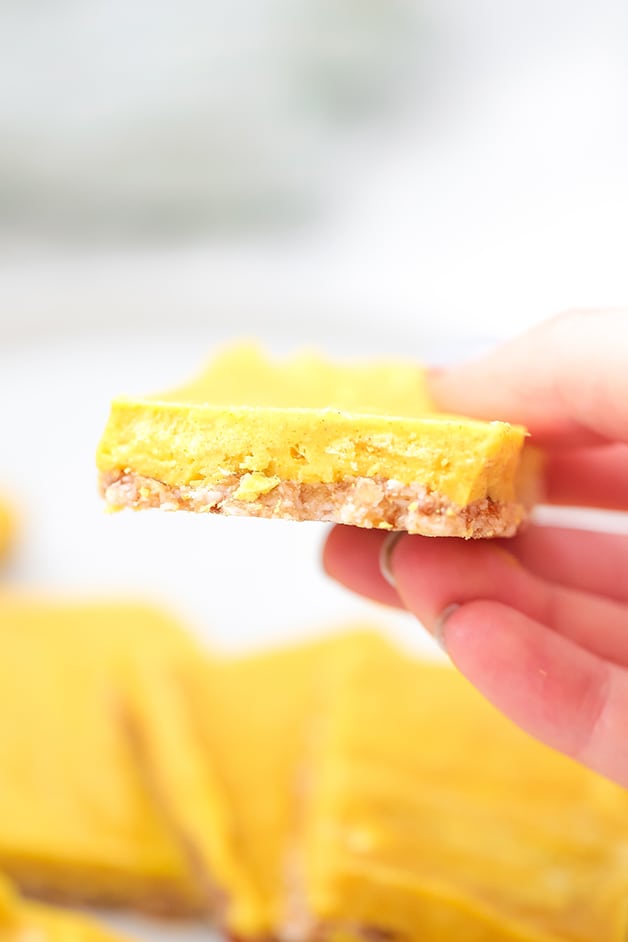 The Main Ingredients for The Turmeric Bars…
Coconut butter
This is different from coconut oil. You can find this online or in stores near the nut butter. It's also called coconut cream concentrate or coconut mana.
Coconut oil
This is in both the crust and the filling.
Turmeric, cinnamon and black pepper
Black pepper increases the bioavailabity of turmeric, however just omit it if you're AIP.
Shredded coconut and dates
These are the main ingredients in the crust.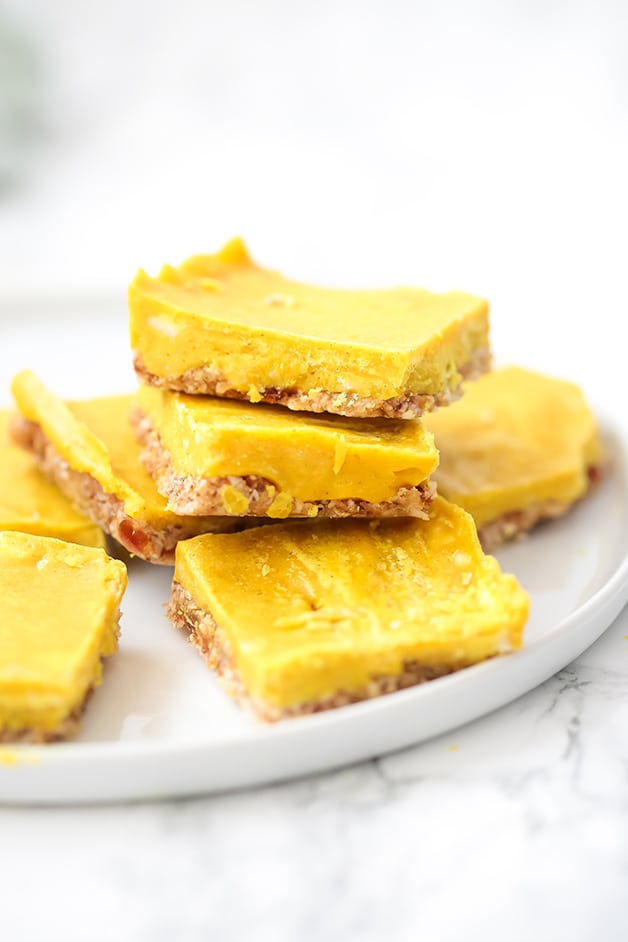 Print
Anti-inflammatory Turmeric Bars (Paleo, AIP)
---
FOR THE CRUST
1 cup shredded coconut
10 dates, pitted (soak in water for 10 minutes if hard)
1 tbsp coconut oil
1 tsp cinnamon
FOR THE FILLING
1 1/4 cup coconut butter
1/2 cup coconut oil
1 1/2 tsp turmeric powder
1 tsp cinnamon plus extra for garnish
1/8 tsp black pepper
2 tsp honey (omit or sub maple syrup if vegan)
---
Instructions
Prepare an 8×8″ pan and line it with parchment paper
Add the shredded coconut and dates to a food processor and pulse several times until well incorporated. Add in the coconut oil and cinnamon and quickly blend.
Spoon out the crust mixture and add it to the pan. Press it down into the pan until it's evenly flattened. Place the crust in the fridge to chill for 2-3 hours.
To make the filling, make a double boiler by filling a medium sauce pot half way with water and bring it to a low boil. place a stainless steel bowl over top the pot to create a double boiler. Spoon the coconut butter into the bowl and stir to allow it to melt. Do not use a microwave to melt the coconut butter, or it will burn.
Once the coconut butter is mostly melted, stir in the coconut oil until the mixture is entirely liquid
Remove the mixture from heat and allow to cool for a few minutes
Stir in the cinnamon, turmeric, black pepper (omit for AIP) and honey into the filling mixture
Pour the filling over the crust and evenly spread out with a spoon
Place in the fridge to harden overnight or for 3-4 hours
Once hardened, remove the pan from the fridge and let it sit on the counter for 5-10 minutes
Using a sharp kitchen knife, carefully slice into 16 squares some may break a bit, but that's okay!
Top the finished bars with a sprinkle of cinnamon
Store in the fridge and eat chilled… with a napkin! Turmeric does easily stain.
Notes
All nutritional information are estimations and will vary. Estimations do not include optional ingredients.
Nutrition
Serving Size: 1 bar
Calories: 295
Fat: 26.6g
Carbohydrates: 15.2g
Fiber: 1.5g
Protein: 0.5g
Like this recipe? Try these!!