Anti-inflammatory Turmeric Chicken Meal Prep Bowls (Paleo, Whole30, AIP)
Fancy magazine worthy meals are great, don't get me wrong. But when it comes down to just getting through the work week, sometimes you need something that's simple to make, practical to store, and healthy! I spent years trying to get my meal prep routine on point with fussy recipes I pulled from magazines and cookbooks and found myself overwhelmed, and unsatisfied. That's why I decided to share this recipe for anti-inflammatory turmeric chicken meal prep bowls! Paleo, AIP, Whole30, and absolutely perfect for stashing in the fridge and bringing to work throughout the week.
Not everyone is into the idea of prepping their meals for the week, but let me tell ya, it's totally changed the way that my husband and I eat. No longer are we scrambling for halfway decent food for lunch on a Thursday morning! We have it all prepped and ready to go! All it takes is a little bit of forethought, an hour or two in the kitchen over the weekend, and some creative ideas to get you going for the week… and I've got the creative idea for ya right here!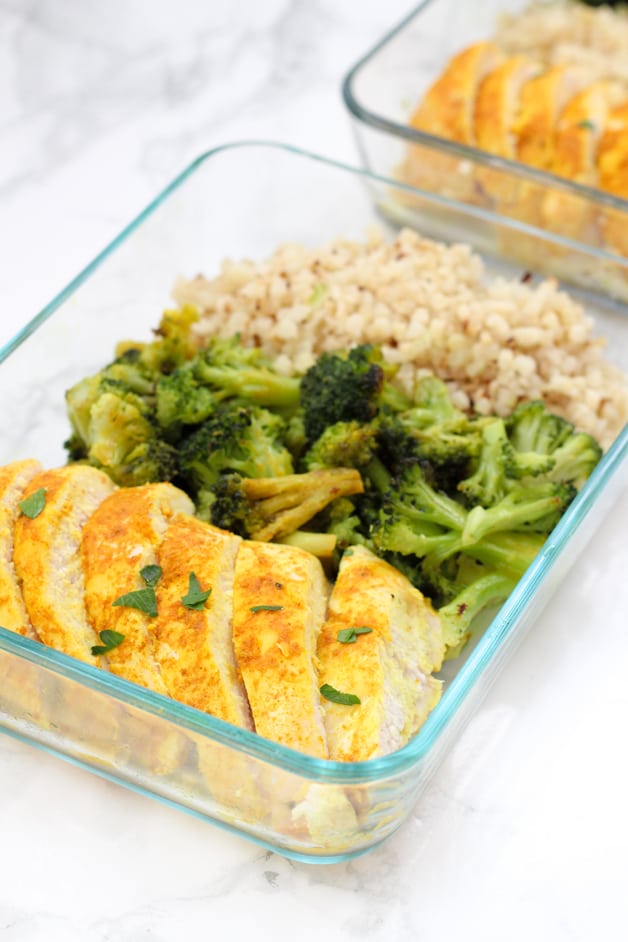 Why I Love These Anti-inflammatory Turmeric Chicken Meal Prep Bowls
They're perfect for meal prep for the week
This recipe is designed for three days worth of meal prep. My husband and I share meal prep, so it can essentially be two days worth of lunches plus one for two people. You can simply scale up or down from there and use leftovers for dinner.
They feature anti-inflammatory turmeric
Turmeric is one of my absolute favorite ingredients to cook with and it has made such a dramatic difference in my own health. Regular turmeric has really helped support my overall health, and I notice an immediate difference when I'm trying to fight off the start of a cold and I super dose on turmeric. Perfect for supporting your health during flu season!!
They're veggie packed!
Broccoli, cauliflower rice, and fresh herbs for a nutrient-dense meal!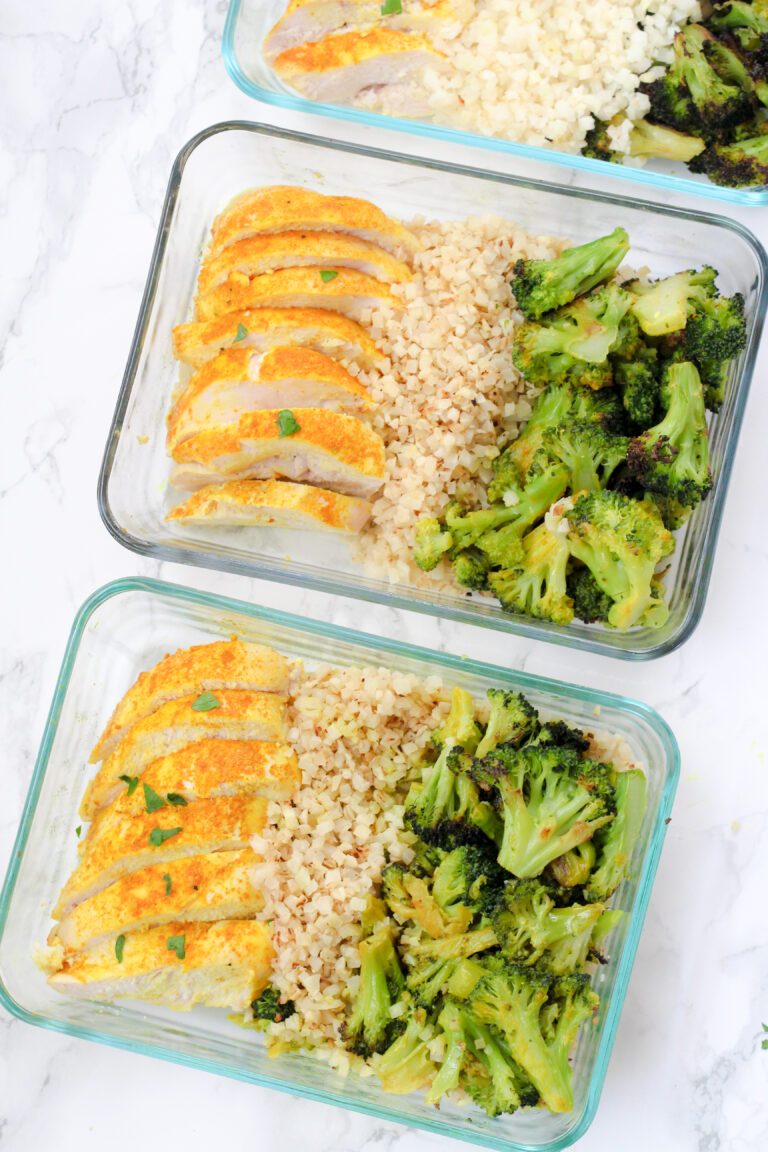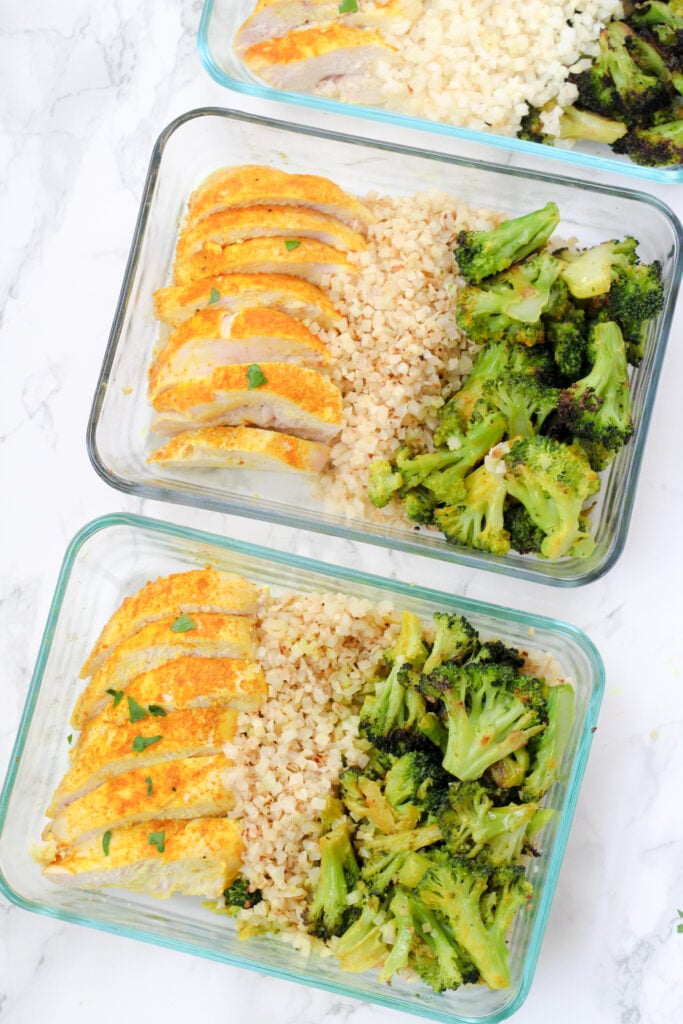 The Ingredients You'll Need
Chicken
Chicken breast is what I used for this recipe, but you can easily use chicken thigh as well!
Broccoli
Broccoli goes best with these flavors and hold up well in the fridge, but you can also use other veggies like asparagus!
Cauliflower Rice
I often buy cauliflower rice pre-riced to save myself some time in the kitchen. It's a worthy expense to me! I've seen pre-riced cauliflower at Sprouts, Trader Joe's, Whole Foods, and even Target. However, you can also just use a food processor to rice cauliflower!
Coconut oil
You can also used avocado oil.
Turmeric, ginger, and fresh parsley
Turmeric is the main anti-inflammatory ingredient here, but ginger also adds in some more benefits!
Storage containers
I use glass like this, but you can also use stainless steel!
Print
Anti-inflammatory Turmeric Chicken Meal Prep Bowls
---
3 chicken breasts (about 1–1.5 lbs)
2.5 cups cauliflower rice (pre riced or riced in a food processor)
2.5 cups broccoli florets
3 tbsp coconut oil
2 tsp turmeric
1 tsp onion powder
1/2 tsp ginger
1 sea salt
1/2 tsp black pepper (omit for AIP)
1 tbsp coconut aminos
1–2 tsp fresh parsley
---
Instructions
Preheat the oven to 400 F and line a large baking sheet with parchment paper
Place the three chicken breasts on one side of the baking sheet, and the broccoli on the other (use two baking sheets if it's too crowded)
Mix 2 tbsp of melted coconut oil with 1 tsp ground turmeric, onion powder, ginger, sea salt, and black pepper
Pour the mixture over the chicken and the broccoli, evenly coating them
Top the chicken with an extra tsp of ground turmeric
Bake in the oven for 20-25 minutes or until chicken reaches internal temperature of 165-170 F
Remove the chicken, set aside, and potentially keep the broccoli in for 5-8 more minutes if you like it crispy!
While the chicken and broccoli are cooking, melt 1 tbsp of coconut oil in a large skillet on medium heat
Add in the cauliflower rice and season with salt and coconut aminos
Cook the cauliflower rice for 12-15 minutes, or until lightly browned
Assemble the meal prep bowls (you'll have about 3) by slicing the chicken and topping with parsley, then adding in the cooked broccoli and cauliflower rice
Store in the fridge for 2-3 days and enjoy!
Notes
All nutritional information are estimations and will vary. Estimations do not include optional ingredients.
Nutrition
Serving Size: 1 bowl
Calories: 451
Fat: 20g
Carbohydrates: 13.2g
Fiber: 4.3g
Protein: 55.1g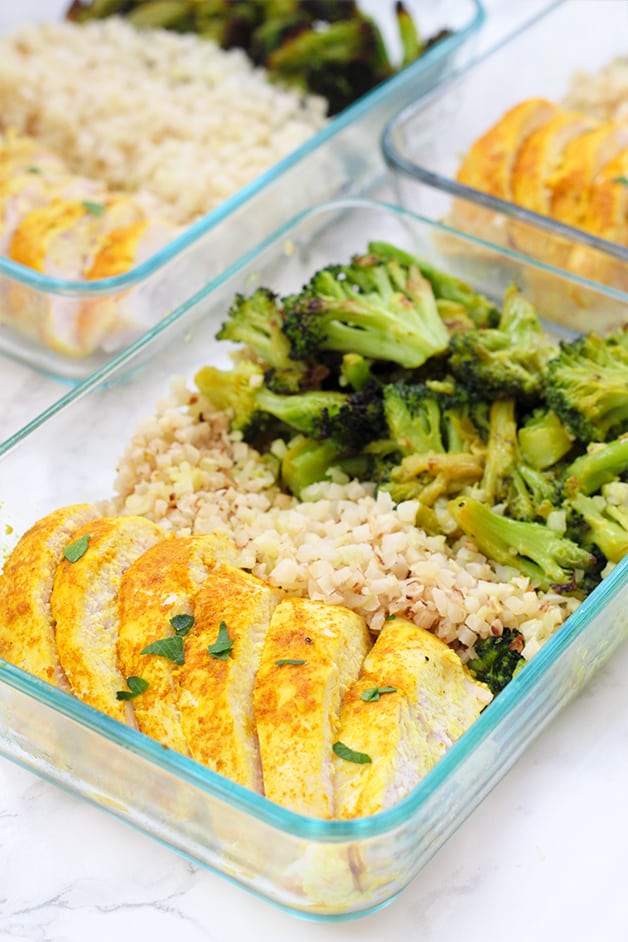 So easy, yummy, and healthy! You can have these all for lunch, or double up for breakfast or dinner. I often have meals like this for breakfast and find it much more filling than something like a smoothie.
Want more turmeric recipes? Check out these…