With all of the treat recipes that I have here on my blog, something was missing. My favorite treat of all was totally absent from my blog… until now. Paleo Chocolate Chip Cookies have arrived!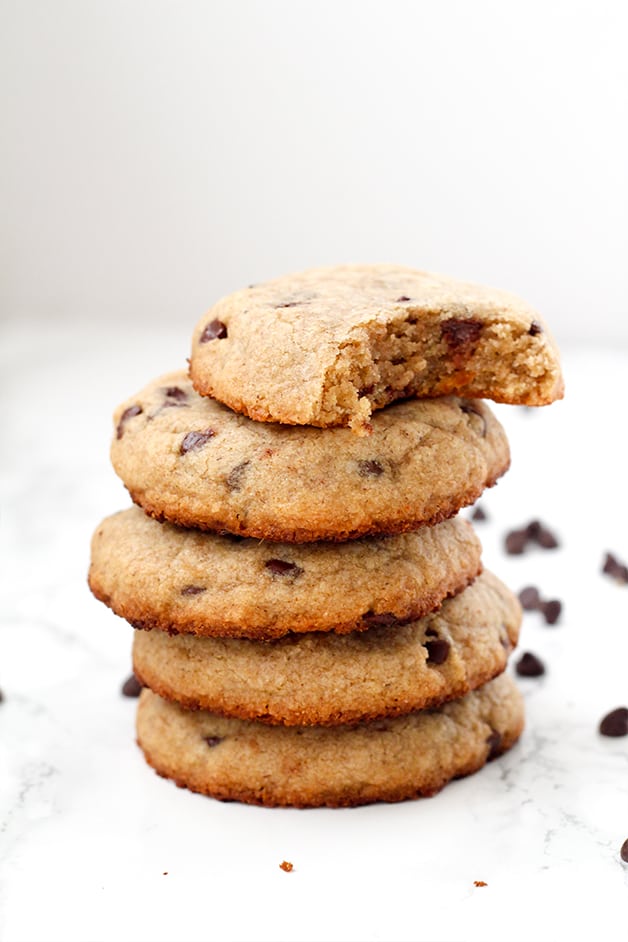 Chocolate Chip Cookies have always been my all time favorite dessert. We had them around entirely too much when I was growing up, and I have dozens of memories of eating them. I loved them straight from a box, a boxed mix, or homemade. But the thing with chocolate chip cookies is that they can vary greatly depending on how they're made. They are not all created equal by any means.
I love chocolate chip cookies that are soft and pillowy right out of the oven, and are still easy to bite into once they cool. I always had trouble finding exactly what I'm looking for… until now! A paleo chocolate chip cookie that's AIP, egg free, dairy free, soft and delicious.
The Ingredients You Need for the Paleo Chocolate Chip Cookies
Tigernut flour
One of my favorite flours for AIP baking. You can get this at health food stores, or on Amazon.
Tapioca Starch
You can also sub arrowroot here.
Maple syrup
I haven't tried to swap honey here, but I assume it would work!
Coconut oil
I have listed some coconut free alternatives below, but I have not tested these cookies to be coconut free.
Grass fed gelatin powder
You can use either vital proteins or great lakes. However, you cannot sub collagen. 
Dairy free chocolate chips (sub carob for AIP)
I use enjoy life chocolate chips, but you can also sub this for AIP.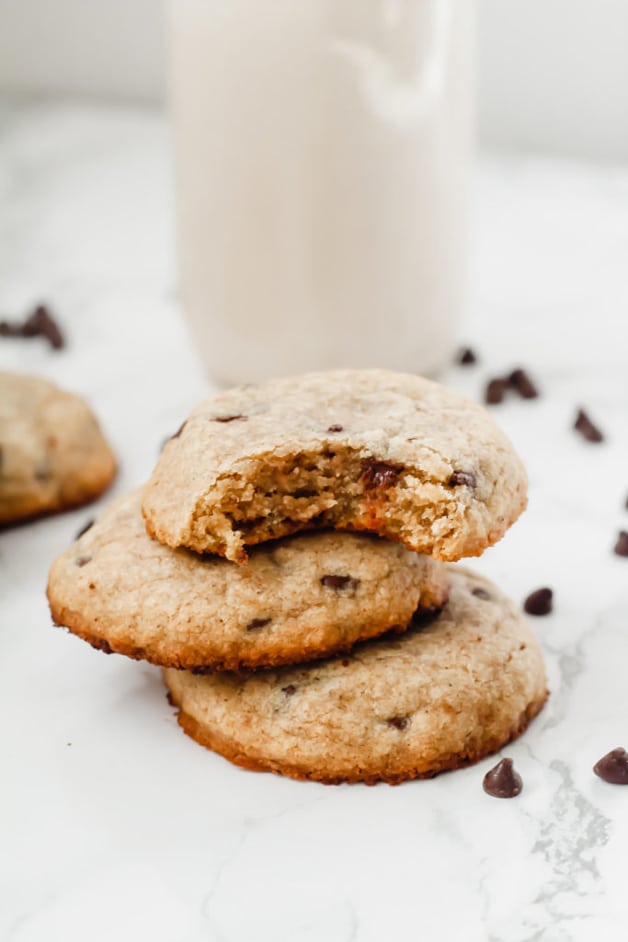 Coconut Free Alternatives…
If you want a coconut free alternative that's similar to this recipe, check out these recipes from Grazed and Enthused and Grass Fed Salsa. These cookies are both amazing!!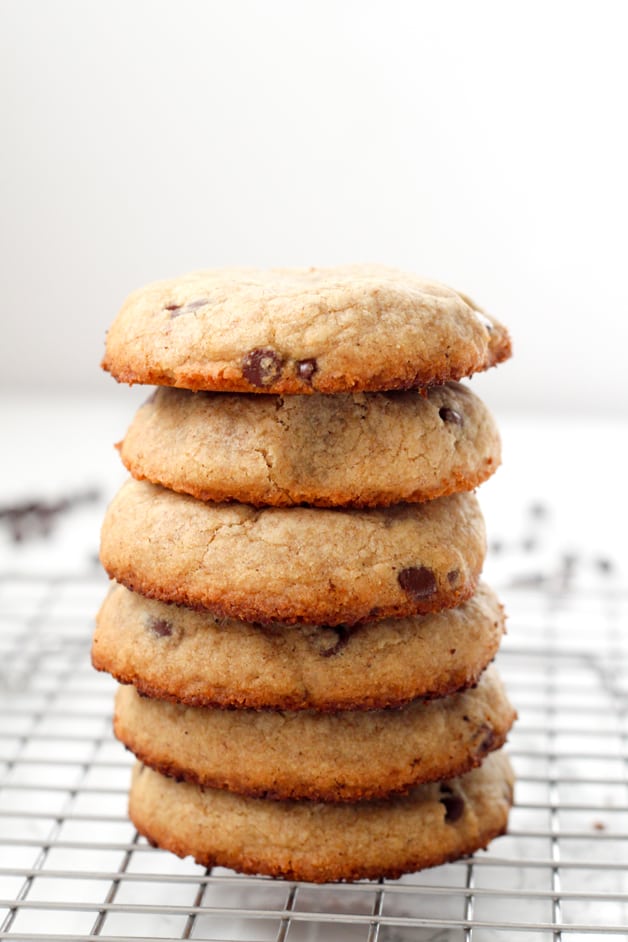 Print
Paleo Chocolate Chip Cookies
---
Ingredients
1 cup tigernut flour
1/4 cup tapioca starch
1/4 cup maple syrup
1/3 cup coconut oil
1 tbsp dry gelatin (vital proteins or great lakes)
3 tbsp dairy free chocolate chips (sub these for AIP )
1/8 tsp baking soda
1/8 tsp sea salt
1/2 tsp vanilla extract
---
Instructions
Preheat the oven to 375 F and line a baking sheet with parchment paper
Sift together the tigernut flour, tapioca starch, baking soda, and gelatin
Next pour in the vanilla, maple syrup, and coconut oil and stir well to combine
Finally, mix in the chocolate chips and sea salt
Form the batter into cookies about 1-1.5 inches in diameter. You'll have 7-8 cookies
Bake in the preheated oven for 8-10 minutes
Remove from the oven and allow to cool (preferably on a cooling rack) for at least 20-25 minutes… these cookies will break if they don't cool!
Store in the fridge or eat immediately!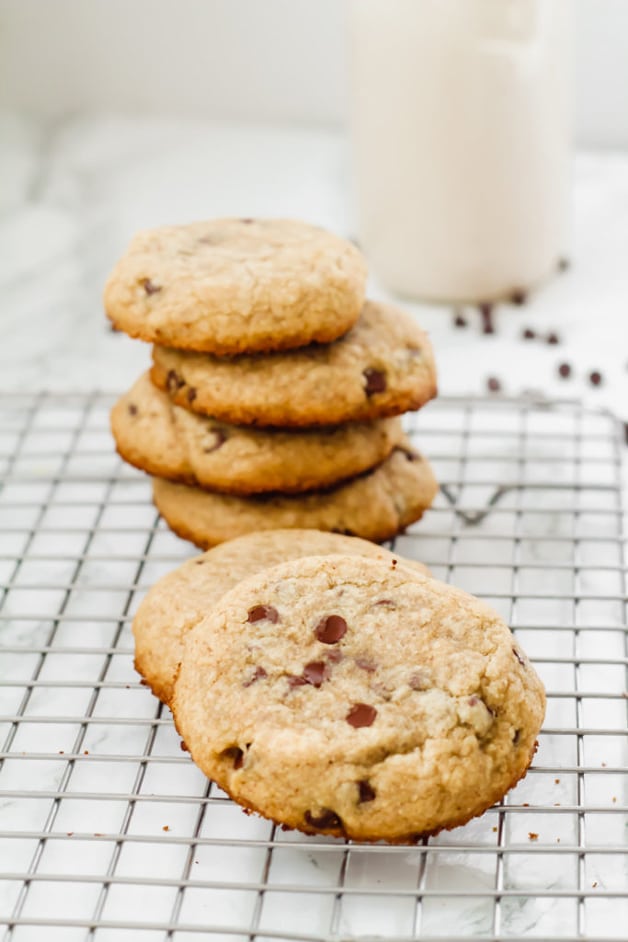 So easy, and so delicious!
I took a batch of these cookies into my part time office job today and they straight up disappeared. I was even told by someone that they were one of the best chocolate chip cookies that they'd ever had! Not bad praise for a cookie that's grain free, nut free, and dairy free 😉
I hope you love them too!