Instant Pot BBQ Stuffed Sweet Potatoes (Paleo, Whole30, AIP)
Here in Texas, Barbecue is a way of life. There are tons of BBQ joints in Dallas, and everyone goes crazy for them! Being intolerant to nightshades, I miss out on a lot of fun of BBQ. However, once I started making nightshade free BBQ dishes, I am a changed woman and absolutely love it! These BBQ Stuffed Sweet Potatoes are everything that you love about BBQ all in one easy weeknight dish.
Making simple weeknight dishes while you're on a Whole30, or paleo/ AIP diet that's filling and that everyone loves can be challenging at times. I really aim to share a myriad of easy weeknight dishes on Unbound Wellness, and this is another amazing one to add to the bunch!
These BBQ Stuffed Sweet Potatoes can be made in the Instant Pot for quick and easy prep, and they're packed with both flavor and filling nutrition that the whole family will love.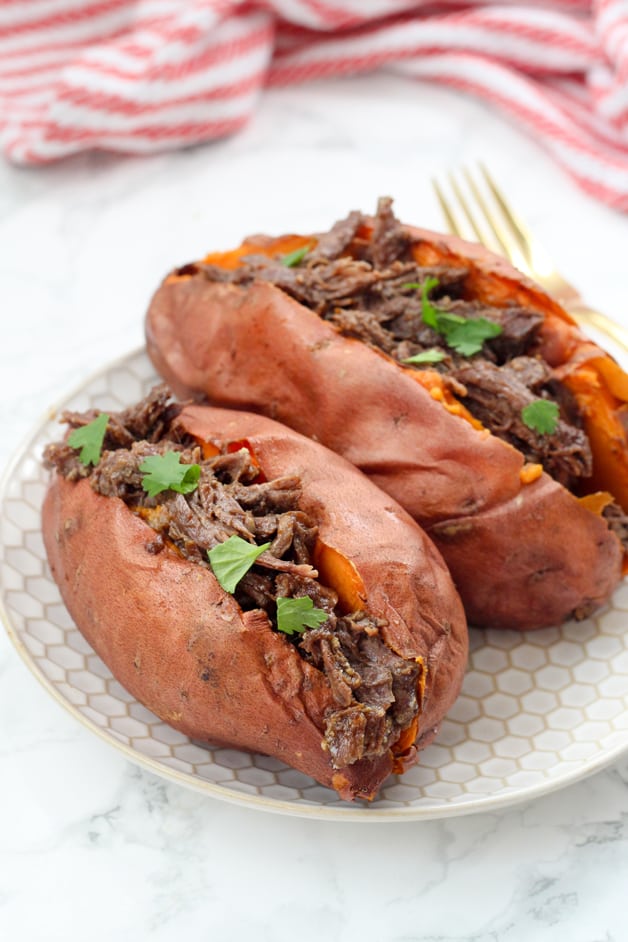 The Ingredients
Beef Chuck Roast
Beef chuck roast is what I used in this recipe, but you can easily use something like pork shoulder or chicken.
Bone Broth
This helps keep the roast super juicy.
Sweet Potatoes
I used regular orange sweet potatoes put you can use any variety
Cilantro
For flavoring!
Compliant BBQ Sauce
This is where you can get creative and modify. For AIP, I use this KC Naturals BBQ sauce to make it easy. However, you can also use a homemade AIP BBQ like this recipe, or a homemade Whole30 recipe like this if you're not AIP. Whatever works for you!
Don't have an Instant Pot? First, I highly recommend one! It has seriously transformed the way that I cook and has saved me so much time. It's worth every penny, and I would make the decision to get one 1000x over.
But, if you don't have one, I have included slow cooker modifications in the recipe card notes! It's so easy to modify 🙂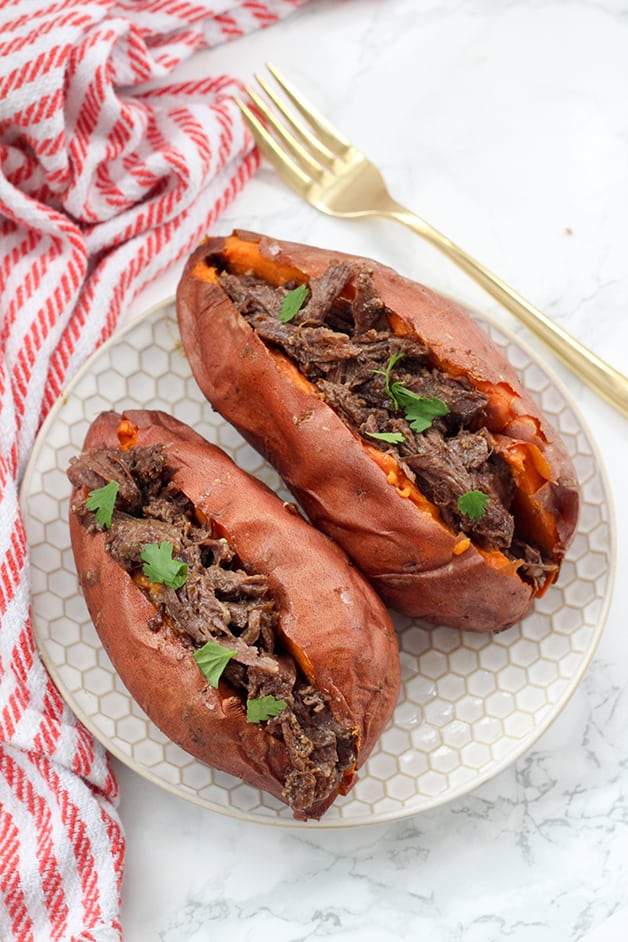 Print
Instant Pot BBQ Stuffed Sweet Potatoes
---
FOR THE SWEET POTATOES
3–4 sweet potatoes
1 tbsp coconut oil
FOR THE BBQ BEEF
3 lb beef chuck roast
1 cup beef bone broth
1 tbsp coconut oil (or avocado oil)
1/2 onion, chopped in half
2–3 garlic cloves
1 tsp sea salt
1/2 tsp black pepper (omit for AIP)
1.5 cups compliant BBQ sauce (I use this for AIP)
2 tbsp cilantro, chopped
---
Instructions
Set the Instant pot (see notes for slow cooker instructions) to sauté and melt 1 tbsp of coconut oil
Add in the chuck roast, season with salt and pepper, and satue the chuck roast until lightly browned (this takes 4-5 minutes)
Add in the broth, red onion, and garlic
Place the lid on the Instant Pot, seal the valve, and set it to MANUAL for 60 minutes
While the roast begins to cook, set the oven to 400 F and line a baking sheet with parchment paper
Scrub the sweet potatoes well, rub them in coconut oil, and make a slit down the center
Roast the sweet potatoes in the oven for 45-60 minutes or until cooked through (cooking time varies depending on the size)
Remove the sweet potatoes from the oven and set aside
Once the Instant Pot is done and the roast in cooked, carefully quick release the pressure
Remove the lid on the instant pot and spoon out the excess broth (save it for soup… it's delicious!) and the onion
Pour in the BBQ sauce of choice and shred the roast to incorporate with the BBQ sauce
Stuff the sweet potatoes with the BBQ beef and top with cilantro to serve
Notes
If using a slow cooker instead of an instant pot, follow all of the other instructions and simply set the slow cooker to 8 hours on low! Easy modification 🙂
All nutritional information are estimations and will vary. Estimations do not include optional ingredients.
Nutrition
Serving Size: 1 serving
Calories: 535
Fat: 16.3g
Carbohydrates: 47.5g
Fiber: 3.1g
Protein: 46.9g
That's all there is to it! These BBQ stuffed sweet potatoes are so perfect for week night meals and meal prep. Serve it with a side salad or another roasted veggie on the side, and you're good to go for a nourishing, delicious and filling meal.
Like these BBQ stuffed sweet potatoes? You may like these recipe as well…