Bacon Ranch Zucchini Noodle Pasta Salad (Paleo, AIP, Whole 30)
When I ask myself the question, "What flavors do I add to make this taste really, really good?", the answer is often "bacon and ranch". It's savory, creamy, and a total crowd pleaser all around, which is important for this time of year that's filled with backyard BBQ's, picnics, and potlucks where we're constantly sharing food. Pasta salad used to be a go-to for sharing at summer BBQ's for me because it was easy, cheap and everyone loved it. Since I'm not really buying grain filled pasta anymore these days, I had to come up with a way to make a grain free pasta salad more interesting. Thus, a Bacon Ranch Zucchini Noodle Pasta Salad was in order.
I've shared on my blog before that my favorite way to make social gatherings work with my diet is to bring something that's totally safe for me to eat while still being easy to share. And let's be honest… who wouldn't love something that's bacon ranch flavored?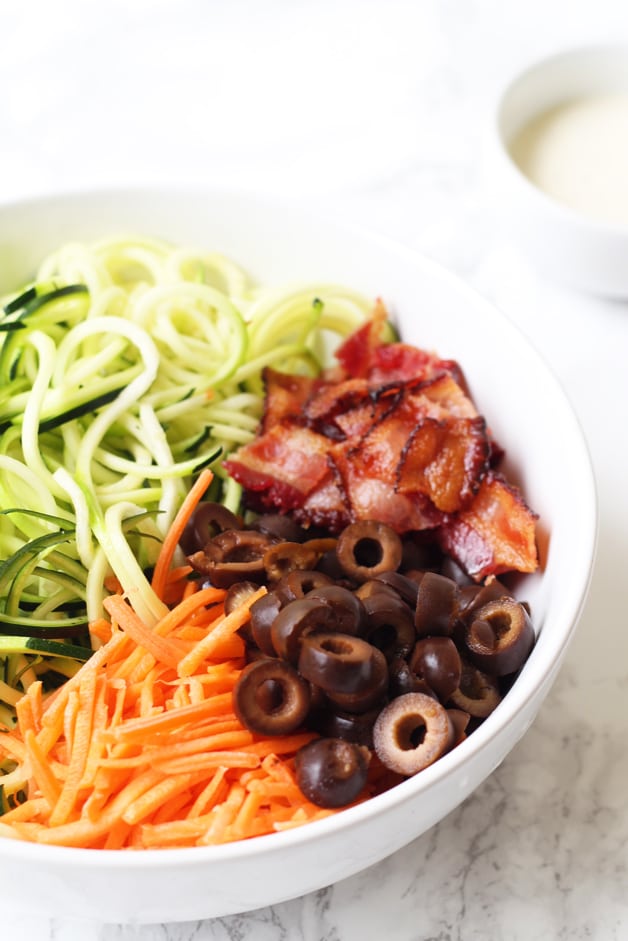 Why I Love This Bacon Ranch Zucchini Noodle Pasta Salad
1.It's grain free and veggie packed
Even after coming a long way in our own health journeys, whether it be autoimmunity, gut issues, or other, most of us still feel better staying grain-free. Gluten-free pasta salad won't always cut it as they're made with corn, quinoa, or rice which is often problematic for most of us. I still can't get anywhere near corn without feeling like I was hit by a barbecue that fell out of a 4 story building. Trust me, I've tried… it was bad.
Swapping out the grains for zucchini noodles instantly makes
2. It's made with dairy-free ranch
I haven't had real ranch in years. I mean, I loved real ranch. It was creamy, flavorful and delicious. But ranch is dairy based which is problematic for so many. Not to mention store bought ranch is also full of soybean oil, xantham gum, modified food starch, and the list goes on. It's just all around not cool.
When it comes to ranch for this recipe, I'm not reinventing the wheel. There are already tons of great compliant ranch recipes out there that I'm happy to share, such as…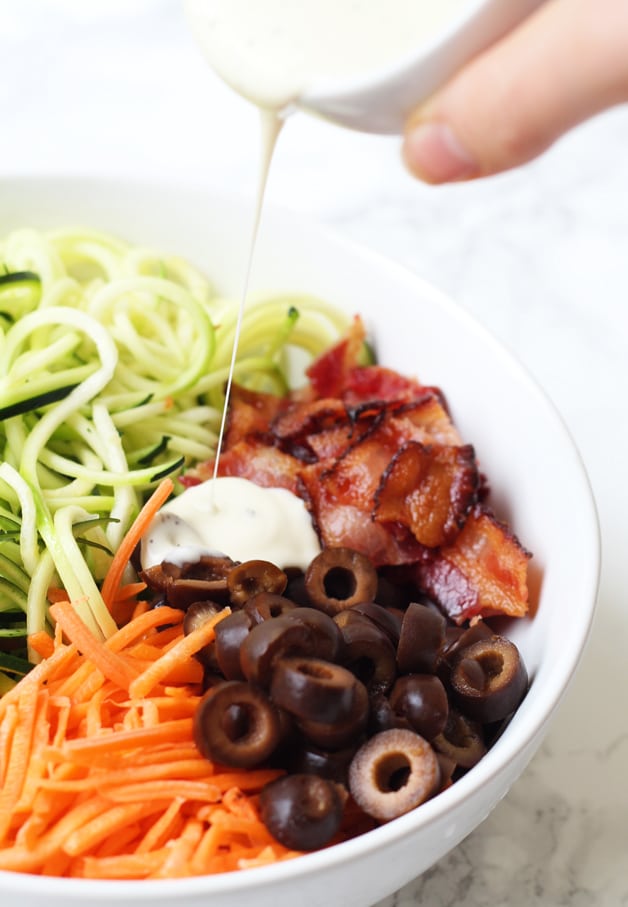 3. It's packed with flavor
Like I said, you can't go wrong with bacon and ranch. Especially when you're pairing it with classic pairings like carrots, and olives. The problem with zucchini noodles is that the flavor can fall a bit flat if you're not adding lots of extra seasoning or a sauce. That's why the bold flavors of bacon and ranch go so well with them in this salad.
4. It's easy to share
Pasta salad is always a crowd pleaser at gatherings. It's one of those sides that most everyone has on their plate!
Being modeled after a traditional pasta salad, this version is great for sharing with picky eaters at parties. If they gripe about eating vegetables, just tell them that there's bacon, and ranch in it. Problem solved 😉

Print
Bacon Ranch Zucchini Noodle Pasta Salad (Paleo, AIP, Whole 30)
---
2 medium zucchinis
3 pieces of cooked bacon, chopped
1/2 cup shredded carrots
1 small can black sliced olives, drained
1/2 cup compliant, dairy free ranch (I like this AIP ranch and this Whole 30 ranch)
2 tbsp fresh parsley
1 tbsp olive oil or coconut oil
1 tsp sea salt
---
Instructions
Spiralize the zucchinis with a spiralizer (like this one )
Add the cooking oil to a pan and set to medium/low heat
Cook the zucchini noodles for 2-3 minutes or until just barely soft
Remove the zucchini noodles and drain off any excess water
Place the noodles in a large bowl and add in the bacon, olives, and carrots
Stir in the ranch dressing of choice
Top with fresh parsley and sea salt and serve chilled
Bring this pasta salad to a gathering to share, or keep it for yourself for a quick and easy dinner at home!
Enjoy!!