Autoimmune Paleo Slow Cooker Pot Roast with Cauliflower Rice
"Snowed in" always sounded like such an adventure to me. Days at a time of just watching movies, hanging out with loved ones, and cooking delicious, delicious cold weather favorites. Well, I'm not actually snowed in right now like many of you are, but that didn't stop me from wanting to join the comfort food cooking party and make a pot roast!
Every pot roast I've ever known has been accompanied by unwelcome potatoes, some weird stock, and maybe some underdressed instant rice. Psh, who is she? I don't see her here. I decided to take the classic and add some AIP/paleo friendly swaps, and the results were beyond delicious.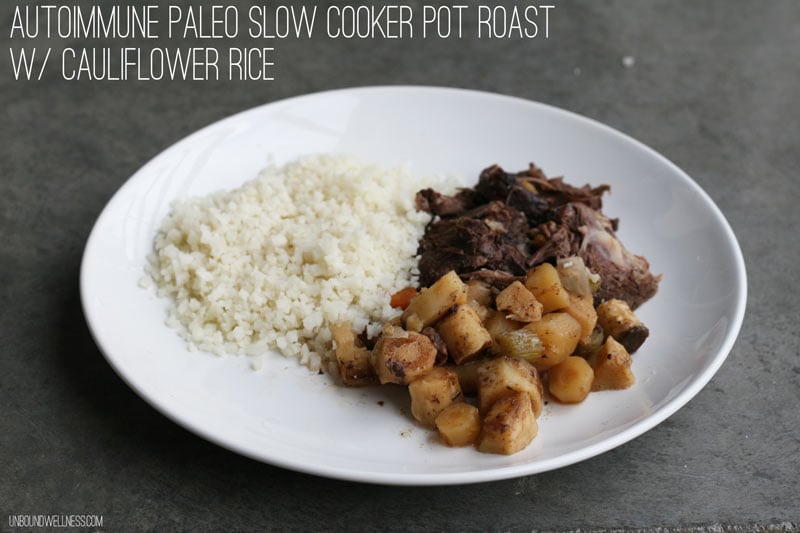 I've given my "grass fed 4 lyfe" spiel on my blog multiple times before, including in my similarly delicious AIP slow cooker beef stew recipe , but I just wanted to reiterate that if you're choosing to enjoy beef, please, please go grass fed. For me? No, but really for you. And the cow. And the environment and so many other friends here.  Grass fed beef is more humanely and sustainably raised, and is a far healthier, balanced option. Grain fed cows produce meat with unbalanced fatty acids, which cause the same effects for us. Grass fed is a far better option all around.
Some of the other ingredients used here also feature grass fed beef products, like the bone broth. There are a ton of great bone broth recipes out there if you need a starting point (like this one and more), but it's important to note that to make my own broth here, I used grass fed beef shank with some marrow, and knuckle bone. It was 2 pounds worth and yielded 8 cups of delicious broth.
You may also have spotted the ever coveted caulirice from Trader Joe's on my plate.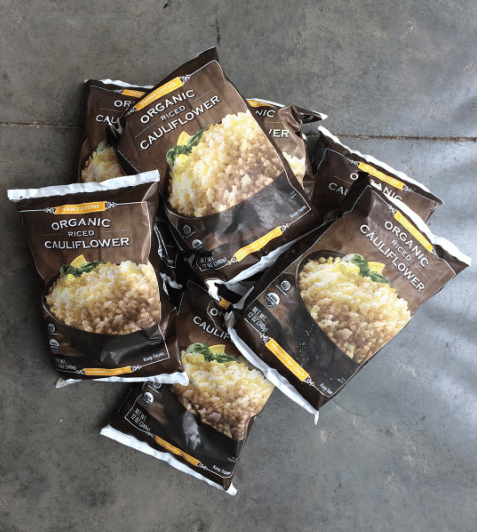 Who does she think she is? Seriously, you might as well be ordering a midnight purple, alligator Birkin when you're trying to get TJ's caulirice these days. It's incredibly rare that you see it in stores, and fly's out of the freezer within hours of the first paleo Instagrammer hasthtagging, #cauliricebreaktheintenret. I was able to snag seven beautiful bags on this baby last weekend, but never fear if you don't have any! Find a great recipe to make your own, here.
Now, all of you East coast friends must be freezing and starving, so let's get into the pot roast recipe!
Print
Autoimmune Paleo Slow Cooker Pot Roast with Cauliflower Rice
---
2–2.5 lbs grass fed chuck roast
1 cup grass fed beef bone broth
1/2 lb parsnips (peeled and chopped)
1/2 lb carrots (I used rainbow carrots, peeled and chopped)
1/2 small onion (diced)
3–4 stalks of celery (chopped)
1 cup of caulirice
1 tsp coconut oil
2 bay leaves
1 tsp sage
1/2 tsp thyme
1 tsp pink salt
---
Instructions
If your bone broth is gelled, dump it into the slow cooker and set to low to let it melt a bit (tip.. keep the fat in from the broth!)
Add veggies to slow cooker
Take the chuck roast and place it in a pan over medium heat
Sear on each side, turning until the roast is slightly browned
Add the roast to the crock pot and season with spices on each side, turning until its coated
Keep crock pot on low and roast for 8 hours. Come back every two hours or so and spoon some broth over the roast to ensure it stays moist.
Turn off crock pot and let cool for about 10-15 minutes
In the meantime, cook caulirice in a pan with 1 tsp of coconut oil
Serve caulirice with roast and veggies and enjoy!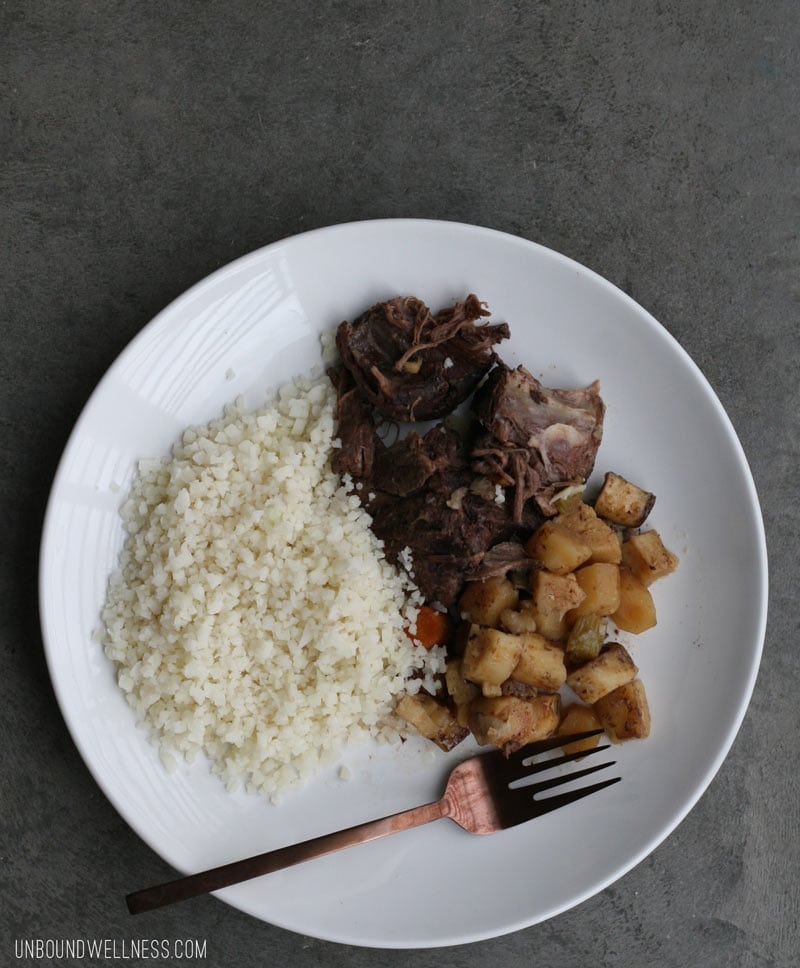 May your pot roast be warm, and you search to find caulirice warmer, dear friends. Have an excellent weekend and stay safe!
Have you been able to track down TJ's caulirice?