Easy Beef and Broccoli (Whole30, Paleo, AIP)
This post contains affiliate links. Learn what that means here.
As you can imagine, my kitchen is kind of always a wreck! Dishes piled high, tons of kitchen utensils, and lonely scraps of vegetable peels is a pretty normal sight in my kitchen by 10 AM. I'm sure you can relate! Any meals that require minimal equipment and ingredients are a serious winner in my book. What better than a flavorful and easy beef and broccoli dish?
Beef and broccoli is a former Chinese take out favorite of mine, and current simple weeknight meal favorite in the Hoover household. Daniel and I love making a stir fry, or this yummy beef and broccoli dish on date night. It's incredibly easy to make, but it still tastes so fresh, and delicious.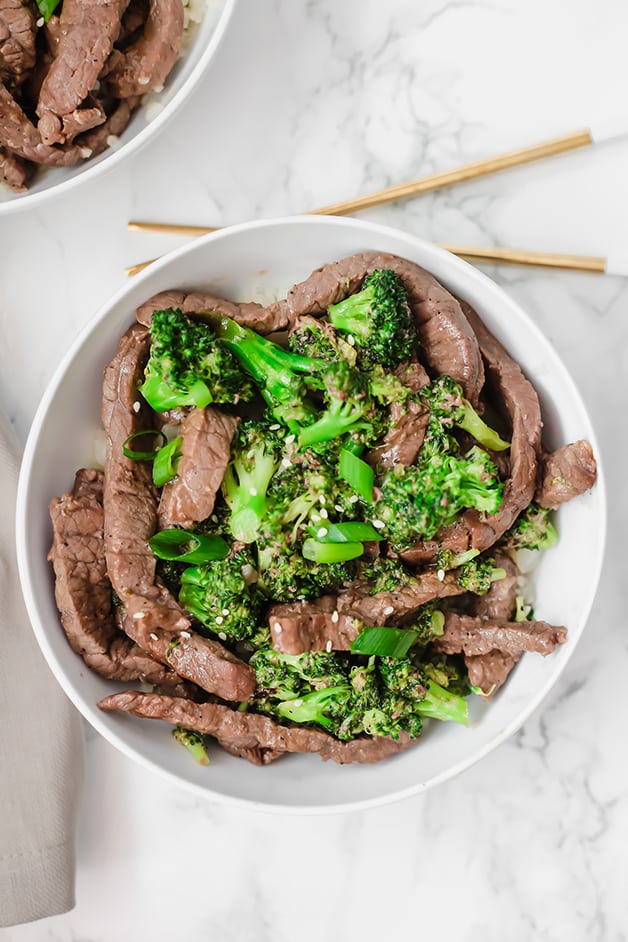 This beef and broccoli is so nostalgic and yummy! It reminded me so much of the takeout that I grew up with that I seriously went out and got Chinese takeout boxes from the craft store to eat it out of and take pictures with. The one little touch of whimsy and presentation always makes healing food more fun… but seriously… it's tasty regardless of what dish you serve it in.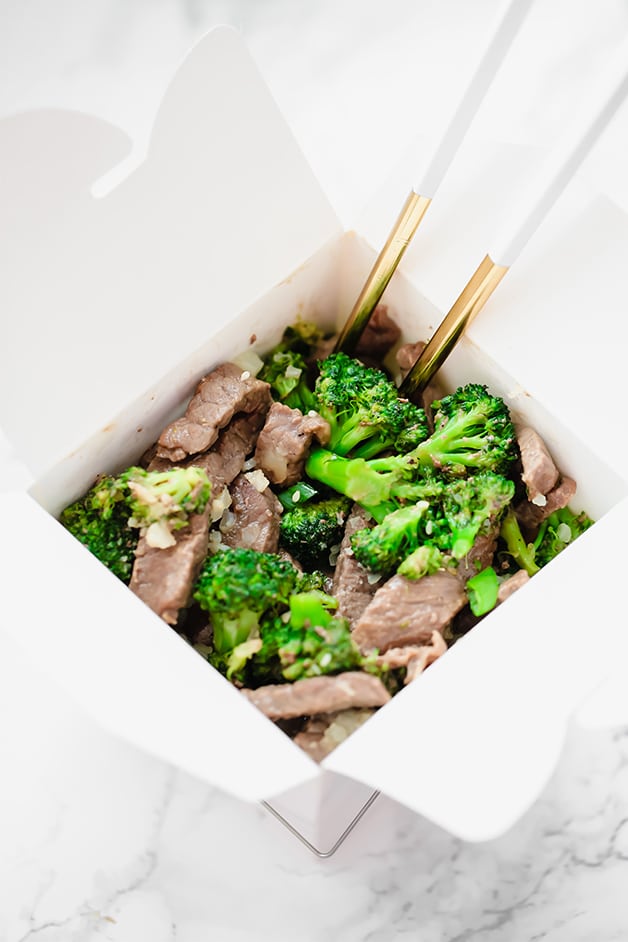 The Ingredients
Flank (or sirloin) steak beef
Flank or sirloin sliced thin is what's in a classic beef and broccoli. However, you can also use ground beef if you're trying to cut costs.
Broccoli
Coconut Aminos
This is the soy sauce substitute in the dish.
Arrowroot starch
This thickens the sauce.
Green onion, garlic, sesame seed (omit for AIP) and onion powder
Bone broth
Bone broth is the other component in the sauce to round out the sauce and keep the beef juicy. Plus, it adds on a whole other healing layer to an already healthy dish.
You can make a homemade bone broth, which I love to do. However, I get a ton of questions about what store bought broth I like. I'm pretty darn picky when it comes to broth and it took me a while to even try any store-bought brands! However, when I tried Kettle and Fire, it became an instant favorite! Kettle and Fire beef bone broth is aaaalmost AIP. It does have black pepper, so it's out if you're in the elimination phase, but if you've reintroduced it, you're good to go! But as far as this recipe, you want to use homemade broth if you're strict AIP.
I love this broth, and I partnered with Kettle and Fire to do a 7 day promotion for you guys to get more bang for you buck of a free carton (and up to three free cartons!) with your Kettle and Fire purchase. Check out this deal here before it ends on March 16th!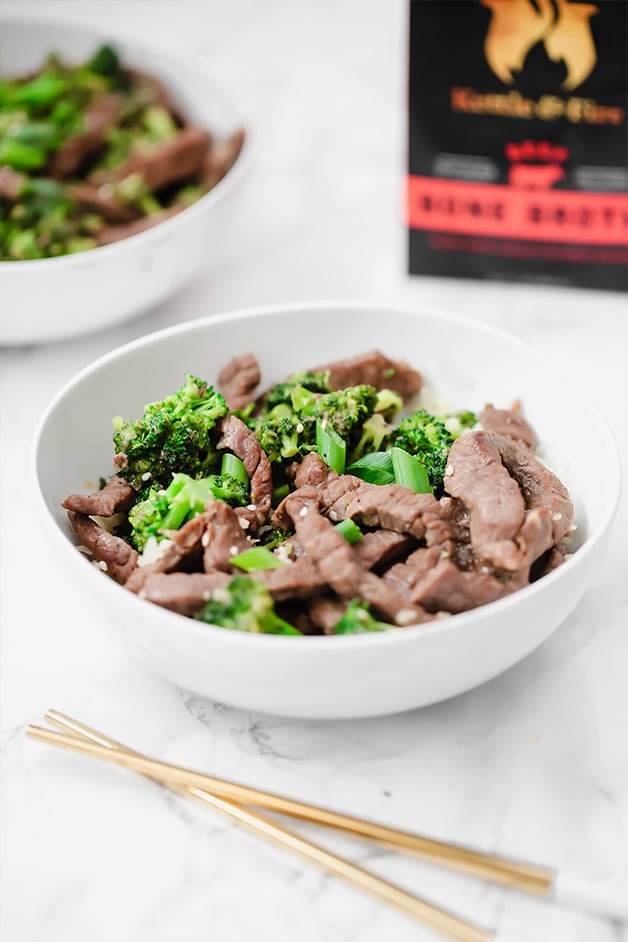 I almost always have a carton of Kettle and Fire in my pantry these days for when I don't have homemade bone broth on hand, and it's absolutely perfect for dishes like this!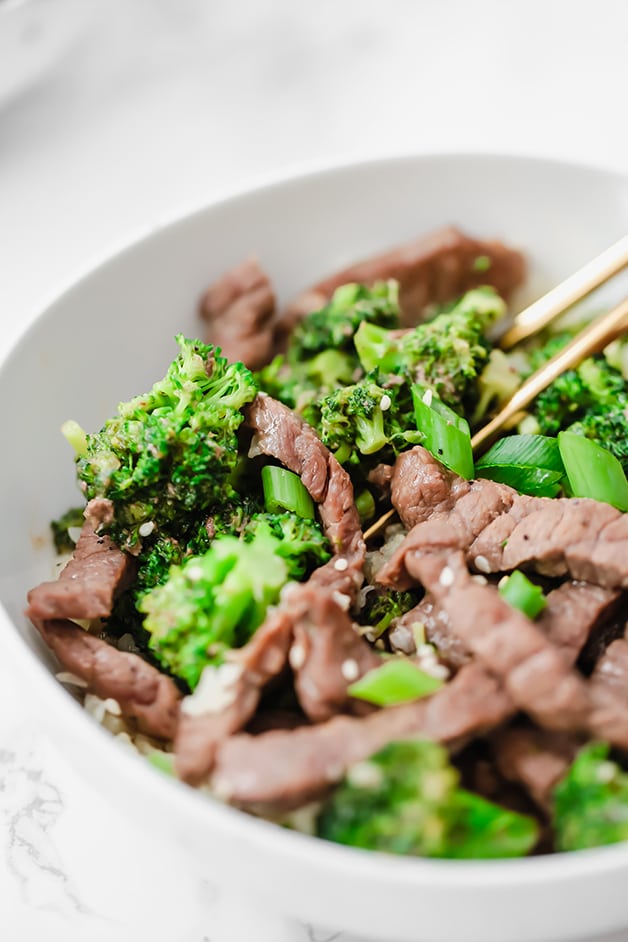 Print
Easy Beef and Broccoli (Paleo, Whole30, AIP)
---
1 lb beef flank (or sirloin) steak, thinly sliced
2 cups broccoli florets
1 tbsp coconut oil
1/4 cup bone broth (I used Kettle and Fire, but used homemade for AIP )
2 tbsp coconut aminos
1 tsp arrowroot starch
2 tsp garlic powder
2 tsp ginger powder
1/2 tsp sea salt
1/4 tsp black pepper (omit for AIP)
2 tbsp green onions, chopped
1 tsp sesame seeds (omit for AIP)
OPTIONAL Sautéed auliflower rice
---
Instructions
Fill a medium sauce pan halfway with water and bring to a medium boil. Add the broccoli to steam for 2-3 minutes, until bright green. Strain and set the broccoli aside for later use.
Next, use a large skillet, melt the coconut oil on medium heat
Add the bone broth, and coconut aminos to the skillet, and slowly whisk in the arrowroot starch until sauce thickens and there are not clumps
Next, add the beef slices and season with garlic, ginger, salt and pepper. Cook the beef on medium heat, rotating often until no longer pink.
Pour in the broccoli florets and mix in with the beef and sauce to combine. Sauté until broccoli is lightly crisped and cooked through.
Remove from heat and serve over cauliflower rice (optional) and top with green onions and sesame seeds.
Notes
All nutritional information are estimations and will vary. Estimations do not include optional ingredients.
Nutrition
Serving Size: 1 serving
Calories: 223
Fat: 9.3g
Carbohydrates: 8.1g
Fiber: 1.5g
Protein: 26.1g