Paleo Brownies with Matcha Frosting (AIP)
Brownies are my love language. I've shared here before that my mom was famous for her gooey, delicious brownies. If we had a homemade treat growing up, it was always either brownies or chocolate chip cookies. There's something about brownies that marries a sweet and slightly bitter chocolate-y flavor that I just love. With St. Patrick's Day coming up, I wanted to use matcha in a fun, and unique way with these AIP and Paleo Brownies with Matcha Frosting!
These brownies are the real deal. They're cake-y, chocolate-y, and you would have no idea that they were lacking any of the traditional brownie ingredients! Plus, the matcha frosting adds some spring flair, and brings an amazing flavor combination.
As hard as it is to post these brownies while I'm on a Whole30, I couldn't keep them to myself any longer. I can't wait until I'm able to have them again!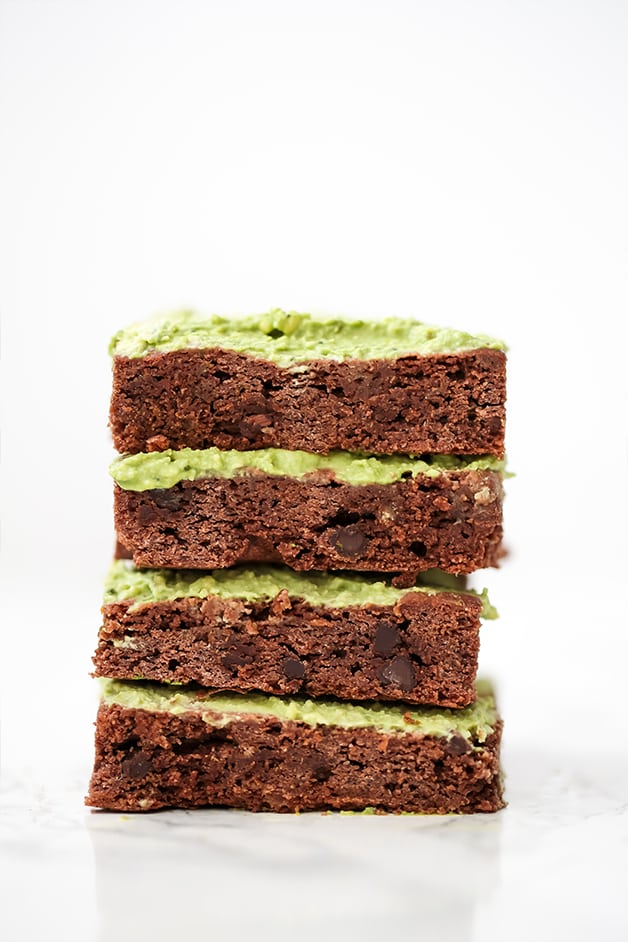 The Ingredients You'll Need For The Brownies
Tigernut flour (sub almond flour if you tolerate it)
Tigernut is a grain free, nut free tuber and you can get the flour at many health food stores and online.
Tapioca starch
You can also sub arrowroot flour.
Cocoa powder (sub carob for AIP) and chocolate chips
You can use a cocoa powder, or carob powder if you're AIP. I used dairy free chocolate chips but you can either leave them out or go for AIP carob chips.
Coconut oil
I have not tried any other fat alternatives here .
Maple Syrup
You an also sub honey.
1 egg (or gelatin egg)
If you're egg free (like me) you can use a gelatin egg as noted in the instructions below! Use gelatin like this… collagen will not work!
For the frosting…
You'll need coconut cream (you can either use this or leave a can of full fat coconut milk in the fridge overnight to create cream), palm shortening, maple syrup, and matcha powder.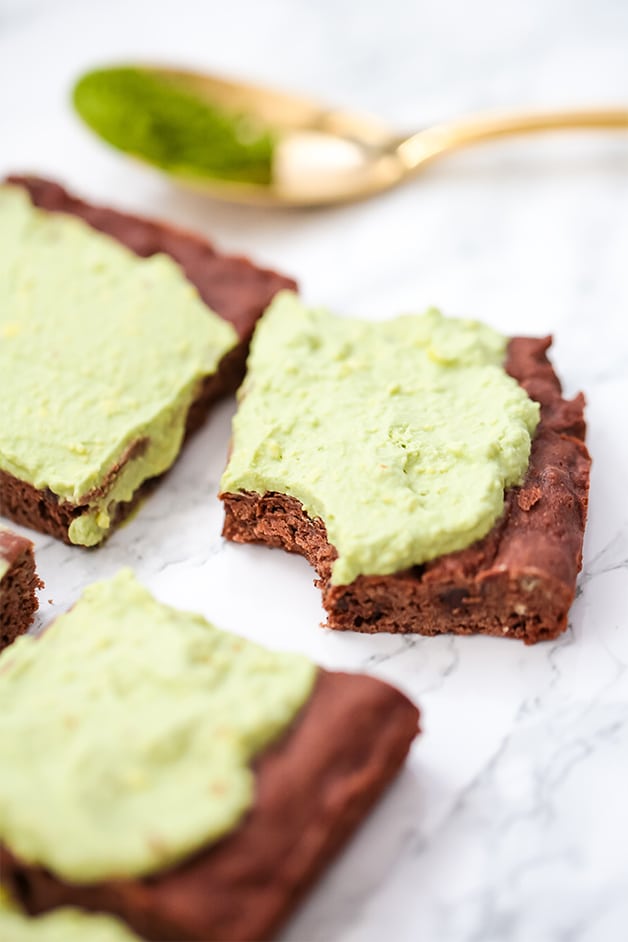 Print
Paleo Brownies with Matcha Frosting (AIP)
---
For the Brownies
1 cup tigernut flour
1/4 cup tapioca starch
1/2 cup coconut oil, melted
1/4 cup maple syrup
2 tbsp cocoa powder (sub carob for AIP)
2 tbsp dairy free chocolate chips (sub this for AIP)
1/4 tsp baking soda
FOR THE GELATIN EGG
For the frosting
---
Instructions
Preheat the oven to 350 F and line an 8×8 baking pan with parchment paper
In a large mixing bowl, combine the tigernut flour, tapioca starch, cocoa powder, and baking soda and mix to combine
Next, stir in the melted coconut oil, maple syrup and chocolate chips
For the gelatin egg (sub 1 regular egg if tolerated) add the water to a small sauce pot and slowly pour over the 1 tbsp gelatin. You don't want any clumps, so lightly mix if needed. Allow the mixture to rest and bloom over 2-3 minutes. Place the pot on the stove and turn in on low heat. Slowly melt the the gelatin and remove from heat. Vigorously whisk the gelatin egg until it becomes frothy. Add the gelatin egg to the mixture immediately and mix to combine.
Evenly spoon the batter into the baking pan and bake for 25 minutes, or until brownies are baked through
Remove from the oven and allow to cool
For the frosting, combine the ingredients and whisk vigorously until the frosting is fluffy
Slice the brownies into 9 slices, and spread the frosting on top
Notes
All nutritional information are estimations and will vary. Estimations do not include optional ingredients.
Nutrition
Serving Size: 1 brownie
Calories: 276
Fat: 15.9g
Carbohydrates: 14.4g
Fiber: 1.1g
Protein: 3.3g