Lemon Blueberry Scones (Paleo, AIP)
Spring is in the air, and fresh flavors are starting to come in season! Lemon is in season, and blueberry season is just about to start in a couple of weeks, so I knew I wanted to combine these flavors for Easter. And seriously… these Lemon Blueberry Scones are so delicious!It's the perfect combination of sweet and tart, and an amazing variation on my Orange Cranberry Scones that I made during the holidays.
These scones are paleo and AIP, and while they're obviously still a treat, they're better than the other Easter candy alternatives. You'd be hard pressed to find a store-bought Easter treat that's grain free, nut free, and refined sugar free. They're amazing for serving at an Easter brunch, or even for a Mother's Day brunch!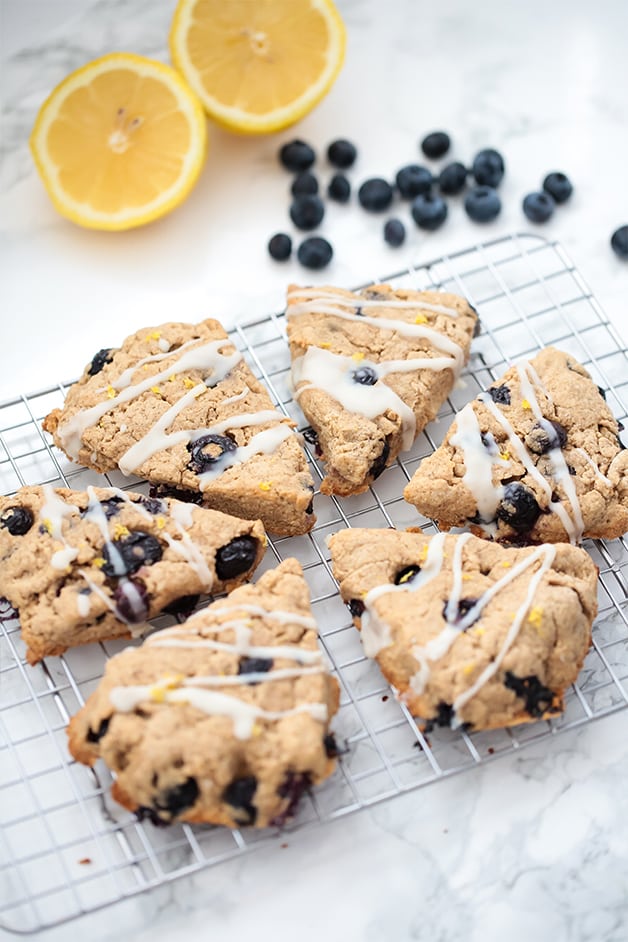 The Ingredients Needed for the Lemon Blueberry Scones
Tigernut flour
When it comes to grain-free baking, tigernut flour is one of my favorites. Tigernut is not actually a nut. It's a tuber that has a similar texture to a nut, so these scones are still nut-free!
However, if you can have almonds, you can try subbing almond flour here, though I can't guarantee it will work the same.
Tapioca starch
This helps bind a bit more in the recipe. You can also sub arrowroot.
Coconut oil
I haven't tried other fats here, and would still assume that coconut oil works best. If you want to try another fat, I would try lard. I haven't tested this and can't guarantee the result, but it may be a good one to test.
Maple syrup
You can also sub honey here.
Fresh blueberries
A low sugar fruit with amazing flavor in these scones.
Lemon juice and zest
All you'll really need is one lemon to get the juice and the zest.
1 Egg (or a gelatin egg)
You can use one egg if you tolerate it, or an egg substitute like a gelatin egg, which is what I use.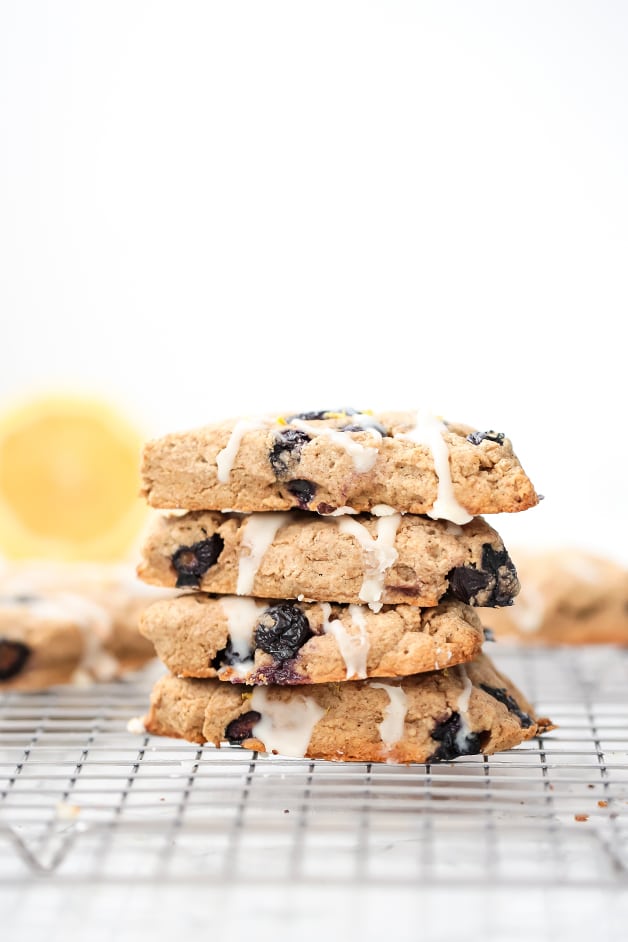 Print
Lemon Blueberry Scones (Paleo, AIP)
---
1 1/4 cup tigernut flour
1/4 cup tapioca starch
1/4 cup coconut oil, softened
1/4 cup maple syrup
1/2 cup fresh blueberries
1 tbsp lemon juice
1/4 tsp baking soda
For the gelatin egg (sub 1 regular egg)
1 tbsp gelatin (great lakes or vital proteins)
1/4 cup water
For topping
1 tbsp melted coconut butter
1 tsp lemon zest
---
Instructions
Preheat the oven to 350 F and line a baking sheet with parchment paper that's lightly greased
Sift the tigernut flour and tapioca starch together and set aside
Add in the coconut oil, lemon juice and maple syrup and stir
Stir in the baking soda and fresh blueberries
For the gelatin egg (sub 1 regular egg if tolerated) add the water to a small sauce pot and slowly pour over the 1 tbsp gelatin. You don't want any clumps, so lightly mix if needed. Allow the mixture to rest and bloom over 2-3 minutes. Place the pot on the stove and turn in on low heat. Slowly melt the the gelatin (this will take just a few minutes) and remove from heat. Once removed from the stove, vigorously whisk the gelatin egg until it becomes frothy. Add the gelatin egg to the mixture immediately and mix to combine.
Once the dough in thoroughly combined, place it onto a cutting board and form it into a large circle, keeping it about an inch in height.
Use a pizza roller or a knife to slice the dough into 6 triangular scones
Bake in the oven for 20-25 minutes
Remove from the oven and cool.
Add the lemon zest, drizzle on the coconut butter and enjoy!
Notes
All nutritional information are estimations and will vary. Estimations do not include optional ingredients.
Nutrition
Serving Size: 1 scone
Calories: 273
Fat: 13.2g
Carbohydrates: 19.3g
Fiber: 1.1g
Protein: 3.4g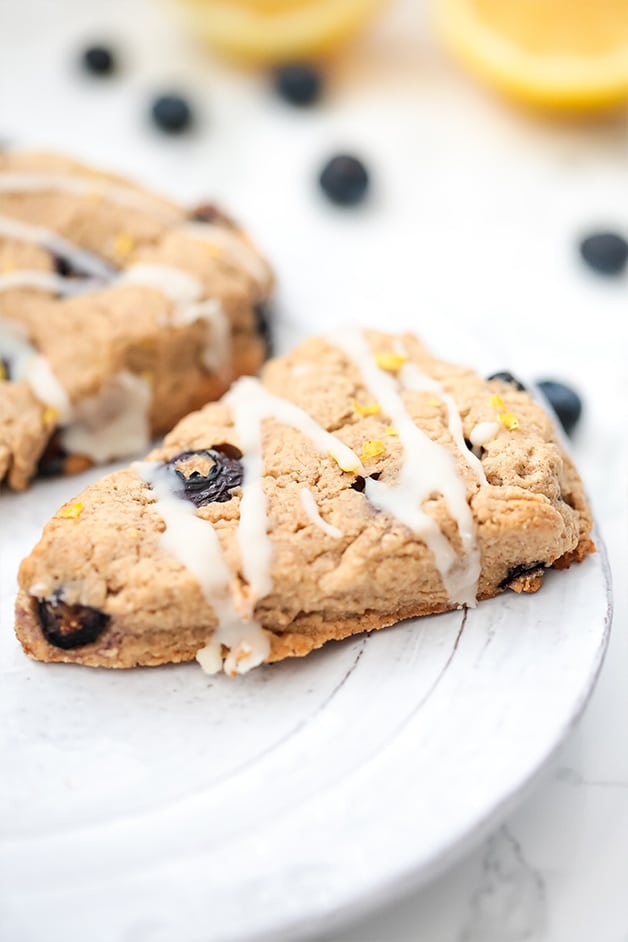 These scones have been such a hit! I've served them to several non-AIP/Paleo folks from my family, to friends, to neighbors, and more… everyone loved them and had no idea they were free of so many allergens.
I hope you love these yummy scones! Be sure to tag me on social media if you try them.