Paleo Lemon Blueberry Banana Bread (Gluten Free, Vegan, AIP)
This paleo lemon blueberry banana bread is the perfect springtime treat! It's paleo, gluten-free, and AIP compliant.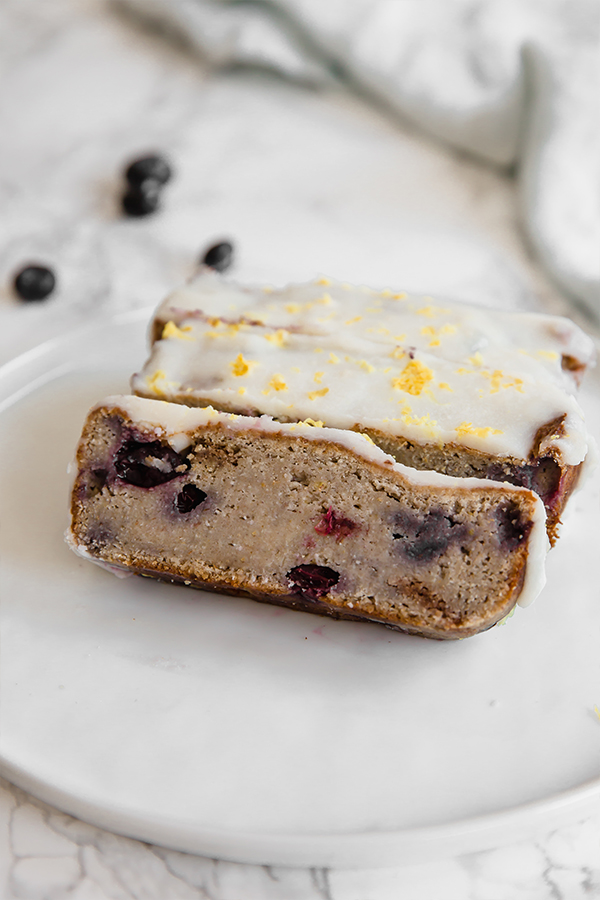 Lemon and blueberry are one of my favorite flavor combinations! It's light, refreshing and tastes good in so many different recipes. Whenever springtime rolls around I'm already thinking about what lemon blueberry treats I'm going to make.
This year, I wanted to marry some favorites all in one with this paleo lemon blueberry banana bread! Banana bread is always welcome in my book, and adding the lemon blueberry flavors to the bread just takes it to the next level.
Not only is this bread grain free, gluten free, and AIP, it also happens to be egg free and vegan! It's a great treat to bring along to a springtime gathering to share with friends and family who follow all different types of diets! Oh, and it's nut free too as an added bonus.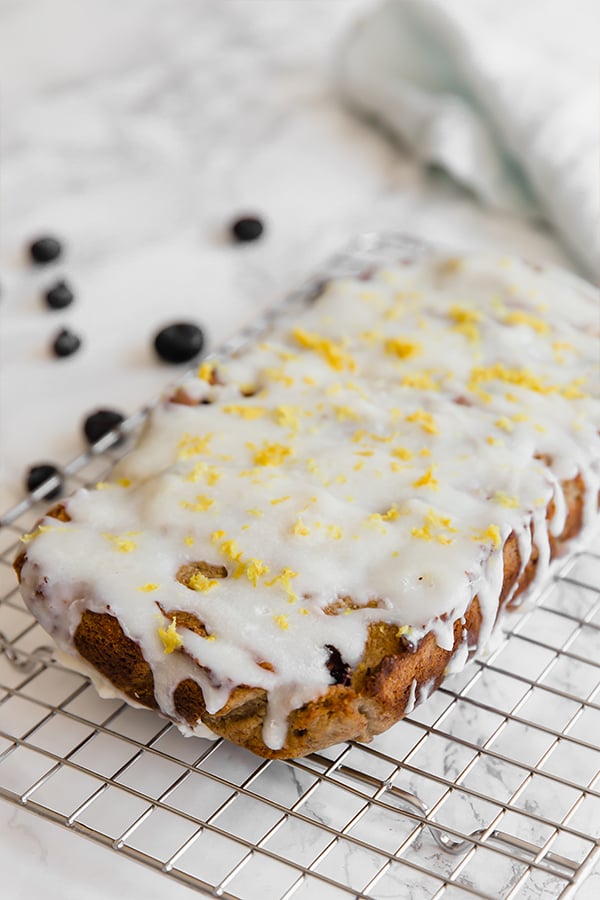 The Ingredients for the Blueberry Lemon Banana Bread (& possible substitutions)
Bananas and plantains
Ripe bananas are what you'll need for this bread, but plantain is a secret ingredient! Plantain is the starchier cousin to banana, and through they're similar, they can't be swapped 1:1 in this bread. Since this bread is missing gluten, grains, and eggs, the plantain really helps give it more of a structure. I haven't tried making this bread without plantain, but if you choose to do so, you may need an egg substitute to add more structure.
Tigernut flour
Tigernut is not a nut, but a tuber. You may be able to use cassava for this recipe (though I haven't tried it), and if you can likely use almond flour if you tolerate nuts.
Coconut flour
Coconut flour is harder to swap as its purpose in this recipe is to absorb any excess moisture from the banana.
Coconut oil
Coconut oil is the fat source for this bread.
Blueberries
Can't do it without fresh blueberries!
Coconut butter
Coconut butter is different than coconut oil and is used to make the glaze on the bread. You'll need melted coconut butter for the glaze,
Lemons & lemon zest
You'll use both lemon juice and fresh lemon zest for the glaze of the bread to give it that fresh lemon flavor.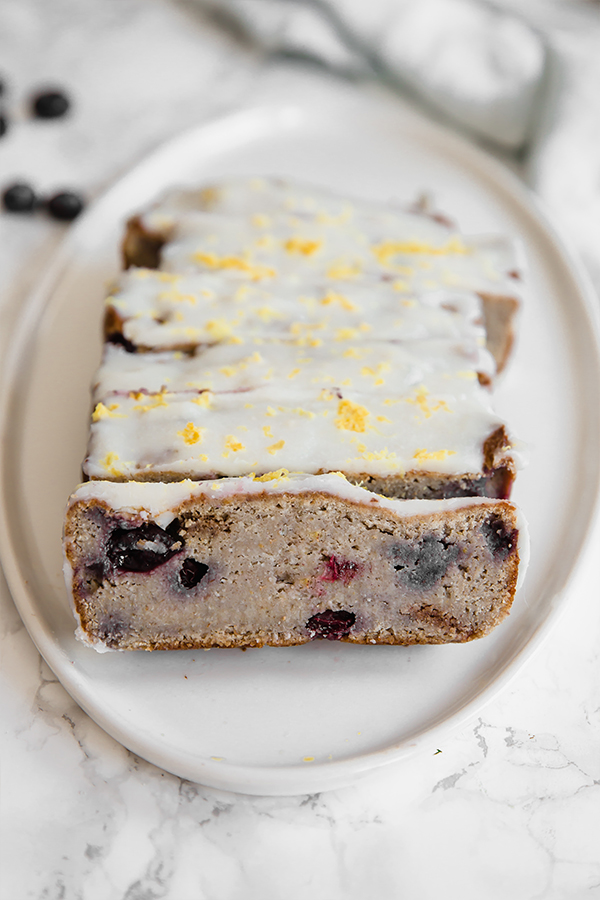 You may also like…
Print
Paleo Lemon Blueberry Banana Bread (Gluten Free, Vegan, AIP)
---
Author:
Prep Time: 10
Cook Time: 40
Total Time: 50 minutes
Yield: 9 servings 1x
Description
This paleo lemon blueberry banana bread is the perfect springtime treat! It's paleo, gluten-free, and AIP compliant.
---
Scale
Ingredients
1 yellow plantain
3 bananas, ripe
3/4 cup tigernut flour
1/4 cup coconut flour
1/2 tsp baking soda
2 tbsp coconut sugar
3 tbsp coconut oil
Zest of half a lemon
1 cup blueberries
For the glaze
1/4 cup coconut butter, melted (see notes)
2 tbsp coconut oil, melted
2 tsp light-colored honey (sub maple syrup for vegan)
1 tbsp lemon juice
Zest of half a lemon
---
Instructions
Preheat the oven to 400 F and line a loaf pan with parchment paper lightly greased with coconut oil.
Using a blender, blend the yellow plantain and bananas until fully mashed. Set aside.
Combine the tigernut flour, coconut flour, baking soda, and coconut sugar and mix.
Fold in the plantain and banana mixture, coconut oil, and lemon zest to form a dough. Carefully mix in the blueberries, being careful not to pop them.
Pour the batter into the prepared loaf pan and bake in the preheated oven for 35-40 minutes or until a toothpick can be inserted and comes out clean.
Transfer to a cooling rack and allow to cool completely.
For the glaze, combine the melted coconut butter, oil, honey, and lemon juice and stir to combine. Pour over the bread and top with lemon zest. Allow to harden in the fridge for 5-10 minutes before slicing and serving.
---
Notes
The best method to melt coconut butter is a double boiler method to avoid burning.
All nutrition facts are estimations and will vary.
Category: Dessert
Method: Baked
Cuisine: American
Nutrition
Serving Size: 1 serving
Calories: 217
Fat: 10.2g
Carbohydrates: 30.5g
Fiber: 6.7g
Protein: 3.6g