Paleo Chocolate Zucchini Bread (AIP, Egg Free, Nut Free)
This post contains affiliate links. Learn what that means here.
I don't get to bake as much as I'd like these days, but when I do, I love a good dessert bread. Banana bread is one of my all time favorite treats (see my plantain banana bread recipe!) and I thought I had died and gone to heaven the first time I had zucchini bread. I don't remember when or where it was, but I'm pretty darn positive that it wasn't paleo. It's been entirely too long since I've had zucchini bread, and with all of the fresh, local zucchini I've been finding at the farmers market, I figured it was time to try my hand at Paleo & AIP Chocolate Zucchini bread!
Paleo baked goods really aren't all that hard. You can do a lot with a recipe if you have eggs and almond flour, and a starchy flour like cassava on your side. However, it gets hard is when you pull out all of things and make it AIP (autoimmune protocol friendly!). When I do a Paleo baked good, I can get it all set and ready within 1-2 tries. AIP baked goods are much harder… especially when you're trying to make it low starch like this bread. It was a tough feat and it took me 3-4 tries, but it was so, so worth it.
The Ingredients You Need For This AIP Paleo Chocolate Zucchini Bread

Fresh zucchini
We're still in full on local zucchini mode here in Texas, so great fresh zucchini was easy to find! I love baking with zucchini. Unlike other vegetables, the texture essentially disappears, making it that perfect base for muffins, my veggie nuggets, and this bread.
My husband was super apprehensive about zucchini bread when he first saw me making this. After my third time testing it and giving it to him to try, he later asked "how did you make that brownie bread?!" He had no idea it was the same zucchini bread. The veggies totally slipped under the radar 😉
Coconut flour & oil
This recipe definitely needs coconut flour and oil and can't be subbed out with other flours. I'm sure AIP zucchini breads that are coconut free exist, but this just isn't the one. I went for a lower starch bread, so in lieu or cassava or tapioca, coconut oil was the best flour choice. Plus, it helps absorb some of the liquid let off my the zucchini. I recommend this brand of coconut flour for the best flavor and texture.
You may be able to sub butter or ghee for coconut oil. I just haven't tried it!
Cocoa powder or carob powder
The chocolate-y flavor can come from either cocoa powder, or carob powder if you're follow an AIP diet. Chocolate chips are optional, but if you're AIP, use carob powder to make homemade chips rather than buying carob chips at the store.
Gelatin
This recipe calls for 3 gelatin eggs (with instructions below). Collagen will not work… you specifically need gelatin. This is the brand that I used, but you can also use great lakes gelatin. If you can have normal eggs and want to skip the gelatin, go with 3!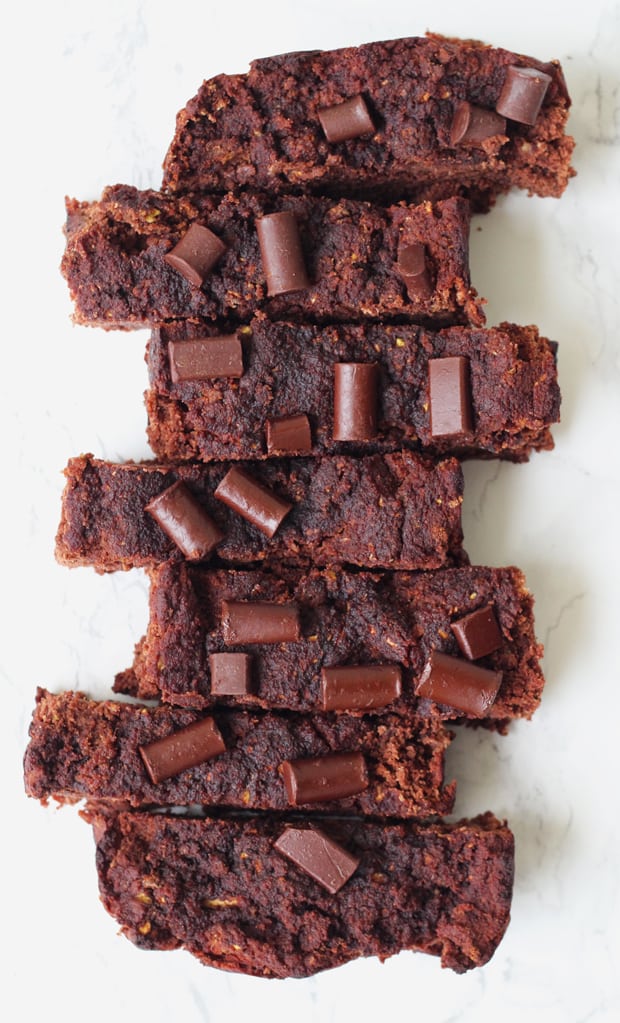 Print
Paleo Chocolate Zucchini Bread (AIP, Egg free)
---
2 cups shredded zucchini, (squeezed to remove excess liquid)
1 cup coconut flour
1/3 cup cocoa powder or carob for AIP
1/3 cup coconut oil
1/4 cup honey
1/2 tsp baking soda
1 tsp cinnamon
Pinch of sea salt
Soy & dairy free chocolate chips (optional… omit for AIP)
FOR THE GELATIN EGG (sub 3 regular eggs if applicable)
3 tbsp gelatin
3/4 cup water
---
Instructions
Preheat the oven to 400 F and line a loaf pan with parchment paper
In a large mixing bowl add in the zucchini, coconut flour, and carob/cocoa powder and stir to evenly combine. Next add the coconut oil, honey, baking soda, and cinnamon and mix.
For the gelatin eggs, add the water to a small sauce pot and slowly sprinkle the gelatin into the water. You don't want any clumps. Allow it to bloom over 2-3 minutes
Place the pot on the stove and turn in on low heat. Slowly melt the the gelatin (this will take just a few minutes) and remove from heat.
Vigorously whisk the gelatin egg until it becomes frothy
Add the gelatin egg to the mixture immediately and combine
Pour the batter into the lined loaf pan and smooth out the top with a spoon. Top with chocolate chips if desired.
Bake in the oven for 40-45 minutes
Allow to cool completely until cutting. The bread will crumble unless it's given time to cool and set. I recommend cooling in the fridge overnight.
Once cooled, carefully slice and enjoy!
Hope you love this sweet summer treat! Enjoy and let me know here on the blog or Instagram if you try it 🙂