Paleo Chocolate Chip Pumpkin Bread (AIP, Gluten Free)
Fall is finally here! I was never that enthusiastic about fall growing up… I was more into winter and the promise of Santa. That is, until I moved to Texas. Here in Dallas where it's into the 100's and above all summer, I'm clinging to every last piece of hope for cooler weather by the time September rolls around.
These days, I'm a full fledged fall loving, pumpkin eating machine, and I know I'm not alone in the love of all things fall and pumpkin! Pumpkin baked goods, drinks, and recipes are everywhere this time of year. You can't walk into a grocery store, coffee shop, or even the break room at your office without being tempted by some sort of pumpkin flavored treat. Trust me, I know the struggle all too well. But don't worry, I've got your back! This paleo and AIP friendly pumpkin bread is the perfect way to get in that pumpkin flavor while staying grain free, gluten free, dairy free and even egg free!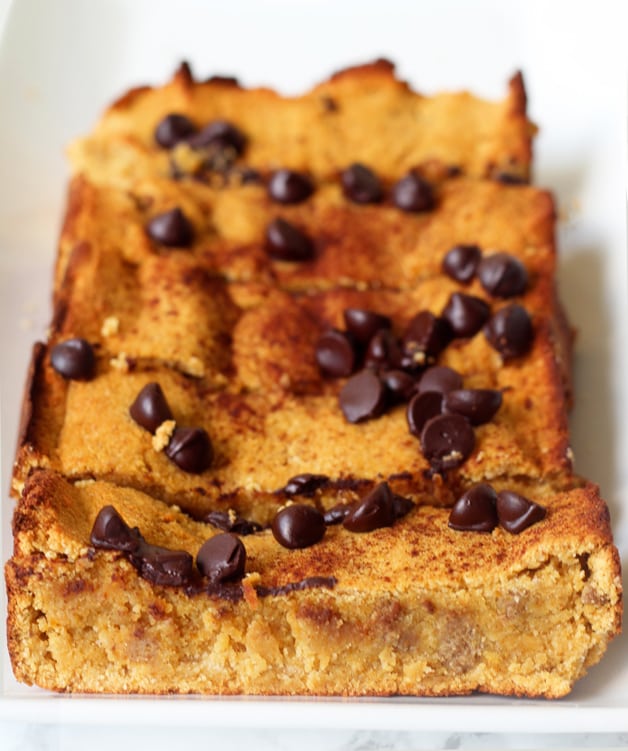 About The Ingredients In This Paleo Chocolate Chip Pumpkin Bread
Coconut flour and coconut oil
Coconut flour helps absorb the moisture in this recipe while keeping it grain-free. I would not sub another flour for this, but you can sub the coconut oil for another cooking fat.
Tapioca starch
Tapioca helps bind the bread and give it more structure. You can also use arrowroot starch.
Tigernut flour
This is the wildcard ingredient in this recipe, but it really helps hold the bread together and give it some more body. Tigernut is expensive, but there's only 1/3rd of a cup in this recipe. Though I haven't tried any substitutions, you can try almond flour if you have that. I've also heard good things about swapping cassava in a recipe like this.
Pumpkin
Of course! The star of the show. I used canned pumpkin, but you can easily use fresh.
Honey
Honey helps sweeten this recipe as well as bind and add more structure. You can sub maple syrup, but I wouldn't go sweeter free on this one.
Gelatin (or 3 regular eggs)
As someone who can't tolerate eggs myself, I almost always cook with gelatin eggs to make the recipe AIP friendly. The recipe for gelatin eggs is below, and you'll need this type of gelatin. Collagen or more tapioca will not work. If you can real eggs, sub 3 eggs.
Chocolate chips
The chocolate chips are optional but they really go well with this recipe. You can use a dairy free chocolate chip like enjoy life of if you're AIP, make homemade carob chips like these.
Print
Paleo Chocolate Chip Pumpkin Bread (AIP, Gluten Free)
---
1 cup coconut flour
1/4 cup tapioca starch
1/3 cup tigernut flour
1/3 cup coconut oil
1/4 cup honey
3/4 cup pumpkin puree
1 tsp cinnamon
1/2 tsp mace (sub nutmeg for non AIP)
1/8 sea salt
1/4 tsp baking soda
2–3 tbsp chocolate chips (sub homemade carob chips for AIP )
FOR THE GELATIN EGG (sub 3 real eggs)
3 tbsp gelatin
3/4 cup water
---
Instructions
Preheat the oven to 375 F and line a loaf pan with parchment paper, very lightly greased with coconut oil
In a large mixing bowl, sift together the flours, baking soda, salt, cinnamon and mace to evenly combine
Next, add in the pumpkin, coconut oil, and honey and thoroughly combine
For the gelatin egg (sub 3 regular eggs) place a small pot on the stove with 3/4 cup of water and lightly sprinkle in the 3 tbsp of gelatin. You don't want any clumps. Allow the gelatin to bloom for 2-3 minutes.
Turn the stove on low heat to let the gelatin melt. This will take 1-2 minutes. Don't let it burn!
Remove the mixture from the stove and use a whisk or immersion blender to vigorously whisk the mixture until it's frothy.
Add the gelatin eggs (or regular eggs) to the pumpkin mixture and stir together.
Spoon the mixture into the loaf pan and top with chocolate chips if desired and an extra sprinkle of cinnamon
Bake for 40 minutes or until the bread is firm, and not wet when poked with a knife or tooth pick
Allow the bread to cool for 30-40 minutes so it sets before slicing
Once cooled and firmed, slice and serve by itself or with ghee, butter, or pumpkin butter as tolerated!
Notes
All nutritional information are estimations and will vary. Estimations do not include optional ingredients.
Nutrition
Serving Size: 1 serving
Calories: 250
Fat: 12.5g
Carbohydrates: 26.7g
Fiber: 6.5g
Protein: 6.5g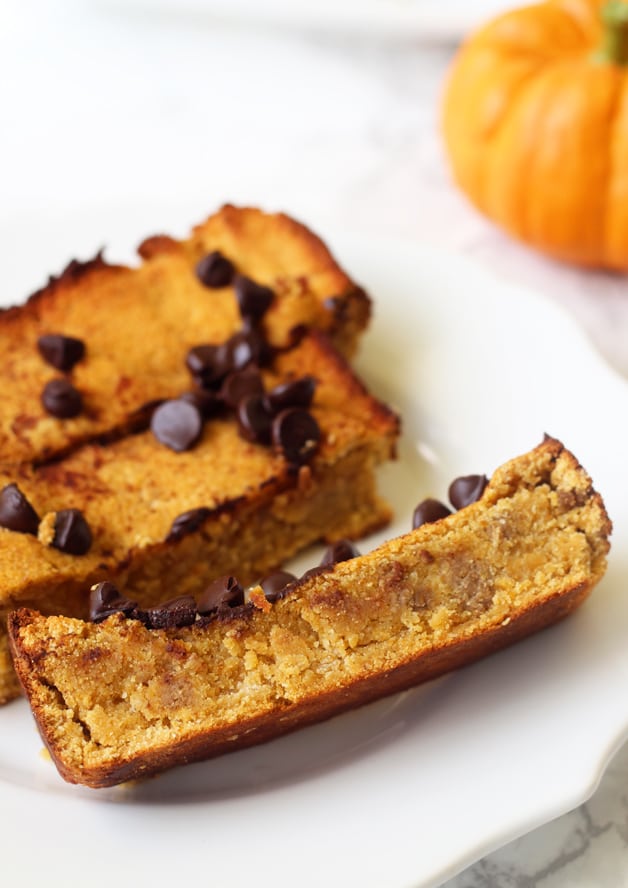 This pumpkin bread is seriously out of the is world! It's crispy on the outside and warm and soft on the inside. My husband who dislikes coconut flour even liked it!
This bread is the perfect way to curb your pumpkin cravings throughout the fall, and I can't wait to bring it to gatherings like Thanksgiving this year.
Have an amazing first day of fall, friends!!