Anti-Inflammatory Turmeric Pumpkin Spice Latte (Dairy Free, Paleo & AIP)
This post contains affiliate links. Learn what that means here.
Pumpkin spice season is in full swing, and it's got me feeling all kinds of nostalgic. I recall bundling up in my favorite university hoodie and walking down to the student union Starbucks to get my weekly pumpkin spice latte when I was in college. I loved the routine, I loved the drink, and I loved how the tradition made me feel… now, the blood sugar crash afterward? Not so much. Just an hour or two later I would already feel myself crashing from the jittery, pumpkin-y high, wondering what I could do to get the pumpkin spice flavor without the crash and terrible ingredients.
It's no secret that most pumpkin spice lattes have pretty terrible ingredients, such as…
Natural Flavors, Annatto, Potassium Sorbate, Mono And Diglycerides, Carrageenan, Citric Acid, Sufliting Agents, etc.
Talk about a big ol' Halloween scare for those of us who have chronic health, autoimmune, or gut issues and really feel the negative effects of ingredients like this!!
However, you don't have to dive deep into one of these sugar-y drinks to get all of the pumpkin spice nostalgia. That's why I made this Anti-Inflammatory Pumpkin Spice Turmeric Latte! It's dairy-free, paleo, AIP, whole 30 with modifications, and it's full of anti-inflammatory ingredients!
So what makes this latte anti-inflammatory? Essentially, just think of it as a golden milk/turmeric latte and pumpkin spice latte together, and minus the coffee! You're still left with the delicious, warming, and healthful ingredients, while leaving out some of the more problematic ones. Yum!!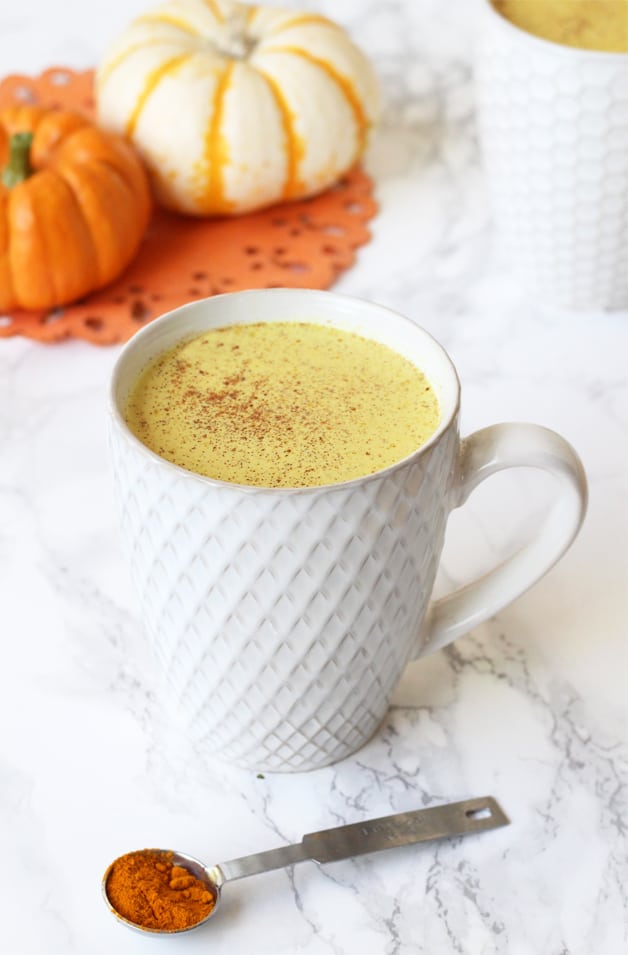 About The Ingredients In The Anti-Inflammatory Pumpkin Spice Turmeric Latte 
Coconut Milk
Coconut milk is our base for this latte, and the flavor pairs well with the turmeric. It's dairy free, nut free (coconut is not actually a nut), and it's easily accessible. I use this brand. If tolerated, you can also sub almond milk.
Coconut oil
Coconut oil adds healthy fat to keep this drink more satiating, and to make the turmeric more bioavailable. You can also sub ghee or butter if you tolerate it.
Turmeric
This is the powerhouse anti-inflammatory ingredient in this latte. Turmeric is amazing food to have in your rotation while on a healing diet, and is delicious in drinks like this one.
Pumpkin
I use real pumpkin to give it a very obvious pumpkin flavor. You can leave this out, but it will have a lot less of a pumpkin flavor.
Pumpkin Spice Blend
You can use a pumpkin pie spice blend from the grocery store, or the AIP version listed in the recipe. Pumpkin spice is also filled with anti-inflammatory ingredients like ginger and cinnamon!
Honey (optional)
Honey helps add a touch of sweetness to the recipe. It is indeed optional if you'd rather make it sugar free.
Collagen (optional)
Collagen is another optional ingredient, but it gives another super food boost to this drink if you decide to use it.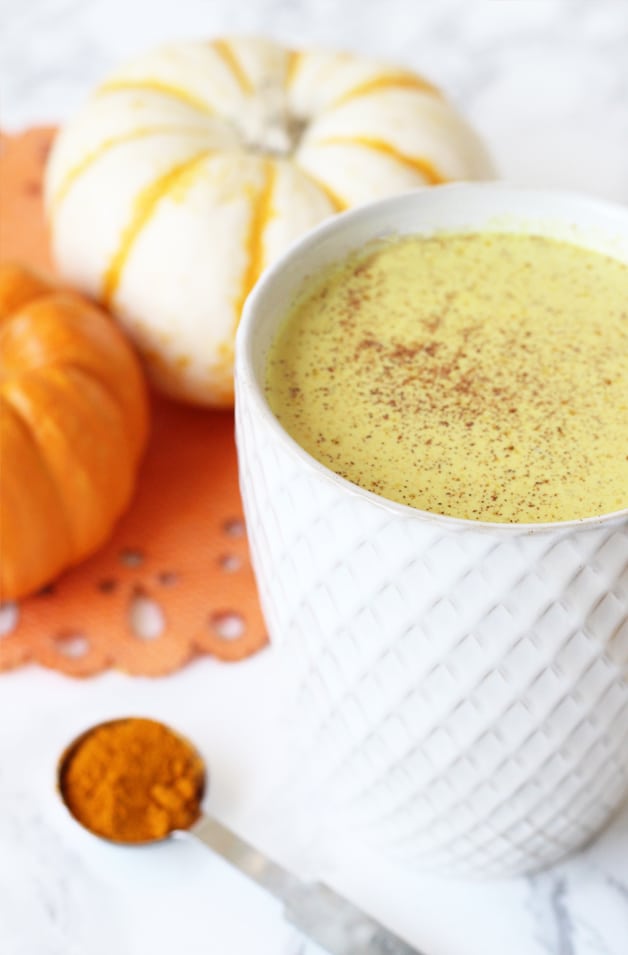 Print
Anti-Inflammatory Pumpkin Spice Turmeric Latte (Dairy Free, Paleo & AIP)
---
1.5 cups of coconut milk
1 tbsp coconut oil
2 tsp pumpkin puree
1–2 tsp turmeric (use less if you want it weaker)
1 tsp pumpkin spice blend (or this for the AIP version)
1 tsp honey (optional)
2 scoop collagen (optional)
Pinch of extra cinnamon for topping
---
Instructions
In a small sauce pan, heat the coconut milk and coconut oil on medium-low heat
Add the spices and pumpkin puree and whisk vigorously until combined and the drink is a bright yellow/orange color
Remove from heat and add in the honey and collagen (if desired) and stir
Top with extra cinnamon and enjoy!
Notes
All nutritional information are estimations and will vary. Estimations do not include optional ingredients.
Nutrition
Serving Size: 1 serving
Calories: 401
Fat: 43g
Carbohydrates: 6.2g
Fiber: 0.5g
Protein: 3.6g
That's all there is to it! This drink is perfect right before bed, or first thing in the morning for a warming way to start any fall day 🙂 Happy pumpkin spice season!