Crispy Baked Butternut Squash Fries (Paleo, Whole 30, AIP)
I've said it before, and I'll say it again… I'm a recovered french fry addict. I used to eat french fries by the handful, and would often go to fast food joints for dinner and just get french fries. It wasn't just about the starchy, crispy fries… it was about the ketchup too! Then in my teens, when I got my Hashimoto's diagnosis, I started diving deeper into my health to straighten myself out. After discovering my gut issues and serious nightshade intolerance, I thought I was done with french fires forever. How would I ever have fries and ketchup without potatoes and tomatoes? Most of us think of sweet potato or even parsnip fries when thinking of nightshade free fries, but I wanted to share one of my favorites with you on the first day of fall… butternut squash fries!  
Butternut squash is one of my absolute favorite fall vegetables. However, it isn't just for soup, you guys. It makes an amazing french fry that get nice and crispy, and can even taste good with ketchup if you want! Plus, it's much lower in starch than other options, and it's paleo, whole 30, and AIP!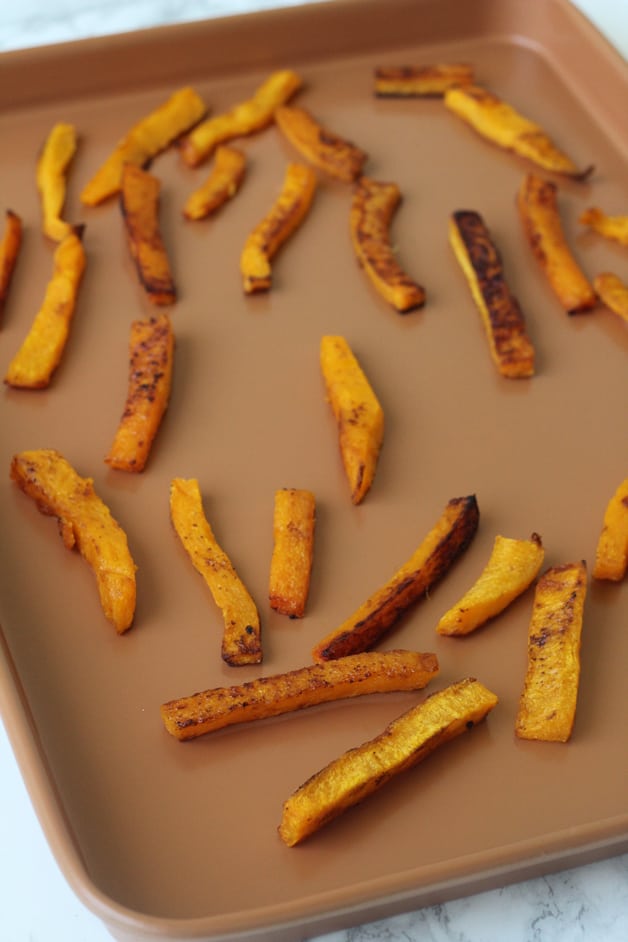 The Ingredients You Need For The Crispy Baked Butternut Squash Fries
Butternut Squash
Of course 😉 Butternut squash is easier to cut than it looks when the squash is actually ripe, but I've definitely battled a few squash in my day. I've seen pre-cut butternut squash at the store, and even crinkle-cut squash fries! You can use whatever works for you… just make sure it's fresh.
Ghee or coconut oil
Ghee is clarified butter, and is lactose and casein free. You can buy it at most health food stores and online. I personally prefer the flavor that ghee gives these fries. It's rich, buttery and much more fall feeling. However, you can sub coconut oil if you can't tolerate ghee or on the AIP.
Cinnamon and sage
These spices really round out the fall flavor. You can mix up the spices at your own discretion, but I really like these flavors together.
Optional ketchup for dipping… hate it or love it!
This may not be your scene at all, but as someone who loves ketchup, I love how it pairs with these fries. You can do a whole 30 or paleo compliant ketchup, or for AIP, I love this recipe from dear, sweet Martine! KC Naturals also recently released an AIP ketchup that I can't wait to try!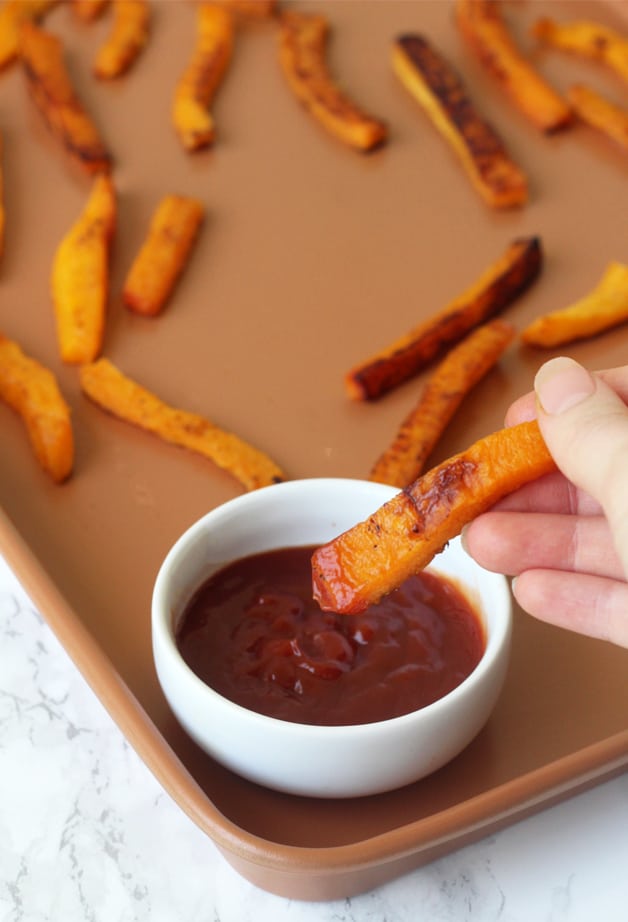 Print
Crispy Butternut Squash Fries (Paleo, Whole 30, AIP)
---
1 large butternut squash, chopped into fries
1/4 cup melted ghee, or coconut oil for AIP
1 tsp ground cinnamon
1/2 tsp ground sage
1/2 tsp sea salt
---
Instructions
Preheat the oven to 415 F and line a baking sheet with parchment paper
Place the fries on the baking sheet and pour the melted cooking fat over them
Top the fries with the spices and mix to combine using your hands, or a spoon
Spread the fries out on the baking sheet evenly and place them in the oven
Bake for 30-40 minutes, rotating them halfway through
Serve with a compliant ketchup (like this for AIP) or eat as a side dish with a main.
Notes
All nutritional information are estimations and will vary. Estimations do not include optional ingredients.
Nutrition
Serving Size: 1 serving
Calories: 151
Fat: 11.6g
Carbohydrates: 12.9g
Fiber: 2.5g
Protein: 1.2g
Whether or not you dip it in ketchup, a different sauce, or just keep it as a side on its own, these fries are an amazing addition to your fall/winter dinner repertoire 😉 Enjoy!!