Aunt Fannie's Cleaning & Pest Solution Review
 Thanks, Aunt Fannie's for sponsoring this post! These products were gifted to me by Aunt Fannie's. All opinions are my own. 
Transitioning to a cleaner lifestyle takes time! It's took me years from the time that I was diagnosed with Hashimoto's to really commit to changing my diet, and I've only recently transitioned the majority of my makeup and skincare. When it came to cleaning supplies, I was mostly turning a blind eye. I dabbled in a few products here and there, but when quality suffered, my husband I would still keep reaching for our old conventional favorites. That's why I was so excited when Aunt Fannie's reached out to me about their clean, natural cleaning products and pest solutions!
Aunt Fannies is a health and wellness company that works through the home, and rethinks cleaning through food-based house cleaning products! This company started out of the same reason that most of us got into this cleaner living world… health crisis. The owner, Mat Franken's young son had life threatening allergies, eczema, reflux, and so forth. Out went the plastics, and allergenic foods, but his son still wasn't completely better. sound familiar? So, he turned towards a cleaner lifestyle and focused his efforts on cleaning products without the junk and saw a dramatic shift.
Again, change doesn't happen over night. But when I heard this story and saw the actual ingredients in these products as compared to my own, I was all on board to give it a try!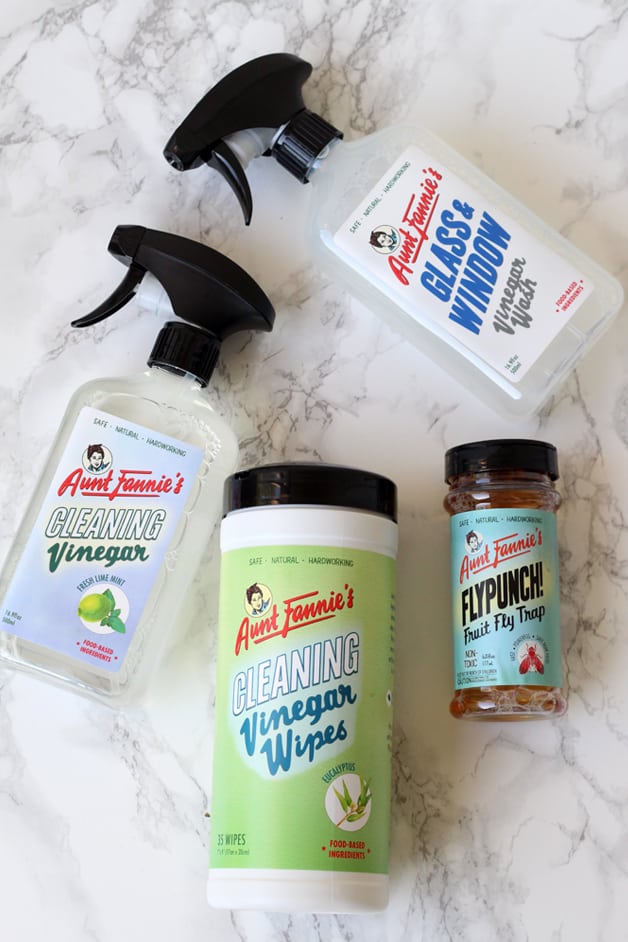 Why Transition Your Cleaning Supplies?
These products are based off of a story that we can all relate to. But after changing so much in our lives, why should we care about cleaning supplies?
Chemicals in cleaning products can be just as harmful as those in foods. 
Food is what we tend to hone in on first in a healing lifestyle, and that's great, but chemicals in household products can be just as problematic. They can contain endocrine disruptors, and immune system stimulants that can negatively impact our health and impede our ability to heal.
We breathe in cleaning products, and can absorb them through our skin. 
Just like we absorb makeup through our skin, we can absorb and breathe in the chemicals in our cleaning products. I think of all of the times I've whipped down my counters with some sort of chemical and then placed food that I eat directly on it. Or all of the cleaning sprays I've inhaled while cleaning windows. Not fun to think about!
We use them often, if not daily. 
One of the factors I consider the priority of switching out products is how often I use them. And really, we use cleaning products often, if not daily!
About Aunt Fannie's Products
As mentioned above, Aunt Fannie's was founded by a man who's son was ill, and changing his lifestyle and cleaning products made a dramatic difference. So cool!
Aunt Fannie's carries cleaning supplies that aren't full on junk, but still get the job done! Their cleaning vinegar and vinegar wipes  are made with ingredients that clean the home without disrupting the micro biome of good bacteria in your environment. Plus, the wipes are biodegradable!
The glass and window cleaner leaves windows streak free without harsh chemicals, and I'm really loving using it in my office!
Their flypunch is an awesome addition to any kitchen that's filled with fruits and veggies and is susceptible to flies. We definitely get a lot of flies, especially in the summer, so this will really come in handy for us!
With my job, my kitchen is almost constantly covered in coconut flour, olive oil stains, and stray bits of kale, so I tried out the fresh lime mint cleaning vinegar in my kitchen and around my house immediately.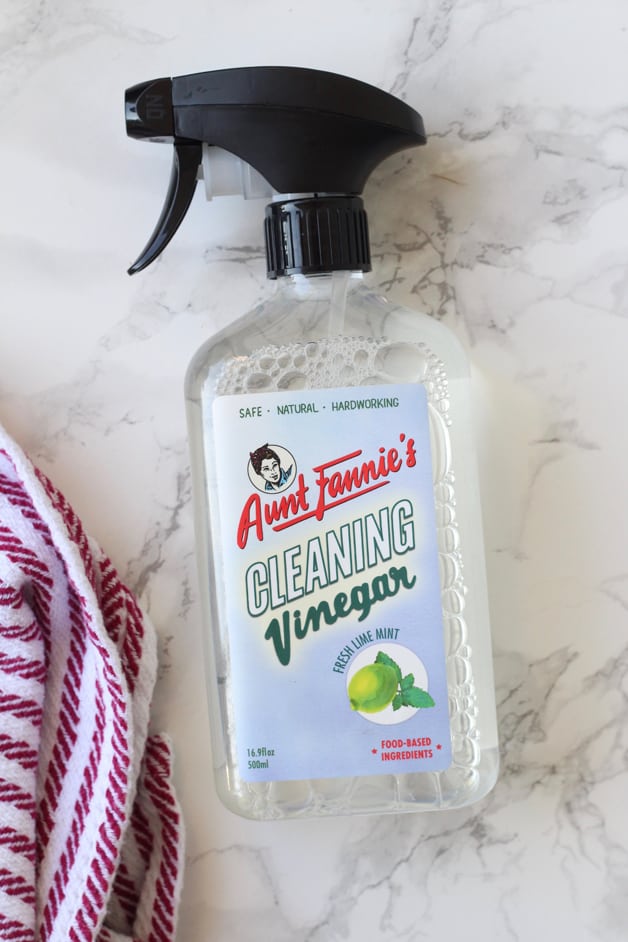 Not only is the cleaning vinegar made with great ingredients, but it works really well! The smell was pleasant without being overpowering and unnatural, and it did the job of cleaning my forever dirty house.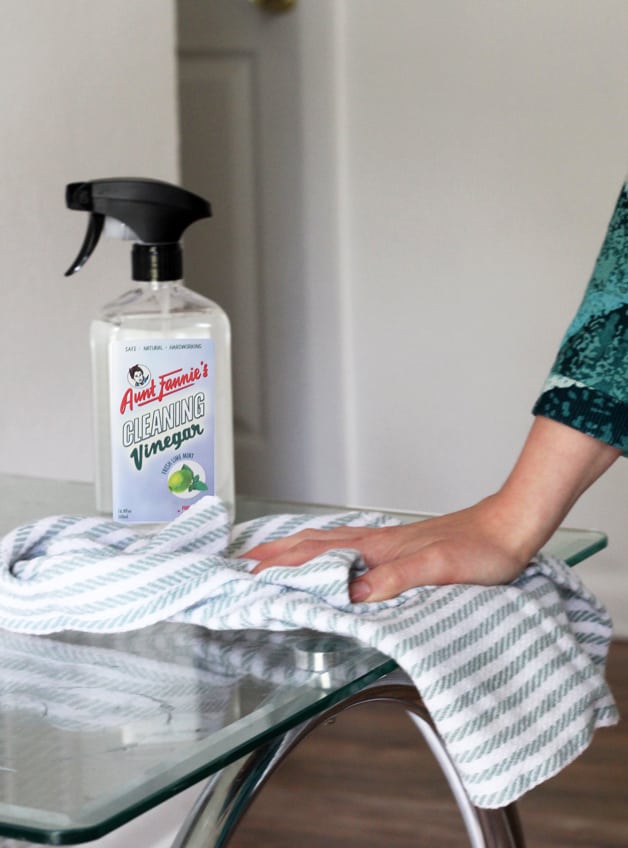 What Makes Aunt Fannie's Different Than Other 'Natural' Products?
I know what you may be thinking… what makes this brand worth trying over others?
They have an all A's rating from the EWG
This was the mic-drop that did it for me. The Environmental Working Group puts out ratings on products like makeup, cleaning supplies, and even makes the clean 15 and dirty dozen list, that help consumers determine whether or not the products are safe.
All of the Aunt Fannie's products received A's on the EWG, and according to their website, "No other brand has more products with an 'A' rating in either General Purpose Cleaner, Glass/Window Cleaner or Floor Care Cleaner categories than Aunt Fannie's."
I really lean on the EWG when picking out products, so this alone was reason to check out these products.
Their ingredients are honest and real
The ingredients is what earned their spot on the EWG. They're made with food based ingredients and are not tested on animals. Many other cleaning products, even natural brands, can't claim the same. Much of these other products have harsh chemicals and fragrances that Aunt Fannies doesn't use. Even worse, many labels doesn't even list the full ingredients.
Aunt Fannie's is free from…
Dyes
Ammonia
Formaldehyde
Parabens
Bleach
Alcohols
Synthetic fragrances
and more..
They're easily accessible and affordable
One of the major roadblocks with natural products is trying to track them down, and inability to afford them. Aunt Fannie's products are affordable, and easily accessible. You can buy online on their website, or find them in a retailer. They're in tons of stores across the US!
Plus, I have a unique offer code for you!
When you enter the code, UNBOUNDWELLNESS at checkout it will activate the exclusive discount of 30% OFF CART for you and you'll also get Free Shipping if you buy over $35!! This offer expires on 10/31/17.
Thank you Aunt Fannie's for partnering with me to spread the word, and for giving me an awesome new solution to use in my home!