Paleo Pumpkin Donuts with Chocolate Frosting (AIP, Gluten free)
This post contains affiliate links.
I haven't had donuts in years. It used to be one of my favorite college study snacks. I had actually discovered the perfect time of night to pick up a study fuel donut in the Dunkin' Donuts drive-through where they would give me an extra fee donut. I loved my BOGO study donuts. At the time, I should've known better. I had already had my Hashimoto's diagnosis for years and even started to uncover my gut issues, but I clearly didn't care much. The temptation of a sugary donut was too much for me to resist, even if it meant bloating, stomach pain, and anxiety all night. I know so many people can relate!
Here's the thing… you don't have to just get donuts through a drive-through and suffer from bad side effects to enjoy a treat every now and then! Donuts are easier to make than I realized, and when you combine the right flavors, they're the perfect way to satisfy your sweet tooth, and your fall pumpkin cravings!
These Paleo Pumpkin Donuts are basically my dream treat that I wish I would've had all those years ago, studying for finals into the wee hours of the morning. Maybe I don't recommend eating them at night anymore or quite as excessively as I used to, but they're a great treat to indulge in, or bring along to a party!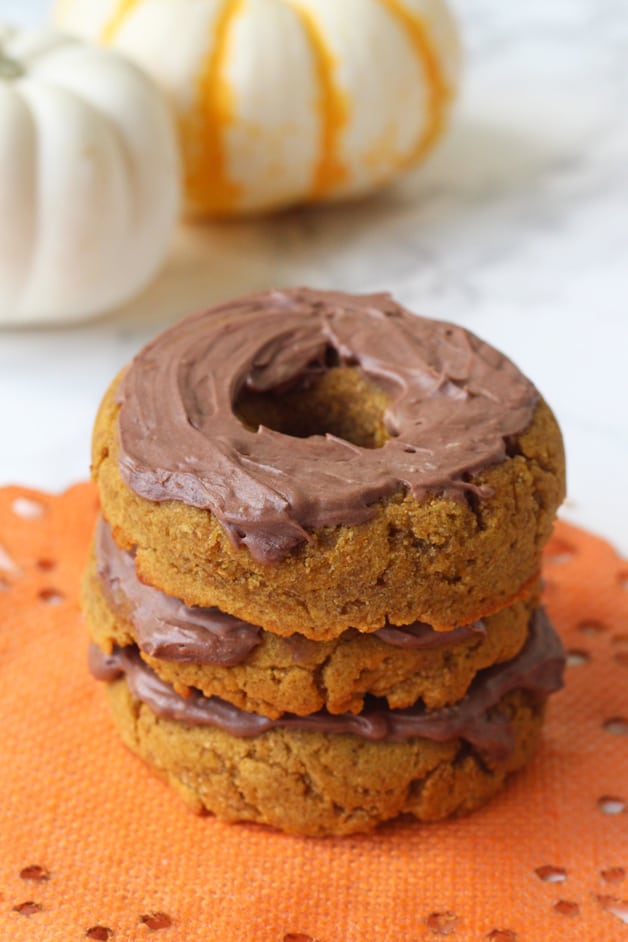 The Ingredients You Need For These Paleo Pumpkin Donuts
Coconut Flour
Coconut flour helps keep these donuts grain free, and absorbs moisture. There is no good swap for coconut flour for these donuts.
Tigernut Flour
Seeing as these donuts are also AIP and nut free, tigernut flour is the other flour present. Though this is all I've tested these with, you can also try almond flour if tolerated or cassava flour… I just can't guarantee the same results.
Tapioca starch (or arrowroot)
Tapioca helps bind these guys! You can also sub arrowroot.
Gelatin egg (or a real egg)
As I'm an egg-free recipe developer, all of my recipes are made with gelatin eggs from gelatin like this (you can also use great lakes). However, you can also sub 1 normal egg.
Canned pumpkin (or fresh)
Gotta have the pumpkin for pumpkin donuts 😉 You can use either canned or fresh.
Maple syrup
You definitely need sweeter if you want to make these donuts. Honey is another good swap for maple syrup.
Coconut oil
Coconut oil works best in this recipe, but you can try other fat sources as well.
Chocolate Frosting Options…
These donuts are great on their own, but a chocolate frosting really amps up the flavor. You have a few options for a frosting…
Avocado Chocolate Frosting
This is the easiest option, but definitely has a bit of an avocado flavor. I recommend this recipe. 
Palm Shortening Frosting
For this, you need palm shortening, coconut milk, maple syrup, and cocoa powder. You'll find the recipe below.
Carob Frosting
To make the frosting AIP, use either one of these recipes and just sub carob powder.
Simple Mills Frosting
This is a great option and a wonderful short cut! You can find a store locator on the Simple Mills website for their amazing frosting.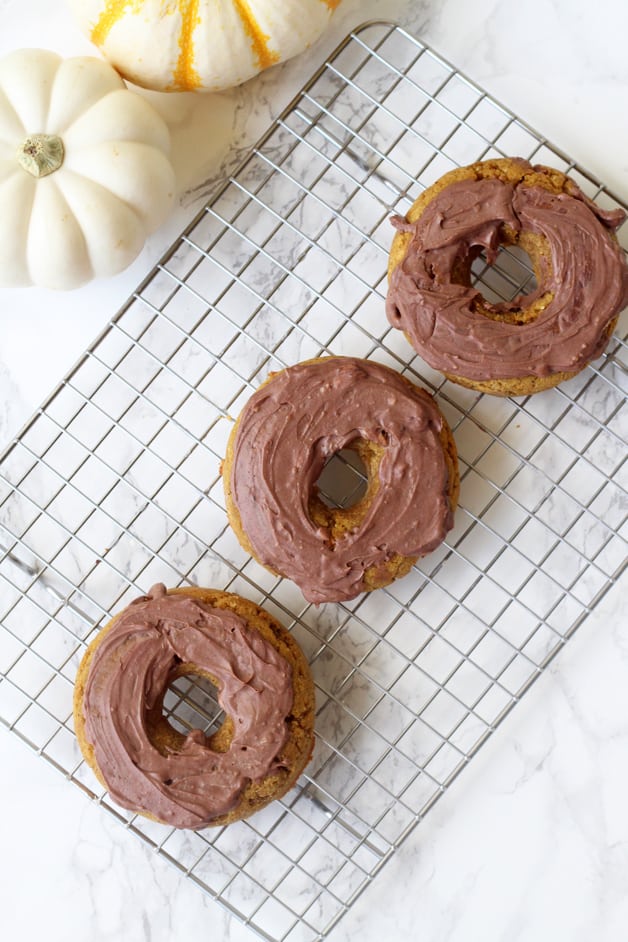 Print
Paleo Pumpkin Donuts with Chocolate Frosting (AIP, Gluten free)
---
Yield: 3 donuts (or 5-6 mini-donuts) 1x
3/4 cup tigernut flour
1/4 cup coconut flour
3 tbsp tapioca starch (sub arrowroot)
1/4 cup pumpkin puree
1/4 cup maple syrup
1/4 cup coconut milk
2 tbsp coconut oil
2 tsp cinnamon
1/4 tsp baking powder
FOR THE GELATIN EGG (sub 1 regular egg if tolerated)
1 tbsp gelatin
1/4 cup water
FOR THE OPTIONAL FROSTING (I also suggest this recipe , or this brand )
1/4 cup palm shortening
2 tbsp coconut milk
2 tsp maple syrup
1 tbsp cocoa powder (sub carob for AIP)
---
Instructions
Preheat the oven to 350 F and prepare a silicone donut pan
Combine the tigernut flour, coconut flour, and tapioca starch in a large mixing and sift together
Add in the maple syrup, pumpkin puree, coconut milk, coconut oil, cinnamon, and baking powder and stir well to combine
For the gelatin egg (sub 1 regular egg if tolerated) place a small pot on the stove with 1/4 cup of water and lightly sprinkle in the 1 tbsp of gelatin. You don't want any clumps. Allow the gelatin to bloom for 2-3 minutes.
Turn the stove on low heat to let the gelatin melt. This will take 1-2 minutes. Don't let it burn!
Remove the mixture from the stove and use a whisk or immersion blender to vigorously whisk the mixture until it's frothy.
Add the gelatin egg (or regular egg) to the pumpkin mixture and stir together immediately.
Scoop the mixture into the donut pan (you should have 3 regular sized donuts or 4-5 mini donuts) and spread evenly to prevent breaking.
Bake for 35-40 minutes.
Remove from the oven and allow to cool for 15-20 minutes in the silicone pan. After slightly cooled, place a cooling rack (or a plate) on top of the donut pan and flip it upside down to remove the donuts. Picking at them or scooping them out with a spoon may break them.
Allow the donuts to cool for another 10-15 minutes on the cooling rack.
For the optional frosting, whisk together the ingredients vigorously in a small mixing bowl until combined. Spread on the frosting once the donuts are cooled to the touch.
Notes
All nutritional information are estimations and will vary. Estimations do not include optional ingredients or frosting.
Nutrition
Serving Size: 1 mini-donut
Calories: 215
Fat: 9.5g
Carbohydrates: 19.5g
Fiber: 2.9g
Protein: 4.3g
How to enjoy these pumpkin donuts…
Surely I don't advocate for having a batch of these a day. They're definitely a treat and should be enjoyed as such! Here are some ideas for how to enjoy them…
Bring a batch to an office party or Halloween party
Serve them a Thanksgiving dessert
Keep one on hand on Halloween to avoid being tempted by candy
Bake them for a fun night in with the family
These donuts are perfect for sharing, and even non- paleo, AIP, and gluten free folks will love them! My husband ate one with some ice cream and said it was just like having pumpkin pie!
However you choose to have them, I hope you enjoy!! Be sure to tag me on Instagram to let me know how you like them!