Oregano Garlic Cream Sauce (Whole 30, Paleo, AIP)
Though I firmly believe that a real for lifestyle is filled with nourishing, and enjoyable flavors, there's no denying that you do miss out on some classic, comfort food favorites. It's easy to miss the rich, heavy creamy sauces if you're dairy free, or complex flavors if you're cutting out spices like nightshades. It takes creativity to get these classic elements back into your diet, but it's not impossible!
After firmly settling into my new found paleo and autoimmune protocol lifestyle which was much different from my former processed food laden diet, I was mostly satisfied with just veggies and proteins at most meals. I didn't feel the need for making one more thing like a sauce. How would I even make it taste good without butter, flour, and nightshade spices? Eventually, we all need to mix it up… and making a real food sauce was easier than I thought!
This oregano garlic cream sauce satisfied everything I was craving in an Italian style sauce! It's creamy, flavorful, and pairs so perfectly with an array of different vegetables. Not to mention it's paleo, AIP, whole 30, dairy free… the works!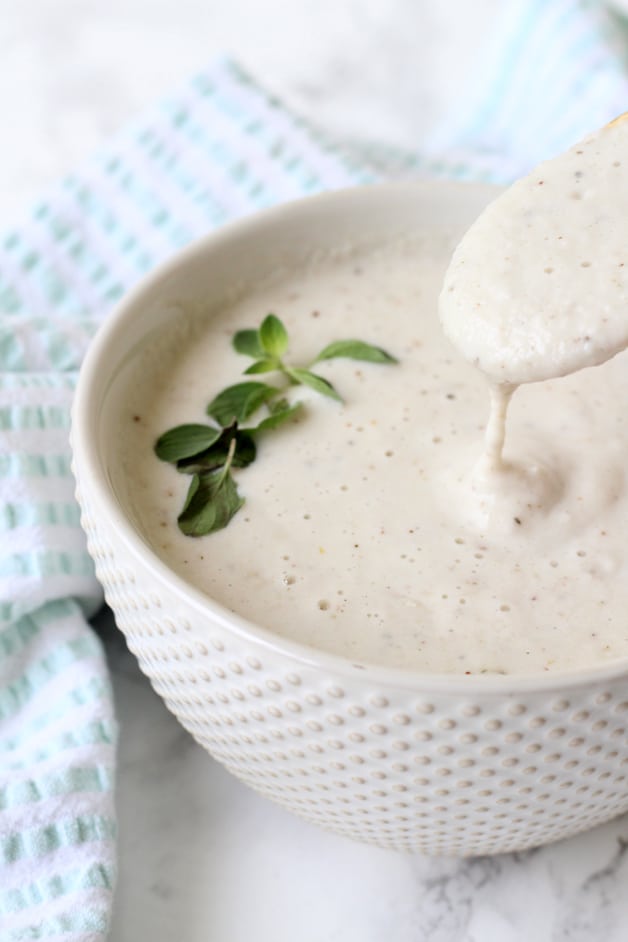 The Ingredients You Need For The Oregano Garlic Cream Sauce
Coconut milk & oil
Coconut milk enables the sauce to stay dairy free. You can certainly experiment within what you tolerate, but I haven't tested any other milk options like almond or cashew milk.
Coconut cream
The coconut cream I use in this recipe is essentially the fat that settles at the top of a can of coconut milk… not coconut butter. You can buy this coconut cream, or harden your own in a can overnight.
Cauliflower
Cauliflower helps make this sauce thick, while also sneaking in some extra veggies! Without the cauliflower, the sauce would be very thin, and not as creamy.
Onion, garlic and oregano
These all give the sauce it's flavor. I would not recommend removing any of them from the sauce.
Gelatin
Gelatin is the final piece to give this sauce more body. You can use vital proteins, great lakes, or another grass-fed brand. The gelatin will solidify the sauce is you store it in the fridge, but it will melt once you reheat it.
Print
Oregano Garlic Cream Sauce (Whole 30, Paleo, AIP)
---
1 cup coconut milk
1.5 cups cauliflower, steamed
1/2 medium white onion, diced
1/3 cup coconut cream
3 cloves garlic, minced
2 tsp dried oregano (plus optional fresh for garnish)
1/2 tsp sea salt
2 tbsp coconut oil
2 tsp gelatin
---
Instructions
Using a medium sauce pot, melt the coconut oil on medium heat
Add the diced onion and sauté for 4-5 minutes or until translucent
Incorporate the minced garlic and cook for another 3-4 minutes
Pour in the coconut milk, steamed cauliflower, sea salt, and oregano and lower the heat to a low simmer. Stir the sauce for 1-2 minutes to allow the flavors to combine.
Stir in the gelatin and allow to simmer for another minute.
Remove from the heat, and add the sauce to a high speed blender, also adding in the coconut cream. Blend on medium speed until thoroughly combined and creamy.
Serve the sauce warm and garnish with fresh oregano if desired. The gelatin will solidify the sauce, so be sure to reheat after it's cooled!
Notes
All nutritional information are estimations and will vary. Estimations do not include optional ingredients.
Nutrition
Serving Size: 1 serving
Calories: 118
Fat: 9.5g
Carbohydrates: 3g
Fiber: 0.6g
Protein: 1.7g
How To Use The Oregano Garlic Cream Sauce
What I love about this sauce is that it's really versatile! Here are some ways you can use it…
Over roasted or steamed vegetables
As a sauce for spaghetti squash or zucchini noodles
Over protein like chicken breast