Paleo Pumpkin Energy Bars (Whole 30 & AIP)
This season always feels like one of the busiest times of year! School is back, work is busy, there's always just one too many events, and if you're lucky enough to have nice fall weather, you want to get outside! Though on the go seasons of life can be fun, it can often spell disaster for healthy eating. The temptation of just grabbing convenience food, or eating junk at a party is all too real… especially when there are so many seasonal flavors to enjoy. That's why I'm sharing these easy pumpkin energy bars! They're grain-free, paleo, Whole30, and can easily be made AIP.
These pumpkin energy bars are the absolute perfect snack to store on the go when you're feeling tempted by seasonal treats. It has all of the flavors of a pumpkin treat, but none of the grains and added sugars!
After everyone loved the grain free granola bars I posted for back to school, I really wanted to make a pumpkin version that was a bit different. These are inspired by RX bars and are incredibly easy to make.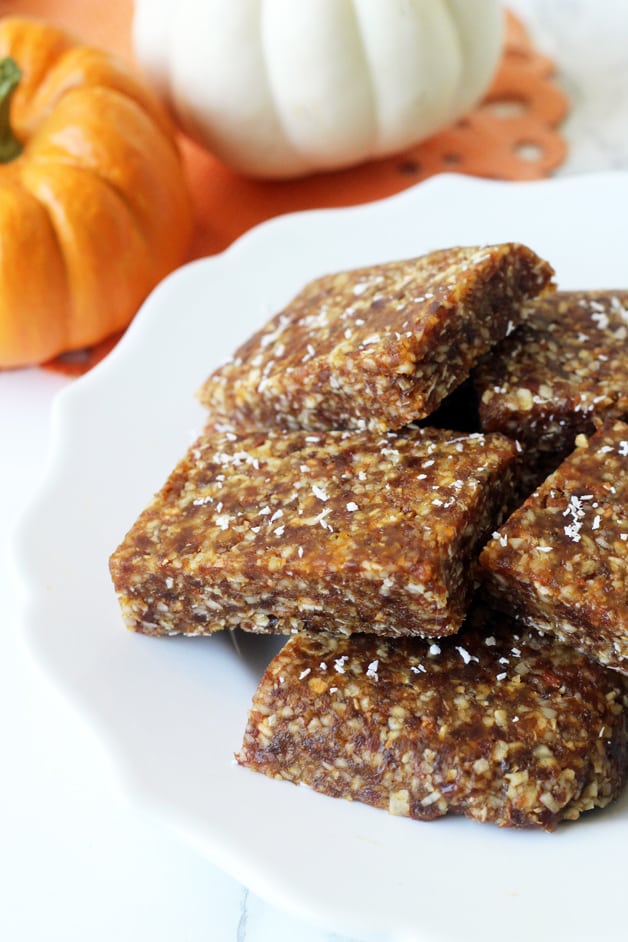 The Ingredients You Need For These Pumpkin Energy Bars 
Almonds
Almonds are a great healthy snack on the go, and give these bars the perfect crunch. If you don't tolerate nuts or are following the autoimmune protocol, I suggest swapping tigernuts (which are not nuts, but a tuber vegetable) or more coconut.  
Coconut chips
Coconut gives these a bit more dimension than just a nutty, pumpkin-y flavor. These are the coconut chips I recommend using, but you can use other varieties of dried coconut.
Baked apple chips
Apple is another fall favorite and one that I just had to these bars! This is the brand I use and recommend, but you can also use a homemade version.
Dates
Whereas in my other grain free granola bar recipe I used coconut butter to bind the bars, I use dates in this one. Dates are pretty sugar-y, so you'll want to be careful with how many of these bars you have if your blood sugar is easily thrown off by dates.
Pumpkin puree
Gotta have the pumpkin, right? I used canned pumpkin for this recipe.
Collagen peptides
Traditional RX Bars (and a lot of other protein bars, really) use egg white protein, which I'm less of a fan of than collagen peptides. Collagen comes with added benefits of supporting your gut, hair, nails, and joints. Plus, most of us in this paleo community have collagen on hand more easily. I use Vital proteins collagen, but you can use other brands.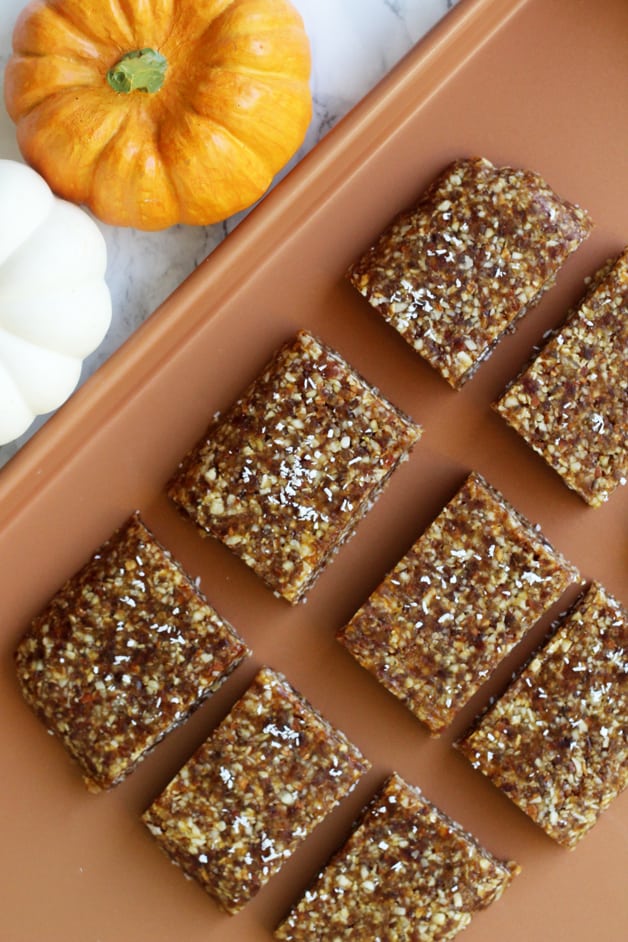 Print
Pumpkin Energy Bars (Whole 30, Paleo, AIP)
---
---
Instructions
Add the almond, coconut, and apple to a food processor and blend until chopped finely
Add in the dates, pumpkin puree, collagen, and cinnamon and blend
Line a baking dish with parchment paper and evenly flatten the mixture into the dish
Place the baking dish into the refrigerator for 3-4 hours to allow to harden
Remove once solidified and slice into 9 slices
Serve chilled and enjoy!
Notes
All nutritional information are estimations and will vary. Estimations do not include optional ingredients.
Nutrition
Serving Size: 1 bar
Calories: 244
Fat: 12.5g
Carbohydrates: 31.5g
Fiber: 5.5g
Protein: 6.9g
How to store these bars
Store these bars in the fridge in a glass tupperware container. If you're worried about sticking, simply line them the container with parchment. They'll keep for about 4-5 days in the fridge. You can also store them in the freezer to help them last longer!
These bars are best right out of the fridge as they're more solidified this way. If you know you're going to be traveling with them and eating them a few hours later, I recommend traveling with a small ice pack, or freezing them beforehand to keep them colder longer.
How to serve these bars
Serve them as a Halloween party treat
Take them along as a snack (see above for directions)
Store them in the fridge for an easy go-to snack