Grain Free Coconut Granola Bars (Paleo & AIP)
Does anything say back to school quite like granola bars? Not to me at least! I always had granola bars something in my lunch box, or as a snack when I got home all throughout public school, and through college. Needless to say, I haven't had many granola bars these days since going grain free. I can't even remember the last time I had one! So, when I started my 2017 Back to School series, I knew I had to try and make a grain free granola bar!
What I loved about granola bars for so many years is that they're crunchy, delicious, portable for easy snacks and I thought they were a super healthy meal replacement or snack. I would swap it out for lunch or use it as a breakfast or snack hundreds of times. When in reality, conventional granola bars are packed with sugar, made with improperly prepared grains, and are really more of a dessert than a nourishing food.
Of course, a sit down meal with vegetables and healthy protein is always the best nourishing option. But when it comes to fun, portable snacks that are still full of healthy ingredients and free of refined sugar, these grain free granola bars are killin' it!

The Ingredients You'll Need To Make The Grain Free Granola Bars
1 Batch of Coconut Blueberry Grain Free Granola
This coconut blueberry grain free granola is super easy to make. You can modify the ingredients to easily make it nut free or lower in sugar. Either way, it's super delicious!
Coconut butter & oil
Coconut butter (also know as coconut mana or coconut cream concentrate) and coconut oil is necessary in this recipe to bind the bars together. I have not tried any other ingredients like nut butter and cannot recommend whether or not it will work in this recipe.
Collagen peptides
Collagen peptides helps add in some more protein to the recipe to make it more satiating. You can likely sub it out if you don't have any on hand, but I really recommend it. I use the Vital Proteins collagen, but you can try and sub other brands or other protein powders at your own discretion.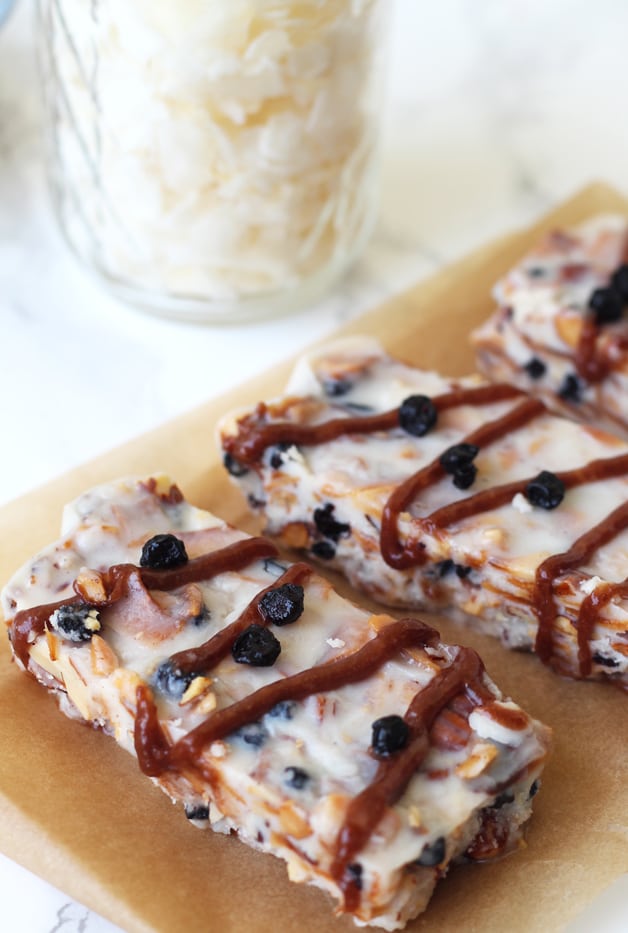 Print
Grain Free Coconut Granola Bars (Paleo & AIP)
---
1 batch grain free granola
1 & 1/3 cup melted coconut butter
2 tbsp coconut oil + 1 tsp for greasing the pan
4 tsp collagen peptides
FOR THE CHOCOLATE DRIZZLE (optional)
2 tbsp coconut oil (softened by not melted)
1 tbsp cocoa powder (sub carob for AIP)
1/2 tsp honey
FOR TOPPING (optional)
1 tsp dried blueberries
---
Instructions
Line a 8×6″ (or smaller) baking dish with parchment paper greased with coconut oil
In a large mixing bowl, combine the full batch of granola with melted coconut butter, coconut oil, and collagen. Thoroughly mix until combined
Spoon out the mixture into the baking dish and use a spoon to evenly distribute
Place in the refrigerator for at least two hours
To cut the bars, remove for the fridge and allow to soften for 10-15 minutes. Use a very sharp knife to slice the bars to desired size
For the chocolate drizzle (optional) add the ingredients to a bowl and mixing vigorously. Heat for just a few seconds to soften if needed, but don't allow it to melt.
Pour the frosting mixture into a piping bag or just a bpa free plastic bag with the tip cut off and drizzle over the bars. Top with dried blueberries if desired
Keep the bars in the fridge or freezer and enjoy chilled as a snack or as an addition for a breakfast on the go.
Are these bars a meal replacement?
Here's the thing… I don't think I'll ever recommend a bar as a meal replacement. I'm always pro-sit down meal with health fats, vegetables, and protein. I defiantly don't like the idea of just eating a bar in the car or as a way to "cut calories".
However, these bars are a really, really good snack! They're relatively low in sugar (especially compared to most conventional bars), they're full of healthy fat, and high quality protein. This is definitely the kind of healthy snack you want to have on hand in your freezer or in the fridge when you want something fun, but also filling.
My husband and I both love, love, love these yummy bars and I've already made them several times since I first created them! I hope you love them as much as we do!