Grain Free Blueberry Coconut Granola (Paleo & AIP)
Back in the day, granola was one of my favorite snacks. I love yogurt, and granola and fresh berries are the perfect topping. Right before I went AIP, I used to bring in greek yogurt with chocolate granola and blueberries every single day to work. It was my absolute favorite work snack! Needless to say, granola got a little difficult after I stopped eating grains and practically all nuts and seeds. What's left?
When I decided to make grain free granola, I didn't know how well it would turn out or even if anyone would like it! However, after making this grain free blueberry coconut granola, I fell in love all over again!
This grain free granola is the perfect addition to my 2017 Back To School Recipe Series (which also features a free meal plan download)! It's great to add to breakfast, and bring along as a snack in your backpack. So easy, and so delicious!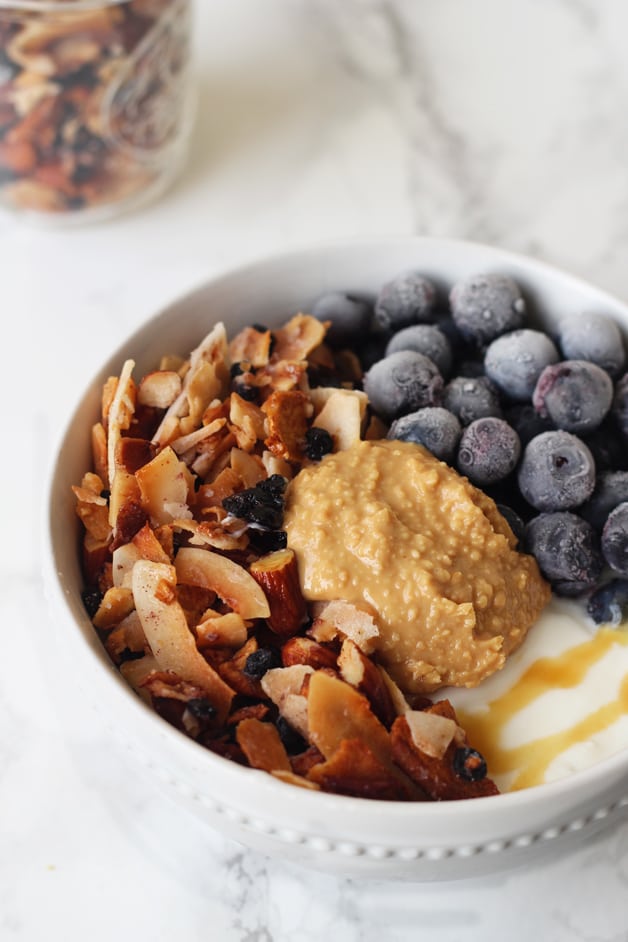 What You'll Need For This Grain Free Granola
Coconut Chips and coconut oil
This is a coconut based recipe and both coconut chips and coconut oil are necessary to make this a grain free and seed free granola. The coconut oil really helps add more healthy fat to this granola, and tons more flavor! For the coconut chips, I like this brand, but you can easily swap out whatever you have available.
Baked Apple Chips
Baked apple chips help give this grain free granola even more crunch and add a bit more sweetness! I like the brand Bare chips, but you can use whatever you have available to you.
Dried Blueberries
My absolute favorite ingredient in the granola! I try not to over do it on dried fruit as it is very high in sugar, but there's a relatively small amount in this granola relative to the entire yield… a little goes a long way! You're welcome to scale back the amount if you want less sugar.
Almonds
Raw almonds help add more texture and crunch to this granola. If you're nut free, you can easily leave them out and sub more coconut or even sliced tigernuts. It's really just an extra layer of flavor if you tolerate it.
Maple Syrup
There's only 1 tbsp of maple syrup for the entire batch which is much less than most recipes. The syrup helps make it stick and add more flavor, but if you're trying to scale back on sugar, you can try adding more coconut oil instead.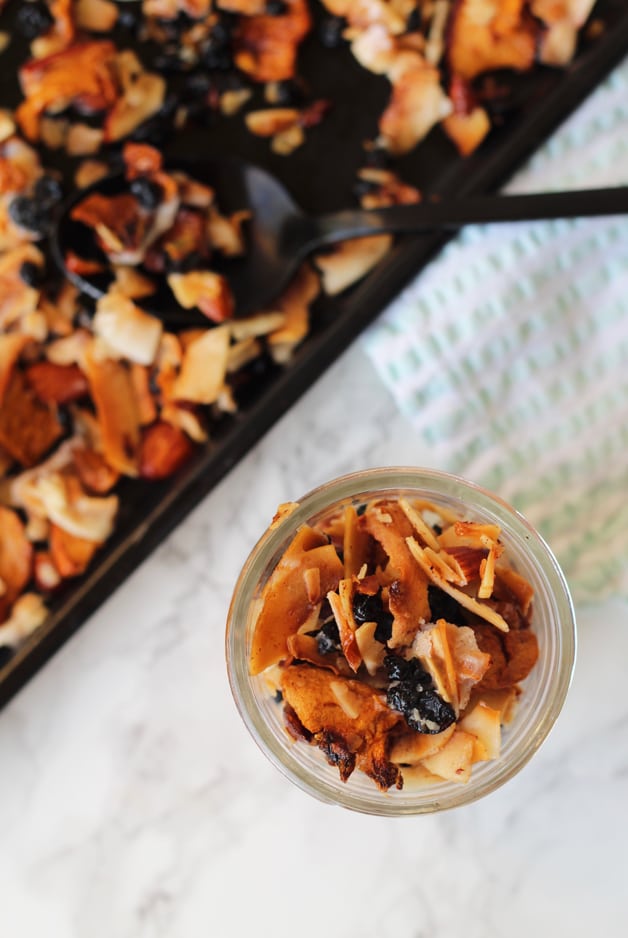 What To Pair Grain Free Granola With
There are tons of ways you can eat this grain free granola! Here are just a few ideas…
Use it to top a smoothie bowl
Add it to a yogurt bowl
Add it to a grain free oatmeal bowl
Eat it by itself
Another special recipe to come!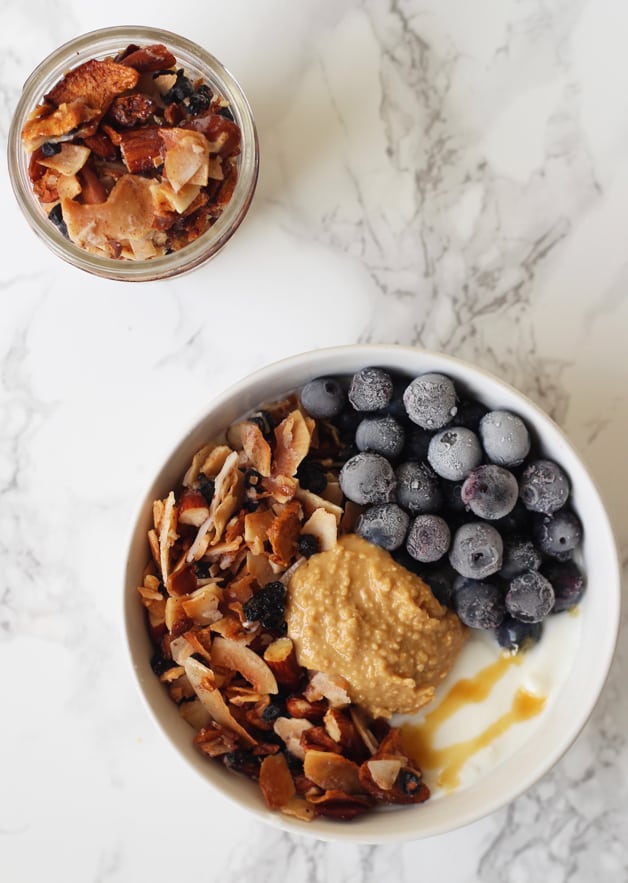 Now, let's make it!!
Print
Grain Free Blueberry Coconut Granola (Paleo & AIP)
---
1 1/2 cup coconut chips
1/2 cup chopped raw almonds (sub more coconut for AIP)
1/3 cup baked apple chips
1/3 cup dried blueberries
2 tbsp coconut oil, melted
1 tbsp honey
2 tsp cinnamon
1/2 tsp sea salt
---
Instructions
Preheat the oven to 350 F and line a baking sheet with parchment paper
Pour all of the dry ingredients into a mixing bowl and combine
Add in the coconut oil and honey and stir to evenly coat
Spoon the mixture out onto the baking sheet and bake for 8-10 minutes
Remove from the oven and allow to cool
Store in the fridge for up to a week and serve over coconut yogurt, or as a snack by itself
I hope you love this grain free granola as much as I do!! If you make it, but sure to tag me on Instagram and let me know how you like it!
Stay tuned for more Back to School Recipe fun, and another special recipe that features this granola .