Paleo Sweet Potato Bacon Breakfast Bars (Egg Free & AIP)
This post contains affiliate links. Learn what that means here. 
Egg free and grain free breakfasts are hard! Even before I was an avid egg lover (before I realized my egg white intolerance) I was a cereal and bagel junkie. Oatmeal, cold cereal, or a crispy bagel smothered in cream cheese was where my heart was at for breakfast for years. And I'm not alone in that… cold cereal with milk is one of the most common breakfasts! We seem to be stuck in this mindset that breakfast can't be normal food and has to fit a certain mold.
Ever since going paleo & AIP I've come to embrace that breakfast can be anything! However, sometimes you just really want something more traditionally breakfast-y… especially when you're just transitioning to this lifestyle which is why I made these Paleo Sweet Potato Bacon Bars! They're egg free, AIP, full of gut loving ingredients, and perfect for a breakfast on the go.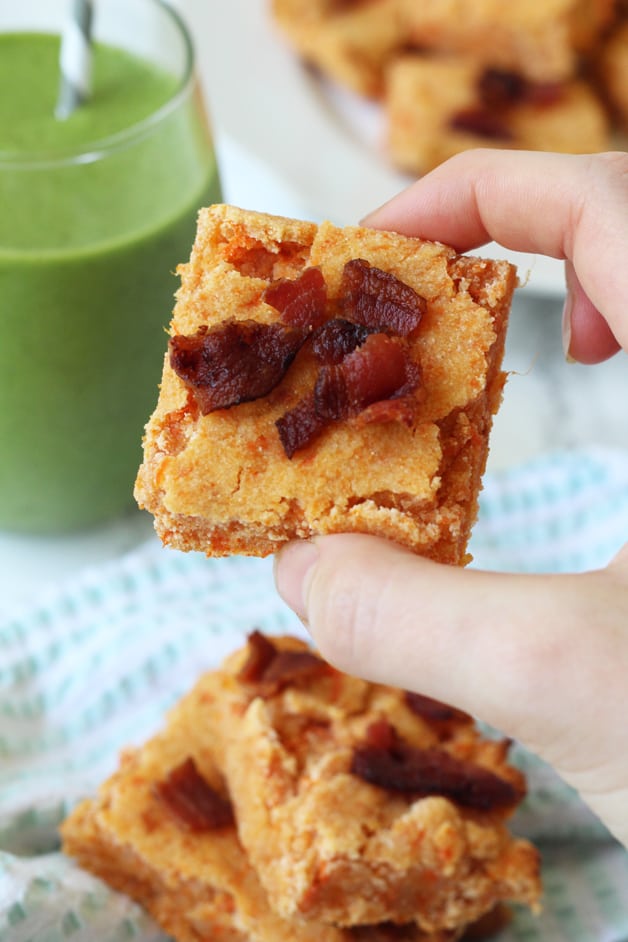 I'm super excited to present these Paleo Sweet Potato Bacon Bars as the very first recipe of my 2017 Back To School Recipe Series! For the next few weeks, I'll be sharing back to school friendly breakfasts, lunches, and snacks that are paleo, AIP, packed with real food and great for both adults and kids. Getting real food on the table with a busy schedule isn't easy, but these recipes will be here to help make it easier!
The Ingredients You'll Need For The Sweet Potato Bacon Bars
Sweet Potato
The base for these bars! I used orange sweet potato and that's all I've tested it with, but feel free to try out other varieties. I can't guarantee it will yield the exact same result, but don't let that stop you from trying.
Coconut Flour
Coconut flour is important in recipes that have veggies like this because it helps absorb the moisture let off by the sweet potato. I have not tested this recipe with any other flours and can't make any recommendations for what else may work.  
Tapioca Starch
Tapioca helps the texture of these bars, and helps to bind it together. You can indeed sub arrowroot in the bars, but I wouldn't sub it out altogether.
Collagen Peptides
I don't know about you, but I really need some protein at breakfast to keep me satiated! That's why I added in collagen peptides to these bars for a nice little gut loving boost of protein.
Gelatin Powder (or 1 egg if tolerated)
Yes, different than collagen! The gelatin acts as an egg replacement in the recipe, and can easily be swapped out with an egg if tolerated. I use this brand, but you can also use Great Lakes.
Bacon
The bacon is essentially a garnish here to add some more savory flavor to the bars. Is it optional? Yes! But it really enhances the flavor!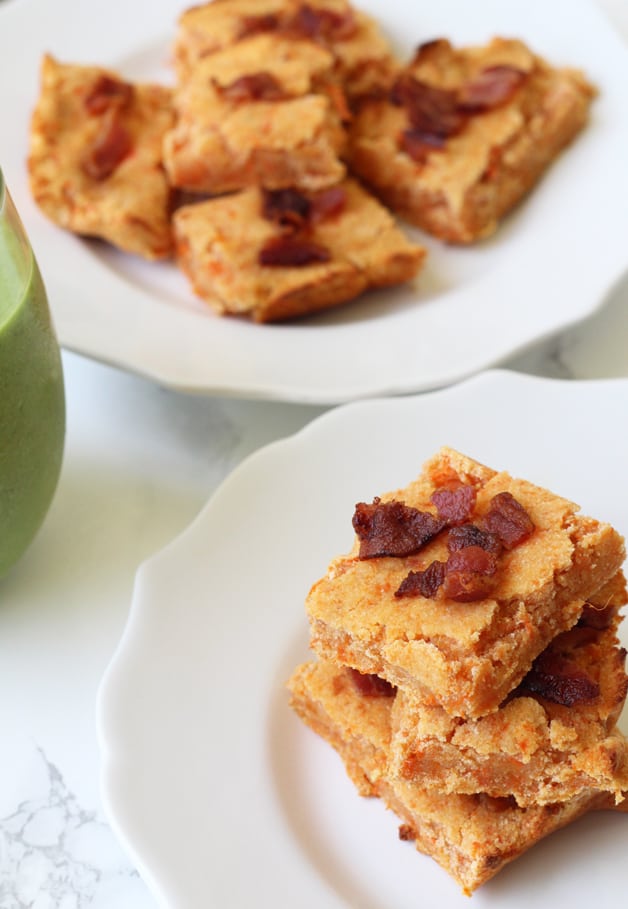 Print
1 cup sweet potato, baked and mashed
3/4 cup coconut flour
1/4 cup tapioca starch
4 tbsp collagen peptides
3 tbsp coconut oil + 1 tsp for greasing the pan
1/4 tsp baking soda
1 tsp sea salt
1 tsp cinnamon
3 pieces of cooked bacon, chopped cooked – Optional
FOR THE GELATIN EGG (sub 1 regular egg if tolerated)
1 tbsp gelatin
1/3 cup water
---
Instructions
Preheat the oven to 350 F and line a baking dish (I used an 8×6″ dish) with parchment paper lightly greased with 1 tsp of coconut oil
Add the coconut flour, sweet potato, tapioca starch, and collagen into a mixing bowl and stir to evenly combine
Next, add the coconut oil, baking soda, cinnamon, salt, and mix
For the gelatin egg (sub 1 regular egg if tolerated) add the water to a small sauce pot and slowly pour over the gelatin. You don't want any clumps, so lightly mix if needed. Allow the mixture to rest and bloom over 2-3 minutes.
Place the pot on the stove and turn in on low heat. Slowly melt the the gelatin (this will take just a few minutes) and remove from heat.
Once removed from the stove, vigorously whisk the gelatin egg until it becomes frothy.
Add the gelatin egg to the mixture immediately and mix to combine.
Pour the dough (it will be fairly dry) into the pan and evenly flatten with the back of a spoon.
Bake in the oven for 30 minutes
Remove the bars from the oven and allow to cool for 10-15 minutes
Slice evenly into squares (you should have 9 bars) and top with chopped bacon
Serve immediately or store in the fridge for 2-3 days and reheat under the broiler in the oven.
Veggies, healthy fats, and collagen? Winner! Take that sugary cereal!
These bars are great to serve for breakfast for the whole family, or to prep a couple of days out ahead and store in the fridge. For getting in some more veggies, I recommend pairing these bars with a nice big green smoothie or a breakfast salad.
I hope you enjoy these tasty bars! Be sure to tag me on Instagram if you try them. I love seeing your pictures!