Roasted Delicata Squash With Garlic Cream Sauce (Paleo, AIP, Whole 30)
Before I started shifting to a real food diet, the most seasonal food I would eat in the fall was candy corn and pumpkin shaped peanut butter cups. Seriously. I never really had squashes like butternut squash or spaghetti squash, and I certainly didn't have delicata squash. I don't even recall ever noticing that these existed until about two years ago. I took at total chance and was immediately hooked! And this recipe for oven roasted delicata squash with garlic cream sauce is currently my favorite way to eat it!
When my husband asked me to describe what delicata squash even tasted like I said, "I don't know… really good?". And it is. It is really good. However, it's also sweet, it doesn't get mushy like most squash, and unlike bowling ball sized squashes like spaghetti squash it's incredibly easy to cut! So, it's basically the perfect squash. And this recipe is an amazing addition to your autumn repertoire!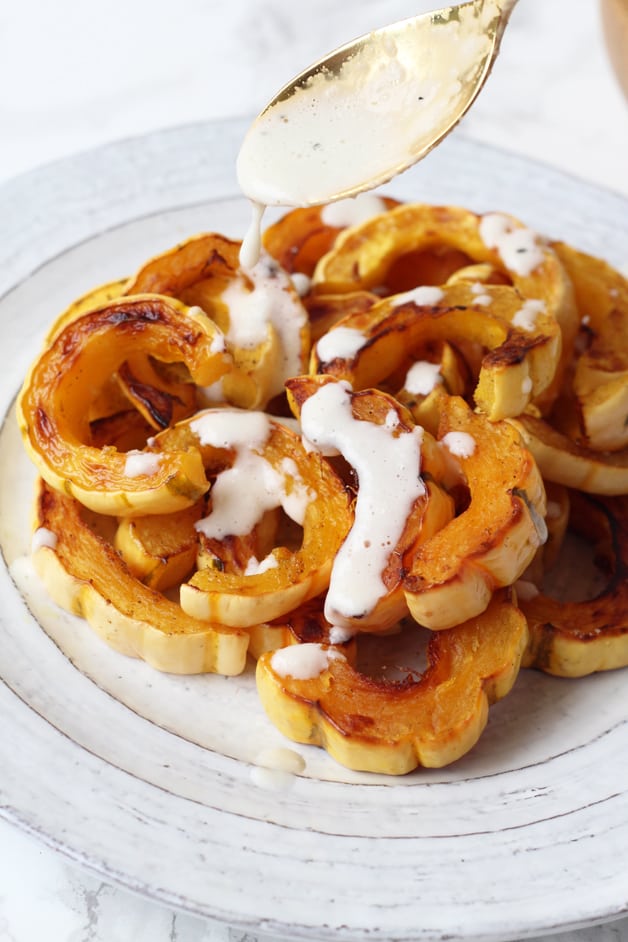 What You Need For The Roasted Delicata Squash With Garlic Cream Sauce
Delicata Squash
Delicata is a long, thin, small squash that's usually yellow with a bit of green. You won't find this year round. It's definitely a seasonal item, and one to be enjoyed often while it's around!
Ghee (or coconut oil)
Ghee (or clarified butter) is lactose and casein free, making it safe for most folks with dairy issues. It really adds that rich, autumn flavor to this recipe, but you can also sub coconut oil.
Sage
Sage is one of my favorite herbs to use with squash!
Cinnamon
Just a bit of cinnamon helps add an even more autumn flavor to this squash.
Garlic Cream Sauce
You can easily eat this squash without the sauce, but it really adds something to the dish! You'll find the recipe here, however, I would recommend leaving out the oregano for this recipe as I feel it clashes with the cinnamon and sage.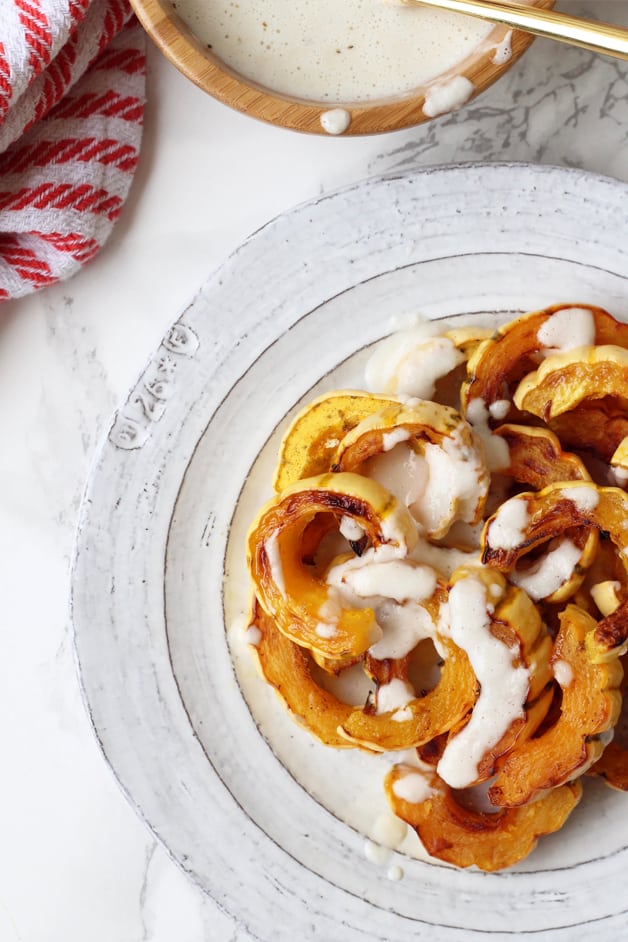 Print
Roasted Delicata Squash With Garlic Cream Sauce (Paleo, AIP, Whole 30)
---
---
Instructions
Preheat the oven to 400 F and line a baking sheet with parchment paper
Wash the squashes with warm water. Slice the squash vertically, and use a spoon to scoop out the seeds. Next, slice the squash into half moons, about 1/4 – 1/2″.
Place the squash slices on the baking sheet and add melted ghee or coconut oil.
Season with sage, cinnamon and sea salt.
Bake the squash for 30-35 minutes or until slightly crispy, flipping halfway through.
Serve the squash by itself, or with the garlic cream sauce. Note that you can eat the skin! 🙂
Notes
All nutritional information are estimations and will vary. Estimations do not include optional ingredients or sauce.
Nutrition
Serving Size: 1 serving
Calories: 121
Fat: 3.1g
Carbohydrates: 24.9g
Fiber: 4.4g
Protein: 2.2g