Marshmallow Easter Eggs (Paleo & AIP)
These marshmallow Easter eggs are a real food version of classic Easter candy. They're fun to make at home, nut free, paleo, and AIP compliant.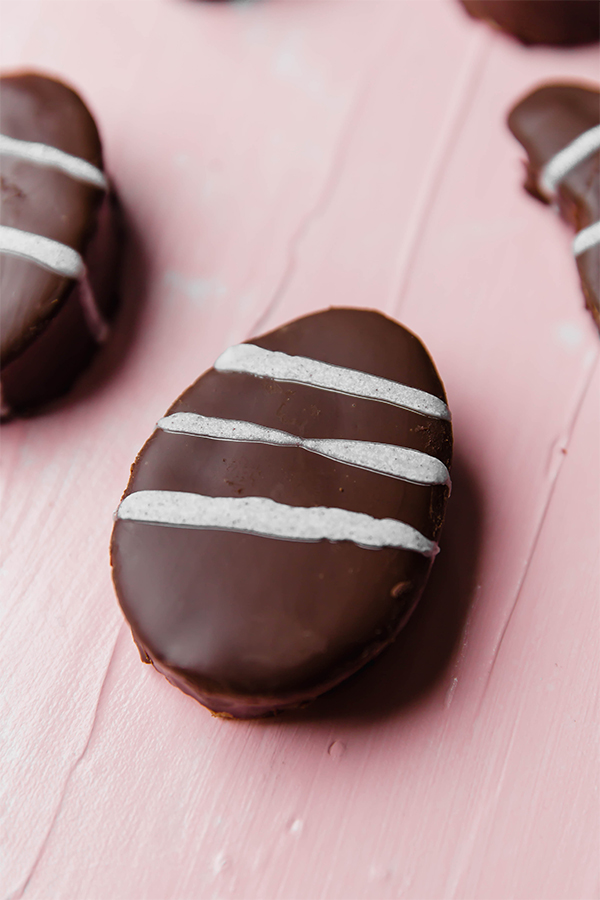 There's always a natural lull with treats between Valentine's day and Easter. We're all just trying to get through the winter, and that usually means lots of soups, and maybe some comfort foods, but we're not necessarily diving into the candy aisle at the drug store quite as often. I know all about diving into the candy aisle at Walgreens… it was my favorite pastime in my teens, and Easter was one of my favorite times to do it. Cadbury eggs, chocolate bunnies, Reese's peanut butter eggs, and marshmallow eggs!
We all get nostalgic around the holidays, so I wanted to recreate a classic that's fun to make, and even more fun to eat… marshmallow eggs! They're made with homemade marshmallows, a chocolate coating, and you can get as creative as you want to decorate them as a fun craft.
These marshmallows are made without any cornstarch or weird ingredients. This treat is nut free, paleo, and AIP friendly.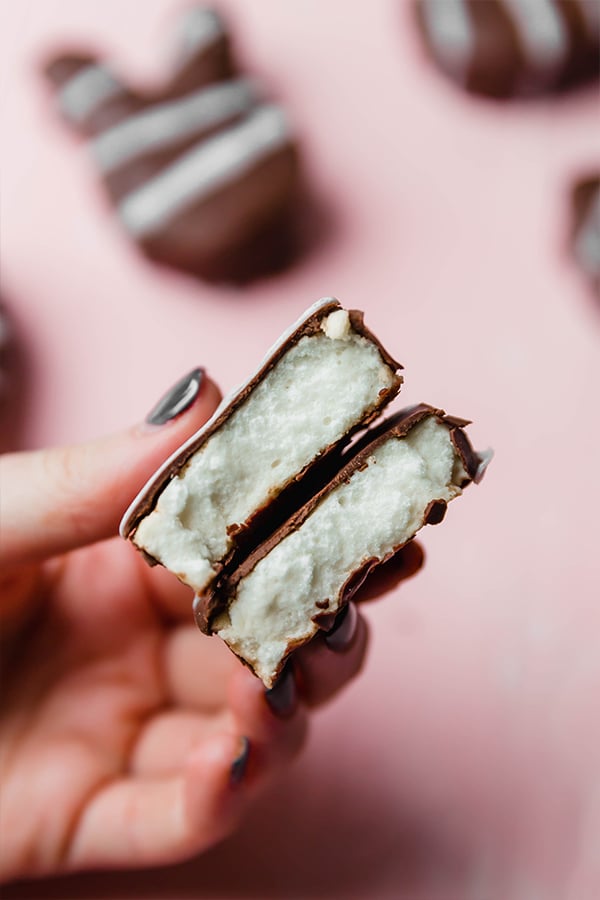 The Ingredient's & Tools You'll Need for the Marshmallow Easter Eggs
Honey, water, gelatin, and arrowroot starch
This is seriously all you need to make marshmallows! Well, the arrowroot starch is only to make things easier to cut so even that isn't super necessary. All you need is minimal ingredients, like Gelatin (which is different than collagen) and honey.
To make marshmallows, you need a full cup of honey. You can't scale back the amount in the recipe, but you can moderate your sugar intake by choosing to use fewer marshmallows.
Though gelatin and collagen are made from the same source and have similar benefits, they cannot be swapped for each other. The marshmallows need gelatin for a jiggly texture.
Dairy-free chocolate chips (or AIP swap)
You can use dairy and soy free chocolate chips, or you can use my recipe for Hannukah Gelt and just use a different mold and chop it into carob chunks!
Coconut butter & natural coloring
This is an optional step if you'd like to decorate your eggs. They taste just as yummy by themselves!
Cookie cutters
You can use cookie cutters shaped like anything you'd like! I used both eggs and bunnies. The eggs are easier to coat, but you can get creative as you want to make it fun.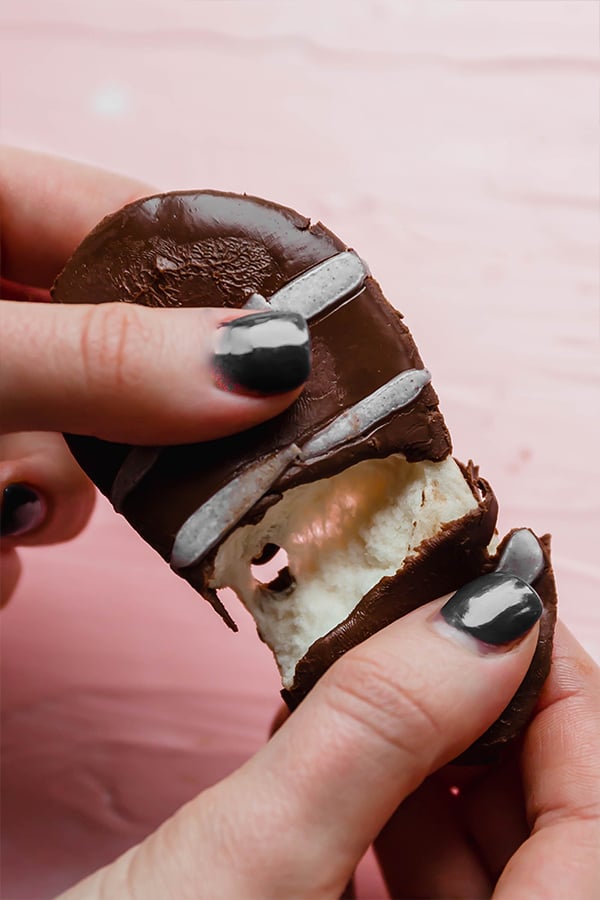 If you like this recipe, you may also like…
Print
Marshmallow Easter Eggs
---
Author:
Prep Time: 30
Cook Time: 15
Total Time: 45 minutes
Description
These marshmallow Easter eggs are a real food version of classic Easter candy. They're fun to make at home, nut free, paleo, and AIP compliant.
---
Scale
Ingredients
For the marshmallows
1 cup water (divided)
3 tbsp gelatin
1 cup honey
2–3 tbsp arrowroot starch
For the coating 
2 tbsp coconut oil
1/2 cup dairy-free chocolate chips (sub carob for AIP)
3 tbsp coconut butter, melted
1–2 tsp natural coloring (matcha powder for green, turmeric for yellow, or beetroot powder for purple)
---
Instructions
For the marshmallow
Prepare a large casserole dish pan by lining with parchment paper and coating with arrowroot starch.
Pour 1/2 cup of water into a small bowl and sprinkle the gelatin over top. Stir gently to ensure the gelatin is combined. Set aside.
Using a medium-sized pot slowly heat the honey combined with the other 1/2 cup of water. Slowly bring the temperature to 235-240 F degrees on low heat. Remove from heat immediately once the mixture comes to temperature.
Slowly add in the honey mixture into gelatin mixture as you whisking with either with an electric hand mixer or in a stand mixer. Continue whisking for 10-12 minutes. The marshmallow mixture should be lukewarm, thick, and marshmallow peaks should start to form.
Pour the mixture into the prepared pan and place in the fridge to harden for at least 4 hours.
Use an egg-shaped (or bunny, carrot, etc.) cookie cutter coated with arrowroot slice marshmallows. Store in the fridge.
For the coating
Use a double boiler method to melt the chocolate with the coconut oil until fully liquid.
Use a fork to dip the marshmallows one by one into the chocolate until fully coated. Place on parchment paper and chill in the fridge.
Prepare the colored coating by combining the coconut butter with the coloring of your choice. Drizzle the coconut butter over the hardened chocolate marshmallows. Return to the fridge to harden.
Serve chilled and enjoy!
---
Notes
The photos of this recipe and all written content on my website are copyright protected and cannot be copied or shared. Please do not copy this recipe or photos and share it on your own website, Instagram, or other written materials. If you'd like to feature a photo in a roundup, please contact me. If you'd like to tell people about this recipe on social media, your own website, or elsewhere please link back to the recipe here rather than copy and pasting.  Thank you so much!!