Paleo & AIP Hanukkah Gelt
This paleo and AIP Hannukah gelt is just like the real thing! Dress it up with some gold foil and a fun mold and you won't be able to tell the difference.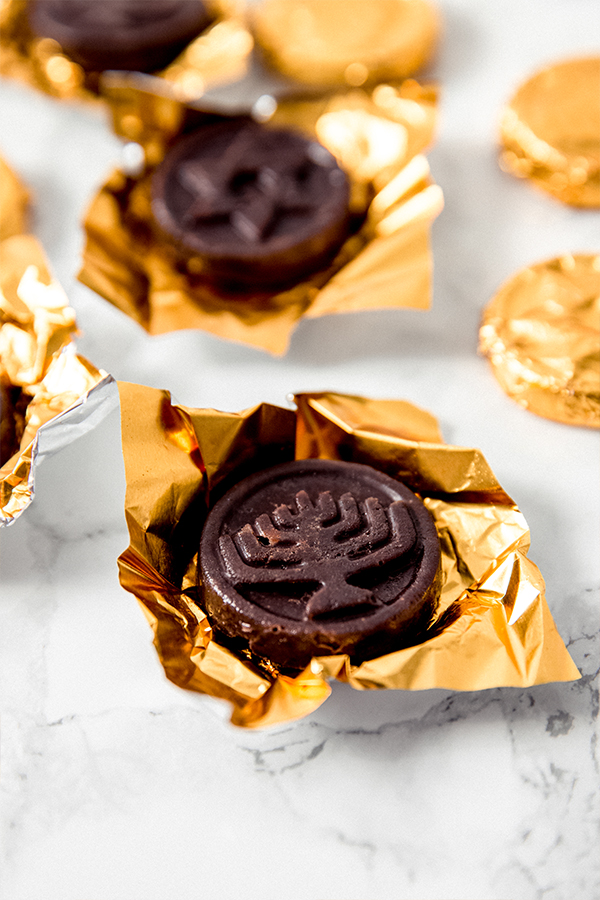 Happy Hannukkah! Well, almost. Hanukkah is next week, but I had to get ahead of the curb just a tad to share this recipe with you. When you're a kid, it's just not Hannukkah without gelt, right? I remember being in grade school and having plenty of my peers say, "I don't celebrate Hannukkah, but I love gelt". I don't have kids of my own yet, but if I did, I would want them to be able to enjoy gelt in an allergen-friendly way. That's why I made this paleo & AIP Hanukkah Gelt!
First, you may be wondering… what is gelt? It's basically a chocolate coin candy wrapped in gold foil to look like gold coins. It's a popular treat around Hanukkah and I was obsessed.
Before we get into the recipe, a little bit about my background and why this is special to me. I'm Christian by faith but grew up celebrating Hanukkah in a Catholic/Jewish home. My mom is Jewish on both sides (her 23&me said she's 100% Ashkenazi) so that technically makes me Jewish as well, and I love, respect and appreciate my heritage. Plus, we know how to eat!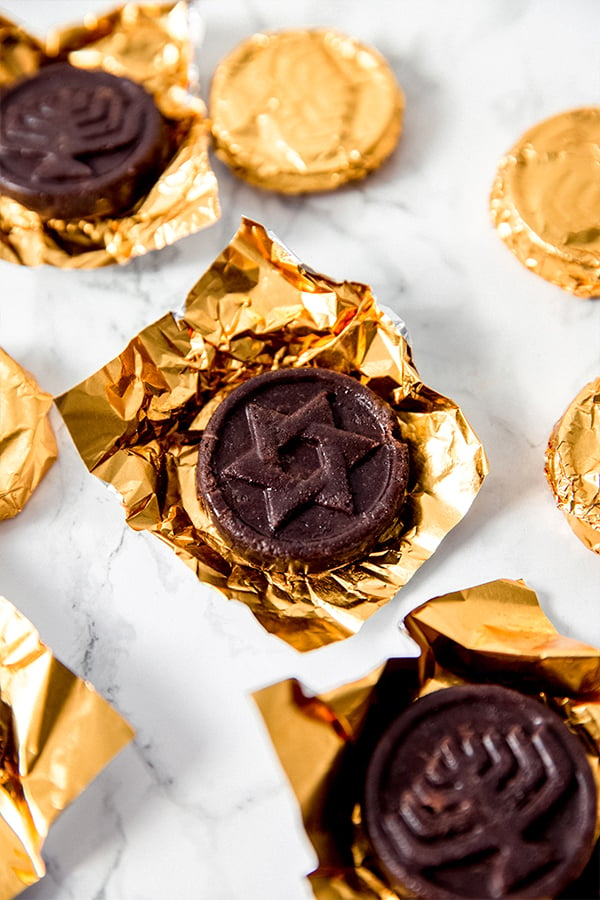 The Ingredients & Tools You'll Need
Coconut butter
Coconut butter gives these a creamy texture. I would not substitute more coconut oil. My favorite brand is Artisana.
Coconut oil
This helps the coconut butter melt as well as helps the structure of the gelt.
Cocoa powder (carob powder for AIP)
I used carob powder in the gelt in the photos, but either works.
Maple syrup
This acts as the sweetener. You can also use honey.
A sifter
I find it best to sift the cocoa/carob powder to ensure there aren't any clumps.
A mold
I used this specific mold to get the perfect look. It is plastic, so if you want to avoid plastic altogether you can also use just the base of a silicone mini muffin pan!
Gold foil
Again to get the perfect look and feel, I got this gold foil on Amazon. However, it's totally optional.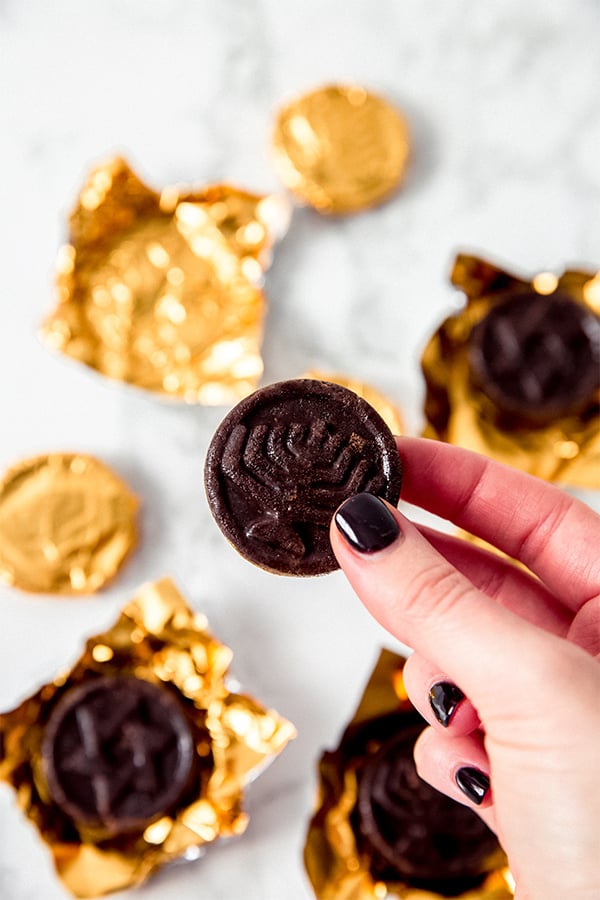 Print
Paleo & AIP Hanukkah Gelt
---
Author:
Total Time: 10 minutes
Yield: 12 pieces (depending of the size of your mold) 1x
3/4 cup coconut butter
1/4 cup coconut oil
1/4 cup cocoa powder (sub carob for AIP)
3 tbsp maple syrup
---
Instructions
Assemble a double boiler with a medium sized pot filled halfway with water. Bring the water to a simmer and place a metal mixing bowl over the pot.
Pour the coconut butter and coconut oil into the metal bowl and allow it to slowly melt, mixing often. Once the mixture is melted and completely liquid use an oven mitt to remove the bowl from the heat.
Using a fine mesh sifter, sift the cocoa or carob powder into the coconut butter mixture to ensure that there are no clumps. Stir in the maple syrup and thoroughly combine.
Prepare your mold of choice (either 1-2 gelt molds like this, a circular one like this, or a silicone mini muffin pan) and carefully spoon the mixture in, being careful not to overfill. If using a silicone mini muffin pan, only coat the bottom of the pan.
Place in the freezer for about an hour or two or until the mixture is fully hardened. Remove from the fridge and carefully pop out of the mold. Serve in foil or by itself and store in the fridge.
Notes
All nutritional information are estimations and will vary.
Nutrition
Serving Size: 1 piece
Calories: 178
Fat: 18.4g
Carbohydrates: 4.4g
Fiber: 0.7g
Protein: 0.4g