Paleo Spinach & Artichoke Dip (AIP & Whole30)
This paleo spinach and artichoke dip is a delicious party appetizer! It's dairy-free, AIP, and whole30.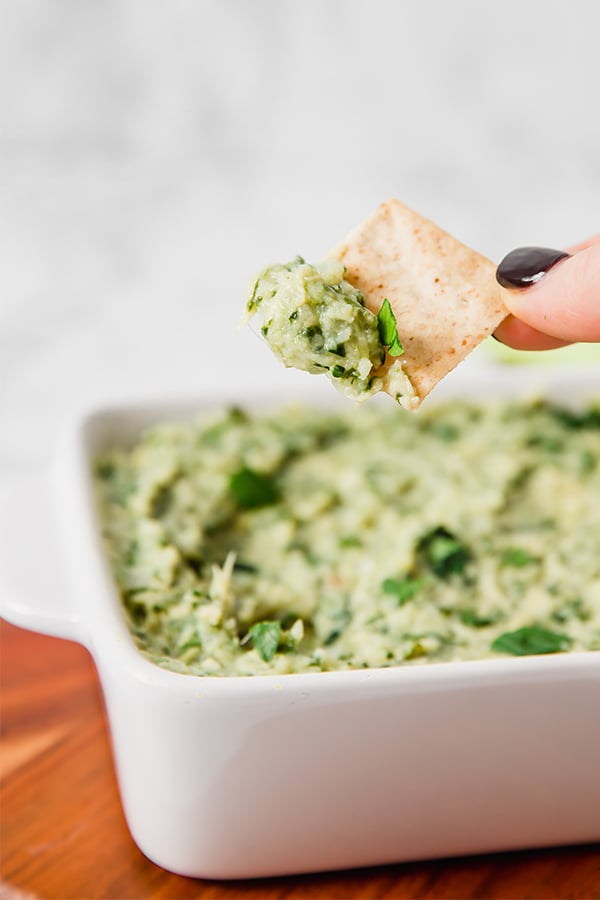 It isn't a party without spinach and artichoke dip, right? I've been to parties with people who really don't like vegetables, but love spinach and artichoke dip! It's honestly the perfect way to casually sneak in some vegetables that are disguised as a decadent snack. Well, in reality, spinach and artichoke dip is usually all cheese, sour cream and canola oil based mayo… not really that healthy for those who have food intolerances. Not this one! This spinach and artichoke dip is dairy free, AIP, paleo, and whole30 compliant!
This spinach and artichoke dip is so perfect for holiday parties, dinner gatherings, or as a game day snack. But honestly, it's so easy to make and pretty cheap to do so that you may just wind up keeping for yourself as a little snack or side dish!
A note on keeping this whole30 and AIP…
The spirit of Whole30 is to eat full meals and not sit down with a big bowl of chips and dip. But, if you moderate this recipe and eat it with vegetables it's technically made with all compliant ingredients.
To keep it AIP, all you need to do is just eat it with veggies or a homemade AIP cracker… that's it!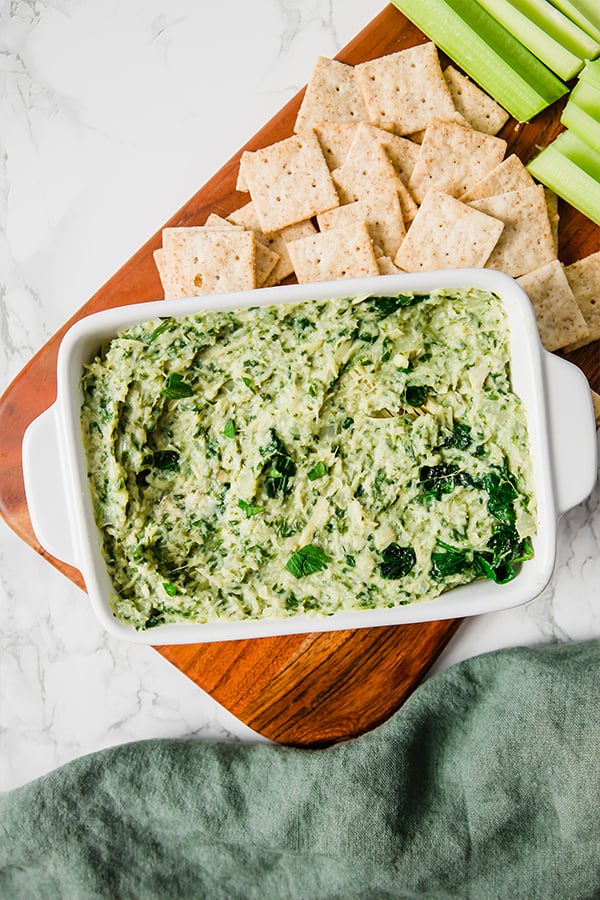 The Ingredients You'll Need for This Spinach & Artichoke Dip
Cauliflower
Since this recipe is AIP, it doesn't use nuts and dairy. Mashed cauliflower replaces the consistency of what you would get from something like cheese or cashews.
Artichoke hearts
Artichoke hearts actually have an amazing consistency when blended! You can use canned artichoke hearts, or if you want to avoid citric acid, you can often find frozen artichoke hearts in many stores.
Spinach
Can't do this dip without it!
Onions, garlic, and parsley
These add a lot flavor to the dip.
Nutritional yeast
This is technically optional, but it creates a cheesy flavor.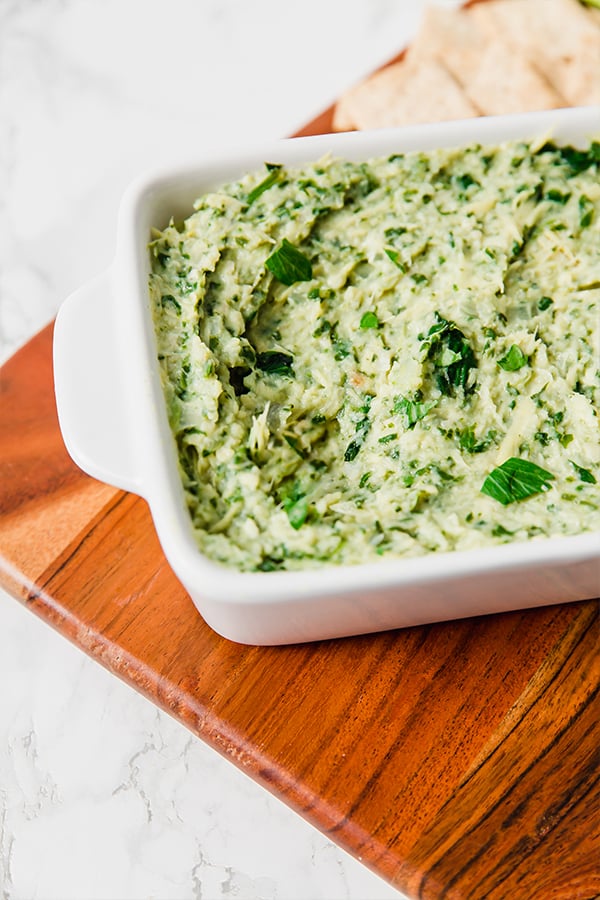 If you like this recipe, you may also like…
Print
Paleo Spinach & Artichoke Dip (AIP & Whole30)
---
Author:
Total Time: 15 minutes
1/2 cup cauliflower florets
2 tbsp avocado oil
1 onion, diced
2 cloves garlic, minced
2 cups artichoke hearts
1/2 cup coconut cream, softened (use this, or place a can of coconut milk in the fridge overnight and use the cream on top)
Optional- 1/3 cup chicken broth (see instructions)
2 tsp nutritional yeast
1 tsp sea salt
1 tsp parsley, chopped
3 cups spinach, finely chopped
---
Instructions
First, steam the cauliflower by adding about 1/2 an inch of water to a pan and bring to a simmer. Add the cauliflower and cover the pan for 5-8 minutes or until the cauliflower is soft. Drain the excess water, and set the cauliflower aside.
Add the avocado oil to a frying pan and bring to medium heat. Saute the onion and garlic until fragrant and translucent. Remove from the pan add to a blender and reserve about 1 tbsp of oil in the pan. Set aside.
Using a high-speed blender, combine all of the ingredients (reserving the spinach) and blend until smooth. Add the chicken broth to make the dip creamier if desired. Spoon into a bowl or serving dish and set aside.
Using the same frying pan, wilt the spinach on medium heat for 1-2 minutes. Stir into the dip and mix well.
Serve the dip warm with simple mills crackers, or vegetables like celery and carrots for AIP & whole30.
Notes
If you make this ahead of time and serve it at a party, feel free to heat it in the oven for 5-10 minutes at 350F.
Prep Time: 5
Cook Time: 10
Category: Sides
Method: stove top
Cuisine: American