Pomegranate Guacamole (Healthy, Paleo, AIP, Vegan)
This pomegranate guacamole is the easiest holiday appetizer! It's paleo, AIP, vegan, and a total crowd pleaser with all holiday guests.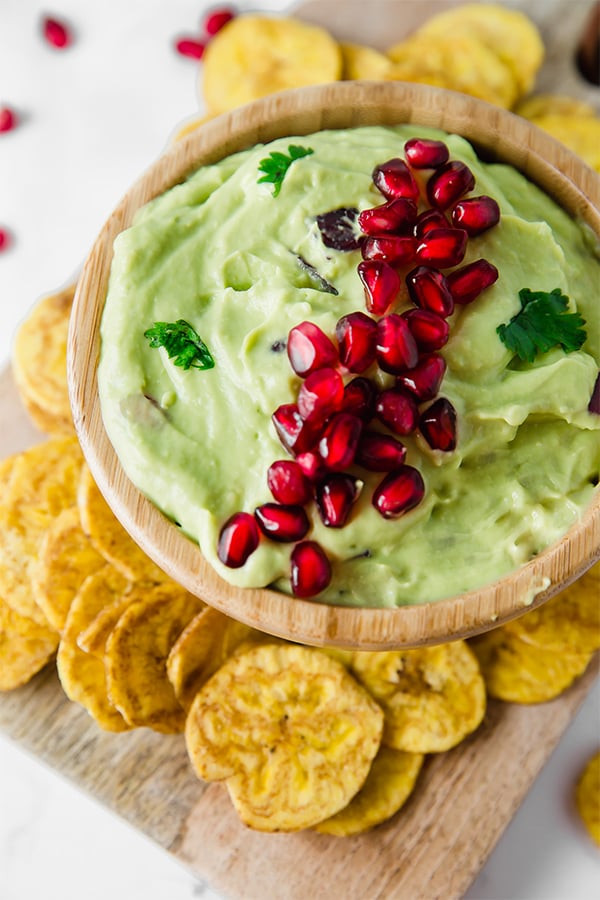 During the holidays, the very last thing I want to do is prep another labor-intensive dish! Between all of the complicated sides, desserts, main dishes, and just the overall stress of the holiday season, there comes a point where you just want something simple that everyone will love. And really… who doesn't love guacamole? Especially now, in the decade where when we're all obsessed with avocados. Bring on the guac!
But guacamole by itself is a little blah for a big holiday dinner. Why not dress it up just a bit with pomegranate? Now we're talking, right?! Now it's a festive, and unique appetizer while still being totally easy.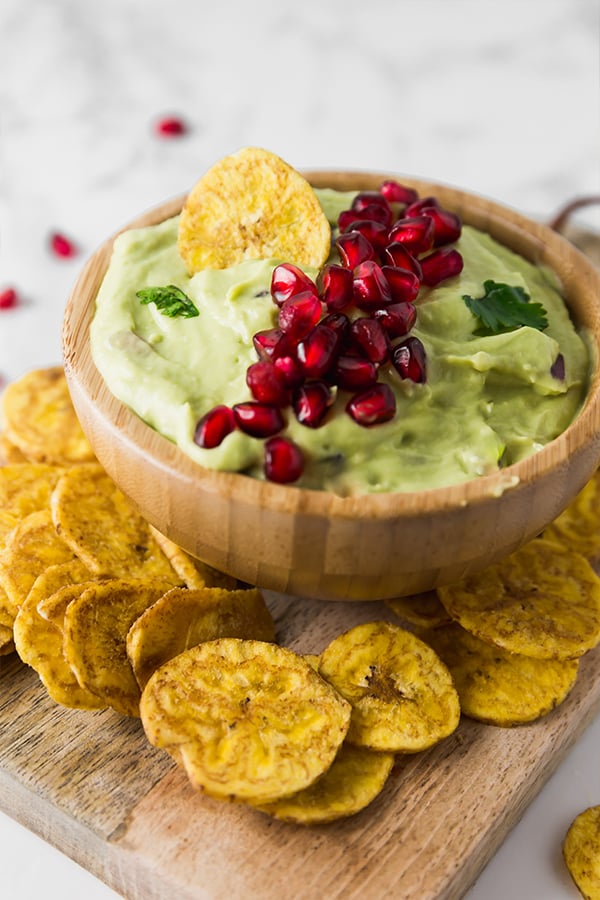 The Ingredients You'll Need For the Pomegranate Guacamole
Avocado and cilantro
Of course! 😉
Avocado oil and lime juice
I love adding avocado oil to guacamole to give it a creamier texture. Lime juice adds the acid needed to give the guacamole more flavor.
Red onion and garlic
This adds a little bit of spice and some more texture.
Pomegranate arils/seeds
Never had pomegranate before? Guys now is the time to try one! A pomegranate is a large red fruit filled with these amazing little seeds/ arils that taste so incredible.
You can technically buy the seeds by themselves, but it's seriously too pricey for my taste. Getting the seeds out can be a challenge, yes. This is one way to process it quickly!
Pomegranate seeds are great on salads, roasted vegetables, and in other savory dishes. I actually really love using them to decorate cookies at Christmas as well. They're not too sweet which is was I thought it would be great for this guacamole… and it is!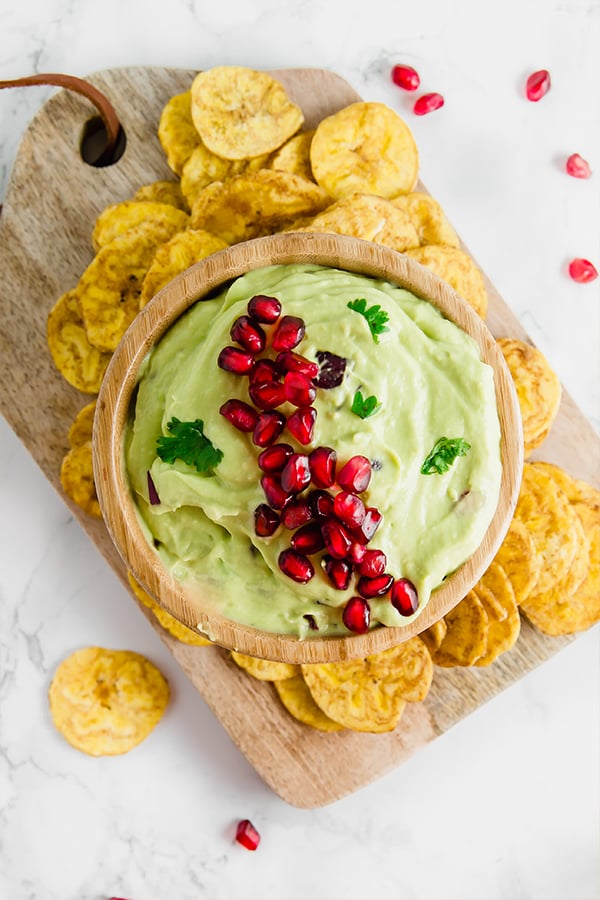 If you like this recipe, you may also like…
Print
Pomegranate Guacamole (Healthy, Paleo, AIP, Vegan)
---
Author:
Total Time: 5 minutes
2 medium avocado, peeled and pits removed
1/4 cup avocado oil
Juice of one lime
1 clove garlic, minced
1/2 red onion, diced
1/4 cup pomegranate seeds
2 tbsp fresh cilantro, chopped
1 tsp sea salt
Optional – fresh jalapeno to taste (not AIP compliant, but adds a kick!)
---
Instructions
Using a high speed blender, blend the avocado, avocado oil, lime juice, and garlic until creamy. Remove from the blender and spoon into a bowl.
Mix in the remainder of the ingredients (reserving some cilantro and about 2 tbsp of pomegranate seeds for topping) and mix well.
Garnish with pomegranate seeds and cilantro and salt further to taste if desired. Serve with plantain chips or sliced veggies.
Notes
Hello! The photos of this recipe as well as the photos and written content on my website are copyright protected and cannot be copied or shared. Please do not copy this recipe or photos and share it on your own website, Instagram, or other written materials. If you'd like to tell people about this recipe on social media, your own website, or elsewhere please link back to the recipe here rather than copying it. If you'd like to use a photo for a roundup blog post, please get in touch with me first.  Thank you so much!!
Prep Time: 5
Category: Appetizers
Cuisine: American
Keywords: thanksgiving, guacamole