Paleo Pumpkin Pie Bars (AIP)
These paleo and AIP pumpkin pie bars are the perfect Thanksgiving dessert! Serve them topped with coconut cream, and you've got the real deal. They're grain free, gluten free, dairy free, egg free and refined sugar-free.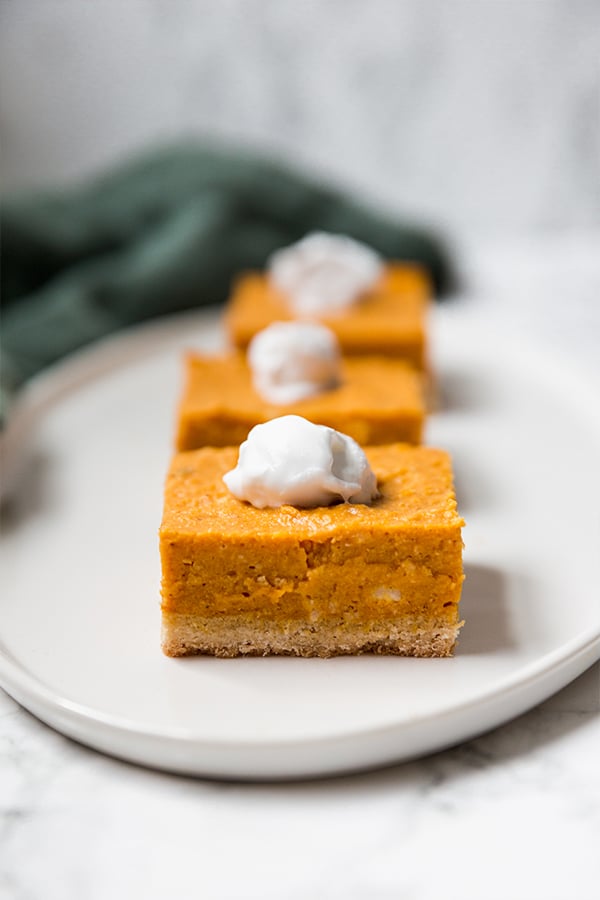 Pumpkin pie is such a Thanksgiving must. I ate pumpkin pie every single Thanksgiving for as far back as I can remember. I would put cool whip topping on it and would instantly be in heaven. My dad and I would both keep eating the pie until it was gone, and it rarely lasted more than 24 hours after Thanksgiving. So what I'm trying to say is… I really like pumpkin pie.
The first time that I didn't have pumpkin pie at Thanksgiving was when I first went paleo and AIP. Even though I love to cook and bake, I actually really dislike using pie pans and making my own pie crust. I just focused on making everything else and had to sit one out that year… and the next year… and the next. Not this year. No sir. Not with these paleo and AIP pumpkin pie bars!
Honestly, why didn't I think of this before? Why mess with a pie pan and form a perfectly shaped crust when you can just make bars and get all of the same flavors? It's much easier, much faster, and it tastes just as delicious!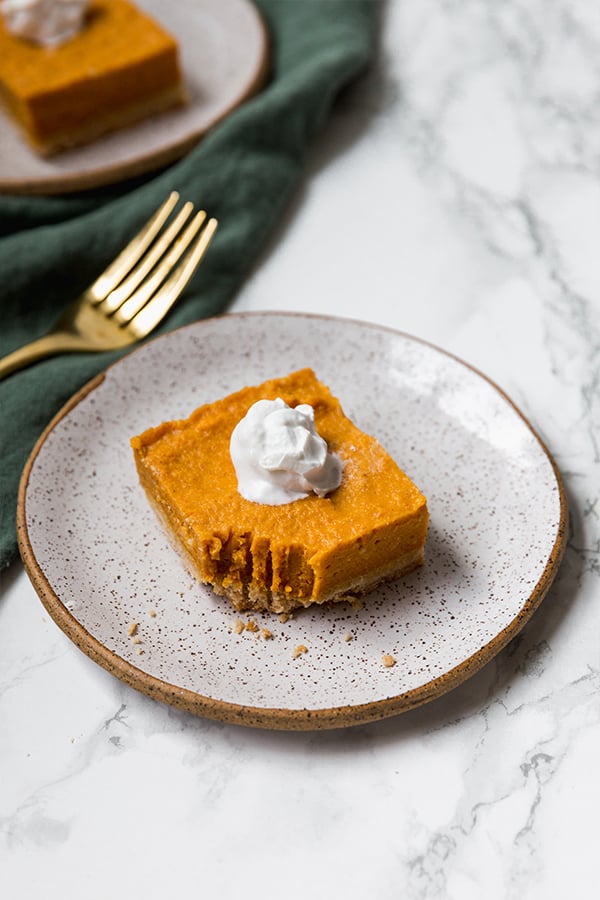 The Ingredients You'll Need for the Pumpkin Pie Bars
Coconut flour, arrowroot starch, gelatin, maple syrup, coconut oil, and baking soda
These are the ingredient that you need for the crust. The coconut flour and arrowroot together help create kind of a graham cracker crust texture. It's not too heavy like cassava flour would be, but it's also not overly crumbly. You can likely swap arrowroot for tapioca, but overall this recipe just isn't one that conducive to being made coconut free so I would not swap the coconut flour.
The gelatin helps as a binder, and collagen cannot be used as a substitute. I use the green can of Vital Proteins as my gelatin source. You'll also need this for the gelatin egg in the filling.
For the sweetener, I think maple adds to the overall flavor of the pie but you can also use honey in either the crust or the filling.
Pumpkin puree, maple syrup, coconut cream, coconut oil, and gelatin
This makes the filling for the pumpkin pie. Make sure you use pumpkin puree and not canned pumpkin pie! Alternatively, you can make your own homemade pumpkin puree.
The coconut cream can be purchased by itself, or you can just place a can of full-fat coconut cream in the fridge overnight and use the hardened cream on top.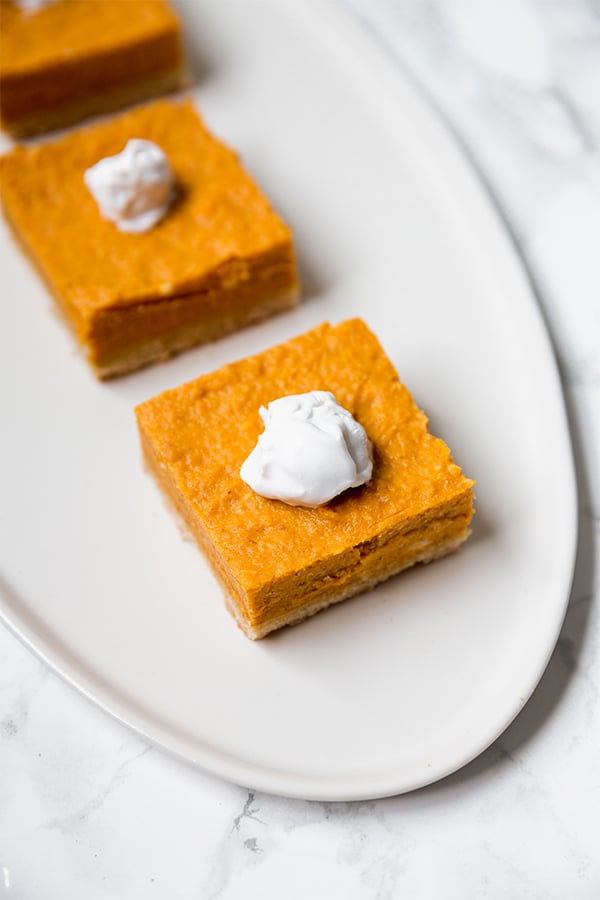 If you like this recipe, you may also like…
Print
Paleo Pumpkin Pie Bars (AIP)
---
Author:
Total Time: 50 minutes
Yield: 9 servings 1x
For the crust
1/2 cup + 1 tbsp coconut flour
3 tbsp arrowroot starch
1 tbsp gelatin
1/2 tsp baking soda
2 tbsp maple syrup
1/2 cup coconut oil
For the filling
2 cups pumpkin puree
1/4 cup coconut oil, melted
1/4 cup maple syrup
1/4 cup coconut cream, softened (plus additional for topping if desired)
1 tsp cinnamon
1/4 cup water
1 tbsp gelatin
---
Instructions
For the crust
Preheat the oven to 350F and line an 8×8″ baking pan with parchment paper lightly greased with coconut oil.
Mix the dry ingredients in medium mixing bowl.
Stir in the coconut oil and maple syrup until thoroughly combined.
Press the crust into the bottom of the baking pan, evenly dispersing it. Bake in the preheated oven for 15 minutes. Set aside to cool completely.
For the filling
Mix the pumpkin puree, maple syrup, coconut oil, coconut cream, and cinnamon until well combined. Stir to make sure the coconut cream is softened and no clumps remain.
Make the gelatin egg by pouring the water into a small saucepan and sprinkling the gelatin over top. Allow it to harden for 2-3 minutes. Set the pot on the stove top set to low heat for 1-2 minutes to allow the gelatin to melt and the mixture to turn back into liquid. Remove from the heat and use a whisk or a milk frother to vigorously whisk until frothy. Pour into the pumpkin mixture and combine.
Pour the filling mixture into the baking pan over the crust and use a spoon or rubber spatula to even out the top.
Place in the fridge to set and cool for 3-4 hours.
Once fully set, remove from the baking pan and slice into 9 slices. Top with additional cinnamon and coconut cream if desired.
Notes
All nutritional facts are estimations and will vary.
Prep Time: 10
Cook Time: 40
Category: Dessert
Method: baked
Cuisine: American
Nutrition
Serving Size: 1 bar
Calories: 364
Fat: 22.1g
Carbohydrates: 40.3g
Fiber: 6g
Protein: 4g