Pumpkin Pie Donut Holes (Paleo & AIP)
Who doesn't love pumpkin pie at the holidays? It's one of those things that you just can't get any other time of year, and absolutely screams holidays! I've never gone a single Thanksgiving without some sort of pumpkin themed dessert. But I have to be honest… I'm not always in the mood to make my own pie crust after I've already made everything from scratch for the holidays! That's why I made these paleo pumpkin pie donut holes!
These pumpkin pie donut holes still give you all of the things you love about that pumpkin pie flavor, all while being much easier to make. Plus, unique dessert is always welcome in my house!
They're paleo, AIP, and nut free put still are easy to share with others!

What You'll Need For These Pumpkin Pie Donut Holes
Tigernut flour
I really love baking with tigernut flour because it's a grain free, nut-free way to get really great baked goods. Tigernuts are a tuber, not a nut, and they taste great in these donut holes.
Coconut flour
This helps to off set the moisture from the pumpkin. I haven't tried subbing this out.
Tapioca Starch
These help bind and make the donut holes more "doughy". You can so sub arrowroot in it's place, and possibly even cassava flour.
Maple Syrup
Gotta sweeten donuts 😉 You can also sub honey.
Palm Shortening
Palm shortening makes these super cake-y! I typically work with coconut oil, but I love the texture that palm shortening gives these donut holes.
Pumpkin Puree & cinnamon
These ingredients give it the pumpkin pie element.
Gelatin
Gelatin helps to bind the donut holes, however, you can add it in without blooming it like a gelatin egg for this recipe. Just scoop it in dry 🙂
Coconut butter
Also known as coconut mana or coconut cream concentrate. This acts as a glaze over top the donut holes. You can leave this out if you don't have any on hand.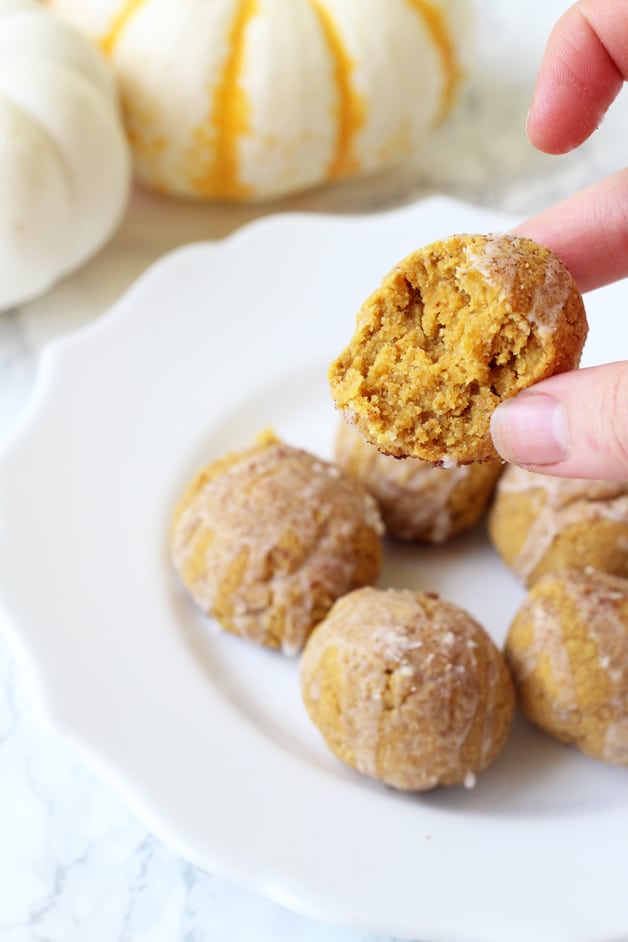 Just look at that yummy, cake-y texture! So, so good! Here's how you make them…
Print
Pumpkin Pie Donut Holes (Paleo & AIP)
---
Yield: 6-7 donut holes 1x
Scale
Ingredients
1/3 cup tigernut flour
1/4 cup coconut flour
1/4 cup tapioca starch
1/4 cup palm shortening
1/4 cup pumpkin puree
1/4 cup maple syrup
1 tbsp gelatin
1/4 tsp baking soda
1 tsp cinnamon
Pinch of sea salt
FOR THE GLAZE (optional)
2 tbsp melted coconut butter
1 tsp coconut sugar
---
Instructions
Preheat the oven to 350 F and line a baking sheet with parchment paper
Sift together the flours and set aside in a separate bowl
Cream together the palm shortening and maple syrup until thoroughly combined
Combine the palm shortening, maple syrup, and flours and stir. Then add in the pumpkin, dry gelatin, cinnamon, salt, and baking soda and mix to combine.
Roll the dough into donut holes (you'll have 6-7) and place on the parchment paper
Bake for 15 minutes or until browned
For the glaze, top with melted coconut butter and a sprinkle of coconut sugar
Serve warm
---
Notes
All nutritional information are estimations and will vary. Estimations do not include optional ingredients.
Nutrition
Serving Size: 1 donut hole
Calories: 165
Fat: 9.2g
Carbohydrates: 15.5g
Fiber: 1.9g
Protein: 2.6g
These are the perfect extra little dessert to serve during the holidays, or to just keep around if you have a sweet tooth!
I hope you love them as much as I do!