When I first shard the sweet potato chicken popper during the Super Bowl last year, I had no idea how much everyone would love them! My mother in law immediately brought them as a Super Bowl appetizer and told me how popular they were, and their popularity soon followed on Instagram and Pinterest. Since then, I've also made a bacon ranch chicken popper, a breakfast chicken popper, and an Asian chicken popper. These are all easy, nutrient dense, and perfect for whole meals and appetizers! Now, to join the ranks, I am so excited to share the Cranberry Sweet Potato Turkey Popper!
The Cranberry Sweet Potato Turkey Popper is the ultimate holiday appetizer! Perfect for getting all of the holidays in one bite at a holiday party, or for quieting hungry guests while Thanksgiving dinner is finishing. They're made with simple, easy to find ingredients and won't add tons of labor to your holiday food prep. Plus, they taste amazing dipped in cranberry sauce.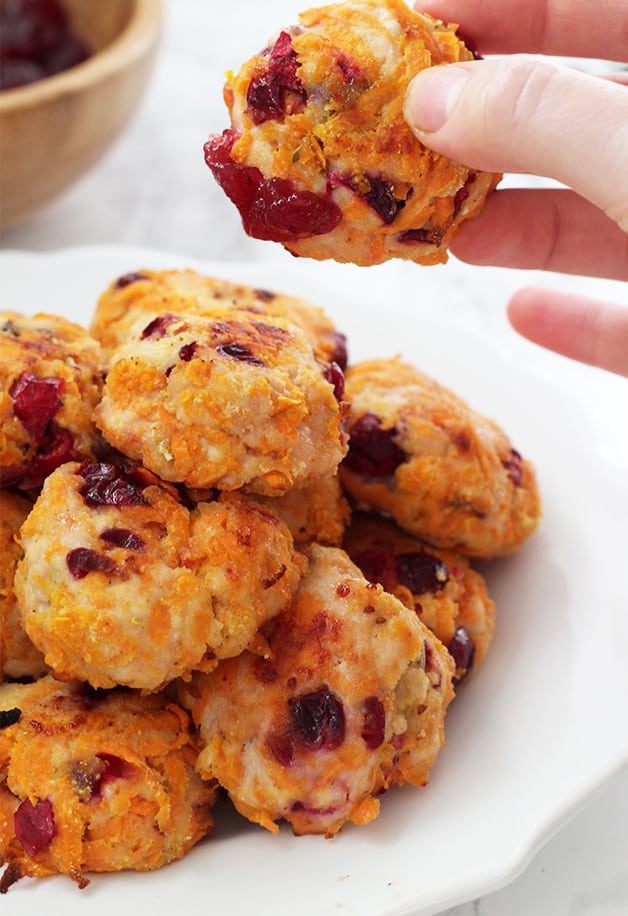 The Ingredients You'll Need For The Cranberry Turkey Poppers
Ground turkey
Turkey obviously goes best with the holiday theme, but you can also use chicken. However, I find ground turkey to be easier to find!
Sweet potato
You'll likely already have sweet potato on hand for the holidays, and all you'll have to do is rice or shred it. I often use a cheese grater to shred it, but you can just as easily use a food processor.
Fresh cranberries
I was skeptical about using fresh cranberries in these and thought I would have more luck with dried… so wrong! The fresh cranberries are amazing and add so much holiday flare!
Rosemary, parsley & sage
You can easily mix up the herbs, but I find these to work best with the flavors.
Coconut flour and coconut oil
Coconut flour isn't a necessity… they bind without it, but it helps make it more crispy! You can sub other flours are needed… there's really only 2 tbsp for the whole recipe, so you won't notice the flavor that much either way.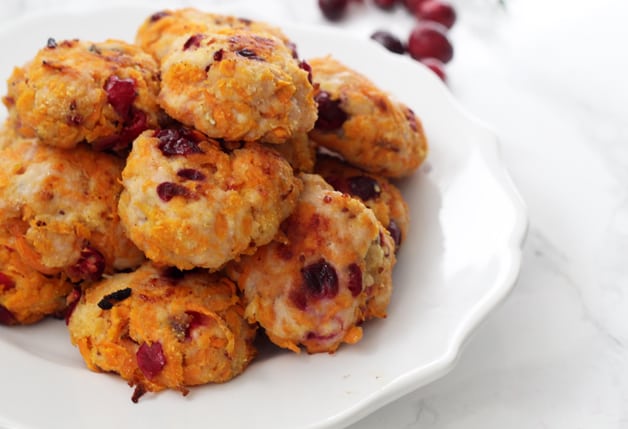 Print
Cranberry Sweet Potato Turkey Poppers (Paleo, AIP, Whole 30)
---
Ingredients
1 lb ground turkey
2 cup sweet potato, shredded or riced (using a grater or food processor)
1 cup fresh cranberries
2 tbsp coconut flour
2 tbsp coconut oil
2 tsp rosemary
2 tsp sage
2 tsp parsley
1 tsp sea salt
---
Instructions
Preheat the oven to 400 F and line a baking sheet with parchment paper
Add the fresh cranberries to a food processor and set it to shred or chop for 10-15 seconds. Remove the cranberries and use a paper towel to clean up any excess juice
Combine all of the ingredients in a large mixing bowl and thoroughly combine
Begin rolling the mixture into small, slightly flattened poppers about one inch in diameter (you'll have about 20-22 poppers) and place them on the cooking sheet
Place in the oven for 25-28 minutes, flipping half way through
Crisp further in a pan or place under the broiler if desired for 1-2 minutes to crisp further
Remove from the oven when thoroughly cooked through
Serve with cranberry sauce or by themselves
How To Serve The Cranberry Sweet Potato Turkey Poppers…
Like the other poppers, these are super versatile! Here are some ideas for how to serve them…
Serve as a holiday dinner appetizer with cranberry sauce for dipping
Bring to an office or holiday party when you don't want to cook a whole turkey
Make throughout the holidays for fun, seasonal lunches and dinners
I hope you love these as much as my husband and I do! Happy holidays, and happy eating 😉