Butternut Squash Chicken Poppers (Paleo, Whole30, AIP)
These butternut squash chicken poppers are a tasty and easy autumn dish! It's paleo, whole30 and AIP. Serve them with cranberry sauce for dipping, and a side of fall vegetables.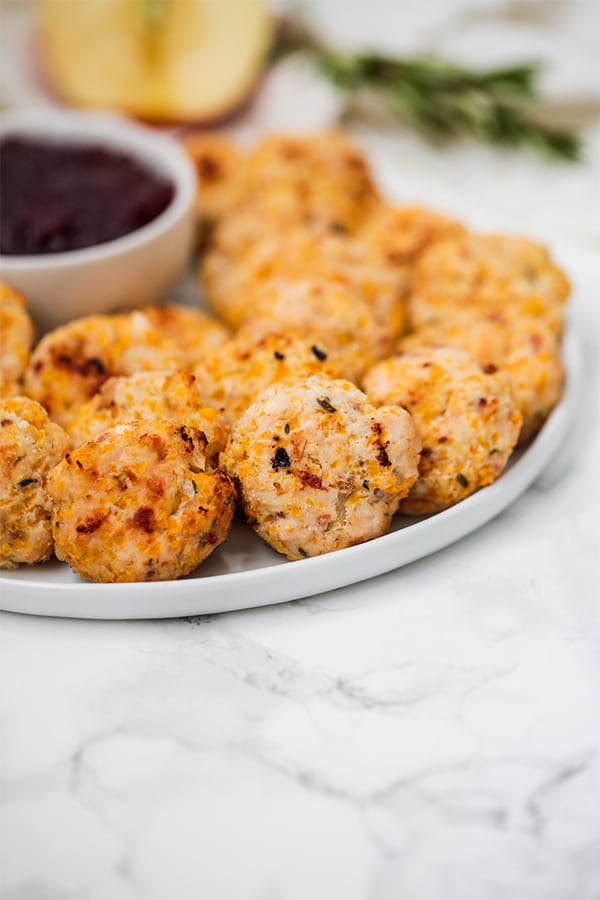 I never ate butternut squash before I went gluten free. I mean, maybe it snuck in somewhere here or there, but I never really saw the need for a winter squash veggie when I was already eating so much bread. Boy, was I wrong! Now, I look forward to butternut squash season every year and am always sad to see it go in the spring. It's amazing in soup, it's makes awesome fries (like these butternut squash fries), and it even tastes great as a binder for these butternut squash chicken poppers!
Sweet potato chicken poppers are a reader favorite (and a personal favorite) over here, so why not add a bit more fall flare to them with butternut squash? Not only does add some awesome autumn flavor, but it adds in a new flavor and nutrient profile! Sweet potatoes are a bit of a staple in healthy diets these days, so why not mix it up?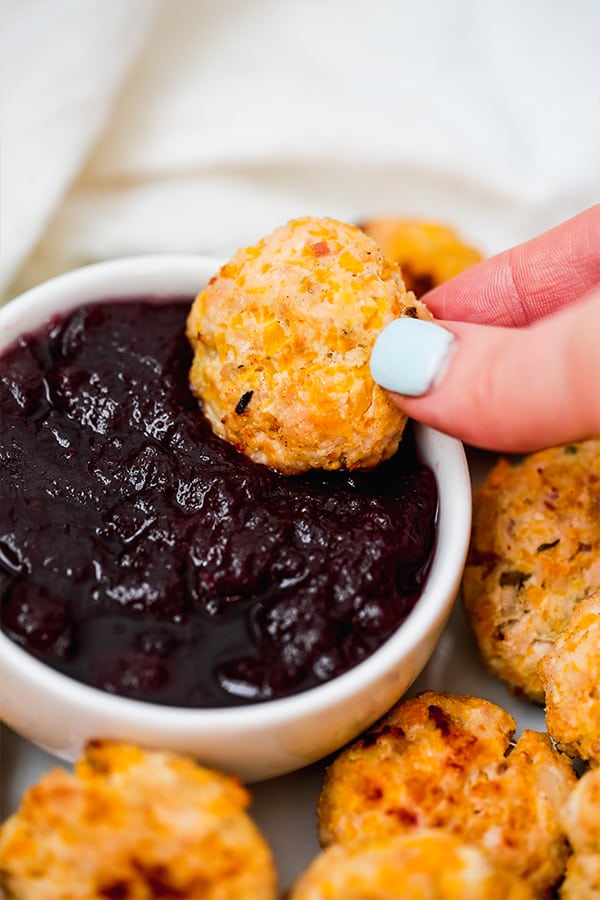 The Ingredients You'll Need For This Recipes
Ground chicken
If you don't have ground chicken on hand, you can also use a food processor to grind whole chicken breast. Ground turkey is another great substitute!
Bacon
Bacon adds more of a smokey flavor and cuts some of the sweetness of the other ingredients. However, it's technically optional. 
Butternut squash
The butternut squash in this recipe is shredded and riced. All you need to do is use a food processor!
Apples
Diced apples add a great fall flavor to this recipe! I used honey crisp apples, but the variety of apples you can use is fairly flexible.
Sage and rosemary
Optional- a dip
If you really want to make this a fall dish, serve it with a sugar-free cranberry sauce! If not, it tastes great on it's own.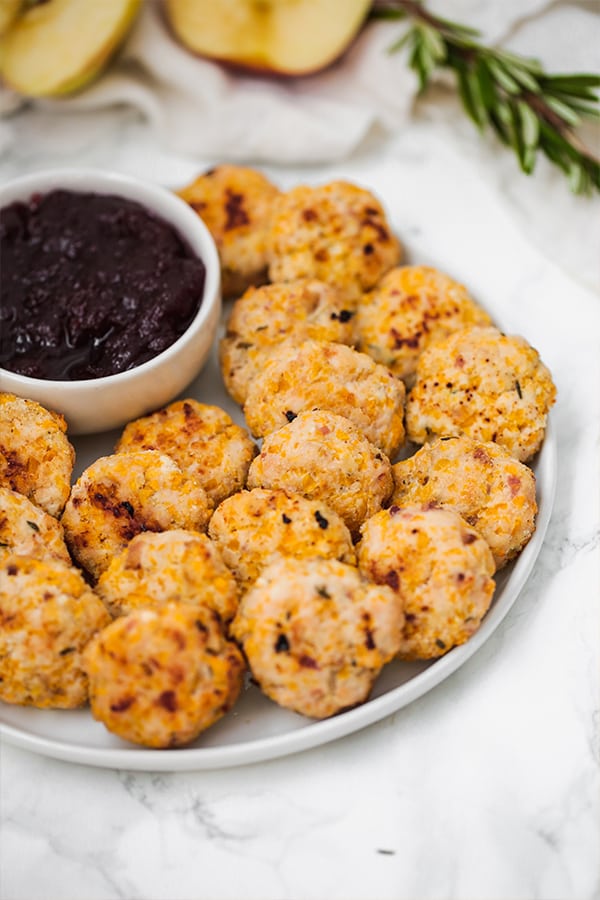 If you like this recipe, check these out…
Print
Butternut Squash Chicken Poppers
---
Author:
Total Time: 35 minutes
Yield: 4 servings 1x
2 cups butternut squash
2 slices of bacon
1 lb ground chicken (substitute turkey)
1 honey crisp apple, peeled and finely diced
1/4 medium onion, finely diced
2 tbsp coconut oil (sub avocado oil)
2 tbsp coconut flour (sub cassava flour)
1 clove garlic, minced
2 tsp sage
2 tsp rosemary
1 tsp sea salt
---
Instructions
Preheat the oven to 375 and line a baking sheet with parchment paper
Using a food processor, rice the butternut squash until fine. Remove from the food processor and set aside. Process the bacon in the food processor until finely chopped.
Use a large mixing bowl to combine the chopped bacon and ground chicken. Mix the remainder of the ingredients into the chicken mixture and mix well until fully combined.
Roll the chicken mixture into small chicken poppers, slightly flattening with the palm of your hand. Place on a baking sheet evenly spaced.
Place in the oven for 25-28 minutes, flipping half-way through. Crisp further in a pan or place under the broiler if desired for 1-2 minutes to crisp further. Remove from the oven when thoroughly cooked through
Allow to cool and serve by themselves or with a refined sugar-free cranberry sauce (or completely sugar-free for Whole30).
Notes
All nutritional facts are estimations and will vary.
Prep Time: 5
Cook Time: 30
Nutrition
Serving Size: 1 serving
Calories: 357
Fat: 22g
Carbohydrates: 17.8g
Fiber: 4.2g
Protein: 23.1g