Mexican Sweet Potato Chicken Poppers (Paleo, Whole30, AIP)
These Mexican sweet potato chicken poppers are the perfect easy meal with some extra flair to serve on a weeknight or pack for lunch! They're paleo, whole30, and AIP.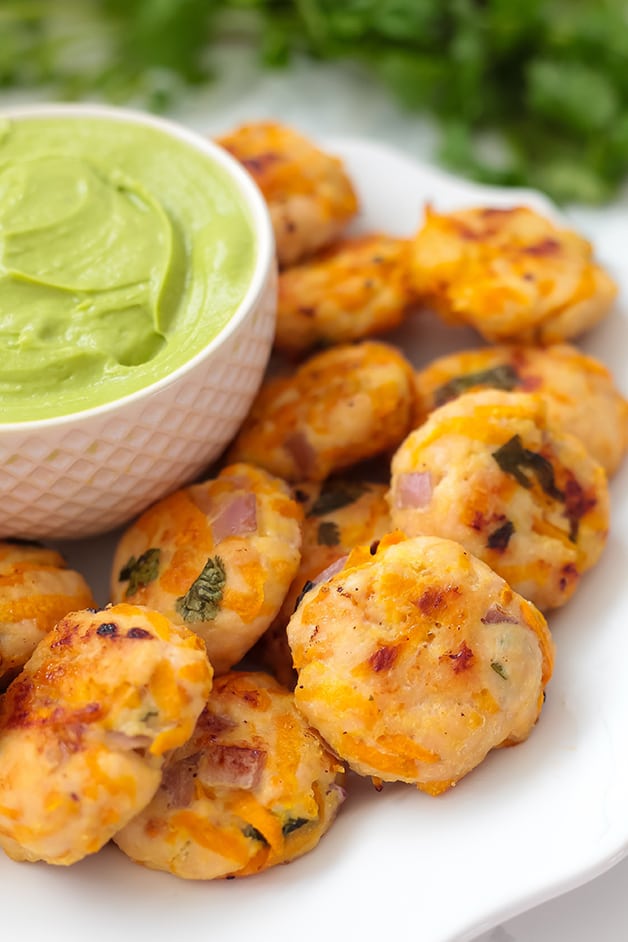 Chicken poppers have been a game changer for me, and I'm constantly looking for more ways to spice them up. With Cinco De Mayo on the way, and Tex Mex food being a way of live where I live in Dallas, TX, I knew I had to try and give them a Mexican cuisines inspired flair!
Seeing as most Mexican dishes feature some sort of nightshade spice, it can be challenging to create the same flavors without it. However, these chicken poppers have an amazing flavor and a fun dip ties it altogether.
What I love so much about these chicken poppers is that they're super simple to make, they require fairly minimal ingredients, and everyone loves them! Regardless on whether or not you're paleo, we can all appreciate a chicken nugget inspired dish.
The Ingredients You'll Need for the Mexican Chicken Poppers
Ground chicken
Ground chicken is what I typically use for these poppers, which is easy to find at a butcher counter and most grocery stores. However, you can also use ground turkey.
Shredded sweet potato
I use a large cheese grater to shred sweet potato, however, you can also use a food processor.
Red onion
Diced red onion adds some spice to the dish while remaining nightshade free.
Cilantro
If you're not a cilantro fan, I would tone it back, but it really amps up the flavor!
Fresh lime
A little bit of fresh lime juice really adds to the dish.
Avocado oil & coconut flour
These help bind the poppers together and make them a bit more crispy. You can sub other oils or flours.
Garlic, oregano, cumin and chili powder
These are the herbs and spices needed for the poppers. The cumin and chili powder are optional and should be omitted for AIP, but they do add an extra kick.
Dipping sauce
These are perfect for dipping in this cilantro avocado lime sauce, guacamole, or a tomato based salsa if you tolerate nightshades!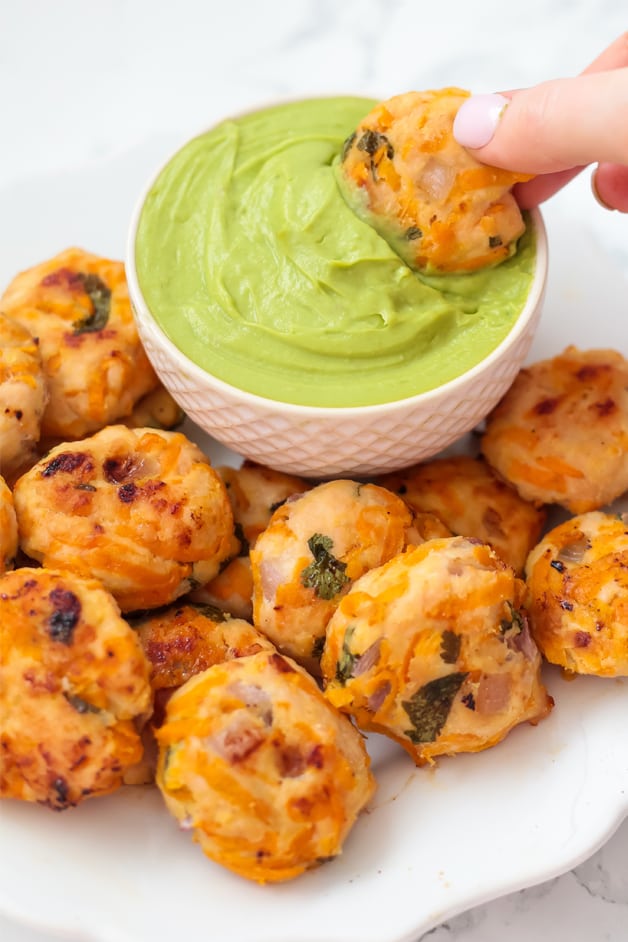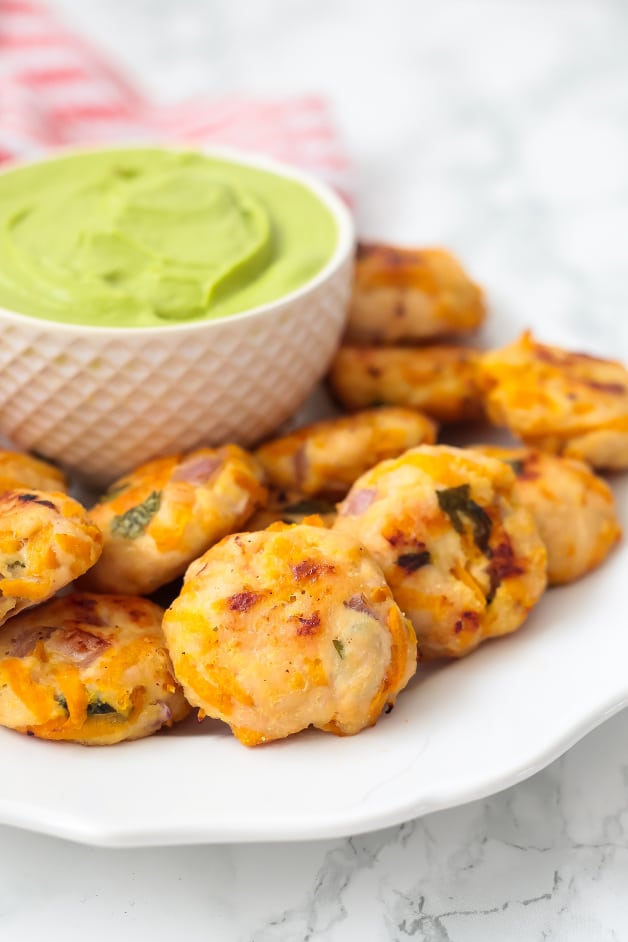 Print
Mexican Chicken Poppers (Paleo, Whole30, AIP)
---
Total Time: 30 minutes
Yield: 4 servings 1x
1 lb ground chicken (sub turkey)
2 cups sweet potato, shredded (using a grater or food processor)
1/3 cup red onion, diced
2 tbsp fresh cilantro, chopped
2 tsp garlic powder
1 tsp oregano powder
2 tsp cumin (omit for AIP)
optional – 1 tsp chili powder (omit for AIP)
1 tsp sea salt
1/2 tsp black pepper (omit for AIP)
2 tbsp avocado oil
2 tbsp coconut flour
Juice of 1/2 lime
---
Instructions
Preheat oven to 400 F and line a baking sheet with parchment paper
Combine all of the ingredients in a large mixing bowl and thoroughly mix until well combined.
Scoop the poppers (you should have 20-25) out using a small scoop, or just your hand, and place them evenly spaced on the baking sheet. Slightly flatten them by pushing them down with your hand.
Bake in the preheated oven for 20-25 minutes, flipping once. Remove from the baking sheet and allow to cool for 5-10 minutes.
Serve with cilantro avocado lime sauce, guacamole, or a tomato based salsa if you tolerate nightshades.
Notes
All nutritional information are estimations and will vary. Estimations do not include optional ingredients.
Prep Time: 5
Cook Time: 25
Nutrition
Serving Size: 1 serving
Calories: 164
Fat: 7.9g
Carbohydrates: 20.8g
Fiber: 4.4g
Protein: 3.7g
'If you like this recipe, you may also like…