My Honest Beautycounter Review | Is It Worth the Hype?
This post contains affiliate links. I am a consultant with Beautycounter, but this is my honest review..
Beautycounter is a hot topic safer skincare and makeup company. But is it really worth the hype? Here is my honest review of the best and worst of beautycounter.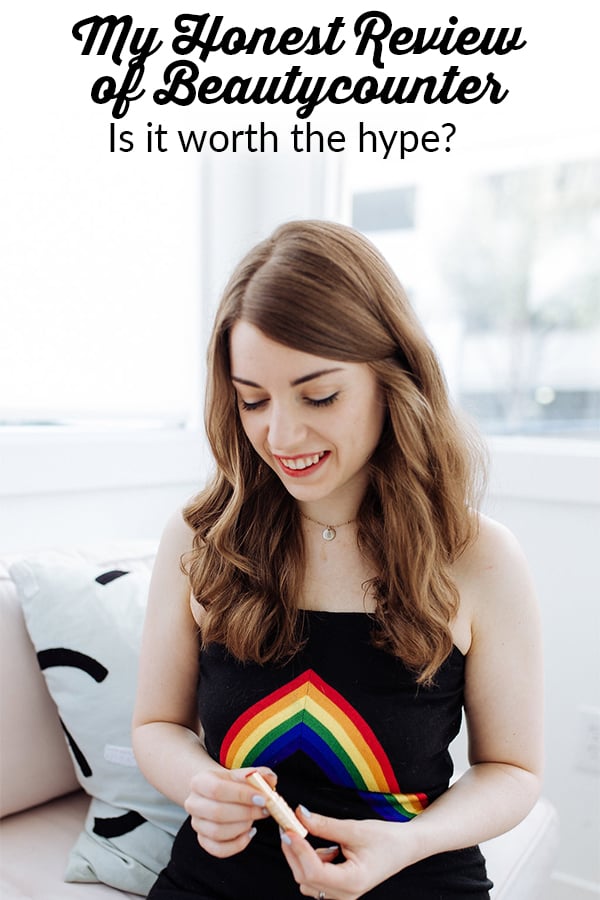 What is Beautycounter?
Beautycounter is a safer beauty brand that produces safer skincare, makeup, haircare, bodycare, and more. It was the most googled beauty brand in 2018, so it's got quite a lot of buzz around it!
The beauty industry as a whole is highly unregulated. Skin irritants, contaminants, hormone disruptors, heavy metals, and more make their way into our skincare and beauty products that we use daily. This can have a long last impact on the health of our skin, as well as our total well being. Beautycounter is on the other side of the industry… the side that cares about transparency and getting the junk out of products that we put on our bodies daily!
Beautycounter is popular for its high-performing products and overall mission for making the beauty industry as a whole safer. But is it really worth all of the hype around it? I decided to share my honest opinions on what I love and don't love about the brand and products as a whole, and my tips for getting the most bang for your buck with safer skincare.
What I Don't Love About Beautycounter
It's got a ton of buzz and hype around it, which scares people like me away.
When I first heard about Beautycounter, it felt like it came out of nowhere and was all of a sudden crazy popular. The hipster in me wanted to rebel. Frankly, I was turned off by the popularity that everyone was talking about.
There currently isn't a line that's totally allergen-free and organic. 
Even though their products are indeed safe, I do wish they had a line of organic products allergen-free products (free of gluten, nuts oils, etc.)  There are some products from Beautycounter, like their eye makeup remover that I can't use because of macadamia nut oil. I would also love something totally organic.
I miss some old products that got discontinued
This is typical for all brands to discontinue products but in full transparency… I miss plenty of old products that were discontinued or had formulas changed.
You can't try things on in stores easily… but that's also just online shopping…
So, they are opening up more stores and they have a great return policy, so I have hopes for this in the future, but right now I hope this continues to improve.
Why I decided to try Beautycounter
As I said, I was hesitant. I felt pushed into it at first just by popularity. I was using products from safer companies… why did I have to try this too? However, the main reason that I tried is that I heard how much it actually works. So, I decided to take the leap and found lots of things I loved about it.
What I Love About Beautycounter
No brand is perfect, and I still don't use Beautycounter exclusively, but the vast majority of my beauty products are from them. Here's what I've grown to love about the brand…
They're a certified B Corp.
Beautycounter became a certified B Corp in 2013, which essentially means that they are highly conscious of their social and environmental impact. It's not easy to be certified, so it holds a lot of weight when a brand carries this certification.
They have a never list & do rigorous testing. 
You don't have to worry about random ingredients popping up in your Beautycounter products because of their strict never list. They list products that they pledge to never use. You can check out that list and the reasoning behind each ingredient here.
Since Beautycounter isn't totally free of synthetics and isn't totally organic, they go through a rigorous testing process to ensure it's still very safe. They screen ingredients, test them for contaminants and irritants, and test their finishing products for things like parabens and lead. You can read more about the screening process here.
They have an honest mission to improve the industry. 
Beautycounter's mission is not only to put out clean products on their own but to level up the industry as a whole. They advocate for stricter federal laws for more transparency and less junk in beauty as a whole. They've taken trips to DC to share their stance, and periodically take a strong stance when new bills and issues pop up. You can read more about their mission here!
Their products are high-performing.
If you're paying a decent amount of money for beauty, you want it to perform. Beautycounter really, really does perform.
Their skincare truly has made a visible difference in my skin, and their makeup is well pigmented, and stays on all day!
My Review of My Favorite Beautycounter Products
Skincare
Overnight resurfacing peel
The overnight surfacing peel is by far one of the most popular products and with good reason! The peel is designed to be like a safer version of a chemical peel using natural acids that gently works on your skin overnight so you can wake up with smoother, clearer, and brighter skin.
Countertime line 
The counter time line is one of the newer additions and is aimed at anti-aging. I use the counter time ultra renewal eye cream and the mineral boost essence. Both feel amazing on my skin, and this whole line in general really gets results!
Countermatch adaptive moisturizer 
When my skin is really dry during the winter, I use this moisturizer to give it a boost. It actually adjusts its hydration levels throughout the day to fit your needs which is super cool!
Number 3 Balancing Oil
I've been nervous about using oil on my skin, but trust me, number 3 balancing oil works! Seriously, I love this stuff.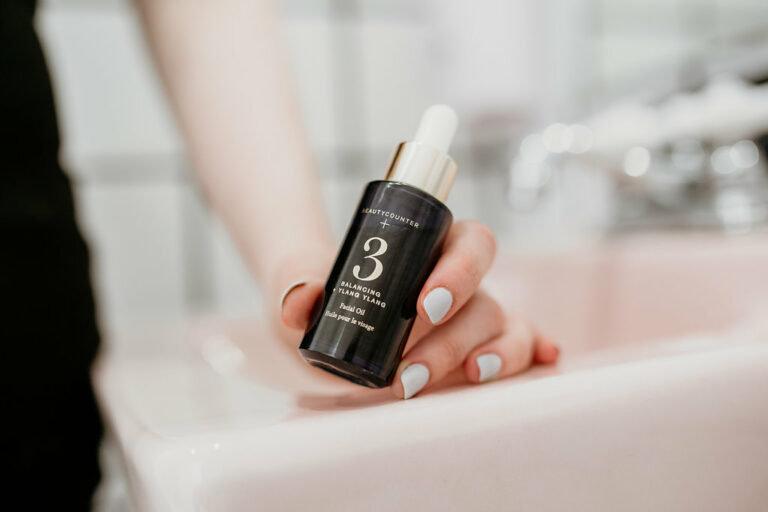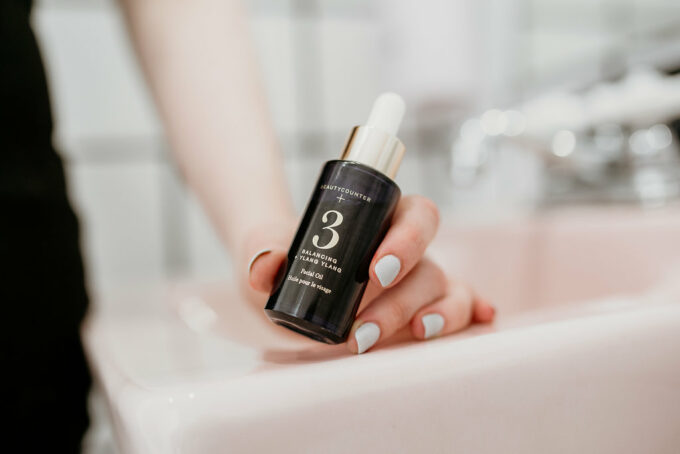 Makeup
Necessary neutrals eyeshadow palette
The necessary neutrals palette is my daily palette and I have little reason to ever want to use anything else! This has so many different options for shades from neutral, to intense, and they're all really nicely pigmented.
Brow gel
The brow gel is very similar to the glossier gel, and it really makes a huge difference! I wear this daily in the darkest color and don't know what I did without it.
Liquid eyeliner
In my opinion, liquid eyeliner is the best! This precision liquid eyeliner is long-lasting, easy to apply, and helps you get that tight, sharp line that's perfect for a cat-eye or just an everyday look.
Color intense lipsticks
I'm a big lipstick person and was really excited when these color intense lipsticks came out. They're heavily pigmented and I always get compliments with them. I love the Beautycounter red, as well as twilight, but they're really all great colors!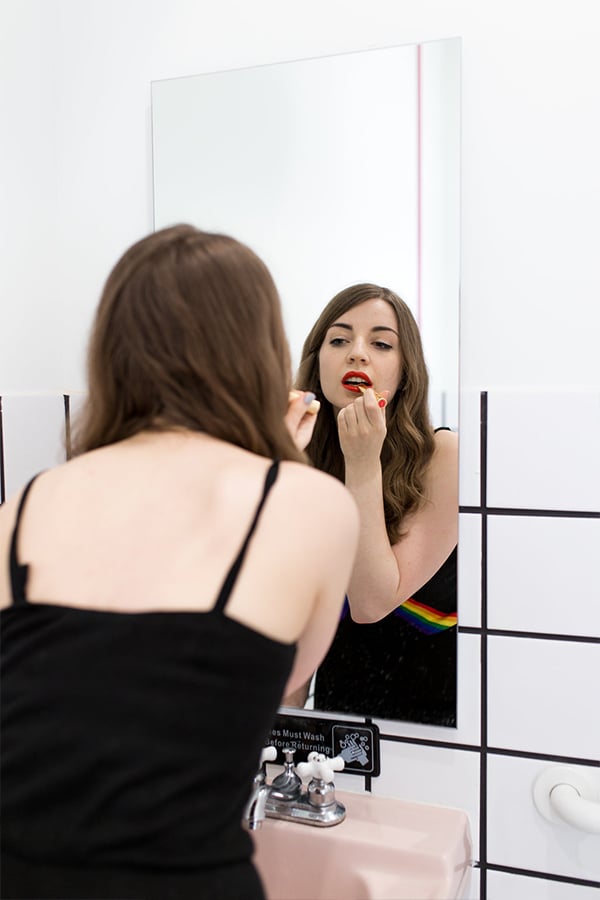 Illuminating cream highlighter
This cream highlighter always gets tons of compliments when I wear it!! I don't wear it daily… just when I want a more glowy look, and it really delivers. It's really easy to apply and makes an instant difference. I love using the pearl glow highlighter.
One step makeup remover wipes
Seriously the best makeup remover wipes I've ever used! My mom is also obsessed with them!
Photos by Karla Janneth.