My Current Safer Skincare & Beauty Routine
Disclaimer- This post contains affiliate links, and I am a beauty counter consultant. Some of the brands have sent me products to try at some point, or I've gotten a discount, but these are still the products that I use and the opinions are 100% my own!
Finding new beauty favorites can be hard. These safer makeup and skincare products are my current favorites that I use and love!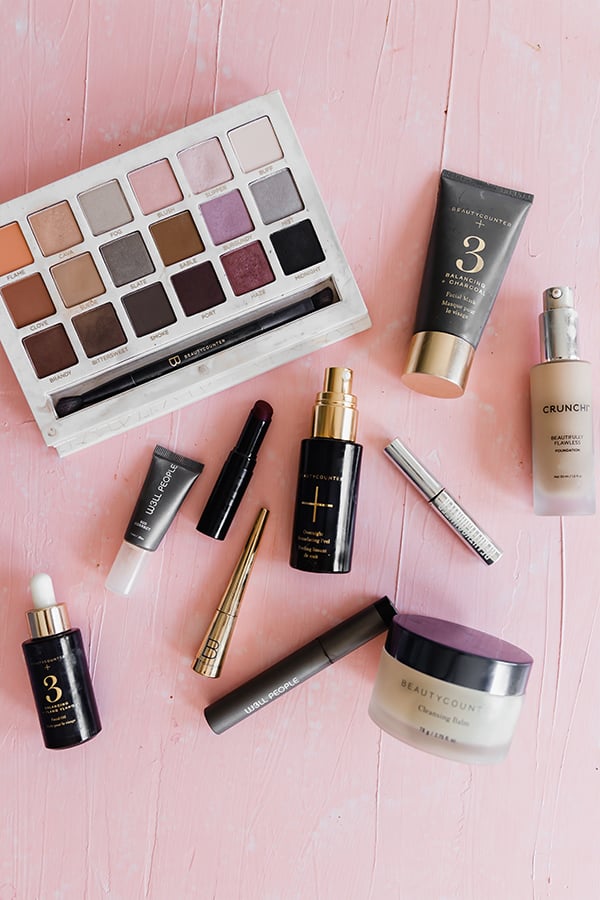 When I first started transitioning my makeup and skincare, I went fairly slowly but found some pretty good options right out of the gate. Since I shared my last makeup blog post, I've started trying some new products that I've been found myself preferring right now. There are still a few items that I've continued to use, and all of the products in my previous post are still good products that I would recommend… I just have newer favorites at the moment!
Everyone is different when it comes to beauty and skin care, and our tastes change as well. This is just what works for me right now!
But first, let me start out by saying that beauty and skincare can indeed get pricy. I try and keep what I use at a minimum for that reason. In this post, I've included how long each product tends to last me to help illustrate that good product can indeed be worth it as it does last longer and perform better than cheaper products.
Safer Beauty & Make up
Crunchi foundation
I've been wearing the crunchi foundation in shade 2 for over a year now, and I don't see myself ever switching! It feels light, but it has amazing coverage. I also use the foundation brush. On average this lasts me about 5 months, which I think is amazing for a foundation!
Lily lolo powder
I don't use this lily lolo powder often... just special occasions to set my make up. But it's great and I've only ever bought it once, so it lasts a long time.
W3ll People Concealer
I use this W3ll people concealer in shade 1 under my eyes and it's by far my favorite that I've tried since I've made the switch to safer. It lasts me a really long time!
W3ll People Mascara
This is by far my favorite mascara. I used to use the 100 percent pure mascara, but after hearing so many good things about W3ll people, I gave it a try, and I've been addicted ever since. It lasts a while, but I'm not entirely sure how long I go between product. They have sent me a couple of packages with some mascara samples in it so it skews my timeline a bit. Regardless, this mascara is so worth it.
Beautycounter color intense lipsticks
I don't wear lipstick as much as I used to, but I was a big-time Mac lipstick girl back in the day. I love a heavily pigmented, and bold lip, and these lipsticks have been my favorite. They go on well, and they don't have any nightshade or soy ingredients which are very common in safer lipsticks. Twilight is my favorite color, but really, I like them all. I don't wear these often, so I haven't ever had to repurchase a color yet.
Beautycounter necessary neutral eyeshadow palette 
I started using the necessary neutral eyeshadow palette around Christmas and I use it daily. It's become my favorite palette by far! I once got a holiday palette from BC a couple of years ago and I really didn't like it… the colors broke, they weren't pigmented, and I wound up getting rid of the palette. They've definitely changed things and I highly recommend this palette. It has a lot of colors, but it's designed to work in three's. I use the colors slipper, burgundy, and haze pretty much daily, and as seen below.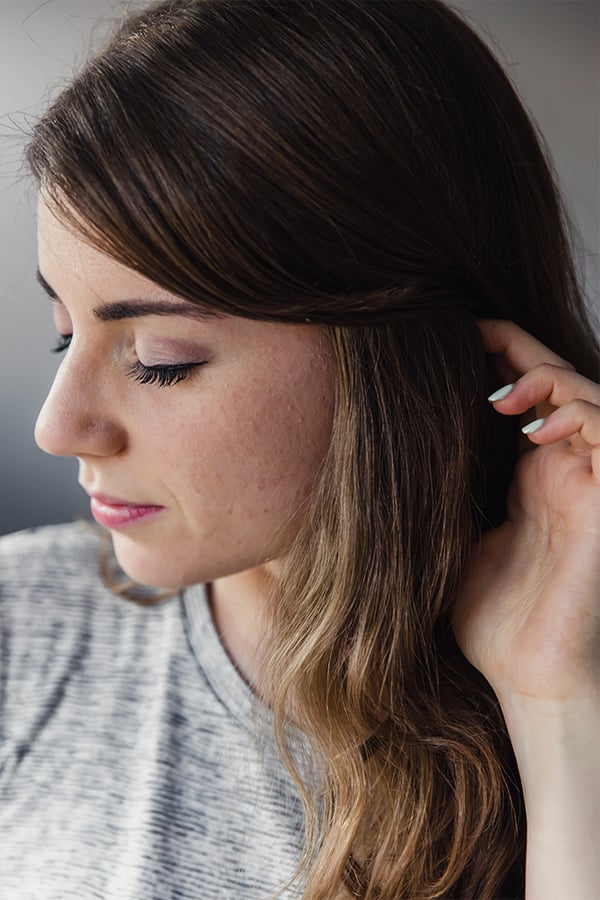 Beautycounter precision liquid liner
I am a big eyeliner girl, and I refuse to use anything but liquid liner! I used to use 100 percent pure liquid liner because that was the only safer option I knew of at the time, but honestly, it had some flaws. It had this weird peel off quality where you could literally peel it off in one strip…. which I didn't love. It felt a little weird and it would pull my lashes. I started using this BC liquid liner this past summer and get tons of compliments on it. It lasts me about 4-5 months.
Beautycounter brow gel
I'm part Sicilian, so your girl has some serious brows. They're long and they tend to curl and fall so I really need a brow gel to keep them in place. I used to use glossier boy brow (yes, it's conventional) and I was very hesitant to switch. It's seriously only been a couple of months since I started using this BC brow gel. One thing I will say is that it can smudge if you don't give it some time to dry, so be careful with how much you use and let it dry! I use the darkest color. Yes, I'm a brunette, but my eyebrows are jet black and no one can convince me otherwise 😂
Safer Skincare
Beautycounter Cleansing Balm
The cleansing balm is by far my absolute favorite skincare product. It cleanses, removes makeup, and moisturizes. It's a bigger ticket item, but seriously it nearly took me a year to get through it!!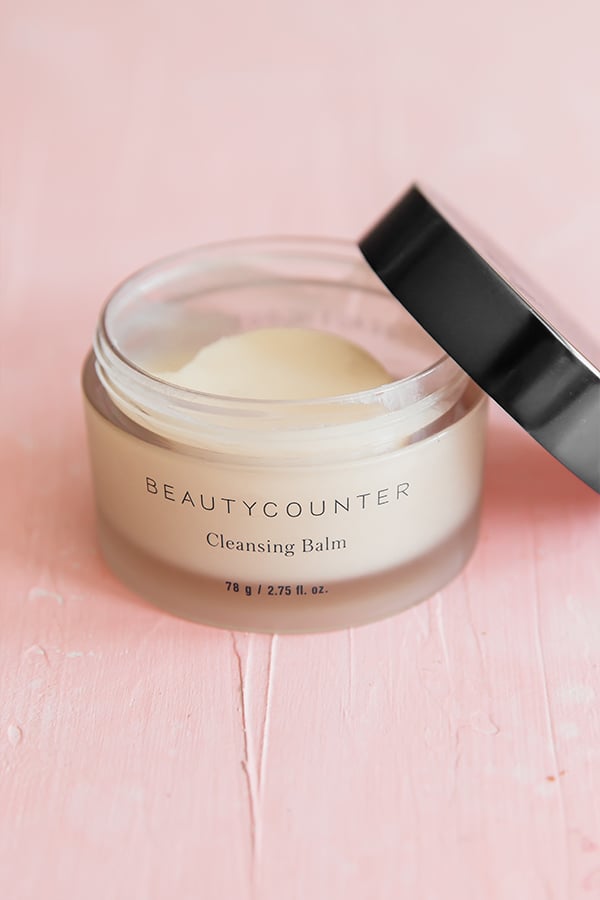 Beautycounter balancing facial oil
This balancing facial oil is great for acne prone skin, which really works well for me. I use it as directed after I use the cleansing balm, and it takes me about 4-5 months to get through it.
Beautycounter overnight resurfacing peel
The overnight resurfacing peel was a super hot product when it came out and for good reason. It's a game changer. It's like a chemical peel but it's plant-based and more gentle. It exfoliates, it helps make my skin really clear and bright, and helps me with any breakouts. I use it probably 2-3 times a week, and it lasts me for about 5 months.
Beautycounter charcoal mask
This charcoal mask was the first ever BC product that I used years ago. The peel has mostly replaced it for me, but what I still use it for is an acne spot treatment. It really does the trick, and even my husband likes it! Because I only really use it for spot treatment, it lasts me a really love time.
I hope that list was helpful! What are your favorite safer beauty and skincare products?