Paleo Crispy Chicken Salad (Whole30, AIP)
This crispy chicken salad is made with a grain free breaded chicken, fresh berries, crisp vegetables, and an avocado ranch dressing. It's paleo, whole30, and AIP compliant.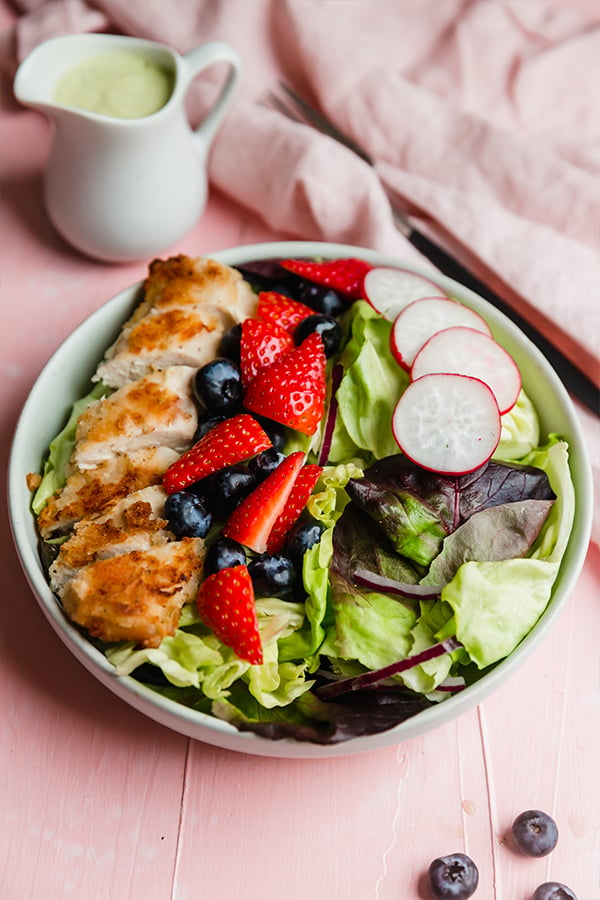 The word "crispy" is very popular at my house. My husband wants everything to be crispy… fried eggs, sweet potatoes, and of course, he loves crispy chicken. I'm always trying to find ways to reinvent favorites to mix up our rotation and wanted a new crispy chicken recipe. I've shared many chicken nugget recipes on the blog before, but never a crispy chicken salad!
This paleo crispy chicken salad is perfect for people who are apprehensive about salad. It doesn't really feel like a salad. The crispy chicken is made without eggs or grains (hello, allergy friendly) and the salad is topped with fresh berries, flavorful vegetables, and a creamy homemade avocado ranch.
Whether you just want a healthy lunch option, or you're looking to mix up your paleo, whole30, or AIP routine, this salad is perfect to make this spring and summer!
Some Tips & Tricks
Store the chicken separately if you're meal prepping this salad.
If you're making this ahead of time to bring to lunch, you'll want to keep the chicken separate to keep it crispy.
Make the dressing as fresh as possible.
Since there is avocado in the dressing, it's susceptible to browning. Either make it right before you eat the salad, or add some lemon juice to help with any potential browning.
Use a premade dressing for a shortcut
If you can tolerate dressings like primal kitchen ranch, etc, go for it to save a step! But… the homemade avocado ranch is pretty darned good if you have the time…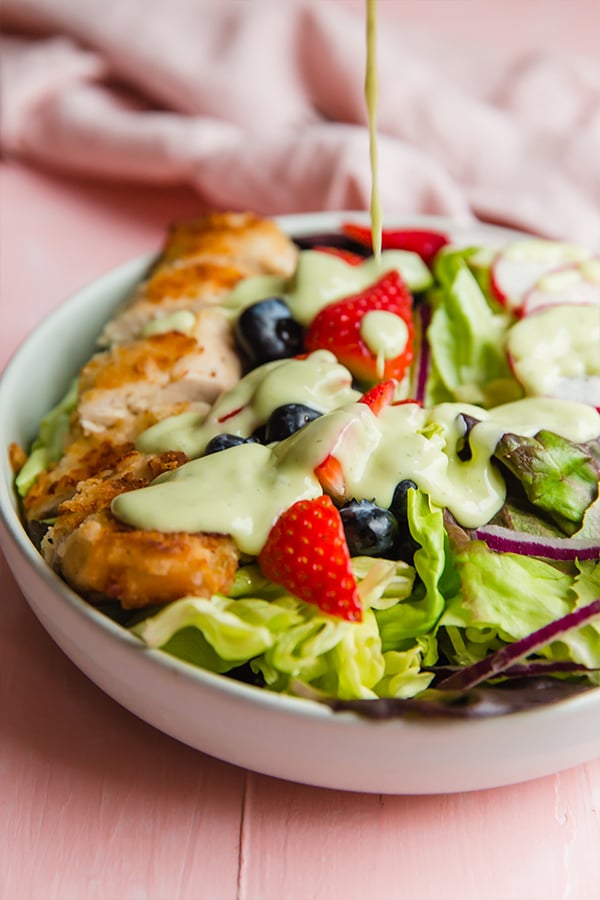 The Ingredients You'll Need for the Crispy Chicken salad
Chicken breast
You'll want to slice the chicken breast into tenders. So, if you have two larger chicken breast, you'll wind up with somewhere around 4-5 chicken tenders depending on the size and shape of the chicken. This helps the chicken crisp up a lot better than a larger breast. From there, you'll be able to slice it and serve it over the salads for that classic crispy chicken salad look and feel.
Arrowroot starch & coconut flour
This makes up the breading for the chicken. I don't recommend using tapioca starch as it tends to lean more on the gummy side rather than crispy.
Avocado, coconut milk, avocado oil & apple cider vinegar
These are the base of the avocado ranch dressing. I use native forest simple coconut milk from a can to avoid any weird flavors or thickeners. However, the dressing is totally optional and you can just opt for a premade dressing that you tolerate or another one that you prefer.
Butter lettuce, mixed berries, radishes, and red onion
These are the ingredients for the salad. You can easily use another lettuce base like mixed greens or romaine, and other vegetables to top the salad like carrots, apples, tomatoes (if tolerate), etc! These are just the flavors that I feel pair best for a spring and summer salad.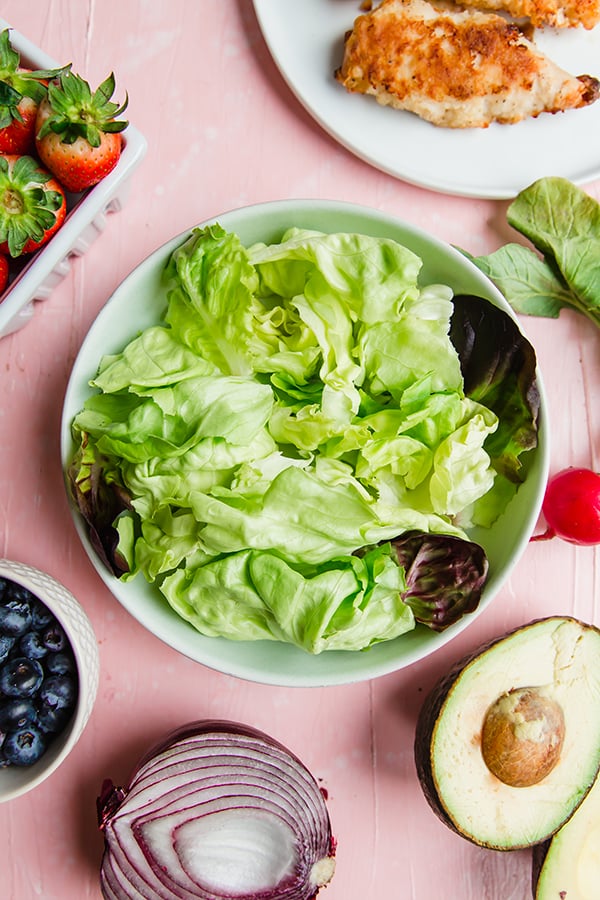 If you like this recipe, you may also like…
Print
Crispy Chicken Salad
---
Author:
Total Time: 55 minutes
Yield: 4 1x
For the chicken
1 lb chicken breast
1 cup coconut milk
1 tbsp apple cider vinegar
3 tbsp arrowroot starch
2 tbsp coconut flour
1/2 tsp sea salt
1/4 tsp black pepper (omit for AIP)
2 tbsp avocado oil
For the dressing
1 medium avocado
3/4 cup coconut milk
2 tbsp avocado oil
1 tsp apple cider vinegar
2 tsp parsley, chopped
1 garlic clove, minced
1 tsp onion powder
1/4 tsp sea salt
For the salads
6–7 cups butter lettuce (or other mixed greens)
1 cup mixed berries, divided
4 radishes, sliced thin
1 red onion, sliced thin
---
Instructions
For the chicken
Preheat the oven to 400 F and line a baking sheet with parchment paper.
Slice the chicken breast into tenders (this helps the chicken get crispy) and marinate in a bowl with coconut milk and apple cider vinegar for 20 minutes at room temperature. Drain the excess milk when done.
Prepare the coating by mixing the arrowroot starch, coconut flour, salt, and pepper. Dredge the chicken in the breading until thoroughly coated.
Place the coated chicken on the baking sheet and top with avocado oil
Bake in the preheated oven for 30 minutes (carefully flipping halfway through) or until the internal temperature reads 165 F.
Allow the chicken to cool slightly before slicing and adding to the salads.
For the dressing
Using a high-speed blender, blend all of the ingredients until smooth. Season further to taste, or add more milk in a thinner dressing is preferred.
To assemble the salads
Prepare 3 bowls and divide the lettuce amongst the three bowls, along with the toppings, and sliced crispy chicken.
Serve with the dressing on the side.
Notes
All nutrition facts are estimations and will vary.
The photos of this recipe and all written content on my website are copyright protected and cannot be copied or shared. Please do not copy this recipe or photos and share it on your own website, Instagram, or other written materials. If you'd like to feature a photo in a roundup, please contact me. If you'd like to tell people about this recipe on social media, your own website, or elsewhere please link back to the recipe here rather than copy and pasting.  Thank you so much!!
Prep Time: 25
Cook Time: 30
Category: Salad
Method: Baked
Cuisine: Global
Nutrition
Serving Size: 1 serving
Calories: 476
Fat: 29.6g
Carbohydrates: 25g
Fiber: 8.5g
Protein: 30.8g