40+ Paleo & AIP Recipes to make for Thanksgiving
Can you believe it's already time for Thanksgiving? It feels like this year just started, and it's already almost over. Regardless, I'm always excited about this time of year because I love the holidays. The holidays felt like a chore when I first started eating gluten-free and then AIP. How would I eat pumpkin pie? How would I be able to make something that I could share with everyone? There is hope!
These 40+ paleo & AIP recipes will make everyone happy at Thanksgiving! From stuffing to pumpkin pie, you can still have it all and share for Thanksgiving!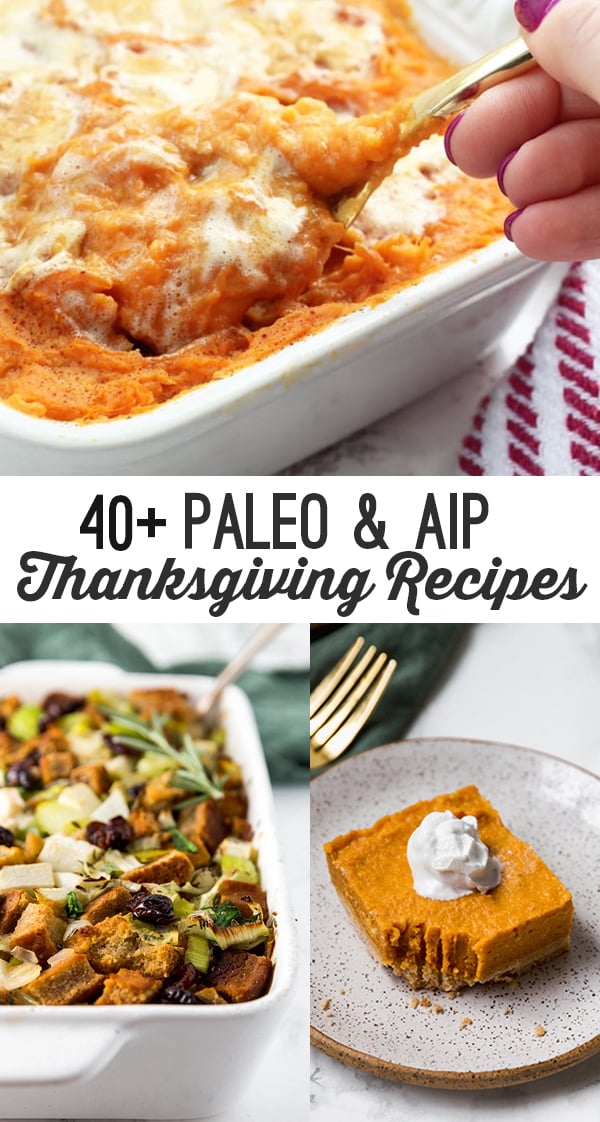 Paleo & AIP Thanksgiving Recipes
Appetizers
Cranberry Turkey Poppers
These cranberry turkey poppers are such a great appetizer. They're also a great option to bring for yourself if you're going to a Thanksgiving dinner at someone else's house where the turkey is stuffed.
Paleo Sausage Balls
These paleo sausage balls are the perfect holiday appetizer! They're paleo, gluten-free, dairy-free, and still taste like the classic made with bisquick!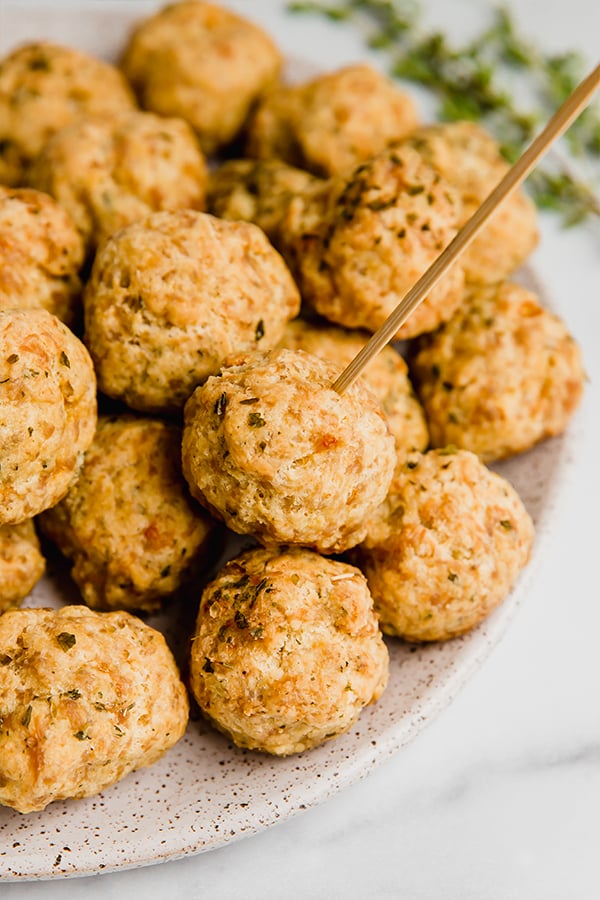 Butternut Squash Chicken/Turkey Poppers
These butternut squash chicken/turkey poppers are another tasty and easy Thanksgiving appetizer! Serve them with cranberry sauce for dipping.
Pomegranate Guacamole
This is pomegranate guacamole is a nontraditional Thanksgiving dish, but it's an easy to make appetizer that everyone will love!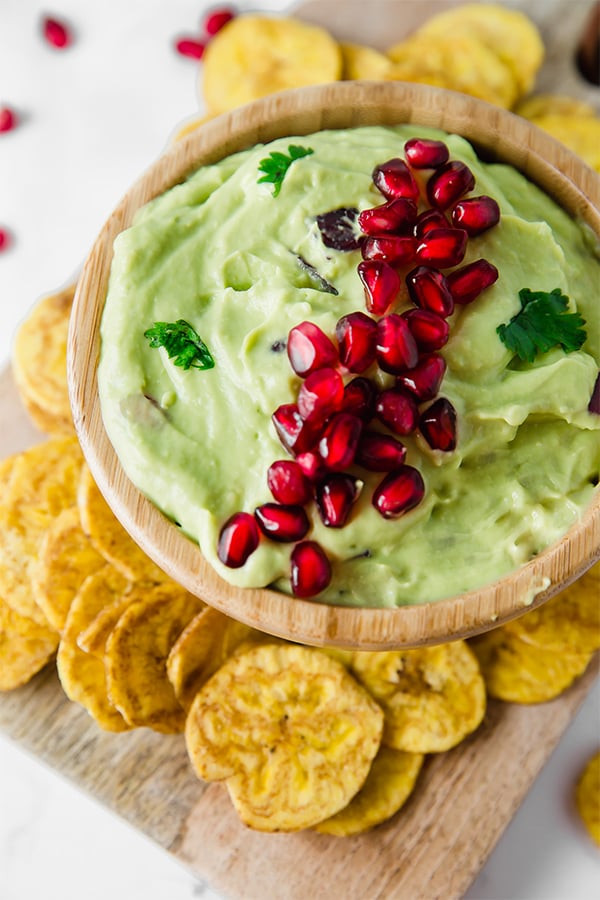 Apple Bacon Jam
This apple bacon jam is made with apples, dates, bacon, and is paleo, and AIP-friendly! Serve it with a Thanksgiving charcuterie board, dip your Thanksgiving turkey in it, or whatever else your heart desires.
Main Dishes
Sweet Potato Sausage Stuffing
This sweet potato sausage stuffing is a more hearty, veggie-forward stuffing with tons of extra flavor from the sausage, and is the perfect extra helping of protein for your Thanksgiving meal!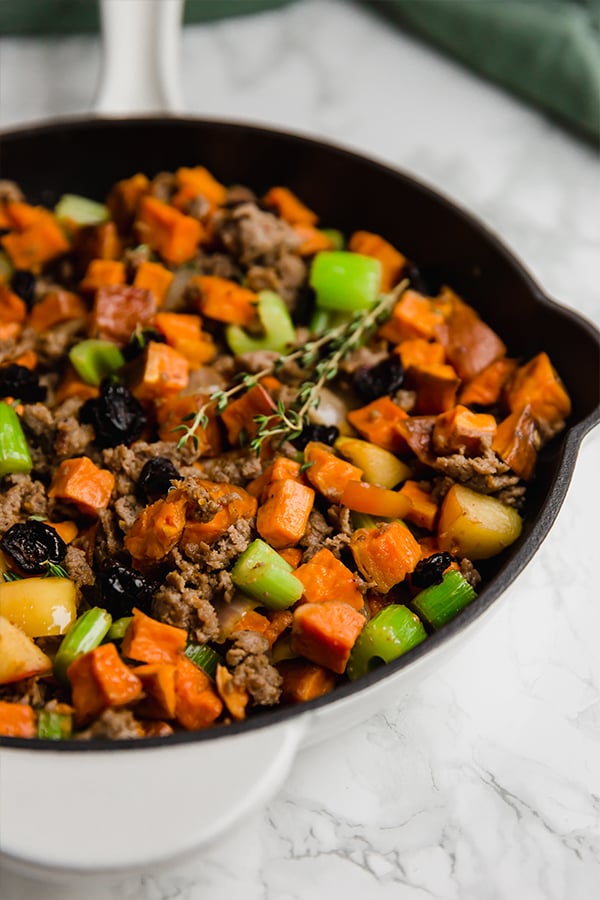 Stuffed Acorn Squash
Acorn squash is one of my favorite gifts from nature this time of year! This stuffed acorn squash is a classic crowd pleaser for both my husband and me, and would be a great dish to serve at your Thanksgiving gathering!
"Cornbread" Stuffing
Double the batch of corn-free cornbread to make this "cornbread" stuffing! 
The Best Gluten-Free Stuffing
This gluten-free stuffing is the perfect Thanksgiving side dish if you don't eat gluten! It's so delicious that no one else will even know that it's gluten-free. This is not paleo or AIP, but is gluten-free!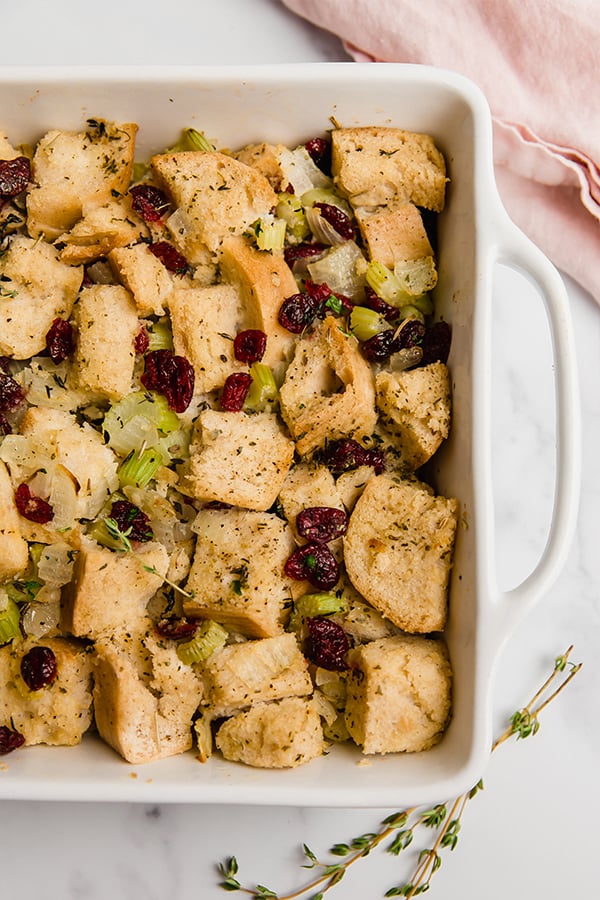 Thanksgiving Cauliflower Stuffing
This Thanksgiving cauliflower stuffing is much lower carb than a traditional stuffing, and is really made of just veggies! Not only does it make it easier to enjoy more of it, but it's actually filled with nutrients from all of the veggies!
Sides
Skillet Green Bean Casserole
This skillet green bean casserole is a Thanksgiving classic made on the stovetop with less dishes and less oven space involved! This recipe is paleo, whole30, vegan, gluten-free, and dairy-free. This one is not AIP, but it is paleo!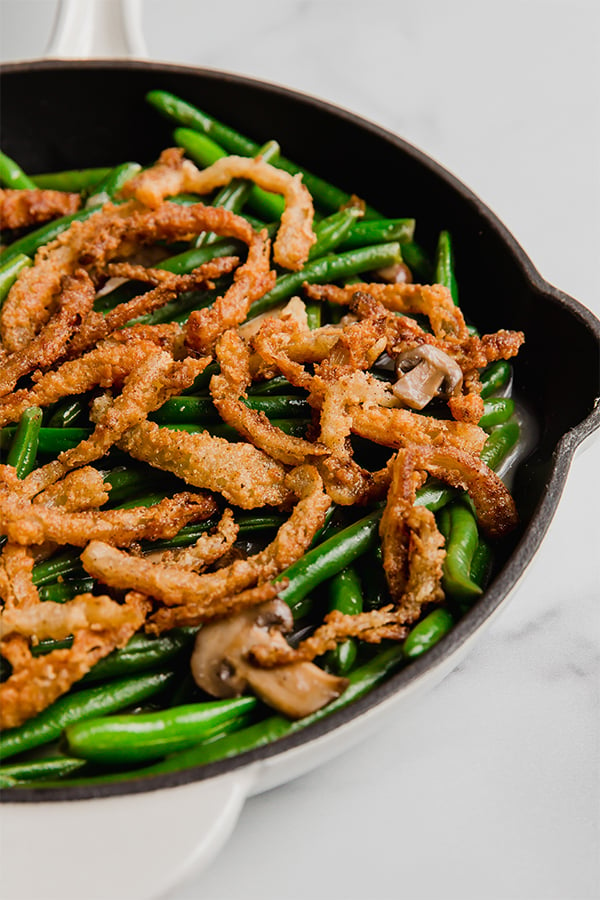 Sweet Potato Casserole with Marshmallows
Sweet potato casserole with marshmallows has always been one of my favorite Thanksgiving side dishes. What's not to like, right? This version is made with no dairy and AIP marshmallows.
Roasted Cauliflower & Parsnip Mash
This roasted cauliflower & parsnip mash is the perfect mashed potato substitute, with the addition of roasted root vegetables to add even more of that classic mashed potato flavor alongside the cauliflower. It's made with roasted garlic, seasonal herbs, and topped off with a healthy spoonful of ghee butter or olive/coconut oil to round out the dish. YUM.
"Cheesy" Sweet Potato Casserole
This "cheesy" sweet potato casserole is serious Thanksgiving comfort food made with real food ingredients! This recipe is vegan, paleo, and AIP-friendly.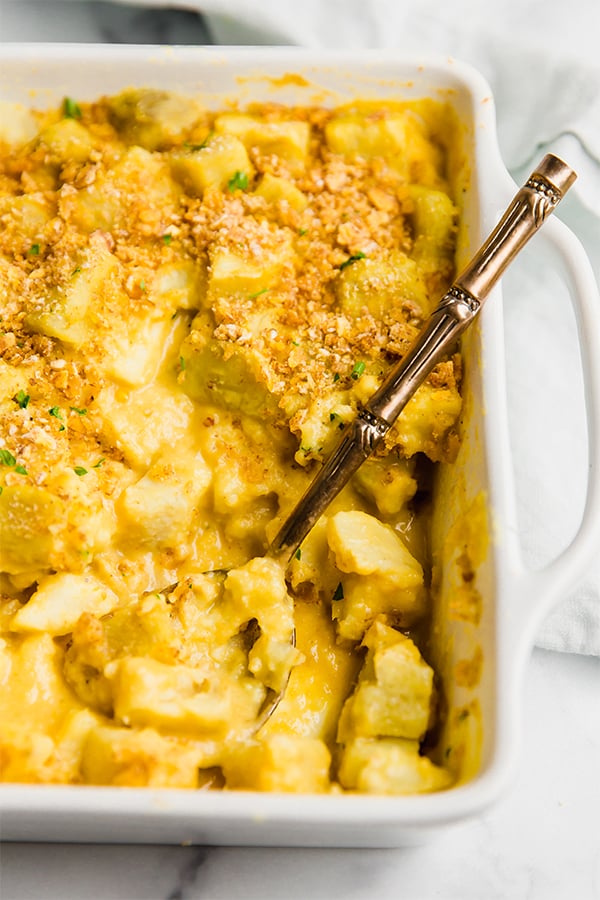 Harvest Veggie Hash
This harvest veggie hash is a great way to sneak in some extra veggies on the Thanksgiving table!
Thanksgiving Coleslaw
Thanksgiving coleslaw is another fun option to get some more vegetables on your plate. This version is made without any mayo.
Bacon, Date & Apple Brussels Sprout Skillet
This bacon date & apple brussels sprout skillet is Paleo, AIP & Whole30, and has all of the sweet and savory flavors you love about bacon-wrapped dates, and more! It's made in one pan and requires minimal prep, making it the perfect easy addition to your Thanksgiving table.
Apple Cranberry Sauce
This apple cranberry sauce is a tart homemade sauce that's far less sweet than the traditional cranberry sauce from a can! These pair especially perfectly with the butternut squash chicken/turkey poppers.
"Cornbread"
I am so excited to make this corn-free cornbread for Thanksgiving again! It's grain-free and AIP but it really tastes like the real thing.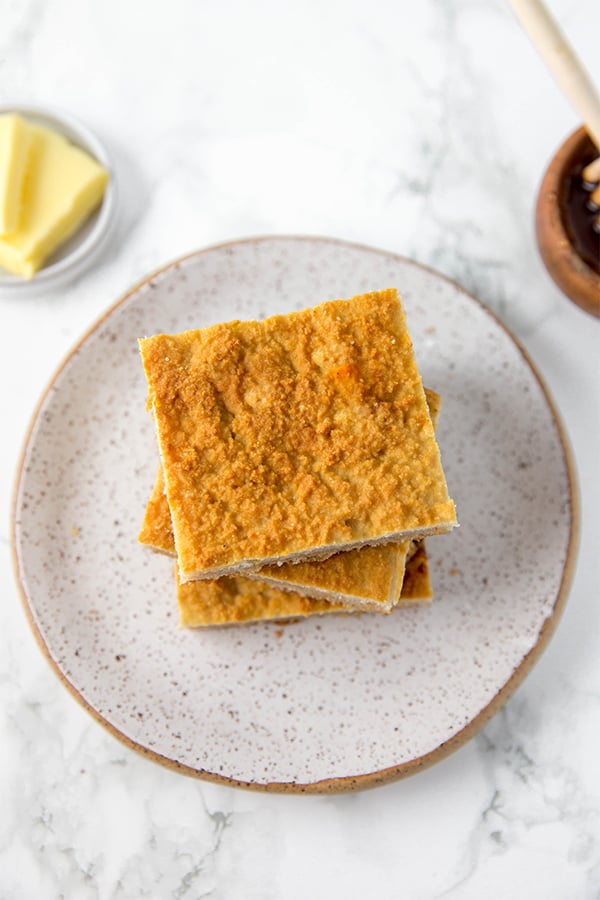 Oven Green Bean Casserole
This oven green bean casserole is the real deal! It's made with homemade cream of mushroom soup, french fried onions, and is free of grains and dairy. It's bound to be a massive hit at your Thanksgiving gathering! This one is not AIP, but it is paleo!
Sweet Potato Gratin
This sweet potato gratin, also referred to as scalloped potatoes, is perfect for Thanksgiving, and is easier to make than it looks, but it seems like you spent hours making a beautiful dish.
Roasted Cinnamon Sweet Potatoes & Apples
There's just something special about fall flavors, and this roasted cinnamon sweet potatoes & apples side is the perfect way to combine all of these nourishing fall flavors in one easy Thanksgiving side dish.
Desserts
Salted Caramel Pumpkin Cheesecake
This salted caramel pumpkin cheesecake is the perfect combination of decadent & fall flavors to absolutely WOW your guests!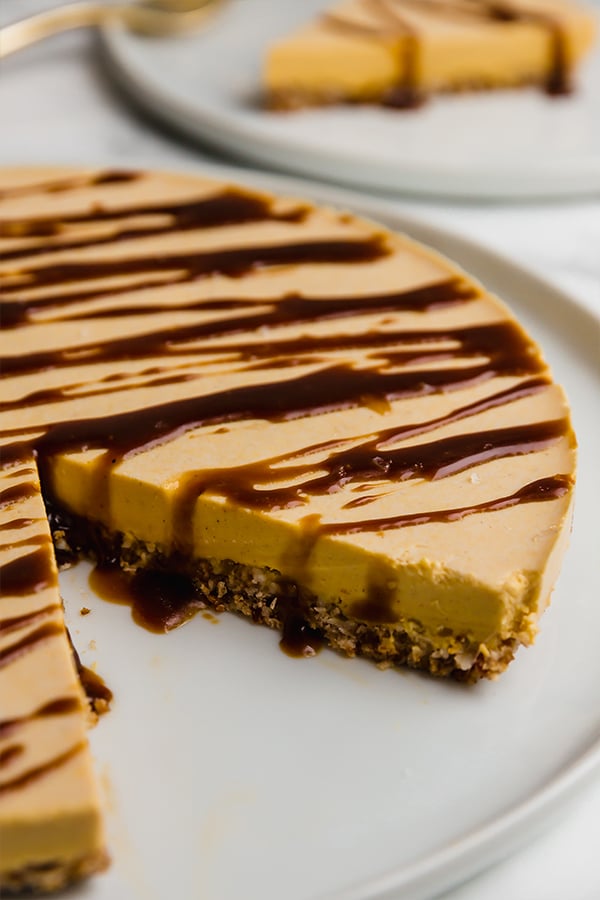 Apple Pie Bars
These apple pie bars are made with an optional caramel sauce, and are also vegan!
Pumpkin Pie Bars
Gotta have pumpkin pie, right? These paleo/AIP pumpkin pie bars are perfect for satisfying the craving!
Acorn Donut Holes
These acorn donut holes look just like little acorns with a baked apple donut hole, a coconut butter glaze, a chocolate topping, and a pretzel stick! They're paleo, AIP-friendly, and such an adorable addition to your Thanksgiving!
Pumpkin Roll
Pumpkin roll cakes are by far the most beautiful pumpkin dessert out there! This paleo pumpkin roll cake is no exception, and is actually WAY easier to make than it looks, when it's done right!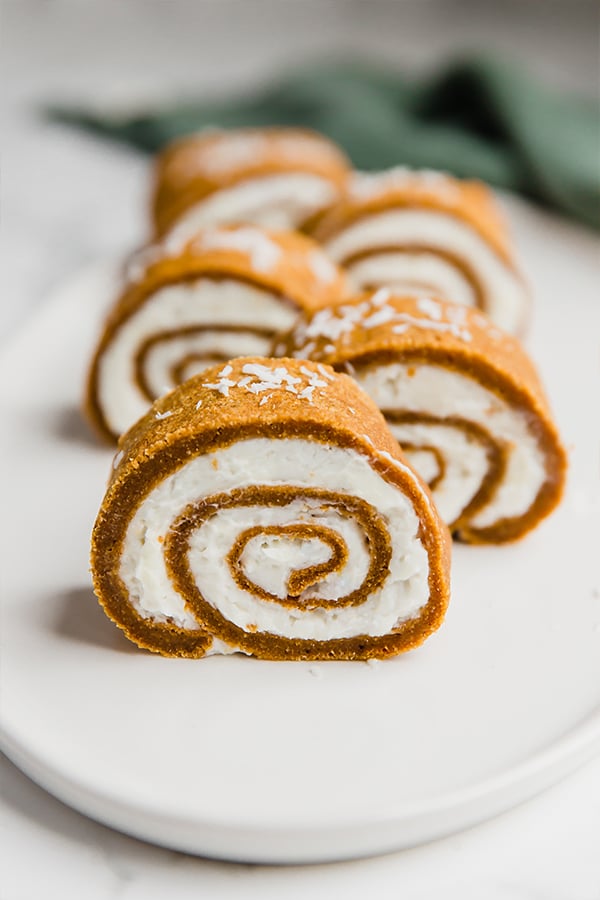 Orange Cranberry Scones
Orange and cranberry are one of my favorite flavor combinations, and these orange cranberry scones perfectly bring together the tartness and sweetness that we all crave at Thanksgiving!
Pumpkin Pie Donut Holes
These pumpkin pie donut holes give you all of the things you love about that pumpkin pie flavor, with its yummy, cake-y donut hole texture, all while being extremely easy to make!
Caramel Apple Cookies
These caramel apple cookies are paleo, AIP, and made without any grains or dairy! They're perfect for sharing during Thanksgiving with those with dietary restrictions.
Paleo Salted Caramel Pumpkin Blondies
These paleo salted caramel pumpkin blondies are rich and cakey and topped with made with a homemade salted caramel that you can easily make with just a few ingredients! This recipe is paleo, gluten-free, dairy-free, and vegan. This one is not AIP, but it is paleo!
Copycat Cranberry Bliss Bars
These cranberry bliss bars are a delicious Starbucks copycat! They're gluten-free, AIP, and free of refined sugar – a far cry from the conventional bars, but absolutely perfect to share with friends at Thanksgiving (shhh…. they won't even know the difference if you don't tell them)!
Apple Crisp
This apple crisp has all of the flavor and nostalgia of an apple pie, but it's much easier and equally as delicious in its own right. This crisp is full of healthy fat, easy to use ingredients, and a tart and sweet flavor!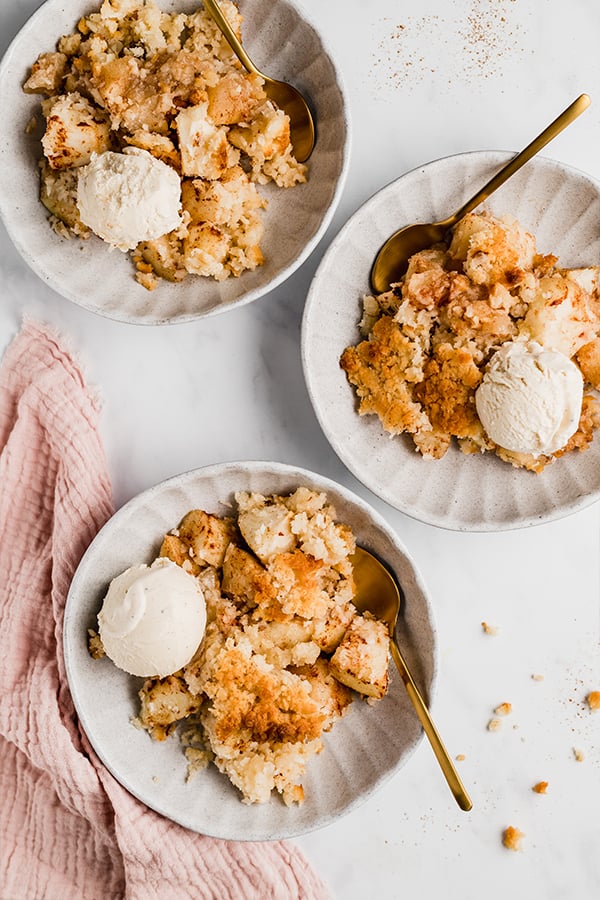 Pumpkin Fudge
You can get all of the flavors of fall with a snack like this pumpkin fudge! It's a perfect option for a super easy, quick, healthier Thanksgiving treat.
Cranberry Orange Pumpkin Bread
Thanksgiving is the perfect time to marry winter and fall flavors like pumpkin, cranberry, and citrus, and this cranberry orange pumpkin bread with orange frosting seriously does the trick!
Pumpkin Pie Parfait
This pumpkin pie parfait is a healthier, seasonal take on a traditional parfait that is bound to be a hit at Thanksgiving! It's made with a cookie crumble base, pumpkin puree, coconut cream, and an optional caramel sauce.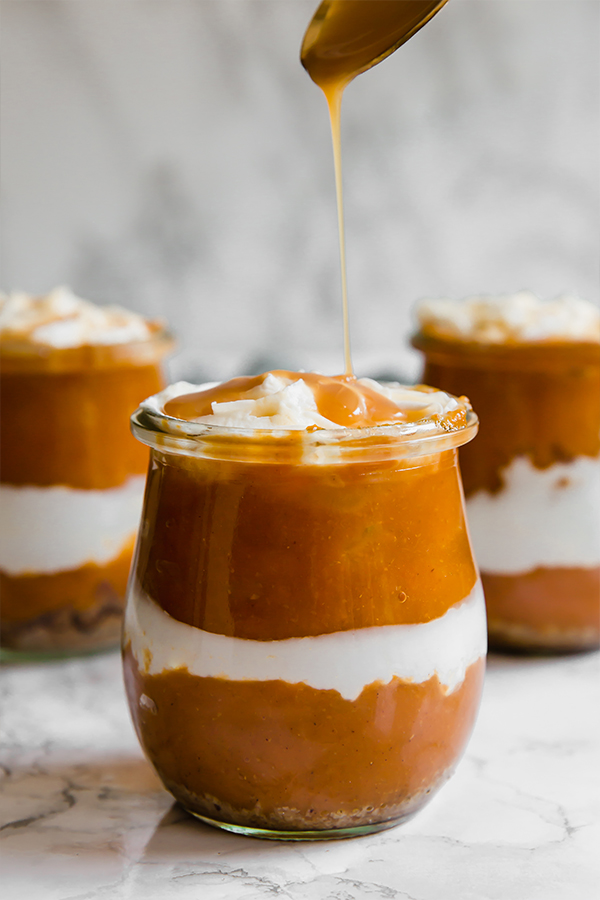 Pumpkin Donuts with Chocolate Frosting
These pumpkin donuts with chocolate frosting are perfect for sharing at Thanksgiving, and even non-paleo/AIP/gluten free folks will love them! My husband ate one with some ice cream and said it was just like having pumpkin pie!
Chocolate Chip Pumpkin Bread
This chocolate chip pumpkin bread is the perfect way to get in that pumpkin flavor and satisfy your pumpkin bread cravings at Thanksgiving, while staying grain free, gluten free, dairy free and even egg free!
Drinks
Instant Pot Apple Cider
This instant pot apple cider is so easy to make at home and will seriously make your house smell like a fall wonderland! This is the perfect drink to serve at Thanksgiving and is sure to be a hit.
Sparkling Cranberry Mocktail
This sparkling cranberry mocktail is perfect for your Thanksgiving gathering. It's festive, delicious, and is really quite simple and hands off to make. You can scale the recipe up or down depending on how many party guests you have, and both kids and adults will like it! But let's be real… if you can tolerate a bit of alcohol and want to add a little shot of vodka or something like that to this drink, it will totally work!