Paleo Green Bean Casserole (Dairy Free, Vegan)
This paleo green bean casserole is the real deal! It's made with homemade cream of mushroom soup, french fried onions, and is free of grains and dairy!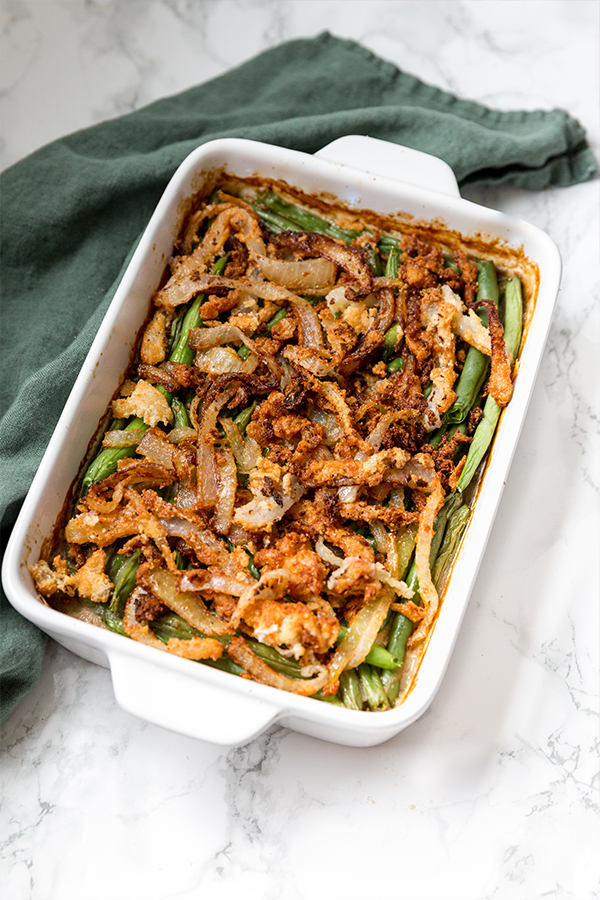 You didn't think I could let Thanksgiving go by without sharing a green bean casserole recipe, right? Not a chance! I never even had green bean casserole until I was in my 20's and technically gluten free, but would splurge on the holidays. And oh man… what a tasty splurge it was. The creamy and flavorful mushroom soup, the tender green beans, the crispy french fried onions… woah.
Paleo green bean casserole from scratch requires a bit of extra work, but Thanksgiving is the time to do it! You're not able to just buy a can of crispy fried onions off of the shelf, or a carton of cream of mushroom soup, but these things are so good on their own that you seriously will wonder why you haven't been making this from scratch all along!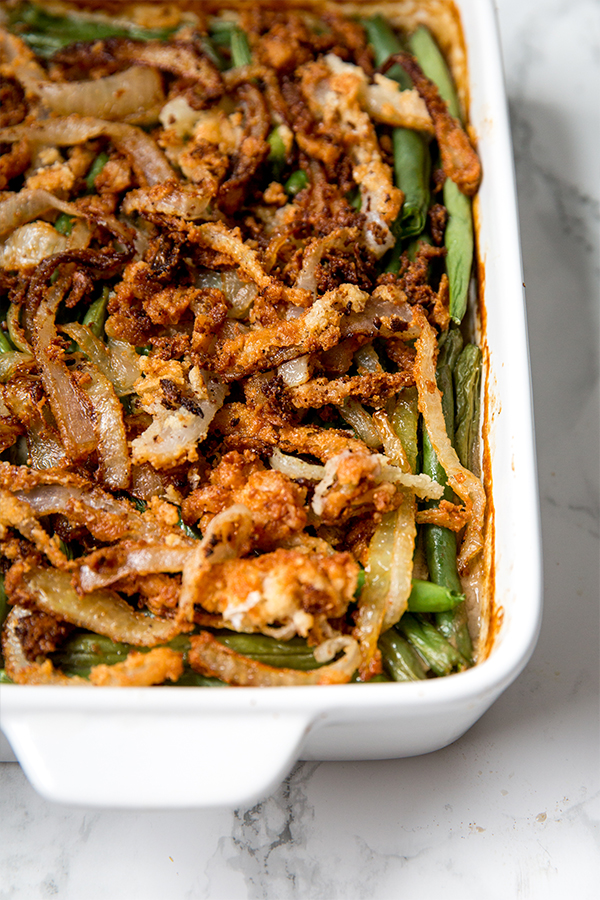 The Ingredients You'll Need For the Green Bean Casserole
Mushrooms, garlic, broth, coconut cream, tapioca starch
These are the main ingredients for the cream of mushroom soup. This soup is tasty enough to eat on its own, but for this recipe, we're using it as the base for the casserole. If you want to save time on Thanksgiving day, you can easily just make this the night before.
Onions, coconut milk, coconut oil, almond flour, and coconut flour
These are the ingredients to make the fried onions. I haven't tried to make these with other flour combinations and can't recommend any substitutions.
Green beans
Of course! You can save time by buying pre-trimmed green beans, but overall green beans are fairly low maintenance.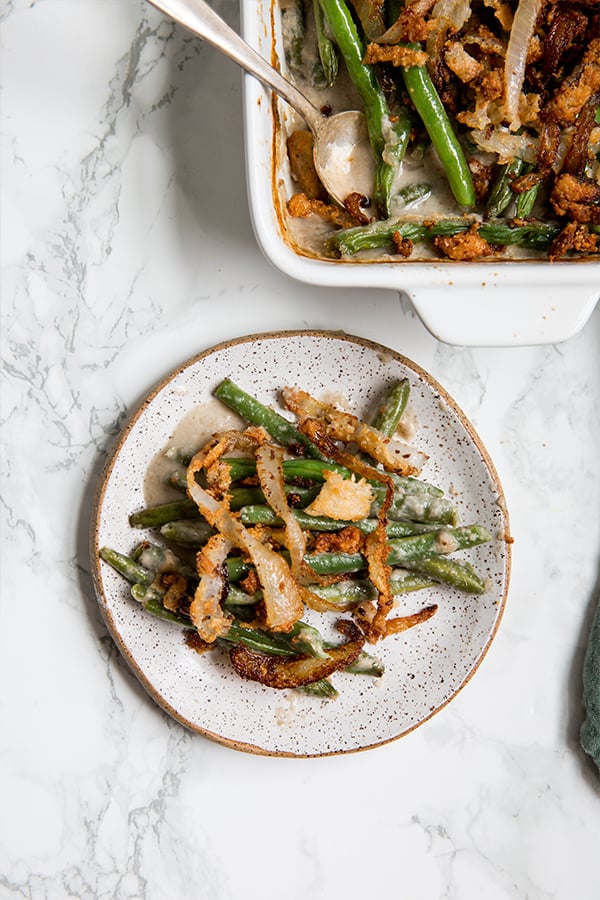 If you like this recipe, you may also like…
Print
Paleo Green Bean Casserole (Dairy Free, Vegan)
---
Author:
Total Time: 45 minutes
Yield: 8-9 servings 1x
For the cream of mushroom soup
1 tbsp coconut oil
3 cups mushrooms, chopped or sliced
2 garlic cloves, minced
2 tsp onion powder
1 tsp dried thyme
1/2 tsp sea salt
1/4 tsp pepper
1 3/4 cup broth (chicken or vegetable)
1/2 cup coconut cream
2 tbsp tapioca starch
For the green bean casserole
Prepared cream of mushroom soup
1 lb green beans, trimmed
For the fried onions 
1/4 cup almond flour
1/4 cup coconut flour
1 tsp sea salt
1/4 tsp black pepper
1 large white onion, halved and sliced thin
1/3 cup coconut milk
1/3 cup coconut oil
---
Instructions
For the cream of mushroom soup
Using a medium stock pot, melt the coconut oil on medium heat. Saute the mushroom and garlic for 4-5 minutes or until tender.
Pour in the remainder of the ingredients, mix well to combine and bring to a simmer for about 10 minutes or until the soup thickens.
Remove from heat and allow to cool before using an immersion blender or high-speed blender to fully blend the soup. Set aside.
For the green bean casserole
Fill a large stock pot about two-thirds of the way full and bring to a boil. Add the green beans and cook for 10 minutes or until fork tender. Strain and set aside.
Preheat the oven to 400 F and prepare a large casserole dish. Combine the green beans and mushroom soup.
Bake the casserole in the preheated oven for 15-20 minutes, while simultaneously cooking the fried onions (see below). Once the casserole is fully cooked, top with the fried onions and serve.
For the fried onions
Combined the two flours, salt, and pepper in a bowl and set aside. Set up a station with the bowl of flour, and another bowl with the coconut milk.
Using a large deep skillet, melt the coconut oil and bring to a high heat. The oil has to be very hot to properly fry!
Begin coating the onions by dipping them in the coconut milk, and then the flour mixture. Carefully drop in the onions and cook for about 2 minutes of each side before setting aside. You'll fry all of the onions in about 3-4 small batches. Add more coconut oil if needed.
Notes
All nutritional facts are estimations and will vary.
Cook Time: 45
Category: Sides
Cuisine: American
Nutrition
Serving Size: 1 serving
Calories: 239
Fat: 19.1g
Carbohydrates: 13.2g
Fiber: 4.2g
Protein: 4.4g