Paleo Thankgiving Cornbread Stuffing (AIP & Grain Free)
This paleo Thanksgiving Cornbread Stuffing is made with a corn-free cornbread, and all of the classic stuffing ingredients that you know and love! It's paleo, AIP, grain free, and perfect for the holidays.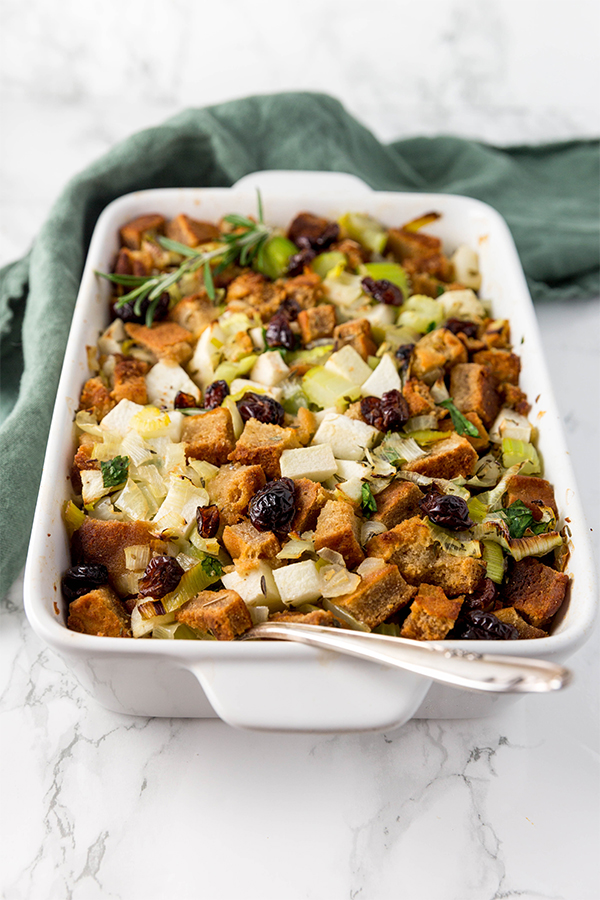 When I asked some of my readers what they wanted to see for Thanksgiving, everyone unanimously said stuffing! Stuffing is one of those Thanksgiving staples that you just can't really miss. Traditionally it's made with bread, which just isn't happening for a paleo, AIP, or grain-free diet. There are plenty of recipes out there for stuffing with just vegetables, which I'm totally game for and have shared myself. However, what about when you're just really craving that classic comfort food? That's why I made this Paleo Thanksgiving Cornbread Stuffing! It's paleo, AIP, grain free, and just like the real thing.
Really, the only the only thing that's different in this stuffing is that there isn't any butter, and the cornbread is grain free… that's it! Other than that, it's just like a traditional stuffing. It's the kind of thing where you can potentially fool Thanksgiving guests!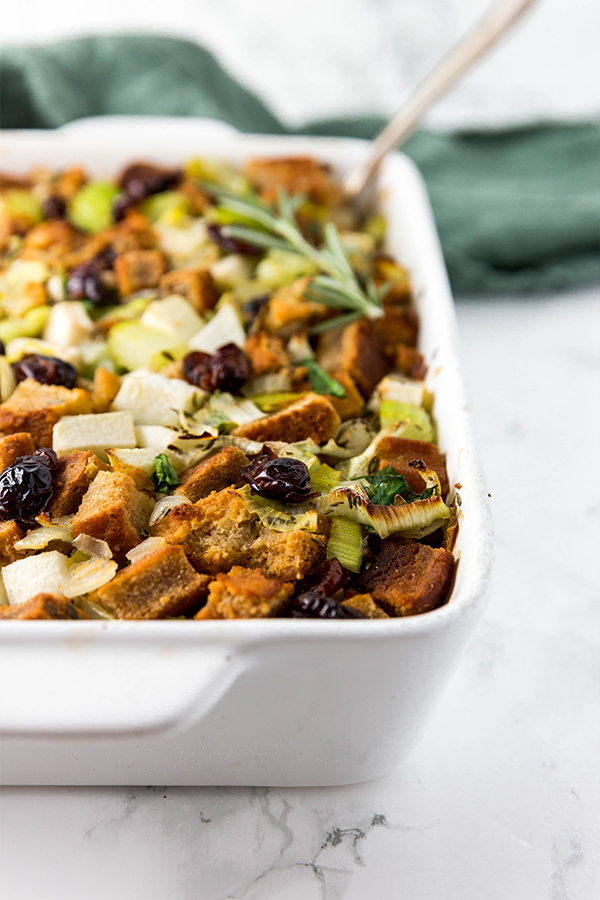 The Ingredients You'll Need For the Paleo Cornbread Stuffing
Paleo/AIP "Corn"bread
Okay, how in the world does this work?! I have a recipe for paleo/AIP cornbread here that is made without any corn! YES!
Celery, yellow onion, and leeks
Celery and onion are classic stuffing ingredients, and I think the leeks added a little something extra.
Apples and dried cranberries
It's currently #UWCranberryWeek so I had to get the cranberries in there! These both add some tart, sweetness.
Parsley, sage, rosemary, and thyme
I had to hold back writing the rest of the lyrics to the Simon and Garfunkel song. Yes, there's a reason they put all of those together in a song… they just go together!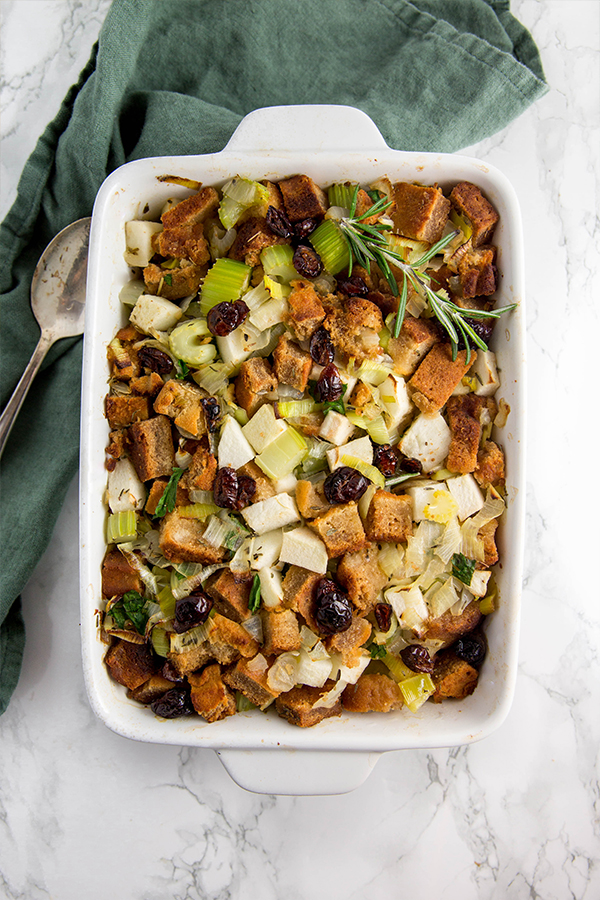 If you like this recipe, you may also like…
Print
Paleo Thankgiving Cornbread Stuffing (AIP & Grain Free)
---
Author:
Prep Time: 5
Cook Time: 40
Total Time: 45 minutes
Yield: 9 servings 1x
Description
This paleo "corn"bread stuffing is the real deal!
---
2 tbsp coconut oil
1 medium white onion, diced
4 stalk celery, chopped
1 leek, chopped into half moons
1 tbsp chopped parsley
2 tsp rosemary (plus extra for garnish)
2 tsp sage
2 tsp thyme
1/2 tsp sea salt
1 batch of this AIP/paleo cornbread , chopped into cubes
2 granny smith apples, chopped
1 – 1 1/2 cup chicken broth
---
Instructions
Preheat the oven to 375 F and prepare a large casserole dish. Set aside.
Using a large pan, melt the coconut oil on medium heat and saute the onion until soft. Mix in the celery and leek and saute until the leeks soften. Stir in the parsley and other seasonings to combine. Set aside.
Add the chopped apple, cranberries, and chopped cornbread to a large mixing bowl. Use a mixing spoon to crumble some of the cornbread.
Pour the chicken broth little by little into the cornbread mixture, adding more if you prefer a more soggy cornbread. Then stir in the onion, leek and celery mixture. Stir well to combine.
Spoon the stuffing mixture into the casserole dish and bake in the oven for 25 minutes or until baked to liking.
Top with extra rosemary or other herbs and enjoy!
Notes
This stuffing is best fresh. If you need to make it ahead and reheat it, place it back in the oven for 5-10 minutes.
All nutritional facts are estimations and will vary.
Category: side
Method: oven
Cuisine: American
Nutrition
Serving Size: 1 serving
Calories: 248
Fat: 14.3g
Carbohydrates: 25.5g
Fiber: 6.5g
Protein: 6g