Roasted Cinnamon Sweet Potatoes & Apples
As a food lover, I can happily find beauty in all seasons and flavors. But let's be real… there's just something special about fall flavors. Hearty root veggies and squash, warming spices, fresh crispy apples, and tart cranberries are the flavors that most of us foodies crave all year round!
With the holidays upon us, I was looking for a way to combine all of these nourishing fall flavors in one easy side dish. This Roasted Cinnamon Sweet Potato & Apple Side dish is perfect for Thanksgiving, Christmas, winter holidays, or just as a simple side for a weekday dinner!
It's warming, nourishing, and is made with ingredients that you likely already have in your kitchen during this time of year!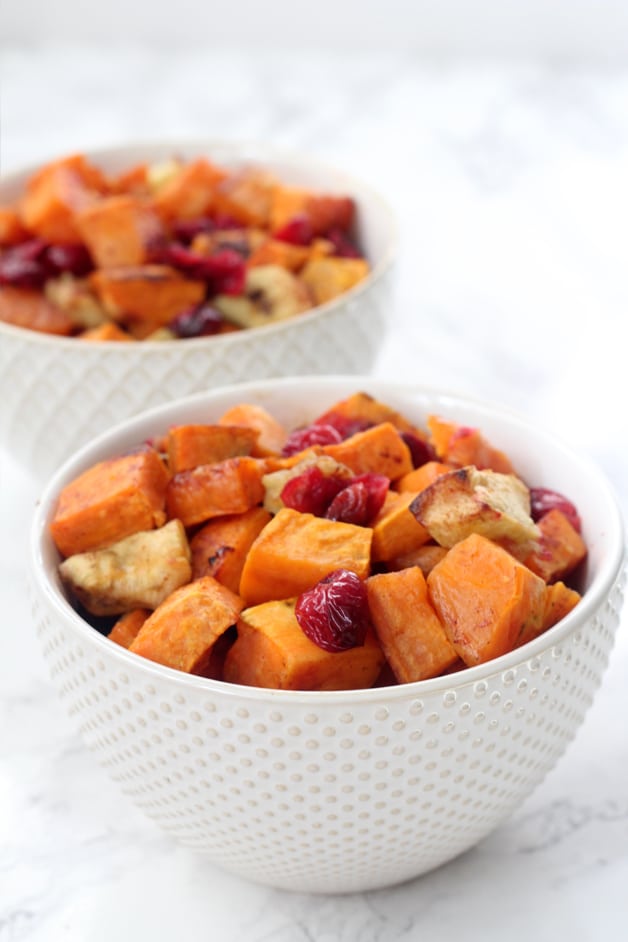 What You'll Need For This Roasted Cinnamon Sweet Potatoes & Apples Dish
Sweet Potatoes
I use standard, orange sweets for this recipe, but I imagine it would taste good with other varieties as well.
Apples
Granny smith apples work best in my opinion, but you can easily experiment with others.
Cranberries
The fresh cranberries really add the extra layer of holiday flare to this side dish and a bitter flavor to cut through some of the sweetness… yum!!
Coconut oil
Coconut oil is versatile and works well in this recipe, but you can sub butter or ghee if you can tolerate it.
Cinnamon & Salt
The finishing touches!
Print
Roasted Cinnamon Sweet Potatoes & Apples
---
3 medium sweet potatoes, peeled and diced
2 granny smith apples, peeled and diced into large squares
1/2 cup fresh cranberries
2 tbsp coconut oil, melted
1 tsp cinnamon
1/2 tsp sea salt
---
Instructions
Preheat the oven to 400 F and line a baking sheet with parchment paper
Add the sweet potatoes, apples and cranberries to a large mixing bowl and stir in the coconut oil, cinnamon, and sea salt. Mix well to combine.
Spread the mixture evenly onto a baking sheet. Bake for 40-45 minutes or until the sweet potatoes are cooked through.
Serve as a simple side and enjoy!
Notes
All nutritional information are estimations and will vary. Estimations do not include optional ingredients.
Nutrition
Serving Size: 1 serving
Calories: 134
Fat: 4.6g
Carbohydrates: 22.1g
Fiber: 4.1g
Protein: 1.3g
That's all there is to it! Low maintenance, festive, and oh so yummy!
Wishing you and your family the happiest of Thanksgivings, and an amazing holiday season. I can't wait to start sharing even more holiday recipes for you to try!