5 Ingredient Paleo Almond Milk & Cookies
Thank you to ALDI for sponsoring this post! All opinions are my own. 
Can you believe that the holidays are here and Christmas is just weeks away? Neither can I! I've barely started my holiday shopping and am already feeling overwhelmed. So this year, I decided to make this super simple no-bake Christmas cookie recipe along with homemade almond milk!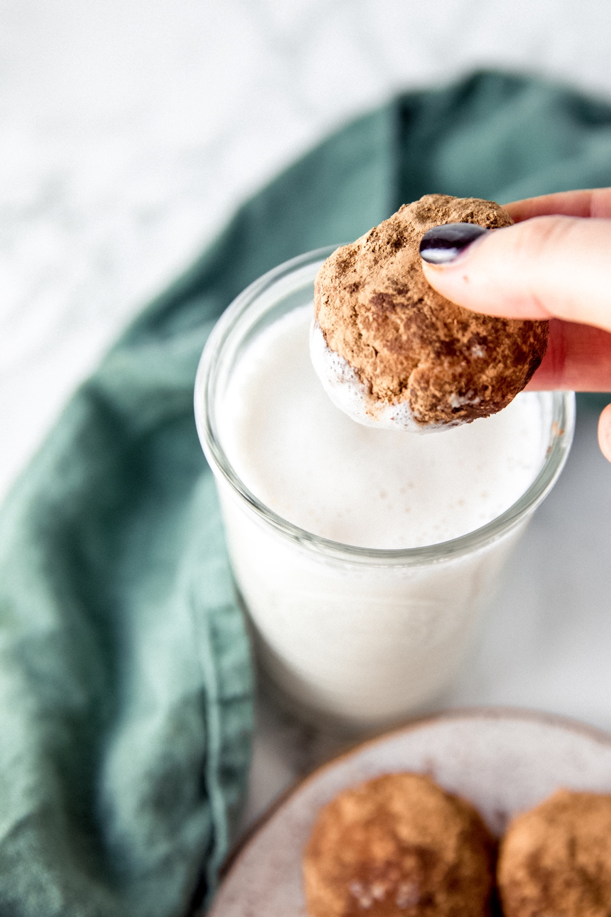 This recipe is paleo, vegan, and free of refined sugars. Plus, all you need is 5 ingredients to make both almond milk and the cookies! These cookies are incredibly easy to make and are a great activity to do with kiddos during the holidays as well.
The Ingredients You'll Need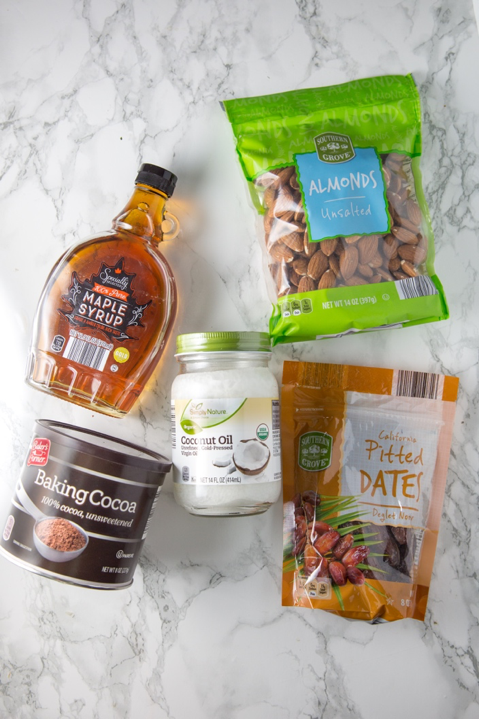 To make this holiday treat even easier, of the ingredients are from one store… ALDI! ALDI believes that anyone should be able to enjoy cookies and milk over the holidays, and I couldn't agree more.  ALDI is one of my personal favorite stores, and according to annual surveys of US consumers conducted from 2011 to 2017 by Market Force Information® based off a sample size of a survey of nearly 13,000 U.S. customers, ALDI is one of America's favorite grocery stores too!
I found all of these ingredients at my local store, but please be aware that the availability of certain products may vary from store to store. However, ALDI has a ton of options so you can easily find other ways to make your holiday milk and cookies dreams come true! Check out where a store is located near you!
Southern Grove Unsalted Almonds
This recipe uses just one cup of almonds to make both almond milk and the base for the no-bake cookies. Talk about easy and waste-free, right? I've always felt guilty about tossing the almond pulp when I make almond milk, but this recipe makes it easy to reuse with a super easy to make a no-bake cookie.
Never used almond pulp before? Almond pulp is basically just what you have left over from the almonds after you make almond milk. Yes, you really can make use of it! Be sure to have a nut milk bag or a cheesecloth on hand to effectively separate all of the almond milk and pulp.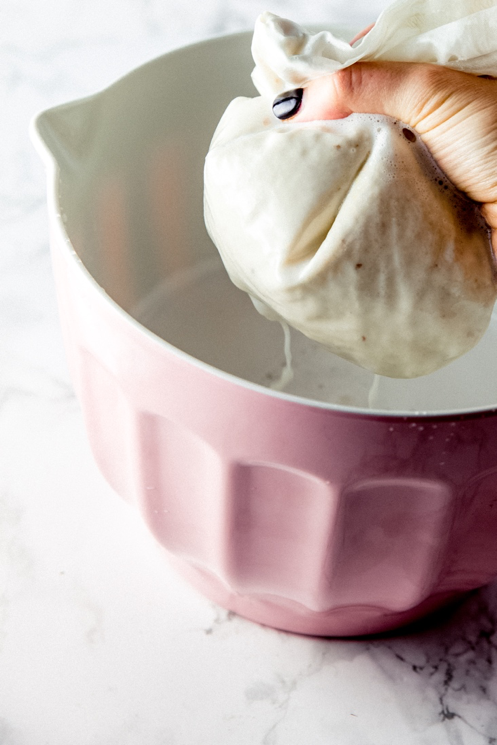 Almond pulp is what we're using instead of almond flour for this recipe, but starting in 2019 ALDI will be carrying more alternative baking flours which I cannot wait to try!
Southern Grove Dates
Dates are perfect for helping bind these cookies as well as add some more natural sweetener. The dates are blended with the almond pulp, coconut oil, and maple syrup to make a sweet dough that's slightly sticky, soft, and easy to work with.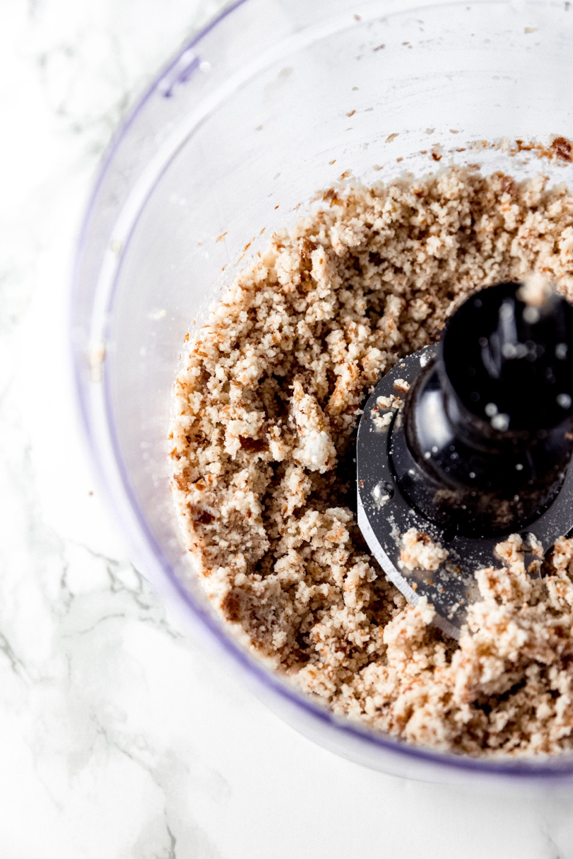 Simply Nature Organic Coconut Oil
I love cooking with coconut oil! It adds more healthy fat to these cookies and helps bind them together as well.
Specially Selected 100% Pure Maple Syrup
This acts as another sweetener and binder for the cookies. It also adds a hint of sweetness without being overly sweet.
Baking Corners Baking Cocoa
This cocoa is unsweetened and has an amazing chocolatey flavor!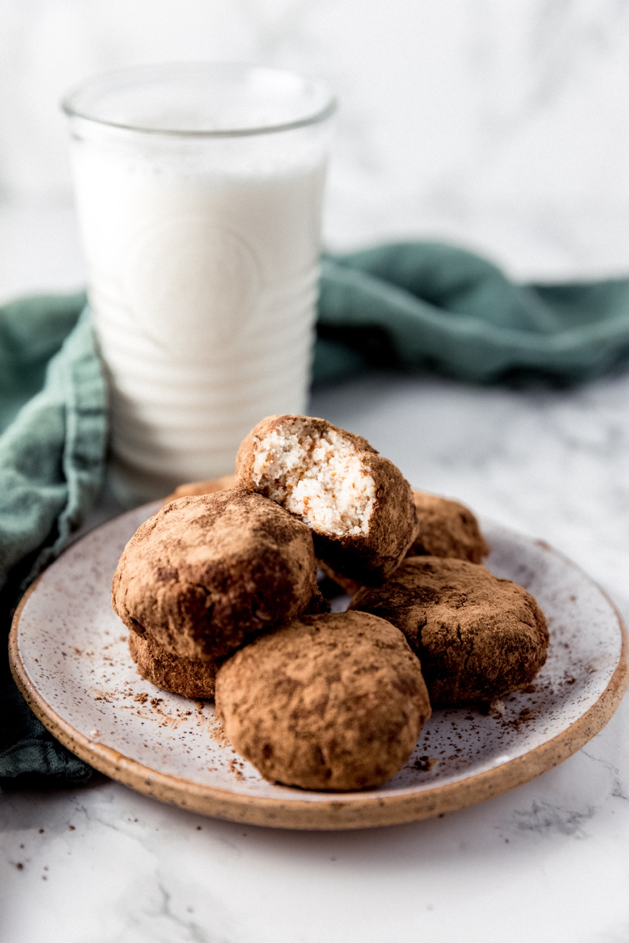 Print
5 Ingredient Paleo Almond Milk & Cookies
---
Author:
Total Time: 49 minute
Yield: 6 cookies 1x
For the almond milk
1 cup Southern Grove Almonds
4 cups water
For the no bake cookies
6 Southern Grove Dates (soaked)
1 cup almond pulp (from the almond milk)
2 tbsp Specially Selected 100% Pure Maple Syrup
2 tbsp Simply Nature Organic Coconut Oil
¼ cup Baker's Corner Baking Cocoa
---
Instructions
For the almond milk
Using a large jar or bowl, soak the almond in water overnight in a cool, dry place.
After the almonds have soaked, strain the water using a colander.
Pour the almonds into a high-speed blender along with 4 cups of fresh, filtered water. Blend for 30-60 seconds or until the almonds have fully broken down and the milk looks creamy.
Using a nut milk bag, strain the milk into a large bowl. Squeeze well to remove all of the liquid.
Remove the almond pulp from the bag and set aside. Chill the almond milk in the fridge for 2-3 days.
For the no bake cookies
Using a food processor, process the dates until finely chopped.
Add the almond pulp, maple syrup, and coconut oil to the food processor and blend the mixture until thoroughly combined.
Roll the dough into small balls about 1.5" in diameter. You should have about 6.
Pour the baking cocoa into a bowl and roll the dough balls in the cocoa until covered.
Slightly flatten the cookie dough balls with the palm of your hand to shape a cookie.
Chill in the fridge for about an hour before serving with the almond milk!
Notes
All nutritional information are estimations and will vary.
Prep Time: 8 hr 10 minutes
Category: Treats
Method: no bake
Nutrition
Serving Size: 1 cookie
Calories: 231
Fat: 13.4g
Carbohydrates: 28.2g
Fiber: 4.9g
Protein: 4.7g
That's all there is to it! Can you believe it's that easy to make cookies and milk from just 5 ingredients? Santa will be happy to have a healthier option left for him this year, but seriously this recipe is so yummy that you can save it to make it any time of year.
Happy holidays and enjoy!