Spaghetti squash has been a staple vegetable ever since going gluten free in college. It's inexpensive, easy to prepare, versatile, and of course… it's basically vegetable pasta. I used to eat my spaghetti squash with a generous helping of tomato sauce from a jar and coat it in a thick layer of that mastery shelf stable parmesan cheese. Basically… there was only one good thing about that meal for me. Neither tomato sauce or parmesan cheese were my friend on an autoimmune paleo template to manage my Hashimoto's, so my classic pasta dish evolved into paleo spaghetti squash chicken Alfredo that's also AIP and dairy free!
So, why not tomato sauce again? Unfortunately, tomatoes are in the nightshade vegetable family which can be super inflammatory for those with joint issues, or autoimmune disease like Hashimoto's. Going gluten free alone just wasn't enough manage and reverse my Hashimoto's. It also took healing my gut, changing my lifestyle, and dropping foods that were inflammatory like tomatoes.
Though I still indulge in a tomato free version of marinara from time to time, I love this dairy free alfredo on spaghetti squash. So, what's in it? You guessed it… cauliflower! Pair cauliflower with coconut milk, and nutrient dense bone broth and it makes for a super creamy, delicious sauce for this meal. Veggie packed, nutrient dense, and easy!
This Spaghetti Squash Chicken Alfredo is the perfect complete meal to mix it up on a healing diet!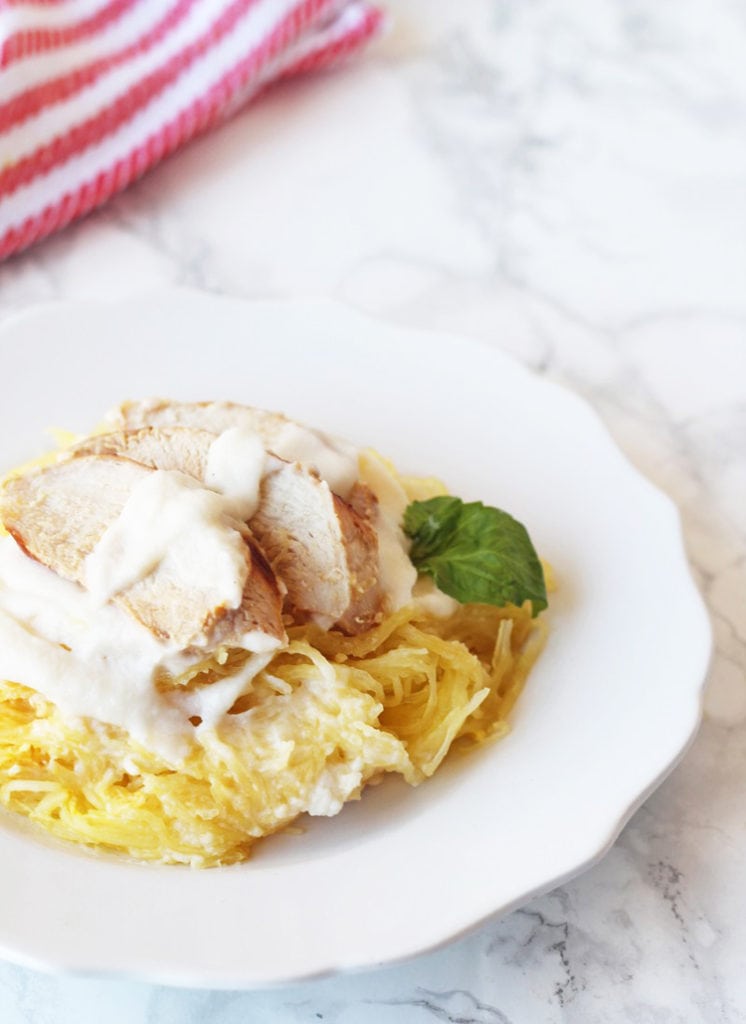 You have two options for how you actually serve this meal… first you can scoop out the spaghetti squash from the rind and serve in on a plate topped with sliced chicken and mixed with the alfredo sauce. This is the best option if you're having a smaller portion to share. It also most closely resembles actual spaghetti this way.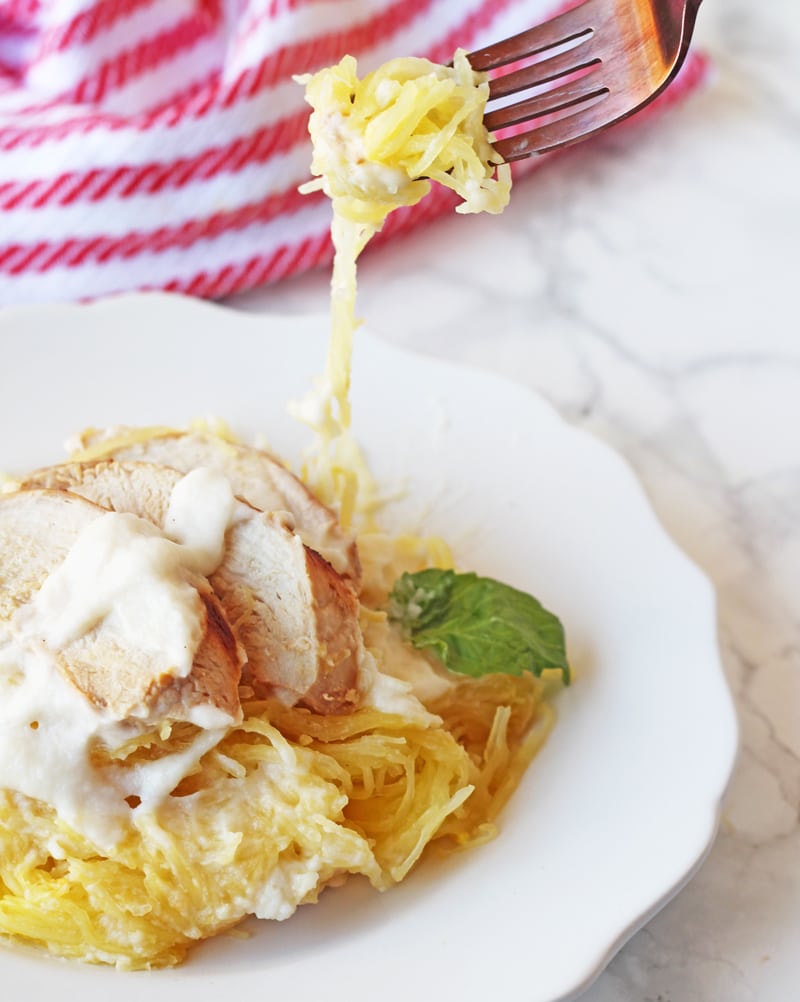 The other way you could enjoy it is by keeping it whole, mixing the sauce in when you shred the strands inside the squash, and then add the chicken on top with more sauce. This is perfect if you're really trying to go for the "hey this is a spaghetti squash" factor, and if you're just serving it for two for dinner.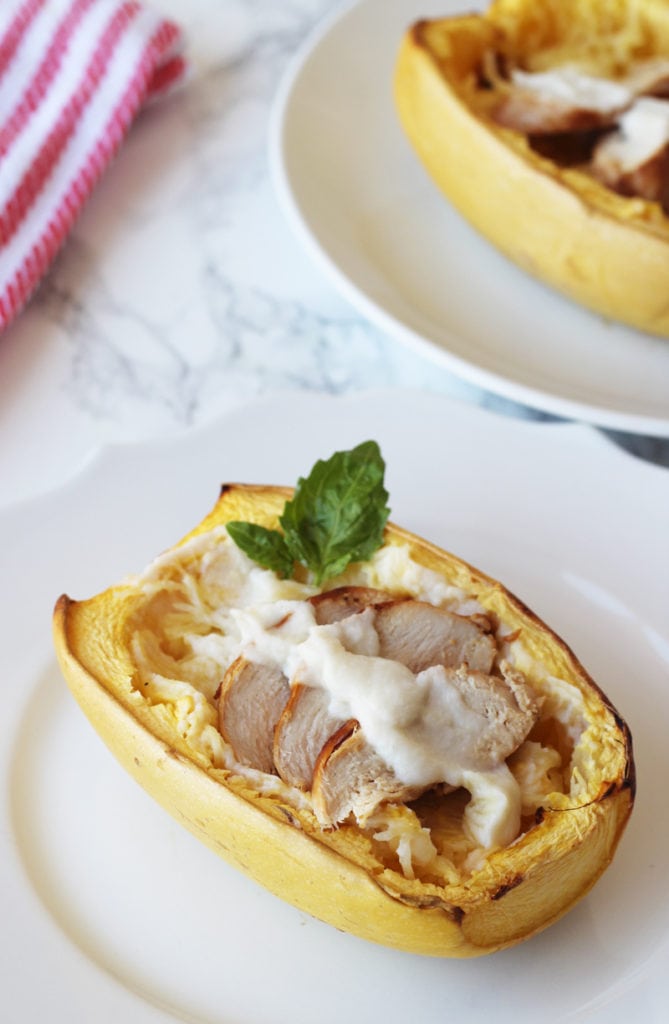 No matter how you choose to serve it, this dish is a veggie packed, nutrient dense dinner that's easy to prep!
For those of us who are healing chronic illness like autoimmune disease with real food and nutrient density, this dish is the perfect way to mix it up while getting all of the healing goodness. I just love that it's filled with healing super foods like gut healing bone broth, two different kinds of veggies, pastured chicken, and healthy fat from coconut oil!
Paleo Spaghetti Squash Chicken Alfredo
---
Ingredients
1 medium spaghetti squash
1 lb pasture raised chicken breast
2 tbsp coconut oil (or ghee if not AIP)
Juice of half a lemon
1 tsp garlic powder
1/2 tsp sea salt
Basil for garnish
FOR THE SAUCE
1 medium cauliflower, chopped (about 4 cups)
1/4 cup coconut milk
1/4 cup bone broth
1 tbsp olive oil
1 tsp garlic powder
1/2 tsp sea salt
---
Instructions
FOR THE SQUASH
Preheat the oven to 400 F
Slice the squash in half and spoon out the seeds. Bake in the oven for 45-50 minutes or until the strands easily pull.
FOR THE CHICKEN
Season the chicken breast with lemon, salt, and garlic and allow to marinate for about an hour in the fridge.
Heat cooking fat of choice over medium heat and add the chicken.
Cook the chicken, flipping it halfway through until internal temperature reads 165 F.
FOR THE SAUCE
Add the cauliflower to a medium pot and fill about 2/3rds of the way with water.
Heat the cauliflower on medium heat and bring to a low simmer for about 8-10 minutes or until cauliflower is soft.
Strain the cauliflower and allow it to cool.
Add the cooled cauliflower to a high speed blender with the remainder of the ingredients and blend until smooth.
TO ASSEMBLE THE DISH
Either scoop the squash out of the shell, or keep it in.
Add the sauce and combine, reserving some to add over the top.
Add the sliced chicken, some extra sauce, and basil for garnish.
Serve and enjoy!