Paleo Spaghetti Squash Chicken Alfredo (AIP, Whole30 & Dairy Free)
Spaghetti squash has been a staple vegetable ever since going gluten-free in college. It's inexpensive, easy to prepare, versatile, and of course… it's basically vegetable pasta. I used to eat my spaghetti squash with a generous helping of tomato sauce from a jar and coat it in a thick layer of that mastery shelf stable parmesan cheese. Basically… there was only one good thing about that meal for me. Neither tomato sauce or parmesan cheese was my friend on an autoimmune paleo template to manage my Hashimoto's, so my classic pasta dish evolved into paleo spaghetti squash chicken Alfredo that's also AIP and dairy free!
I love this dairy free alfredo on spaghetti squash. So, what's in it? You guessed it… cauliflower! Pair cauliflower with coconut milk, and nutrient dense bone broth and it makes for a super creamy, delicious sauce for this meal. Veggie-packed, nutrient dense, and easy!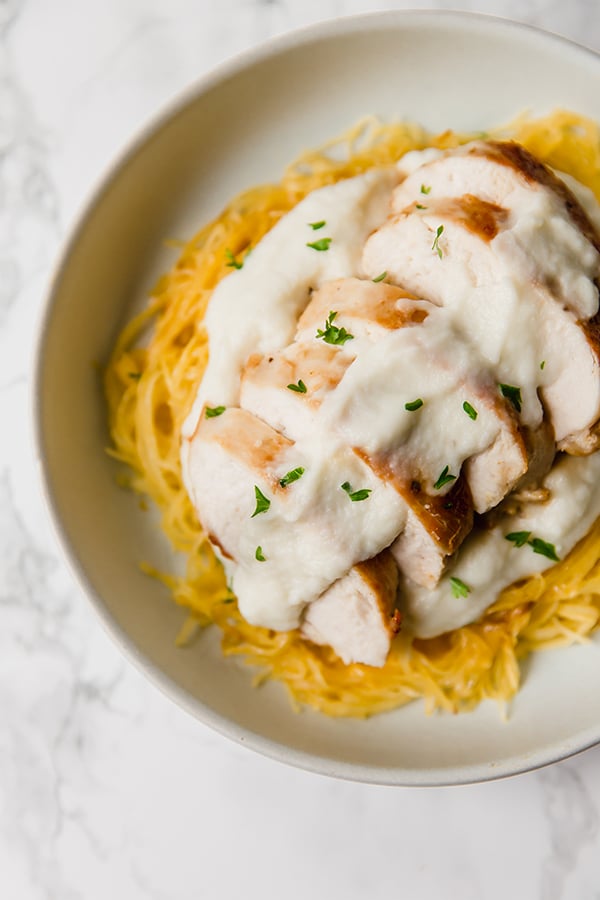 For those of us who are healing chronic illness like an autoimmune disease with real food and nutrient density, this dish is the perfect way to mix it up while getting all of the healing goodness. I just love that it's filled with healing superfoods like gut healing bone broth, two different kinds of veggies, pastured chicken, and healthy fat from avocado oil!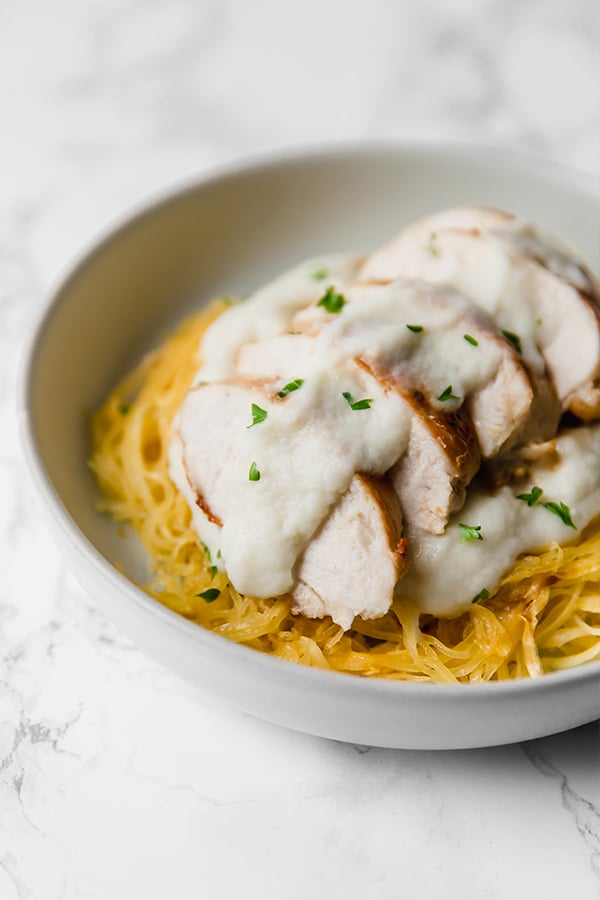 The ingredients you'll need for this recipe
Spaghetti squash
I love using spaghetti squash in dishes like this, as well as others as a pasta substitute that's still veggie dense.
Chicken breast
Chicken thigh or even shrimp would also be great!
Cauliflower, coconut milk, broth, garlic and nutritional yeast
These are the ingredients that make up the sauce.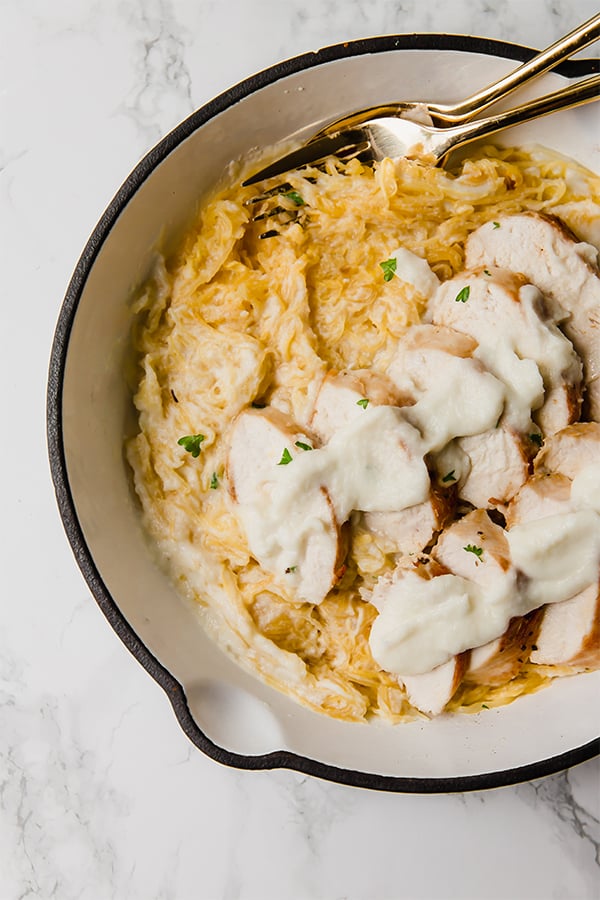 Print
Paleo Spaghetti Squash Chicken Alfredo
---
Prep Time: 20
Cook Time: 60
Total Time: 1 hour 20 minutes
Yield: 3-4 servings 1x
Scale
Ingredients
For the spaghetti squash
1 medium spaghetti squash
1 tbsp avocado oil
1/4 tsp salt
For the chicken
1 lb chicken breast
1/2 tsp sea salt
1/4 tsp black pepper (omit for AIP)
2–3 tbsp avocado oil
For the alfredo sauce
1 medium cauliflower, chopped (about 4 cups)
1 tbsp avocado oil
2 cloves garlic, minced
1/2 cup coconut milk
1/3 cup chicken broth
2 tsp lemon juice
1 tsp nutritional yeast
1/2 tsp sea salt
1/4 tsp pepper (omit for AIP)
For garnish
2 tsp avocado oil
1 tbsp parsley, chopped
---
Instructions
For the squash
Preheat the oven to 400 F.
Slice off the ends of the squash and continue to slice into rings. Spoon out the seeds and place on a baking sheet topped with avocado oil. Bake in the oven for 30-40 minutes, (flipping halfway through) until the strands easily pull. Pull out the strands and set the squash aside.
For the chicken
Pat the chicken dry and season well with salt and pepper on each side.
Heat the oil in a deep skillet on medium heat. Add the chicken to the pan and cook for 5 minutes on each side, or until the internal temperature reads 165 F. Set aside.
For the alfredo sauce
Add the cauliflower to a medium pot and cover with water. Place on the burner on medium-low heat and bring to a low simmer. Cover and continue to simmer for about 8-10 minutes or until cauliflower is soft. Strain the cauliflower and set aside to allow to cool slightly.
Using a small saute pan, heat the oil on low heat and saute the garlic until fragrant. Set aside.
Add the cauliflower to a high-speed blender with the garlic, coconut milk, broth, lemon juice, nutritional yeast, salt, and pepper.
To assemble the dish
Heat the avocado oil in a large skillet and add the spaghetti squash to reheat. Top with alfredo sauce, sliced chicken, and chopped parsley.
---
Notes
All nutrition facts are estimations and will vary.
Nutrition
Serving Size: 1 serving
Calories: 291
Fat: 25.2g
Carbohydrates: 11.8g
Fiber: 3.9g
Protein: 8.1g