Cauliflower Gnocchi Recipe (Trader Joe's Copycat)
This cauliflower gnocchi is a delicious comforting dish made with minimal ingredients! It's gluten-free, paleo, vegan, and autoimmune protocol compliant.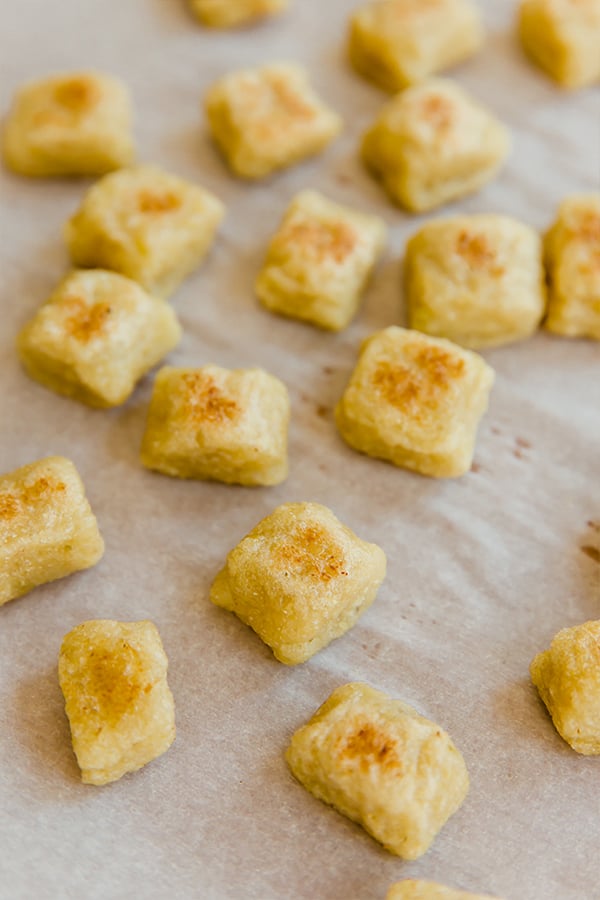 Do you remember when frozen cauliflower rice first came out at Trader Joe's? People were going nuts, and stores were selling out. I was literally buying 7 bags at a time! Frozen cauliflower rice is a bit less of a commodity these days, but now their cauliflower gnocchi is all the rage! I was so excited about trying it but was disappointed to see it had potato starch which I have an intolerance to. So if you're like me and have a nightshade intolerance, or you just don't have a Trader Joe's near you, you've probably felt left out like me.
Luckily, this cauliflower gnocchi is fairly simple to make with minimal ingredients! This recipe is gluten and grain-free, paleo, AIP, and vegan.
What to serve with cauliflower gnocchi
Think of gnocchi like pasta! It's great to eat with a sauce, some vegetables, and a protein.
Sauce options to eat with the gnocchi…
Protein options
Cooked chicken
Bacon or prosciutto
The Ingredients You'll Need for Cauliflower Gnocchi
Cauliflower
You'll need four cups of cauliflower, which is about one big head of cauliflower. From there, you'll rice it in a food processor and boil it.
Cassava flour
Cassava flour is a grain-free flour that's similar to all-purpose flour. It helps give structure to the gnocchi and make it nice and pillowy!
Arrowroot starch
The Trader Joe's cauliflower gnocchi uses potato starch, but arrowroot starch is a great alternative.
Olive oil
This helps prevent the gnocchi from sticking and give it a nice flavor.
Lemon & parsley
This is technically optional if you choose to use a different sauce, but if you want a super simple side dish, just adding some lemon and herbs ties the gnocchi together!
How to Make Cauliflower Gnocchi
First, chop the cauliflower using a food processor…
Next, cook the cauliflower and strain it using a nut milk bag, cheesecloth, or clean kitchen cloth to remove all excess liquid.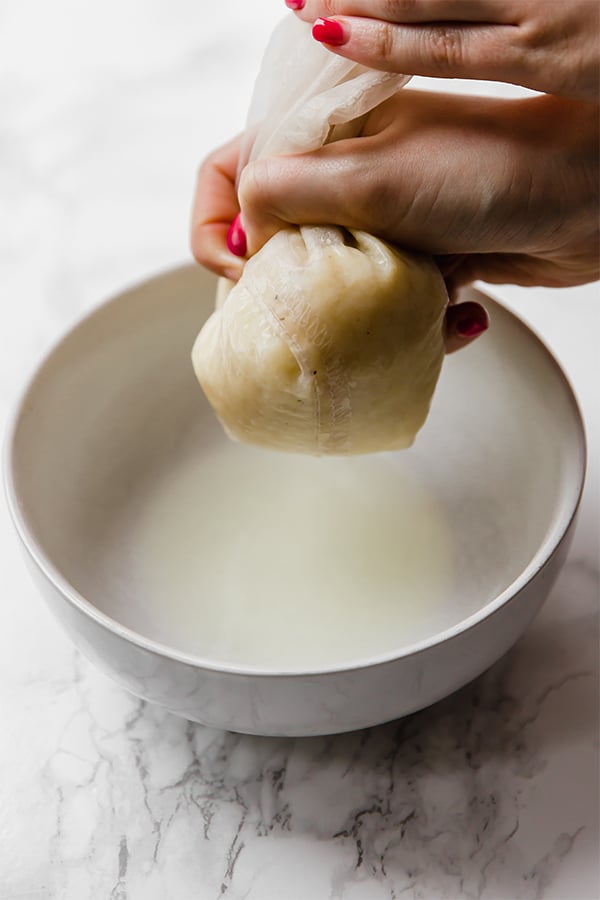 Mix with the flour to form a dough. Take a small handful of dough at a time and roll into a rope. Slice into small gnocchi pieces and set aside.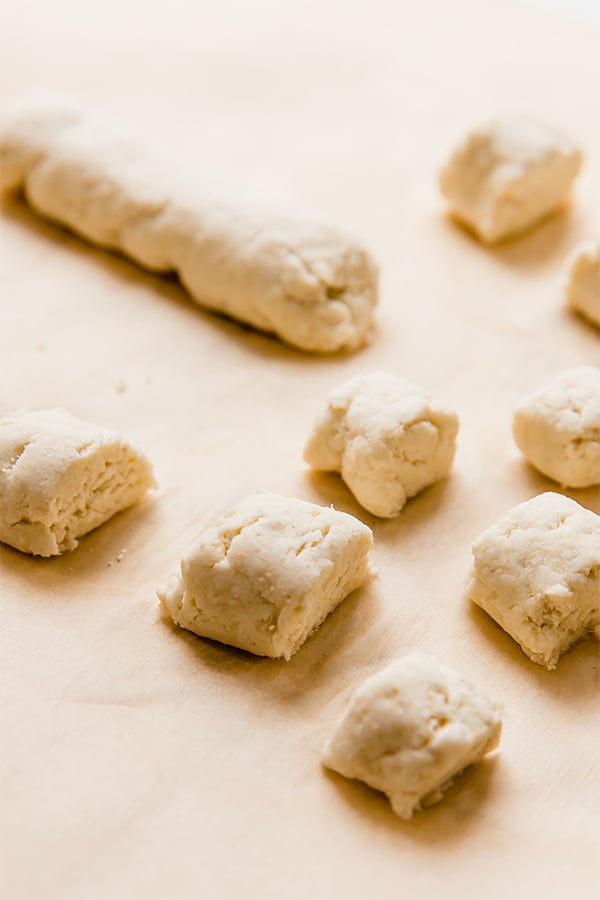 Boil the gnocchi in batches and remove when they begin to float. Coat with olive oil to prevent from sticking, and bake in the preheated oven to crisp the gnocchi.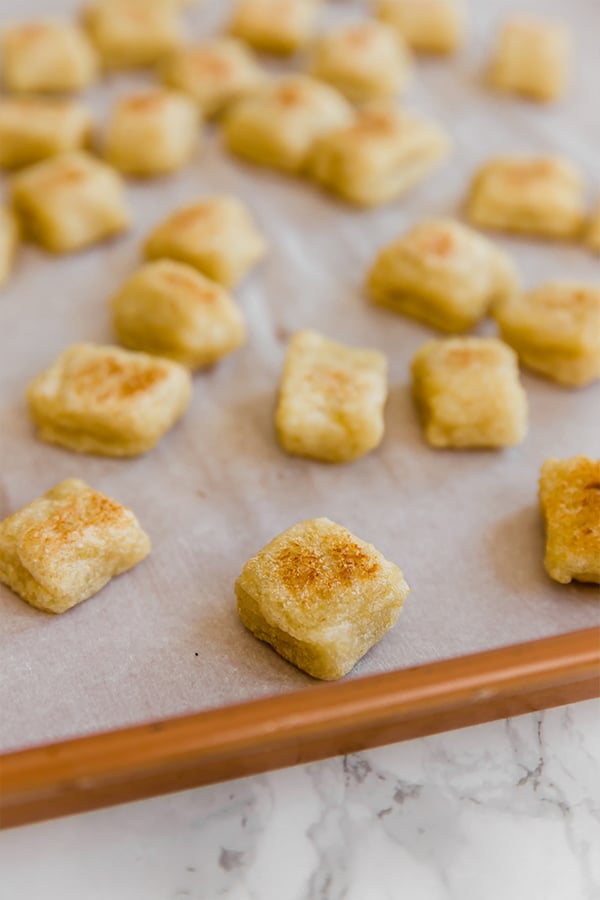 Serve the gnocchi as desired as a main dish with a hearty sauce and a protein, or simply with some olive oil, lemon and chopped herbs like parsley or basil.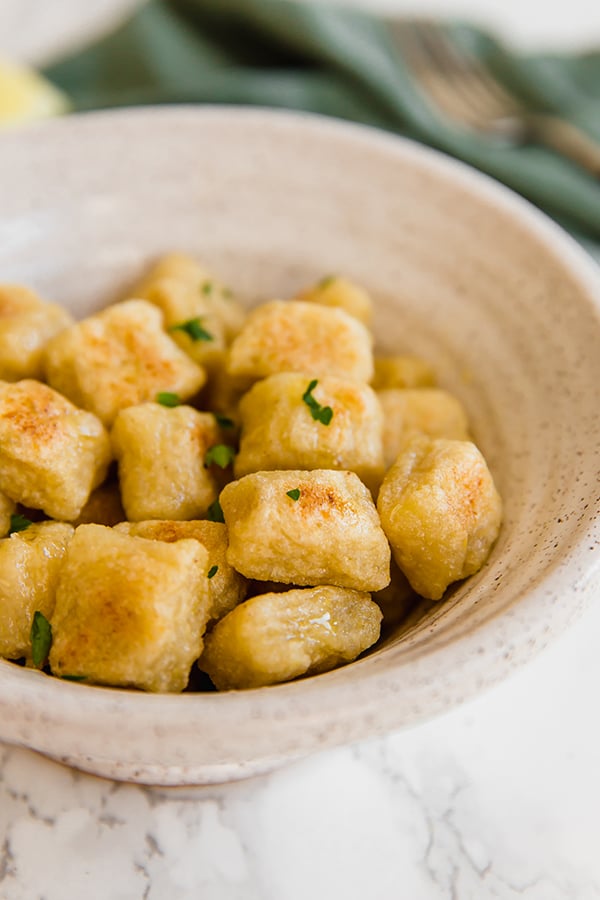 If you like this recipe, you'll also like…
Print
Cauliflower Gnocchi (Paleo, AIP, Vegan, Trader Joe's Copycat)
---
Author:
Total Time: 55 minutes
Yield: 3-4 servings 1x
Description
This cauliflower gnocchi is a delicious comforting dish made with minimal ingredients! It's gluten-free, paleo, vegan, and autoimmune protocol compliant.
---
4 cups cauliflower, minced using a food processor
1/2 cup cassava flour
1/4 cup arrowroot starch
1 tsp sea salt
2 tbsp olive oil, divided
Optional
2 tbsp olive oil
Juice of half a lemon
1 tbsp parsley, chopped
---
Instructions
Preheat the oven to 400 F and line a large baking sheet with parchment paper.
Add the minced cauliflower to a large pot and fill about two-thirds of the way with water. Bring to a low simmer on medium-low heat and simmer for 7 minutes.
Remove from heat and allow to cool before pouring the cauliflower through a nut milk bag or cheesecloth. Squeeze to remove all of the excess water and pour the cauliflower into a bowl.
Mix the cassava flour and arrowroot starch with the cauliflower and fold until a dough forms.
Take a handful of dough at a time and roll into a long rope onto a clean surface. Slice into gnocchi pieces that are about 3/4″ long. Set aside.
Fill a large pot halfway with water and add salt. Bring to a low boil and boil the gnocchi in two batches. Use a slotted spoon to remove once the gnocchi begins to float. Place in a bowl and coat with about 2 tbsp of olive oil to prevent sticking.
Add the gnocchi to the baking sheet and bake in the preheated oven for 20 minutes, flipping the gnocchi halfway through. Remove from the oven.
Top with optional olive oil, lemon, and chopped parsley, or other sauce if desired.
Notes
All nutrition facts are estimations and will vary. Nutrition facts do not include optional ingredients.
Prep Time: 15
Cook Time: 40
Category: Sides
Method: Baked
Cuisine: Italian
Nutrition
Serving Size: 1 serving
Calories: 161
Keywords: cauliflower gnocchi