The Best Nightshade Free Marinara Sauce (AIP, Instant Pot)
This post contains affiliate links. Learn what that means here.
This nomato sauce is a nightshade-free marinara sauce that's made without tomatoes! It's AIP compliant, as well as Whole30, Paleo, and sugar-free.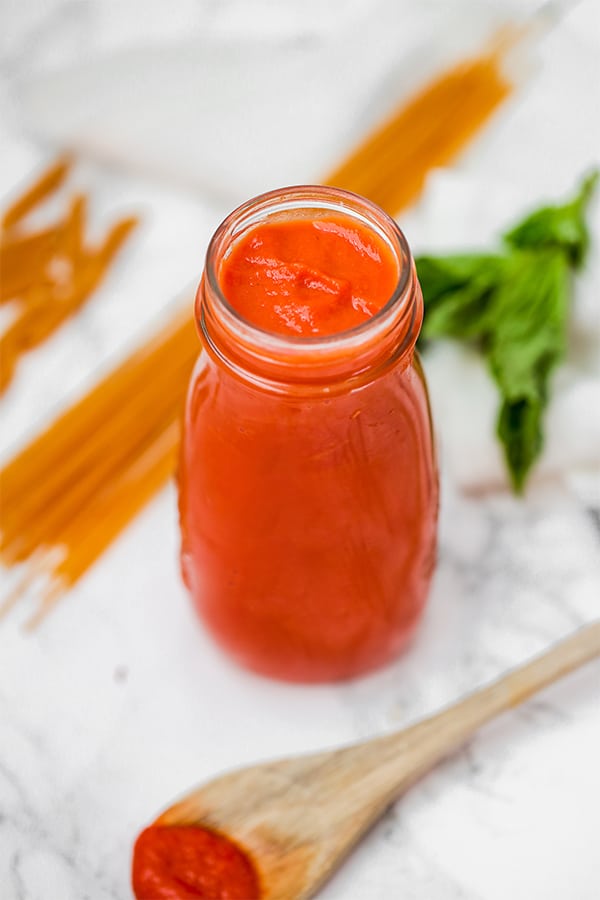 If you were to ask me what my favorite food was when I was a kid, I probably would've said pizza and pasta. I mean, can you blame me? Who doesn't love pizza? I grew up in New York in a Jewish/Italian American family, and my dad always used to joke that spaghetti sauce ran through the veins, and thus, mine.
That's why my heart completely dropped when I first came to terms with my nightshade intolerance at 20 years old. No ketchup? No Caprese salad? No pizza?! Even gluten-free pizza?? Yes, white pizza exists, but no tomatoes, no pizza in my book. I thought that tomatoes were my best friend, but in reality, they were flaring my gut issues and Hashimoto's symptoms, and my body just didn't jive with them.
I went about nine months being nightshade free before I was eventually able to discover the glory of nomato sauce. Wait, what? What the heck is nomato sauce? It's a veggie-rich sauce made to taste like tomato sauce, but without the tomatoes. SCORE. I'll never forget the first time I had nomato sauce after being nightshade free for 9 months! life changing as a nightshade-free Italian food lover to see the rich red sauce on your wooden spoon, smell the basil and taste all of the nostalgic flavors all over again.
Over the years, I've tried a lot of nomato sauce, and in doing so I have perfected my dream nomato sauce! It's just the right flavor, consistency, and it's made quickly and easily in the Instant Pot. You're seriously about 20 minutes away from having nightshade free tomato sauce right now.
The Best Nightshade Free Marinara Sauce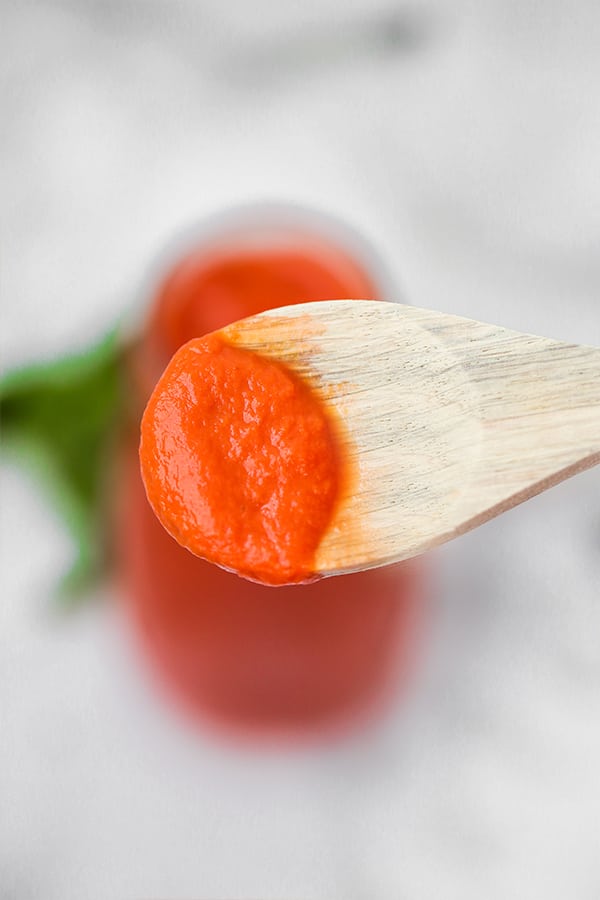 The Ingredients You'll Need For the Nightshade Free Marinara Sauce
Carrots
Carrots are the main veggie in this dish. They have a pretty neutral flavor and their color adds some of the red tint to the sauce.
Beets
This is the main veggie in the sauce that gives it its red color. I know some people don't love beets, but really
Onion and garlic
These add a ton of flavor to the sauce. Technically, you can leave out the garlic, but you'll miss a lot of the flavor.
Celery
Another crucial vegetable in this sauce.
Basil, parsley, and oregano
Lemon juice
Lemon juice adds that acidity that tomatoes naturally have without being overly vinegary. I just don't love the taste of apple cider vinegar in nomato sauce, but you can use that as well.
The Appliances
The Instant Pot
If you don't have an Instant Pot yet, I highly recommend it. It's a safer pressure cooker that also has a slow cooker function, steam function, satuee function, and more. It's saved me hours in the kitchen and can cook pretty much anything. I've included instructions to make this without an instant pot. However, it will more than double the cooking time, so seriously… this thing is life changing.
Vitamix
The Vitamix is one of my favorite kitchen appliances. It just blends so well, and the damper insert is perfect for making chunky sauces like this nice and smooth. You can use other high speed blenders as well!
Some things to consider…
I would not make any swaps rather than what may be noted in the section above.
All of the ingredients listed should be used as is to get a great product.
Your flavor will often vary depending on the veggies you have at the time.
Something that I've learned from cooking with real food ingredients (especially vegetables) is that you don't get that identical product like you would with processed food. The flavor of every carrot is going to be a little bit different, some beets are stronger than others, and sometimes your basil is a bit milder… that's okay! I'm used to my nomato sauce always tasting just a tad different depending on the ingredients, the season, etc. so if it doesn't taste identical each time, that doesn't mean you did anything wrong!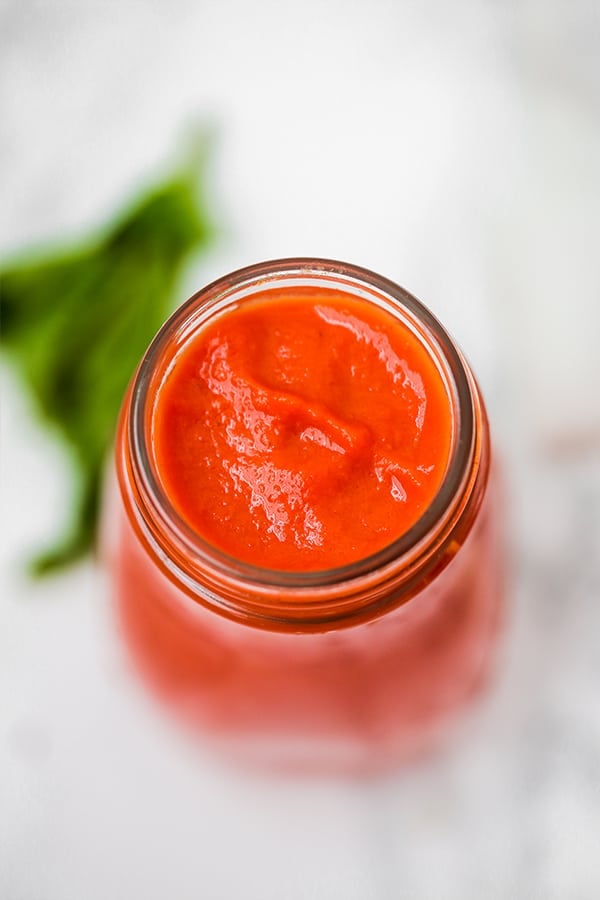 What to pair this sauce with…
Compliant pasta
If you're AIP, pair this sauce with spaghetti squash or zoodles! If you're not AIP and can tolerate something like rice pasta or chickpea pasta (which are pictured in the picture above) go for it!
The following AIP recipes…
Print
AIP Nightshade Free Marinara Sauce
---
Author:
Total Time: 25
Yield: 6 cups 1x
Description
This nomato sauce is a nightshade-free marinara sauce that's made without tomatoes! It's AIP compliant, as well as Whole30, Paleo, and sugar-free.
---
1 tbsp olive oil (sub avocado oil)
2 cloves garlic, minced
1 white onion, diced
2 1/2 cup carrots, chopped
1 1/4 cups celery (about 4 stalks), chopped
1 1/4 cup beet, chopped
1 tbsp fresh basil
1 tsp oregano
2 tsp parsley
1 tsp sea salt
1 cup water
2 tbsp lemon juice
---
Instructions
Add the olive oil to the base of the instant pot and set to saute.
Saute the onions and garlic for 2 minutes, before adding in the carrots, beets and celery. Saute for 5 minutes, stirring frequently. Press cancel to turn off the saute function.
Pour in the water and lemon juice and add the seasonings. Stir to combine.
Lock the lid onto the instant pot and flip the the pressure release valve to closed. Press "manual" (it will default to high pressure" and use the "+" button to set the time to 14 minutes. Allow the instant pot to come to pressure and the sauce to cook.
Once the sauce has finished, carefully release the pressure valve. Once depressurized, remove the lid and allow for the sauce to cool before blending it in a Vitamix or high speed blender until smooth.
Season further to taste and enjoy!
Notes
To adapt for the stove, use a large, deep sauce pot to saute the garlic and onion on low heat in olive oil until softened. Add the remainder of the veggies and saute for a few minutes. Add about 1-1.5 cups of water to the pot (just enough to cover the veggies) along with the herbs and bring to a simmer for about 30 minutes or until the veggies are completely softened.  Allow to cool. Pour off some of the water if a thicker sauce is desired. Combine all of the of the veggies and seasonings with the lemon juice in a blender and blend until smooth.
The pasta in the background of the pictures is GF chickpea pasta, and is not AIP or paleo. See suggestions above for more options for what to pair this sauce with.
All nutrition information is an estimation and will vary.
Prep Time: 5
Cook Time: 20
Category: Sauce
Method: Instant Pot
Cuisine: Italain
Nutrition
Serving Size: 1 cup
Calories: 68
Fat: 2.6g
Carbohydrates: 10.9g
Fiber: 3.1g
Protein: 1.4g